United States GP 2000
SEPTEMBER 24, 2000
United States GP, 2000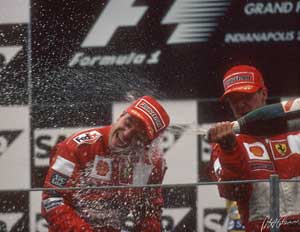 © The Cahier Archive
MICHAEL SCHUMACHER won a dominant victory in the United States Grand Prix at Indianapolis. He was helped on his way by the fact that David Coulthard jumped the start and Mika Hakkinen suffered an engine failure but it was a great victory nonetheless, despite an indiscretion in the closing laps when he had such a big advantage that he lost concentration and spun. Rubens Barrichello came home second to give Ferrari the perfect result and McLaren's only consolation was Coulthard's two points for fifth place. The most important thing for Formula 1, however, was that the fans loved it. The main grandstand was a red sea of Ferrari hats and banners. It was great to see that F1 really is back in the United States...
The first race to take place at the Indianapolis Motor Speedway was in June 1909, and it was for hot air balloons. It was not until two months afterwards that cars ran for the first time on a great lazy crushed stone and tar oval. This proved to be so dangerous that it was decided to invest in a proper paved surface and the owners popped down to the local home depot and ordered 3.2 million bricks. Delivery took a little longer than expected so the first 500 mile race did not happen until 1911. And, as they say on bad TV programs, the rest is history. The Brickyard spawned a town called Speedway and in time this became "The Racing Capital of the World". Every year it hosts the two biggest single-day sporting events in the world: the Indianapolis 500 and the Brickyard 400. Ever since Brooklands disappeared after World War II Indianapolis has been able to claim that it is the oldest surviving motor racing track in the world. And now it has a Grand Prix.
Racing capital of the world? Of course, it is. Nowhere comes close, except perhaps Le Mans which started having races in 1906, when it hosted the first real Grand Prix and has held the famous 24 Hours since the early 1920s. The only difference is that the Le Mans track has never been permanent and still includes large chunks of public highway.
The legends of Indianapolis are enshrined in an impressive Hall of Fame inside the Motor Speedway and no race fan can come here without getting excited. It's an impressive place whether it is full or empty. The last time Formula 1 was in North America the stands were empty but at Indianapolis there were a lot of people already in place when the cars headed out onto the race track on Friday morning. The drivers had a few complaints, but then drivers always do, and everyone then settled down to have a good time. It was, they all agreed, a race track unlike any other on which the F1 cars race.
"It's like a mix between Monza and Budapest," said the garrulous Eddie Irvine. "The infield is very slow. In fact, it's a bit slower than Budapest in many areas. Then you've also got this very fast section, which is quite easily flat at the minute. It's definitely a good venue."
The aim therefore was to find the best compromise in set-up between the twiddly bits at the back and the fast blasts down the main straight. Most of the teams managed to take their usual position in the line-up but there were one or two exceptions. Benetton had a bad time of it and Jaguar was in deep misery. But up at the front it was business as usual with McLaren taking on Ferrari. The qualifying session was unusual in that for the first time in recent memory we had team mates helping each other to tow to better places on the grid. Rubens Barrichello gave up one of his runs to help Michael Schumacher get a little extra speed down the main straight and this was enough to grab him pole position in the middle of a qualifying session which had seen a flurry of early activity as everyone worried that it might rain. This meant that in the closing stages there were not many drivers left with any laps to play with. But in those closing moments we had much excitement as Mika Hakkinen and David Coulthard set off to try to put the Scottish driver on the front row, or even on pole. Hakkinen dragged David down the straight and then short-shifted and Coulthard flew past him. It was a good lap and all the way it was touch and go as to whether he would beat Michael's time. In the end he missed it by a tenth of a second but it had been a great show.
Mika Hakkinen is not known for his generosity towards his team mates and so people began to wonder why it was that he wanted to be third on the grid. The reason for it soon emerged. Just ahead of the first place on the grid was the row of bricks which was left behind when The Speedway was paved over. A little bit of history. At 218mph this is barely noticed by the drivers but as they accelerated off the grid this was going to have quite an effect for a car moving at 10mph. McLaren had figured this out. The bricks would cause wheelspin and so the man in third place would have an advantage because he would be on the clean section of road and would be travelling faster when he got to the bricks. Some things can have an important effect on the outcome of an F1 race. When Ferrari realized what was going on they did the only thing that was left to them and began to complain to the FIA. Jean Todt is a man of little sentiment and wanted to have the bricks sandblasted to give them a less slippery aspect. Rightly he was told to get lost. But eventually the FIA agreed that the first two rows of the grid would be removed and the third placed grip slot became pole position. The race would be 16m longer than planned and Michael Schumacher would cross the line of bricks at a rather higher speed.
Nothing really should have been changed and the fact that McLaren was cleverer than Ferrari should have been rewarded. Attention to detail is what wins World Championships.
Behind Schumacher and Coulthard were Hakkinen and Barrichello and then there was an appreciable gap of four-tenths of a second back to the best of the rest and a battle between Williams and Jordan, or at least one Williams and two Jordans. This was won in the end by Jarno Trulli, the faster of the two Jordan men once again.
Jarno was excited because his luck in recent races has not been good. Frentzen complained that he had struggled for grip in the infield sections of the circuit. "I am sure that most people have experienced the same problems," he said.
Splitting the two men was the Williams-BMW of Jenson Button and the British youngster completely overshadowed Ralf Schumacher from the very start of practice. For most of practice it looked as though Button might even end up on one of the two front rows but it was not to be, although he was only one hundredths of a second slower than Trulli. "On my last run I thought that I would push as much as I can as I had nothing to lose," he said. "But I think I pushed a bit too hard!"
Ralf Schumacher was obviously less excited than Button and his 10th place on the grid - four tenths of a second slower than Jenson's best - was disappointing. Ralf blamed the set-up of his car and spun on his final flying lap as he battled to take the car beyond its limits.
Eighth on the grid went, in the end, to Jacques Villeneuve in his BAR-Honda and it was no surprise that being an Indianapolis 500 winner he was the favorite with a lot of the crowd who remember his adventures at The Brickyard when the cars were running in the opposite direction.
Jacques was also spinning in qualifying and said that he would have done better if he had not gone off. "I think it is going to be a matter of staying on the circuit tomorrow," he said.
Ricardo Zonta was going pretty well once again and ended up 12th on the grid, four-tenths slower than Villeneuve's best. He complained of understeer but was nonetheless happy to be close to Villeneuve.
Ninth on the grid was a bit of a surprise because Pedro Diniz is not normally to be found amongst the really fast guys. This was his best qualifying position in F1 and a good effort by Sauber. Mika Salo was also doing OK with 14th place on the grid. The problem, Mika said, was that he could not find a good balance, the car switching from massive oversteer to massive understeer.
Benetton's Alexander Wurz was 11th on the grid which was a good effort for him given his season to date, but it was not an easy session and he only found the right balance at the very end. Fisichella was 15th and appeared to be confused. He had an accident on Friday and struggled for balance on Saturday. The team was not impressed.
The Arrows duo of Jos Verstappen and Pedro de la Rosa did not have a bad time with Jos qualifying 13th and Pedro 18th.
"I made a mistake on my last timed lap," said Pedro. "That was my best run. On my previous run I had a Jaguar in front of me and I nearly crashed. It obviously did not help my lap time!"
The Prost team had a pretty poor time of it, as usual. Nick Heidfeld was 16th on the grid while poor Jean Alesi suffered a blown engine and so was left languishing in 20th on the grid with only the two Minardis behind him.
It was not a great day in the annals of Jaguar Racing with Eddie Irvine in 17th on the grid and Johnny Herbert 19th. "I just couldn't seem to find any more time in the car," said Eddie. "We could not get the car to do what we wanted." Irvine also admitted to making a mistake on his fastest lap which did not help matters.
It was a similar story with Johnny Herbert. He reckoned that his mistakes had cost him three-tenths.
Down at the back as always were the Minardis with Gaston Mazzacane three-tenths faster than Marc Gene on this occasion. Gene did not understand why.
IF the American racing pundits reckoned that the local fans would be bored by the Formula 1 cars they were to be surprised.
The Speedway was heaving with people. There might have been the odd empty seat here and there but it was probably only because the occupant had gotten lost in the crowds. Track boss Tony George could relax. His gamble had paid off.
But would the F1 men race? And would they overtake one another? Well, the first few laps of the race were among the busiest this reporter can remember. Overtaking was certainly possible but the spectacle was added to by the fact that while most of the grid started on light wet tires, there were a handful who decided that it would rain and went for full wets. Johnny Herbert was being an optimist and decided to go out on dry tires. It was a good idea.
The vast crowd was probably the reason for the edge of excitement that everyone felt as the cars lined up for the start. Would the drivers do something silly and have a big crash on the run down to the first corner? Would they be weaving and quibbling as they have been in recent times?
As usual Formula 1 came up with something unexpected. The red lights stayed on for much longer than normal. Michael Schumacher moved slightly but stopped his car before he got into trouble. Coulthard, however, elevated anticipation to an art form as he set off. It was close but he was definitely on the move when the lights finally went out. A fraction here and a fraction there make all the difference in F1. The result of this was that David was ahead as they all steamed down the road towards the first corner as 225,000 people held their breath and waited for the bang. You could almost hear the sigh from the crowd as everyone went through Turn 1 without a smash.
The only real casualty of the first lap hurly-burly was Frentzen who was pushed wide in the infield squiggles and found himself overtaken by Jacques Villeneuve and Ralf Schumacher (Ralf having already taken care of Diniz). In the very early stages it was clear that Button was a lot quicker than Trulli and at the end of the back straight on the second lap Button made a good pass on Jarno.
"I got alongside him and then maybe because of the braking it seemed to me that he slightly crossed onto my side of the circuit and we touched."
Trulli saw it somewhat differently. "He is really an idiot at the moment," he said. "He was driving like a crazy. He was pushing me hard and tried to outbrake me but it was too late. He collided with me and then went off."
Who was to blame? It was hard to say. It was probably what the FIA stewards like to call "a racing incident". The result was that both men had rear punctures and both had to pit.
By the time all this was sorting itself out the situation at the front was becoming clear. Coulthard was under investigation for jumping the start. It was not decided and so he was still racing and mathematically he was still in with a chance for the World Championship. In reality he was out there helping Mika Hakkinen but the precedent has been set in such matters. Last year in Malaysia Michael Schumacher adopted such blocking maneuvers when he was trying to help his team mate Eddie Irvine to beat Mika Hakkinen in the World Championship. When such things are done to him, however, Michael does not like it and after the race he was critical of David because he felt that DC was not in the running for the World Championship and therefore should not have been doing what he was doing. Alas Michael cannot have it both ways. He invented the concept last year and now he must live with the consequences. As the FIA has done nothing about it, the practice has been deemed to be acceptable.
David's blocking allowed Mika Hakkinen to close on Michael and briefly he looked threatening but then Schumacher howled past David as they went into Turn 1. David pushed absolutely to the limit but he gave way in the end. Schumacher had outfoxed him. The two cars may have brushed just slightly but it was nothing serious. Michael was ahead. The penalty was then confirmed and two laps later David was in the pits to pay for his indiscretion. The bad news was that by then the track was drying and so he had to go out and then come back again for dry tires and by the time he had done all that he was down in 16th place and stuck behind Marc Gene's Minardi. And there he stayed for a while.
Once he was in the lead Michael went as fast as he could and was able to keep up an impressive pace on his wet tires. Hakkinen stopped on the seventh lap but when he emerged he found himself in the strange position of being stuck behind a Minardi, Gaston Mazzacane running fifth because he decided to keep going with his wet tires. He lost probably 13 seconds in those laps behind the Italian, who for once had every right to be where he was. As soon as the Minardi disappeared into the pits Hakkinen's lap times came down an impressive four and half seconds per lap.
Mika set off in pursuit of Schumacher and made rapid progress. He was within four seconds of the Ferrari when his engine blew up on lap 26. After the race Michael Schumacher said that Ferrari had beaten McLaren "fair and square" but it would have been interesting to have seen the two men go head-to-head. As we saw with Coulthard and Schumacher overtaking was possible so we could have had a great race between the two men. But it didn't happen. Once Hakkinen was gone Schumacher had nothing much to worry about. His brother was second but he was 12 seconds behind and made no impression. But then Ralf began to suffer from pneumatic valve problems with his engine and began to drop back. With his brother out of the way Michael was left with half a minute in hand over Frentzen and Heinz-Harald was busy trying to keep Barrichello under control.
Towards the end of the race Michael fell asleep and had a spin. He hooked his right front wheel onto the grass and spun. Fortunately he did not hit anything and was able to rejoin.
"Ross Brawn called me up on the radio and told me to concentrate," Michael said later, "and I said that it was OK because I was awake again!"
Team mate Barrichello had a rather busier afternoon. Fourth in the early laps he pitted early and suffered for it, dropping back several places before the car began to improve as the fuel burned off and he was able to speed up. By the end of the race he had managed to get ahead of Frentzen into second place.
Third was still a good result for Heinz-Harald in his Jordan. After his difficult first lap he was ninth but he jumped to sixth when Button and Trulli took care of one another and he was able to overtake Ralf Schumacher. He stayed out on the wet tires and ran second until lap 14 when he pitted and was able to rejoin in fourth. This became third when Hakkinen went out and then it was a battle with Barrichello. This was lost during the second pit stops and in the closing laps Frentzen had to fight off the attentions of Villeneuve. Jacques got ahead only once but then overshot and went over the grass at Turn 1. He closed back up and was right behind HH when they crossed the line.
For BAR this was a great result and further evidence that the team should be taken more seriously.
Jacques was annoyed not to be third because he would have been ahead if he had braked a fraction of a second earlier than he did. To add icing to the BAR cake Ricardo Zonta was sixth after a good steady race.
Seventh place went to Irvine but the star of the day for Jaguar looked to be Johnny Herbert. His decision to run on dry tires seemed crazy in the early laps but it meant that by lap 18 he was in sixth place and when Hakkinen disappeared Johnny moved to fifth. Two laps later he pitted and everything went wrong.
He hit a puddle in the pitlane and overshot his marks, causing his wheelchanger to jump out of the way. In doing so the poor chap dropped his wheel gun onto Johnny's front wing. This then needed to be changed and by the time Herbert rejoined he was down in 17th position. After that it was just a question of survival. He finished 11th.
Irvine's race was less dramatic. He had a good first lap and ran 13th, moving to 11th when Button and Trulli departed the scene. He was then pushed back by de la Rosa before coming into the pits for dry tires. When he rejoined he was part of the midfield bustle before things settled down and he then survived to seventh.
Eighth place went to Diniz in his Sauber. Pedro was one of the few to start on heavy wets. This meant that he could run for longer than the others and so by the time he stopped he had moved up to third behind Schumacher and Frentzen. He rejoined sixth and moved to fifth soon afterwards but then began to fall prey to others and was pushed back to sixth by Verstappen. He had an off and dropped behind Herbert and Villeneuve and was then passed by Barrichello. A late race pit stop to sort out a strange handling problem worked against him and so he ended up eighth and really disappointed. "I really didn't want to stop," he said, "but I didn't really have a choice."
Mika Salo's race was short-lived. The car handled badly and he lost places in the early laps. On lap 19 he spun off in Turn 1 and could not rejoin.
Ninth place went to Nick Heidfeld's Prost but it was nothing much to write home about. It was better than nothing. Jean Alesi got nothing. His car was rather faster than Heidfeld's in dry conditions and he was en route for ninth when his Peugeot V10 went "ker-boom" on lap 65 and spun him out of the race.
Wurz ended up in 10th place but this was a really grisly result for Benetton. The decision to send both cars out on full wets with full fuel tanks was an error and both men struggled at the back of the field. There was not much more to say. Wurz survived. Fisichella went out with an engine failure.
Marc Gene was the only Minardi driver to make it home. He was 12th. During his second pit stop he missed his stopping point by a long way and lost a lot of time but it would not have made much difference. Mazzacane had his moment of glory early in the race but after he had stopped he was down the back as usual. During his second stop he managed to hit two members of the pit crew and eventually his engine blew up. It had not been a great race but he did not deserve to have a full beer can thrown at him by some drunken American fan. Fortunately it missed.
Williams came away disappointed and rightly so. Button was delayed after his incident with Trulli but was charging back well when the motor cut on lap 14. Ralf Schumacher was running second but his dreams of another podium ended with pneumatic valve trouble.
Arrows flattered only to deceive. Both men looked quick and Verstappen managed to make his way through to run an impressive fourth until something went wrong with his brake balance system and he went straight off and into a barrier. Thankfully he was travelling slowly by the time he reached the wall. de la Rosa made it as high as seventh place before he went off with gearbox trouble.
As the fans streamed home, everyone seemed to be happy. The Americans had found an event of which to be proud and the Europeans had all had a good time.
And that is great news for Formula 1...
POS
NO
DRIVER
ENTRANT
LAPS
TIME/RETIRE
1
3
M.SCHUMACHER
Ferrari
73
1h36m30.883
2
4
R.BARRICHELLO
Ferrari
73
12.118
3
5
H.FRENTZEN
Jordan Mugen-Honda
73
17.368
4
22
J.VILLENEUVE
BAR Honda
73
17.935
5
2
D COULTHARD
McLaren Mercedes
73
28.813
6
23
R.ZONTA
BAR Honda
73
51.694
7
7
E. IRVINE
Jaguar Cosworth
73
1m11.115
8
16
P.DINIZ
Sauber Petronas
72
1 Lap
9
15
N.HEIDFELD
Prost Peugeot
72
1 Lap
10
12
A.WURZ
Benetton Supertec
72
1 Lap
11
8
J.HERBERT
Jaguar Cosworth
72
1 Lap
12
20
M.GENE
Minardi Fondmetal
72
1 Lap
13
14
J.ALESI
Prost Peugeot
64
Engine
14
21
G.MAZZACANE
Minardi Fondmetal
59
Engine
15
9
R.SCHUMACHER
Williams BMW
58
Engine
16
18
P.DE LA ROSA
Arrows Supertec
45
Gearbox
17
11
G.FISICHELLA
Benetton Supertec
44
Engine
18
19
J.VERSTAPPEN
Arrows Supertec
34
Accident
19
1
M.HAKKINEN
McLaren Mercedes
25
Engine
20
17
M.SALO
Sauber Petronas
18
Spin
21
10
J.BUTTON
Williams BMW
14
Engine
22
6
J.TRULLI
Jordan Mugen-Honda
12
Mechanical
Fastest Lap:
D COULTHARD
McLaren Mercedes

40

1:14.711