Tuscan GP 2020
SEPTEMBER 13, 2020
Race Notes - Hamilton wins Tuscan GP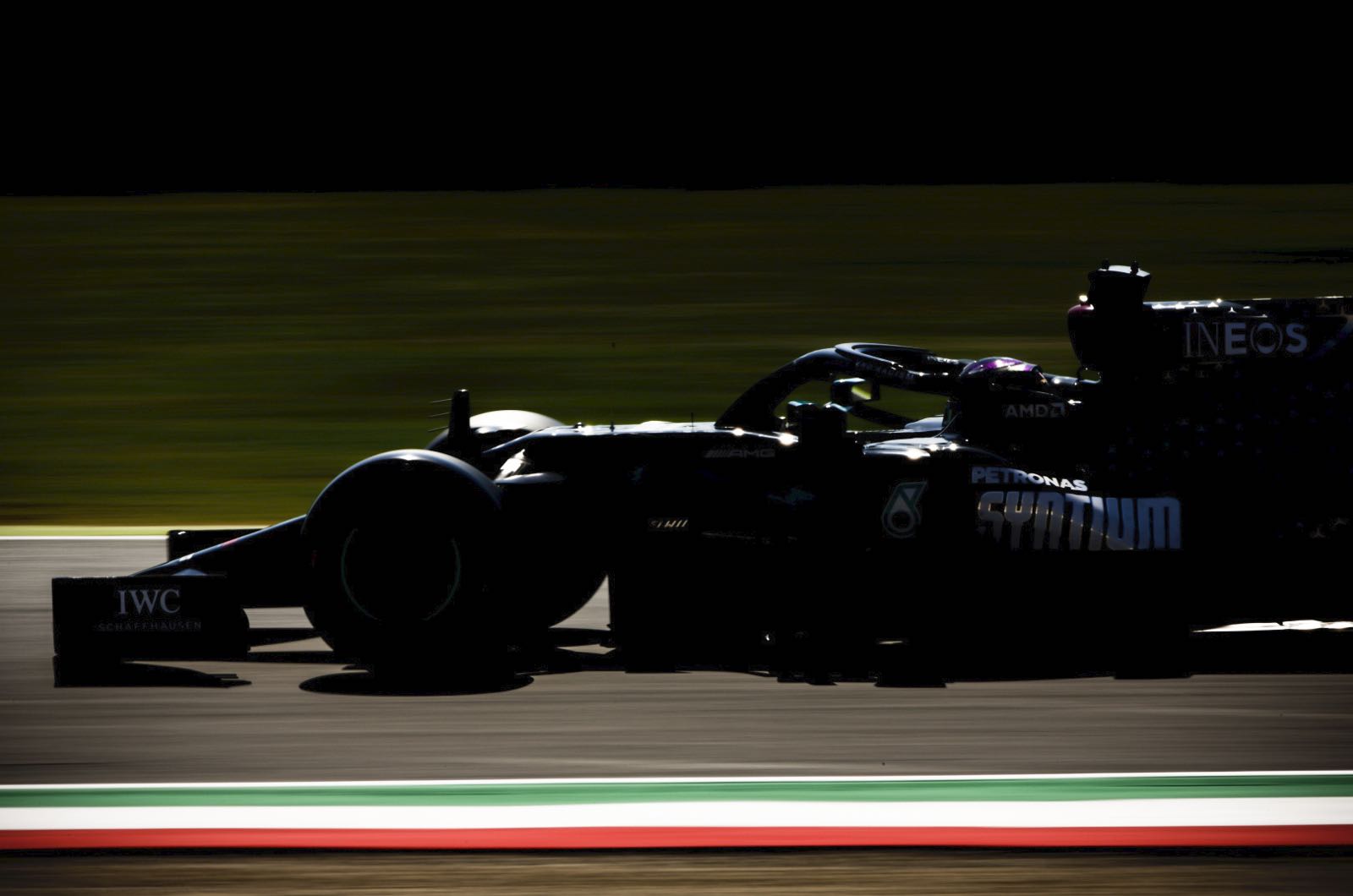 © Mercedes-Benz Grand Prix Ltd.
By Mark Karp
Lewis Hamilton won the Tuscan Grand Prix at Mugello, 4.880 seconds ahead of his Mercedes GP team mate in second place and 8.064 seconds ahead of Alex Albon in the Red Bull-Honda in third.
The win is Hamilton's sixth win of the season and his 90th career victory.
Daniel Ricciardo (10.417s) after running in third in his Renault finished the race in fourth place followed by Sergio Perez (15.650s) in the Racing Point-Mercedes was fifth, Lando Norris (18.883s) in the McLaren-Renault was sixth, Daniil Kvyat (21.756s) in the AlphaTauri-Honda was seventh, Charles Leclerc (28.345s) in the Ferrari was eighth, Kimi Raikkonen (29.770s) in the Alfa Romeo-Ferrari, after a late race 5-second penalty was ninth, and Sebastian Vettel (29.983s) in the second Ferrari finished in the final points position in tenth.
A warm and sunny day before the start, Hamilton on pole with Bottas alongside on the front row, Verstappen and Albon on row 2, Leclerc and Stroll on row 3, Perez and Ricciardo on row 4, snf Sainz and Ocon rounding out the top 10 on the grid.
Verstappen seems to have issues on the grid, but the mechanics think they have set it right before the start.
The quickest stategy for the race looks to be 2-stop usimng soft-medium-soft tyres.
Kvyat, Raikkonen, Grosjean and the two Williams start on medium tyres.
At the appointed time the drivers come around on the formation lap, the lights go out and the race begins with Hamilton makes a slow start, Bottas gets into the lead, Sainz spins, Verstappen drops back with a power problem and is hit from the rear by Raikkonen and is out, and Gasly and Grosjean go through the gravel. Vettel has damage and pits.
The safety car is out. Ocon reports a brake problem.
Behind the safety car Bottas leads Hamilton, Leclerc, Albon, Stroll, Ricciardo, Perez, Norris, Kvyat and Ocon in tenth.
At the end of lap 6 the safety car comes in.and the race resumes with Bottas in the lead, with another crash involving Sainz, Magnussen, Latifi and Giovinazzi on the main straight. The safety car is out, and the race is red flagged at the end of lap 7.
The order is Bottas ahead of Hamilton, Leclerc, Albon, Stroll, Ricciardo, Perez, Norris, Kvyat, Ocon, Russell, Raikkonen, Vettel and Grosjean the last car running in 14th.
During the stop Renault works on Ocon's brake problems, but the team retires the car.
The restart will be a standing start. Bottos and Hamilton starting on medium tyres.
The cars come around and the lights go off for the second start, and Hamilton goes into the lead ahead of Bottas, Leclerc, Stroll, Perez, Ricciardo, Albon, Norris, Kvyat and Raikkonen in tenth.
Russell passes Raikkonen for tenth place.
On lap 12 Hamilton sets fast lap at 1m22.376s.
On lap 15 Ricciardo passes Perez for fifth on the main straight.
On lap 16 Stroll challenges Leclerc for third but can't get past. Vettel passe Raikkonen for 11th place.
On lap 18 Stroll tries to pass again at the end of the main straight and takes third place from Leclerc.
Ricciardo nows closes on Leclerc and passes him for fourth the next lap.
On lap 20 Albon passes Leclerc as well.
At lap 20 Hamilton leads Bottas byy 1.6 seconds followed by Stroll (11.9s), Ricciardo (13,8), Albon (16.2s), Leclerc (19.7s), Perez (22.0s), Norris (22.6s) and Kvyat.
On lap 21 Perez pas Leclerc. Leclerc pits the next lap for hard tyres and rejoins last in 13th.
Hamilton reports his tyres are struggling.
On lap 28 Ricciardo pits from fourth for medium tyres and rejoins in eighth. Raikkonen pits for medium tyres.
Bottas tells Mercedes that he wants to do the opposite straregy to Hamilton on the stop.
On lap 29 Perez, Vetttel and Grosjean all pit.
Kvyat and Russell and Norris pit the next lap.
Stroll pits from third as welll for medium tyres and rejoins in fifth.
Perez sets fast lap at 1m22.111s.
On lap 31 Bottas pits from second for set of hard tyres and rejoins in third behind Albon.
Hamilton pits the next lap from the lead for hard tyres and rejoins still in the lead. Albon pits as well and takess medium tyres and rejoinss in fifth.
Norris passes Leclerc for seventh place.
On lap 33 Bottas sets fast lap a6 1,21.874s, and again the next lap at 1m21.799s.
On lap 34 Raikkonen passes Grosjean for 12th place.
At lap 34 Hamiton leads Bottas by 6.4 seconds, followed by Ricciardo (21.6s), Stroll (23.8s), Albon (26.5s), Perez (35.2s), Norris (39.3s), Leclerc (44.3s), Kvyat (45.4s) and Russell (57.4s) in tenth place.
Kvyat is chasing Leclerc in eighth.
On lap 38 Leclerc pits for medium tyres and rejooins in 11th behind his team mate Vettel.
On lap 39 Albon sets fast lap at 1m21.756s, and is closing on Stroll in fourth.
On lap 43 Stroll spins into the gravel trap and hits the barriers, the safety car is out, Bottas pits for medium tyres. Hamilton Kvyat, Russell and Vettel pit the next time by. Hamilton takes on medium tyres.
The race is red flagged for a second time on lap 44.
The order is Hamilton, Bottas, Ricciardo, Albon, Perez, Norris, Kvyat, Leclerc, Russell, Vettel in tenth, Raikkonen and Grosjean.
Stroll car sets on fire, while the marshals are trying to move the car.
The teams prepare for another restart at 5.15 local time.
The drivers came around again for the third standing start of the weekend, the lighrs went out and Hamilton made a good start, Ricciardo getting past Bottas into second, Albon passes Perez for fourth. Raikkonen is given 5-second penalty for crossing the line on the pit entry, and wil be added to his time after the race.
Tne next lap Botttas gets back past Ricciardo for second.
On lap 48 Bottas sets fast lap at 1m19.752s.
On lap 51 Albon passes Ricciardo for third place.
On lap 51 Hamilton sets fast lap at 1m19.647s.
At lap 52 Hamilton leads Bottas byy 2.4 seconds, followed by Albon (3.6s), Ricciardo (6.0s), Perez (8.3s), Norris (8.4s), Kvyat (12.4s), Raikkonen (15.4s.), Leclerc (17.3s) and Vettel (20.2s) in tenth.
On lap 53 Bottas sets fast lap at 1m19.432s.
On lap 58 Hamilton sets fastest lap at 1m18.833s.
Hamilton crosses the line with the win ahead of Bottas and Albon.