Tuscan GP 2020
SEPTEMBER 12, 2020
Qualifying Report - Tough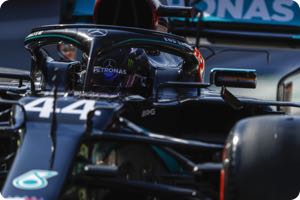 By Dan Knutson
It has been a really tough weekend, it is a really tough track," Lewis Hamilton said after grabbing the pole by just 0.059 of a second over Mercedes teammate Valtteri Bottas in qualifying for the Tuscan Grand Prix.
The line-up for the weekend was: Mercedes – Hamilton and Bottas; Ferrari – Sebastian Vettel and Charles Leclerc; Red Bull Honda – Max Verstappen and Alexander Albon; McLaren Renault – Carlos Sainz and Lando Norris; Renault – Daniel Ricciardo and Esteban Ocon; AlphaTauri Honda – Daniil Kvyat and Pierre Gasly; Racing Point Mercedes – Sergio Perez and Lance Stroll; Alfa Romeo Ferrari – Kimi Raikkonen and Antonio Giovinazzi; Haas Ferrari – Romain Grosjean and Kevin Magnussen; Williams Mercedes – George Russell and Nicolas Latifi.
Bottas, who had been quickest in FP1 and FP2, did it again in FP3 with a time of 1:16.530, which was a mere 0.017 of a second quicker than Verstappen. Hamilton, third, was just 0.083 of a second adrift. It was the first time in Bottas' career that he had topped all three free practice sessions.
QUALIFYING 1
Latifi and Russell were the first out on track.
The ambient temperature at the start of the session was 84 degrees Fahrenheit (29 degrees Centigrade) and the track temperature was 113 degrees Fahrenheit (45 degrees Centigrade).
And Latifi set the early pace with a lap of 1:17.924. But, as more drivers got out on track, Hamilton posted a 1:15.778 only to have Bottas beat that with a 1:15.749.
Ten minutes in, Verstappen had slotted into third ahead of Stroll, Perez and Albon.
When there were three minutes remaining in Q1, Norris was 15th and on the cutoff line. Vettel was 14th and Gasly, last week's race winner, was 16th.
And now many of the drivers headed back out for their final Q1 runs. In fact, only Bottas, Verstappen and Stroll stayed in the pits.
The five drivers who were eliminated at the end of Q1 were: Gasly, Giovinazzi, Russell, Latifi and Magnussen.
The fastest 15 drivers who moved on to Q2 were: Bottas, Hamilton, Verstappen, Albon, Perez, Leclerc, Stroll, Ocon, Norris, Kvyat, Ricciardo, Sainz, Raikkonen, Grosjean and Vettel.
QUALIFYING 2
Tenth and on the bubble with minutes to go was, and was ninth while was 11th.
As the cars filed out, it was soon apparent that none of them was fitted with the medium compound Pirelli tires. Softs were the only pick.
Hamilton, on the soft slicks, set new fastest times in sectors one and two to put him into the lead with a 1:15.309. Bottas slid into second with his 1:15322. Verstappen, quickest in sector 3, was third at 1:15.471.
Rounding out the top eight after the first runs were: Albon, Ricciardo, Stroll, Leclerc and Ocon.
Meanwhile, Norris was 10th and on the bubble with five minutes remaining, while Perez was ninth and Kvyat was 11th.
With three minutes remaining, all the drivers except the top five were on track.
And when it was all over, the five drivers who were eliminated at the end of Q2 were: Norris (for the first time this season), Kvyat, Raikkonen, Vettel and Grosjean.
The fastest 10 drivers who moved on to Q3 were: Hamilton, Bottas, Verstappen, Albon, Ricciardo, Stroll, Ocon, Leclerc, Perez and Sainz.
QUALIFYING 3
With the overtaking opportunities very limited around the Mugello circuit, qualifying well in the top 10 would be crucial.
Q3 lasted 12 minutes. Stroll and Sainz were the first out.
Sainz clocked a 1:17.870, but Stroll rolled that over with a 1:16.356.
But then Hamilton roared by to take the lead at 1:15.144, which was just 0.059 of a second ahead of Bottas, and 0.402 of a second better than Verstappen.
Albon, Perez, Stroll, Ricciardo, Leclerc, Sainz and Ocon rounded out the top 10 after the first runs.
And now, with three minutes remaining, they headed back out for one last run.
Ocon stopped out on track, which brought out the yellow flags, and that stopped most of the drivers from improving their times.
And, so when it was all over, the top 10 qualifiers were: Hamilton, Bottas, Verstappen, Albon, Leclerc, Perez, Stroll, Ricciardo, Sainz and Ocon.