Tuscan GP 2020
SEPTEMBER 11, 2020
Friday Report - Bottas times two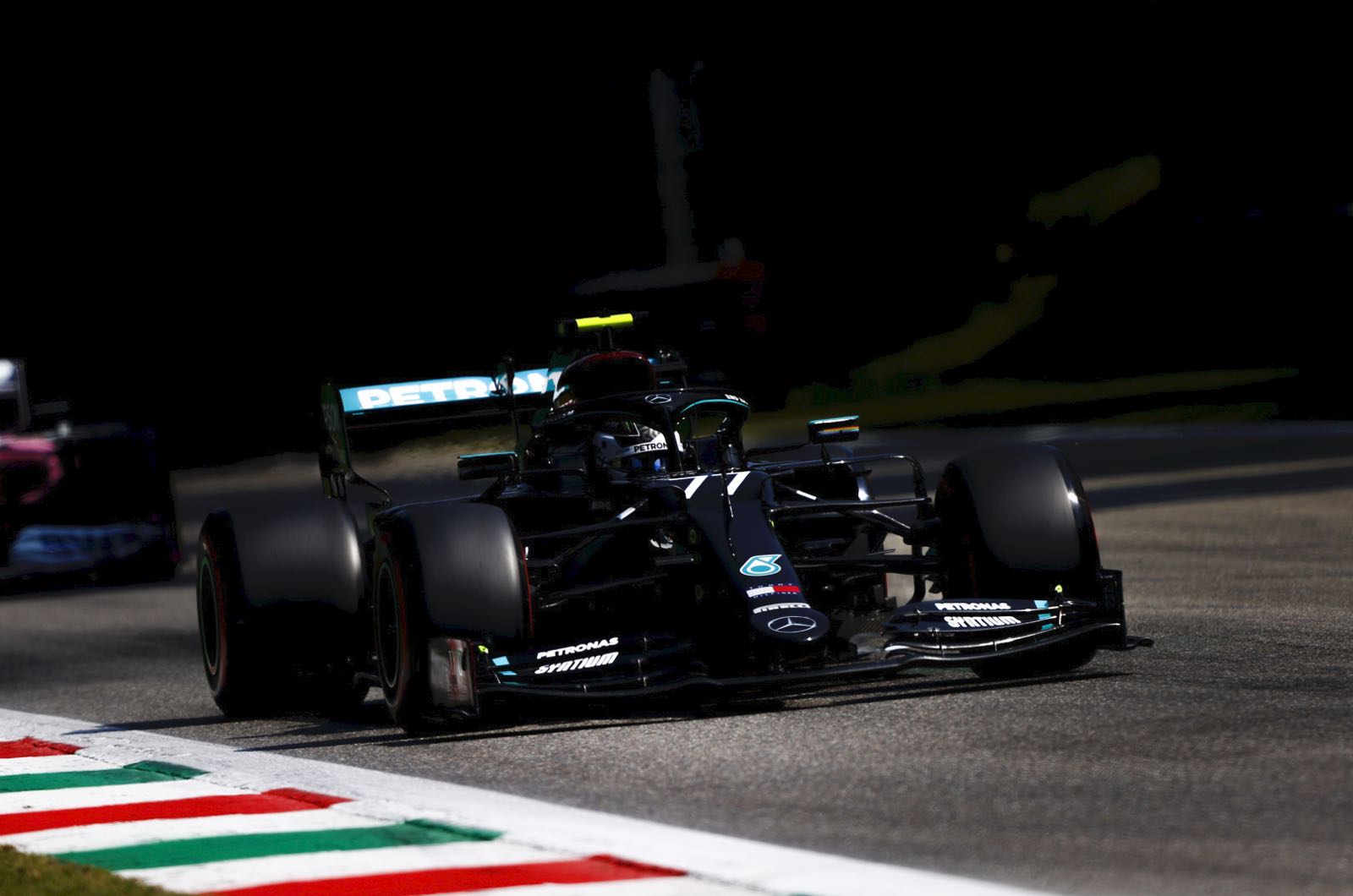 © Mercedes-Benz Grand Prix Ltd.
By Dan Knutson
Mercedes driver Valtteri Bottas topped both Free Practice 1 and Free Practice 2 on the opening day of the Tuscan Grand Prix weekend.
The line-up for the weekend was: Mercedes – Lewis Hamilton and Bottas; Ferrari – Sebastian Vettel and Charles Leclerc; Red Bull Honda – Max Verstappen and Alexander Albon; McLaren Renault – Carlos Sainz and Lando Norris; Renault – Daniel Ricciardo and Esteban Ocon; AlphaTauri Honda – Daniil Kvyat and Pierre Gasly; Racing Point Mercedes – Sergio Perez and Lance Stroll; Alfa Romeo Ferrari – Kimi Raikkonen and Antonio Giovinazzi; Haas Ferrari – Romain Grosjean and Kevin Magnussen; Williams Mercedes – George Russell and Nicolas Latifi.
Bottas was quickest in FP1 with a time of 1:17.879, which was 0.048 of a second faster than Verstappen. Leclerc was third and Hamilton fourth.
First out in F2 were Haas teammates Magnussen and Grosjean.
The ambient temperature at the start of the 90-minute session was 84 degrees Fahrenheit (29 degrees Centigrade) and the track temperature was 113 degrees Fahrenheit (45 degrees Centigrade).
Magnussen clocked the first time – 1:21.518, which Grosjean beat at 1:19.257. Norris cut 0.599 of a second off of that.
Neither Mercedes driver had headed out 15 minutes into the session. Meanwhile, Leclerc had a quick spin at Turn 12. Verstappen kept his Red Bull on track to take the lead with a time of 118.281.
At the 20 minute mark the order was: Verstappen, Norris, Perez, Stroll, Ocon, Albon, Grosjean, Kvyat and Vettel.
But a minute later Bottas grabbed first with a 1:18.019. And Hamilton moved into third behind Verstappen. Bottas, on the medium compound Pirelli tires, improved to a 1:17.997.
All 20 drivers were in the pits at the 30 minute mark as the teams prepared for their qualifying runs. And, indeed, several drivers, now on the soft slicks, began to file back out.
Ricciardo turned a 1:18.039 to get second behind Bottas who had yet to do a qualifying sim.
Then Norris clipped the gravel and spun off and hit the wall at Turn 3. That brought out the red flags with 51 minutes remaining in the session.
With 43 minutes remaining FP2 was restarted. Hamilton, on the softs, was one of the first to head out. He set a 1:17.196, but Bottas had already turned a 1:16.989.
Verstappen went third fastest at 1:17.235 while Albon took fourth at 1:17.971. Ricciardo and Ocon were next, followed by Perez, Gasly, Raikkonen and Leclerc.
Now, with just over half an hour to go, the drivers got full loads of fuel and started their race simulations on the soft Pirelli tires.
Vettel livened things up with a spin at Turn 13.
Then, with 16 minutes remaining, the session was red flagged again. Debris on the track. Perez, exiting the pits, tangled with Raikkonen who was out on the circuit. Both headed to the garages for repairs, and the session was restarted with 13 minutes left.
So Bottas held onto first place for the second session the of day with his time that was 0.207 of a second quicker than Hamilton. Verstappen, Albon, Ricciardo, Ocon, Perez, Gasly, Raikkonen and Leclerc rounded out the top 10.