Turkish GP 2020
NOVEMBER 16, 2020
Race Analysis - Wildest dreams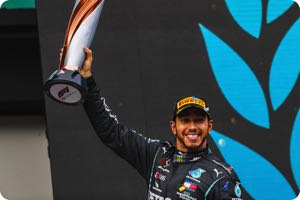 By Dan Knutson
A skilled drive on a slick track surface netted Lewis Hamilton victory in the Turkish Grand Prix and something that was once beyond his wildest dreams – his seventh world crown. This how he did it.
RESURFACED
The Istanbul Park track had been resurfaced a month before the race. The very smooth surface created very little traction for the Pirelli tires.
STROLL POLE
Lance Stroll won his first-ever F1 pole during a wet qualifying. His Racing Point teammate Sergio Perez qualified third while Max Verstappen started third in his Red Bull.
TOP 8
Alexander Albon (Red Bull), Daniel Ricciardo (Renault), Hamilton (Mercedes), Esteban Ocon (Renault) and Kimi Raikkonen (Alfa Romeo) rounded out the top eight on the grid.
FULL
It had rained prior to the start of the 58 lap race. Although the rain stopped, the track was still wet enough for Pirelli's full wet tires. All the drivers chose them except for the Williams duo of George Russell and Nicolas Latifi who had the intermediate tires.
WELL CLEAR
There were spins and skids on the opening lap, but Stroll and Perez, first and second, were well clear of any mayhem.
WHEELSPIN

Verstappen got a lot of wheelspin on the grid and dropped to third ahead of Albon.
IT'S THE PITS
After about eight laps the track had dried enough to warrant the drivers to come into the pits and switch to the intermediate tires. Hamilton pitted at the end of lap 8.
NEW LEADERS
As the other front runners made their pitstops, Perez, Verstappen and Albon all led. But after that all cycled through, Stroll was back in front.
WHY?
The ideal tire strategy seemed to be to have the drivers pit again after 30 laps or so. But when Stroll's engineer told him to pit, Stroll asked why?
NEVERTHELESS
Nevertheless, Stroll pitted at the end of lap 36 for a new set of intermediates. They soon lost grip and he drifted back to ninth.
BRIEFLY
Perez led briefly but then Hamilton passed him.
STAY OUT
Perez was due to pit for new tires in a couple of laps, but then the team told him to stay out.
"I got the feedback that he – my teammate – grained the tires straightaway, so the team decided to keep me out a bit longer. As the race panned out, we basically carried on with that set to the end," said Perez after putting 48 laps on those tires and finishing second.
STAY OUT II
Hamilton also did not pit for a second set of tires. He put 50 laps on his set.
"With, I think 18 laps to the end," he said, "I was thinking 'I'm going to try and take this all the way' but I started getting vibrations in my tires, so I was constantly looking at my tires. I couldn't see the tread and whether or not it had gone through to that level. So that's why I was asking the team, and so I was having to save the tires through the high speed, trying to not kill them, but keeping temperature up was really key."
STAY OUT III
There was a possibility of rain on the last lap, so Mercedes told Hamilton to pit for new tires. Worn tires on a rain-slick track could cause him to spin off. But Hamilton said he would stay out. He had bad memories of crashing in the pit entrance during the 2007 Chinese Grand Prix when he came in on worn out rain tires.
"I'm learning as I get older is most often, my gut feeling is right," he said. "And most often, like intuition, the first thought that I have is usually the right one, choice-wise, and so I'm learning not to question myself. So you saw today, back in 2007, I was a rookie. I was massively skilled but didn't have the knowledge, didn't have the experience to be able to lead the team, to tell them what was needed."
94
So Hamilton stayed out to score victory number 94.
LAST
Ferrari driver Sebastian Vettel snatched third place from his teammate Charles Leclerc on the lap. Vettel then tried to grab second place from Sergio Perez.
"I saw that Charles was quite close to Sergio and I heard that Sergio was struggling with his tires," Vettel said after his first visit to the podium this year. "So the laps before I was already chasing them down and then I could see them fight. As soon as I saw Charles locking up I saw that there was an opportunity for me. It was very close too with Sergio; he had nothing left on his tires."
WILDEST DREAMS
Hamilton has now tied Michael Schumacher's record of seven world titles.
"I know often we, or I say, it's beyond my wildest dreams," Hamilton said, "but I think my whole life I secretly have dreamt as high as this. But it always felt so farfetched. I remember Michael winning those championships, and all of us drivers here are doing the best job we can, and just to get one, two or three is so hard to get. So, to get seven, is just unimaginable."