Turkish GP 2020
NOVEMBER 13, 2020
Friday Team Quotes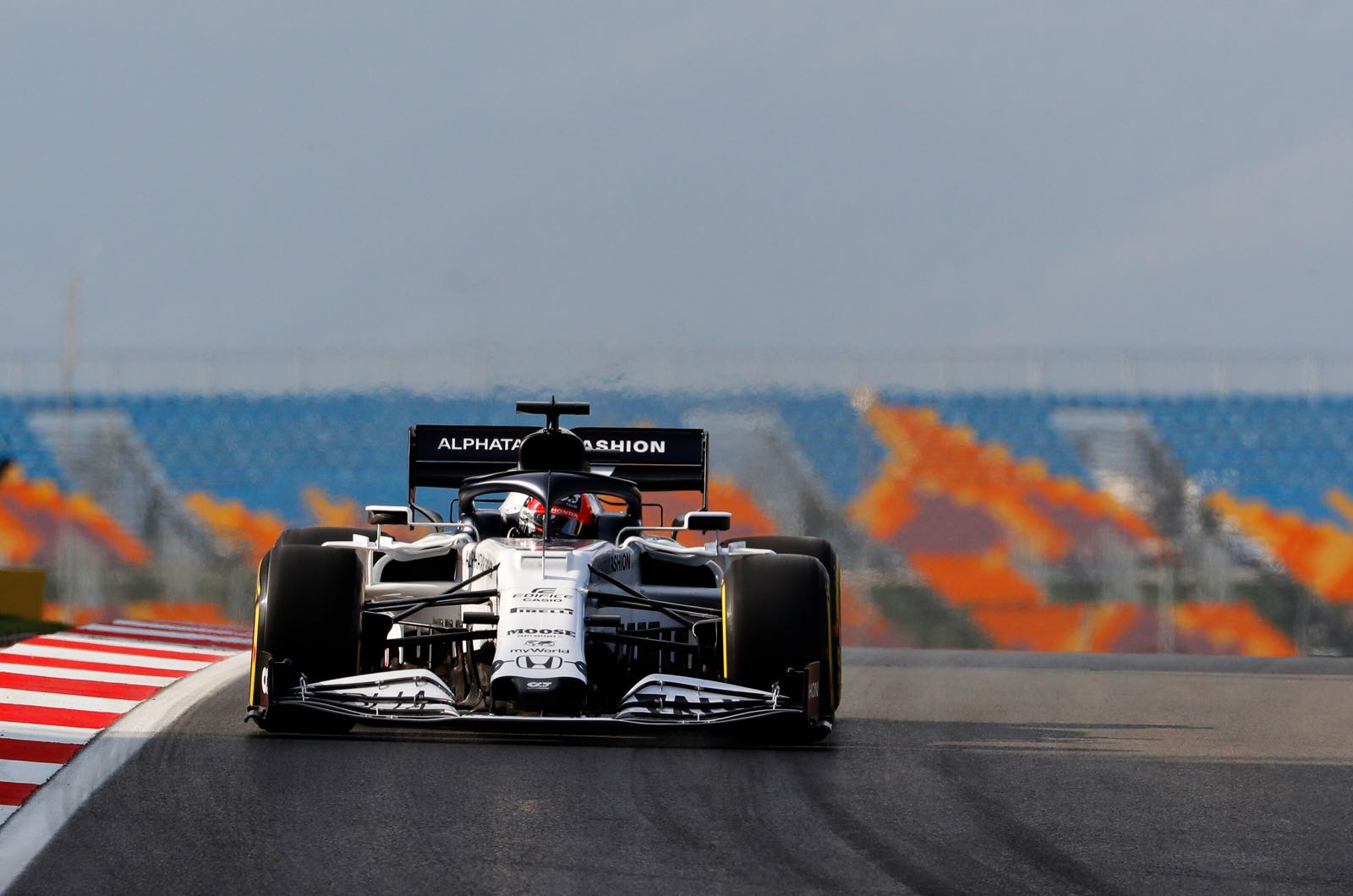 © Red Bull
Mercedes AMG Petronas Motorsport
Valtteri Bottas (3rd, 1:28.905): "When I first went out on track this morning it felt more like rallying, it was quite far away from the normal driving standards that we're used to in Formula One. But I had fun playing around on track, experimenting with the car, it was actually quite enjoyable. The tarmac is new and very smooth, making it particularly difficult to heat up the tyre. It's crucial in these conditions to build up the temperatures to give you the upper hand. We've experienced this in winter testing before, but never quite to this extreme. We've also seen a lot of track ramp today, bringing the lap times down, which will continue over the weekend. The Soft tyre felt best overall, providing the best grip, even though we had a bit of graining on the front. Lots to learn from today, tricky to make the right decisions, not just in terms of set-up but also for the strategy of the race. We have some work to do in terms of the competitive picture too."
Lewis Hamilton (4th, 1:29.180): "It was very difficult day today. This track is such a fantastic circuit, but the new surface made it very tricky. None of the tyres were really working for us and it felt like driving on an ice rink out there. So, you don't really get the enjoyment of the lap that you would normally get around here in Istanbul. When you're way below the temperature window, the tyres just don't work. You can go from one lap to another and find a second just because the tyres work a little bit better in one of the corners. We've got a lot of work to do to try and figure out what we can change overnight to put us in a better position for tomorrow. There are some fundamental things that you can't change on the car, but we'll just have to do the best we can. I think it will be a real fight for us this weekend, but that makes it very exciting!"
Andrew Shovlin: "We've not had an easy day here, the track is clearly very low grip with the new surface and others are coping better with that than we are. We appear similarly offset on both low fuel and the long runs. It seems that we find it harder than some to generate tyre temperature and whilst we'd tried a few things during the sessions to improve this, the performance gap to Red Bull still remains and Ferrari also looked like they were often ahead of us. It's clearly very unusual conditions and there's a lot of interesting learning that we can take from the data today. But we also have qualifying tomorrow and a race on Sunday and at the moment, we're not in great shape and are in for a tough time if we don't make significant progress overnight."
Scuderia Ferrari
Charles Leclerc (2nd, 1:28.731): "At first I was not very convinced by the grip level of the track and thought this was going to be a very bad day, but after a few laps I actually really enjoyed it, as it was a lot of fun to have such low grip. It felt like driving on ice! Seriously though, it's not great to have a Friday like this as you don't learn much, but in terms of driving it was good fun and we were competitive too. I don't know how much track conditions will improve throughout the weekend so it's good that we've done quite a lot of mileage today to understand the conditions and hopefully we can maximize the result tomorrow. The weather forecast doesn't look great for tomorrow so I don't know how things could be in the rain, it could be a very tricky day, but if we do everything perfectly, this could be a good opportunity for us."
Sebastian Vettel (8th, 1:30.022): "Today was quite unusual, as the asphalt is very new, so it was very slippery. Of course it did get better towards the end of the day and I guess the improvement will continue over the weekend. We were quite consistent today, but it's clearly too soon to have a comprehensive picture of where we are. It was mainly a question of finding a rhythm, and doing as many laps as possible to get confidence in the car as well as with the track. In the final part of FP2 we were getting faster and faster. We have not seen the real levels out there today as most people struggled to get their tyres to work. Tomorrow's third free practice session will be very important as the track will still be evolving. The rain could be a factor also, so I expect it will be quite a busy day."
Red Bull Racing
Max Verstappen (1st, 1:28.330): "I think overall for us it was quite a positive day and the car is working well so I'm pretty happy about that. I think the prep we did before we got here was good, but then of course we also did well to react to the conditions out on track. It is very slippery out there but at the end of the day it's the same for everyone so we just have to adapt to it but I think we are all still about five seconds off where we should be on this track. I hope it's not going to rain because then we may actually need spikes! I don't think softer tyres would have made a difference, we did go faster when going from a hard to a soft but it's just the grip on the tarmac. For sure Mercedes will get it together tomorrow so now I just hope we can have a competitive qualifying and in the race we will see what happens."
Alexander Albon (5th, 1:29.363): "It was a positive day and it's always fun to try out a new track. In FP1 and FP2, it was like an ice rink out there and a bit weird because it's not a normal feeling driving what feels like a drift car. You're just sliding around which of course is a bit fun in a way but it's also not what an F1 car likes! In order to switch the tyres on and get them to work you're having to push way out of your comfort zone so it's tricky but it is what it is. We expected the softer compounds to maybe make things a bit easier in terms of grip but they didn't help as much as we thought so I don't know what teams are going to do in qualifying. It feels like we might all have to put softs on and fuel the car up for a race run and just keep doing laps! We'll look at everything tonight and then with the conditions tomorrow, let's see what happens but all in all it was a good day."
Renault Sport Formula One Team
Esteban Ocon (12th, 1:31.380): "It was a tricky day, but we ended on a positive note. We improved the performance significantly, which is good and that's not an easy thing to do. It was probably the trickiest conditions I've ever driven in as it was really slippery out there. I'd probably compare it to what it feels like driving on Intermediates, only that we were on slick tyres. It was new territory, and this is why we still have stuff to learn. Our long runs seem strong, so let's see tomorrow. The track is awesome, and hopefully with a bit more grip we can push a bit more!"
Daniel Ricciardo (15th, 1:31.660): "Overall, I would say it was a challenging day for us. There was just no grip in the session this morning and even as the track rubbered in slightly towards the afternoon, we weren't as quick as we'd hoped. I was not able to feel the grip on such a good circuit, which is a bit frustrating. We found something towards the end of FP2, so we did end today on a positive note and hopefully that sets things up for better pace tomorrow."
Ciaron Pilbeam, Chief Race Engineer: "It was a very difficult day to start with as there was low grip on track, particularly with the Hard tyres. The low temperatures, the new track surface and the harder tyres all combined to make it a tricky first session for everybody, even more so for us. We did make a step over the break, however, and it was a bit better in the afternoon with the track rubbering in a little bit. We also made some changes to the car, which helped. We were still quite far off the pace right until the end of the session, when we made some further changes. We spent most of the day quite frustrated but what we did to improve the car throughout both sessions has given us a good direction ahead of tomorrow's qualifying."
Haas F1 Team
Romain Grosjean (18th, 1:32.570): "It was slippery, that's about the least we can say. It's to be expected with the new tarmac. We've been struggling with the tires. I ran the hard tires this afternoon – I was about five seconds off the pace of Kevin (Magnussen) on the mediums. So, I'm not sure we're going to touch them for the rest of the weekend. The track got better, but there's only one racing line. That's going to make overtaking and so on quite tricky. If you're off-line, the grip level is back to what it was this morning. Maybe the rain cleans it, I think there's a chance of rain tomorrow. It could also make it worse getting the oil out of the new tarmac. I guess we'll find out tomorrow. The trickier it is though, the more there could be opportunities for a team like Haas. We'll try our best and use all of our experience."
Kevin Magnussen (19th, 1:32.807): "It was very extreme conditions this morning. There were some wet patches to start, but even on the dry patches – it was just the lowest grip I've ever felt in dry conditions. It was really crazy, but kind of cool as well to have that experience. It was the same for everyone. It was just a new challenge, I guess. The grip got better throughout the day. There was some rubber being put down on the racing line and it cleaned up a bit. It got better but nowhere near the level of grips we'd have normally. It's probably going to be a very slippery race this weekend, especially with no support series here – it could be chaotic, especially when you go off-line to overtake. Some corners, like turn 12, if you lock up a little bit and you miss the apex by a few meters – you're just driving on ice. You have to be very precise."
Guenther Steiner, Team Principal: "It was a strange day for everybody today, I'd say. It was very slippery, very unusual for a free practice session – but understandable. We haven't raced here in a long time, the track was cold and damp, we really had it all. The tires, as Pirelli have said, they were not planned for such a cold event. We just need to get a grip of it, we need to use tomorrow what we've learned today. The prediction is rain for tomorrow – that will make it even more challenging. As we say though, challenges are opportunities. I hope we can take them."
McLaren F1 Team
Lando Norris (10th, 1:30.907): "A tricky day, but quite fun because it was different to normal. The track was very slippery, and it's been difficult to get a good reading on the balance as we were doing consecutive laps. It's good fun, because it's hard to drive and you're constantly oversteering and understeering, but it's very tricky to put it together and really nail a lap. So, it's going to make for an interesting weekend. I feel like I have some things to work on, some progress to make, so that's our focus and we'll see what we can do tomorrow."
Carlos Sainz (14th, 1:31.498): "Not the ideal Friday. It was frustrating to lose running time, in what was obviously an important FP1 due to the very challenging track conditions that we're going to face this weekend at this new and resurfaced circuit. So, we had quite a lot of catch-up to do during FP2. I didn't have the cleanest of runs with the Soft tyre and the lap-times then improved quickly with track evolution. The tarmac feels strange at the moment, but that only adds excitement to see who can get it right. I'm really looking forward to tomorrow!"
Andrea Stella, Racing Director: "We're excited to be back in Turkey at this interesting circuit. The conditions we've found today were unexpected, with the new tarmac creating very low grip and the tyres consequently taking a long time to start working. However, it's the same for everyone, and everyone seems to be experiencing the same kind of problems. I see it as an opportunity: the car and the team that adapt better to these conditions will get the benefit. In addition, we're expecting some unstable weather over the weekend – especially tomorrow – and we're going to have to be at our very best to get the most out of it."
Racing Point F1 Team
Lance Stroll (9th, 1:30.297): "It was great to experience Istanbul Park for the first time, but it was very challenging out there. It's a new asphalt and it's very fresh, which makes it tricky because the grip level is very low. I wouldn't expect it to improve significantly over the weekend, so that challenge is going to remain throughout the event. All the drivers and teams are in the same boat, so it's about who can get to grips with the circuit best and I'm looking forward to seeing how it plays out tomorrow. Qualifying will be about figuring out the best strategy and considering how best to use the harder compound here in Turkey – it's definitely not a one-lap tyre. We'll go away and look over everything we learned today and come back tomorrow stronger."
Sergio Perez (11th, 1:31.104): "It was very tricky out there today and it's not just because of the colder temperatures – the lack of grip is a real factor too. When I did the track walk yesterday it was like walking on a marble floor, almost like your kitchen surface at home! It's very slippery and I think it will be like that all weekend. It's a shame we weren't able to really experience the full impact of a lap around Istanbul Park, because it's such a challenge and a great track, but I'm confident we'll have a really exciting weekend here and that there will be plenty of opportunities for us. From what we've learned today, the strategy is going to be key and getting it right could be a big advantage. We've definitely learned a lot today and I'm confident we're going in the right direction. The midfield battle is looking very close this weekend and hopefully we can get towards the front of it starting tomorrow."
Alfa Romeo Racing
Antonio Giovinazzi (13th, 1:31.493): "The track looks really nice but the conditions were so, so slippery. It was very difficult to put it all together, it was probably the worst I felt in a Formula One car today – but at least it was the same for everyone. Tomorrow could be even worse, if it rains or it gets even colder, so we will see what happens. The first few laps in FP1 were really difficult, FP2 was a bit better as the track improved a little. These conditions can be an opportunity for us, everything can happen: we will need to be sharp and put a good lap together in qualifying."
Kimi Raikkonen (16th, 1:31.932): "Track conditions were the biggest challenge this morning, even though we managed to do all we were planning to achieve. The day wasn't very warm, the tyres were hard and the tarmac new, and this combination made everything really slippery. It's still very difficult to get a proper feel for the car, although it was promising to see how better it all got with every lap, but in the end it is the same for everybody. Of course, tomorrow it could rain and we have seen how even more slippery the tarmac gets when it's wet, so we'll just need to wait and see in what conditions we will run in qualifying."
Red Bull AlphaTauri Honda
Daniil Kvyat (6th, 1:29.689): "I think we had a productive Friday, we completed our programme and everything we wanted to do, we managed to have a decent day on a new track for us. It's very particular and grip conditions were very poor today, but we've been learning and trying to understand what to do to make the car faster in these conditions. It's my first time racing here and the track is quite cool, it's just a shame about the grip levels. We will be working overnight to maximise the car's performance for tomorrow."
Pierre Gasly (7th, 1:29.944): "It was a bit of a shock this morning when we found out how slippery the track was, but overall it was a pretty fun day to drive in these conditions. It was very unusual having to drive an F1 car with the grip being so low. I think we have to revise and re-analyse a bit what we want to do in terms of the car set-up and strategy for the weekend and try to work from there. The performance so far seems to be quite good, but it's very tricky, so we need to really nail everything if we want to be competitive tomorrow."
Jonathan Eddolls, Chief Race Engineer: "The conditions all of the teams faced today made it quite an interesting and challenging day – very different to what we are used to! We knew it was going to be difficult coming here with the new tarmac, the high working range tyres and the hard and conservative compound choice, but we didn't expect it to be quite as low grip as it was. The track was damp at the start of FP1 as the circuit had been cleaned, and even when it dried the lap times for everyone were slower than we would have expected on an intermediate tyre. The balance was a mixture of everything, which made it hard to learn much about the car in that session. What we did know was that the first priority was getting the tyres to work. We made some changes to the car in FP2 to try and address the grip levels and what we felt were the big-ticket items - just the fundamentals of getting the car to work properly rather than fine tuning the set-up. It wasn't easy for our drivers with the first runs on the Base tyre, but on Option we made a good step in performance which showed the changes we made to the car have been a step in the right direction. The car performance is dominated by tyres with this new tarmac and track temperatures, and we're expecting similar conditions on Sunday to what we had today. Tomorrow there's the potential for showers, which could make for an exciting FP3 and Quali, but we have made good progress with the car already through the Friday and we will work hard tonight on the analysis to continue pushing the setup in the right direction."
Williams Racing
George Russell (17th, 1:32.302): "It was incredible, I have never ever experienced anything like this in a race car. I hope the track rubbers in a bit tomorrow, gets faster and more grippy because it was not fun out there. It is going to be a massive window of opportunity for everybody this weekend if you get it right though. We struggled to get the tyres switched on in FP1, but we got them working in FP2, and from then the car was feeling great and our long high fuel pace was really strong. It is a shame we will be starting at the back, but there is optimism because there will potentially be big gaps between cars. Because of our strong Saturday performances, we've then been battling with faster cars behind us on Sundays, so I am excited to be the one attacking now and see what we can do in the race."
Nicholas Latifi (20th, 1:33.488): "It was very tricky out there with very unique track conditions. I have always wondered what it is like to drive a Formula One car on ice, and I didn't have to go to Finland to find that out! Overall, it was a pretty fun day, there was not a lap that didn't feel like you had to constantly work. In terms of car set-up and the direction, you have to take everything with a pinch of salt as the track is going to keep improving. We have already seen the improvements that we have made between FP1 and FP2 and that is going to continue as the track is going to keep rubbering in. We have our work cut out to see how we manage and balance that and how much we react to what we felt today versus what we anticipate. We possibly may get some rain tomorrow which could mix things up a bit. I don't know if that will be a good or bad thing as it may clear the rubber off, but it also may help extract the oil from the tarmac. Nonetheless I think it will be a very exciting Saturday and Sunday."
Dave Robson, Senior Race Engineer: "Today was a difficult day throughout, with the tyres really struggling to generate temperature on the new track surface. This caused a few issues this morning and prevented us from doing any useful testing. The programme was adapted to allow us to learn what we could, but it was still a very difficult session. We made some changes to the car for FP2 to try and improve the tyre performance and this, along with the natural track improvement, was a good step forwards from the morning. Nonetheless, it remained very difficult with both drivers spinning on high fuel as they looked for the limit at this tricky circuit. Exactly how the track and the weather will behave tomorrow is still a bit uncertain and so we will need to remain agile tomorrow. We will study the data collected today to give us a menu of options to try tomorrow. With George likely to start from the back of the grid on Sunday then his priorities for tomorrow are a little different to Nicholas, but overall, we will probably still be concentrating on maximising tyre performance."