Turkish GP 2020
NOVEMBER 13, 2020
Friday Report - Slippery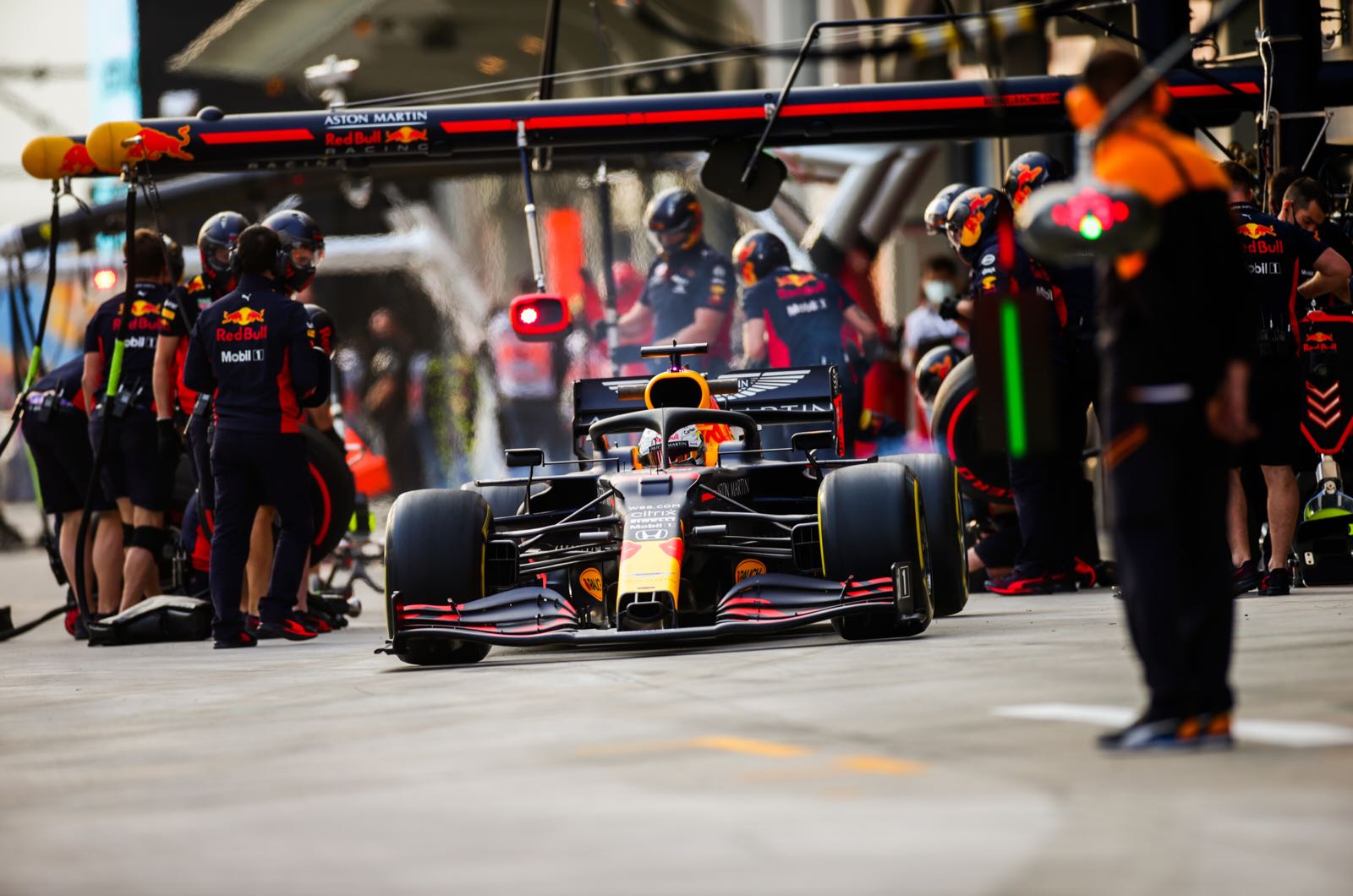 © Red Bull
A new track surface, cool conditions and hard compound tires created very slippery and low grip for the drivers and cars in Turkey as Formula 1 returned to the Istanbul Park for the first time since 2011. Max Verstappen clocked the fastest lap time in Free Practice 2 – a 1:28.330 – in his Red Bull. Compare that to the lap record held by Juan Pablo Montoya who clocked a time of 1:24.770 in his McLaren-Mercedes in 2005.
The line-up for the weekend was: Mercedes – Lewis Hamilton and Valtteri Bottas; Ferrari – Sebastian Vettel and Charles Leclerc; Red Bull Honda – Max Verstappen and Alexander Albon; McLaren Renault – Carlos Sainz and Lando Norris; Renault – Daniel Ricciardo and Esteban Ocon; AlphaTauri Honda – Daniil Kvyat and Pierre Gasly; Racing Point Mercedes – Sergio Perez and Lance Stroll; Alfa Romeo Ferrari – Kimi Raikkonen and Antonio Giovinazzi; Haas Ferrari – Romain Grosjean and Kevin Magnussen; Williams Mercedes – George Russell and Nicolas Latifi.
Verstappen clocked the best time in the wet and slippery FP1 – a 1:35.0771 around the 14 turn, 3.316-mile (5.338 km) Istanbul Park circuit.
The ambient temperature at the start of the 90-minute FP2 session was 59 degrees Fahrenheit (15 degrees Centigrade) and the track temperature was 64 degrees Fahrenheit (18 degrees Centigrade).
Bottas got things rolling with a 1:35.107 and then a 1:34.300 on the medium compound Pirelli tires. Leclerc topped that with his 1:33.429.
Fifteen minutes into the session Verstappen clocked a 1:32.836 only to have Albon crossed the line with a 1:31.916 followed by a 1:30.872. Both drivers were on the medium compound tires.
Grosjean had a spin and radioed that he did not want to continue on the hard compound tires.
Just past the 30 minute mark the order was: Abon, Hamilton, Verstappen, Leclerc, Bottas, Perez, Raikkonen and Latifi.
But now some drivers were heading out on the soft tires, but the tires were graining and not immediately proving to be quicker than the mediums. But Leclerc managed to get a 1:30.751 and then a 1:30.307.
"The front (tire) is ripping apart," Sainz radioed as he struggled with the graining.
Halfway through the session Albon retook the lead with a 1:29.627. Leclerc was second ahead of Verstappen, Vettel, Kvyat and Hamilton. All but Hamilton had used the soft tires.
Albon improved to 1:29.363, while Verstappen clocked a time 0.007 of a second slower, and Leclerc was 0.017 of a second slower.
The drivers were learning how to nurse the tires through the graining stage, and they had to do number of laps before going for a fast time. Verstappen slipped in a 1:28.984 and Leclerc went ahead with his 1:28.731.
Verstappen responded with a 1:28.330 just before the one hour mark. Leclerc was now second ahead of Bottas, Hamilton, Albon, Kvyat, Gasly, Vettel, Stroll and Norris.
The drivers concentrated on long runs in the final half hour. So the top 10 at the end of the slippery FP2 remained: Verstappen, Leclerc, Bottas, Hamilton, Albon, Kvyat, Gasly, Vettel, Stroll and Norris. The latter was celebrating his 21st birthday.