Steiermark GP 2021
JUNE 28, 2021
Race Analysis - Runaway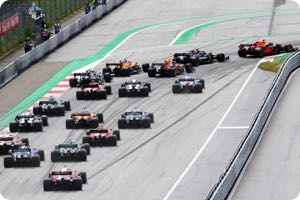 By Dan Knutson
Max Verstappen ran away from the field and led every lap to win the Styrian Grand Prix in his Red Bull. His victory evolved this way.
SIXTH
Verstappen qualified on pole for the sixth time in his F1 career.
FOURTH
Mercedes driver Lewis Hamilton qualified second. It was the fourth time this season the pair had shared the front row.
ROUNDED
Lando Norris (McLaren), Sergio Perez (Red Bull), Valtteri Bottas (Mercedes), Pierre Gasly (AlphaTauri), Charles Leclerc (Ferrari) and Fernando Alonso (Alpine) rounded out the top eight on the grid.
GOODBYE
Verstappen took the lead at the start of the race and said goodbye to the rest of the field.
WELL CLEAR
Verstappen was well clear of the accident when Leclerc and Gasly tangled on the exit of Turn 1. Leclerc had to pit for a new front wing and dropped to last place. He would storm back to finish seventh. Gasly's car had damaged left-rear suspension and he had to retire.
THE ORDER
The order behind Verstappen at the end of lap 1 of 71 was: Hamilton, Norris, Perez, Bottas, Lance Stroll (Aston Martin) and Alonso.
PASSED
Perez and Bottas passed Norris to take over third and fourth.
20
On lap 20 Verstappen had a 4.3 second lead over Hamilton who was 13.2 seconds ahead of Perez.
STOPS
Perez was the first of the front runners to pit, coming in at the end of lap 26 to switch from the soft compound to the hard compound Pirelli slicks. It was a slow stop, so when Bottas pitted a lap later to go from the mediums to the hards, and he was able to come out in front of Perez.
STOPS II
Hamilton made his switch from mediums to hards at the end of lap 28. Verstappen did the same a lap later and kept the lead.
SWITCHED
Perez switched to a two-stop, pitting for the medium tires on lap 54. The fresh tires allowed him to close in on Bottas. But Bottas just managed to finish third ahead of Perez.
"We just needed one more lap and we could have done it," Perez said, "that's all it would have taken."
RALLYING
"From where I started, I think we maximized the race - starting from fifth and finishing third was a decent result," Bottas said. "There was not much left in my tyres at the end, today was more like rallying in Finnish Lapland than F1 in Austria! The Red Bulls seem two-tenths quicker than us each lap at the moment, which is quite a lot."
LONELY
"Today was a bit of a lonely race for me," Hamilton said after finishing second. "I was trying to keep up with the Red Bull but with the speed they have, they have obviously made some big improvements over the last couple of races and it was impossible to keep up.
"I don't know where we are losing all the time, I think their long runs seem to be a bit better, plus on the straight it feels like we lose a lot."
49
Hamilton now has 49 second place finishes, which ties the record set by Michael Schumacher.
ON FIRE
"The car was on fire today," Verstappen said after his fourth win of the season.
FOCUSED
"I just focused on my own race," Verstappen said, "concentrating on hitting the apexes in the places I wanted to, looking after the tires and it worked out well.
"You never know how competitive or how close it's going to be on a Sunday and to be honest I really wasn't expecting it to be like it was today as the long run pace between the two teams was very closely matched all weekend."
FOUR-PEAT
It was Red Bull's fourth consecutive win. The last time Mercedes went four consecutive races without a victory was in 2014.