Steiermark GP 2020
JULY 13, 2020
Race Analysis - A comfortable win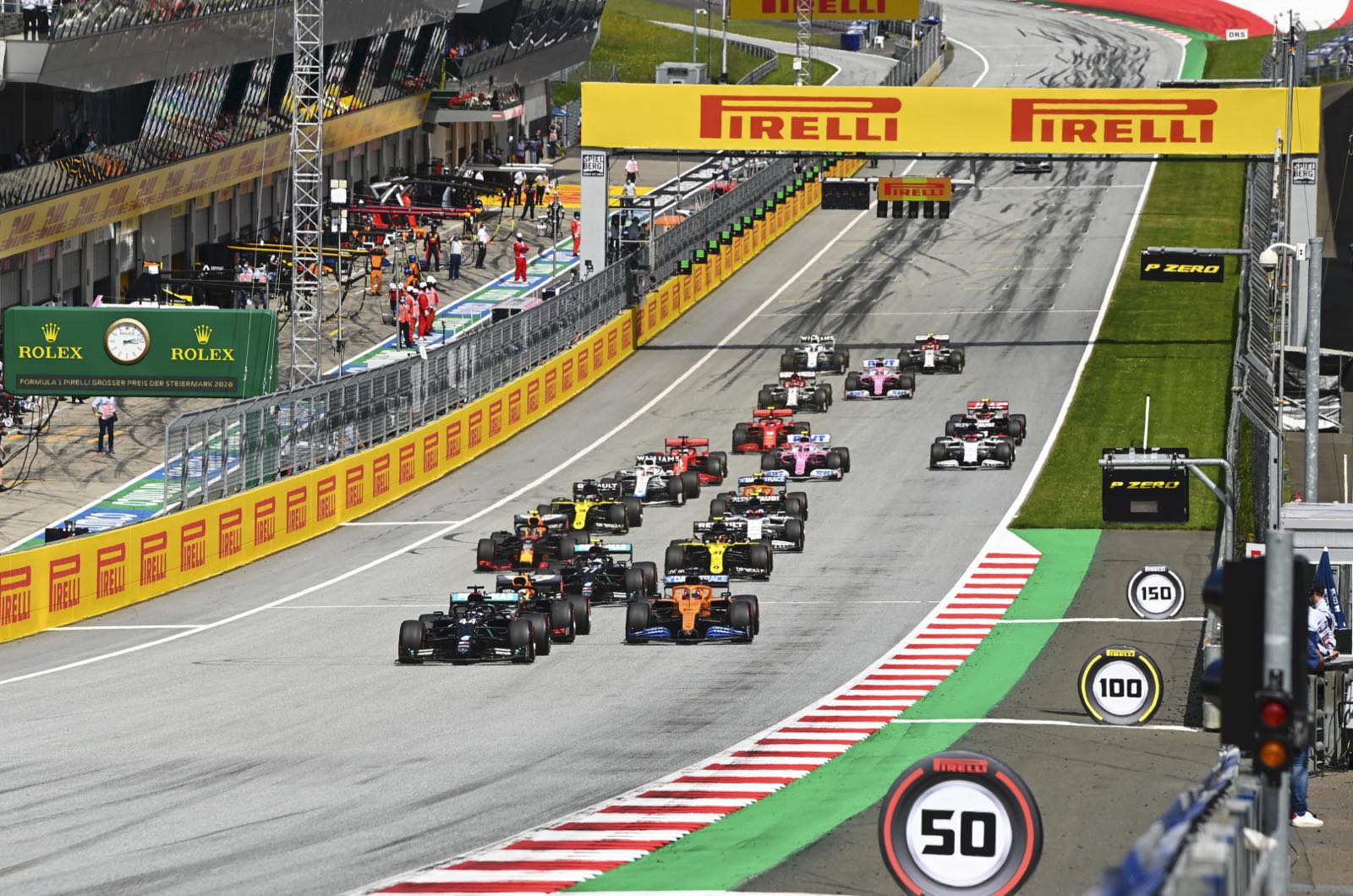 © Mercedes-Benz Grand Prix Ltd.
By Dan Knutson
Lewis Hamilton cruised to a comfortable win ahead of his Mercedes teammate Valtteri Bottas in the Styrian Grand Prix. Here is how his 85th F1 victory unfolded.
SECOND VERSE
Second verse, same as the first – at least as far as the race track was concerned. The Austrian and Styrian Grands Prix were held on consecutive weekends at the Red Bull Ring.
BUT DIFFERENT
But it was different, of course, including heavy rain on Saturday when Hamilton earned the pole with a time 1.2 seconds faster than Red Bull driver Max Verstappen. Carlos Sainz qualified third in his McLaren. Bottas, on pole the week before, lined up fourth.
ROUNDED
Esteban Ocon (Renault), Alex Albon (Red Bull), Pierre Gasly (AlphaTauri) and Daniel Ricciardo (Renault) rounded out the top eight on the grid.
GETAWAY
Hamilton made a clean getaway to take the lead ahead Verstappen, Sainz, Bottas and Albon.
FERRARI FUMBLE
Charles Leclerc tried to squeeze inside Ferrari teammate Sebastian Vettel at Turn 3. But there simply wasn't any room, and Leclerc's left rear tire rode over Vettel's right rear and then crunched into Vettel's rear wing.
"What happened today is clearly my fault," Leclerc said. "There's nothing else to say. I take full responsibility. I made a mistake and apologizing is not enough."
BUSY
"I didn't get a very good start, losing a bit of momentum off the line," Vettel said. "Then, it was very busy in Turn 3 and I was already fighting two cars. I had the inside line so I was not expecting anyone to try anything. I could not see that Charles was coming and unfortunately, I had nowhere else to go as there just wasn't enough space."
SC
That brought out the safety car for until the end of lap three. Hamilton comfortably resumed the lead.
FIRST
Verstappen was the first of the front runners to pit, at the end of lap 24, to switch his soft compound Pirellis for the medium compound slicks.
27
Hamilton did the same at the end of lap 27. Bottas led laps 28 to 34 before making his stop.
NOW
The order was now Hamilton, Verstappen, Bottas, Albon and Ricciardo. But the latter two had yet to pit.
CLOSING IN
Bottas closed in on Verstappen and they had a fierce battle on lap 66 before Bottas finally claimed second place on lap 67 of 71.
"It was a good battle with him," Bottas said. "Obviously I think I had quite a bit more pace than him at the end as we extended the first stint, but yeah racing closely is always good fun."
FREE STOP
Verstappen had such a big gap over Albon that he had time to pit for a fresh set of the soft Pirellis. His goal was to get the championship point for setting the fastest lap of the race. But he reentered the track in traffic.
"I was just pushing as hard as I could to try and stay with them," Verstappen said of Bottas and Hamilton. "But clearly it's still not good enough. The gaps, compared to the guys behind were massive. I was a bit shocked. I tried everything I could but it's still not enough. So, we've still got some work to do but to bounce back from zero points last week to a podium now is a good start – but I think, as a team, we want to win."
IDEA
Sainz had had the same idea the lap before, and it was he who claimed the point.
ME TOO
"I tried to get the fastest lap towards the end," Hamilton said, "but I had 40-lap old mediums, so it was going to be difficult against someone on new, fresh rubber."
ACTION
While Hamilton circulated out front, there was plenty of action in the final laps. Sergio Perez was charging in hid Racing Point and was able to challenge Albon for fourth and then damaged his front wing in the process.
PASSED
Lando Norris passed Perez, Lance Stroll (Racing Point) and Ricciardo during the last two laps to claim fifth place.
TRIO
The trio of Perez, Stroll and Ricciardo were nearly side by side as they crossed the finish line in that order in sixth, seventh and eighth.
WEAKER TRACKS
"This has tended to be one of my weaker tracks," winner Hamilton said, "so I am over the moon to have a performance like this today - so, so happy. This feels like a long time coming since the final race of last year and it is a great step forward to come back from a difficult first weekend. The team did a fantastic job with the strategy and then it was about keeping it together, staying off the curbs and bringing it home.
"We know there's a long way to go and it's a challenge for everyone, but this is a step forward, for sure."
TRIPLEHEADER
After the two races in Austria it was on to Hungary for race three of 2020 on the following weekend.