Steiermark GP 2020
JULY 11, 2020
Qualifying Report - Slippery Pole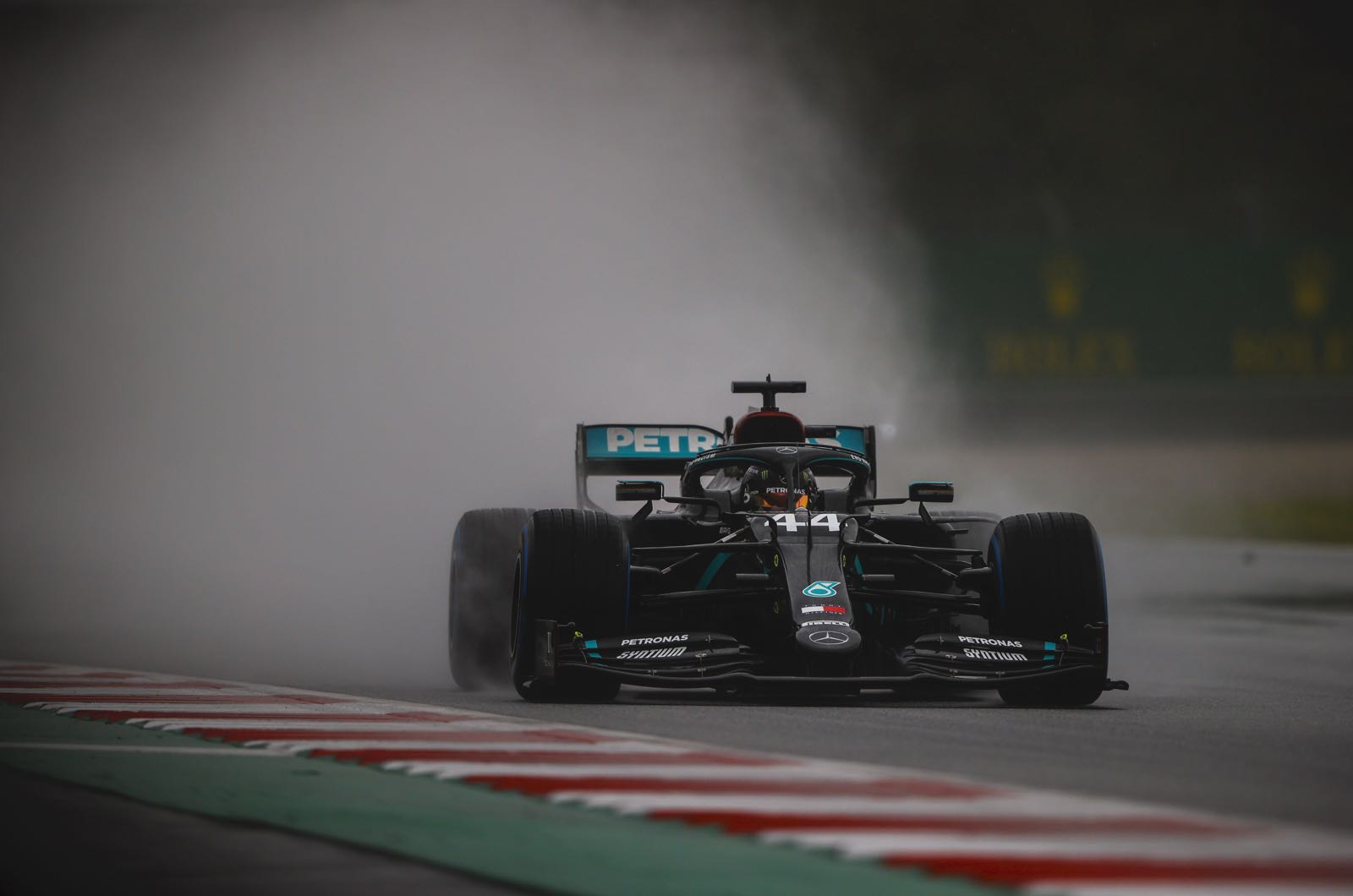 © Mercedes-Benz Grand Prix Ltd.
By Dan Knutson
The Free Practice 3 session earlier in the day had been canceled due to torrential rain. And the start of qualifying was delayed by 46 minutes because of rain. But there was no delaying Lewis Hamilton who grabbed the pole on a slippery track in his Mercedes. It is his 89th career F1 pole.
"What a tricky day," Hamilton said. "I love these days!"
The line-up for the weekend was: Mercedes – Hamilton and Bottas; Ferrari – Sebastian Vettel and Charles Leclerc; Red Bull Honda – Max Verstappen and Alexander Albon; McLaren Renault – Carlos Sainz and Lando Norris; Renault – Daniel Ricciardo and Esteban Ocon; AlphaTauri Honda – Daniil Kvyat and Pierre Gasly; Racing Point Mercedes – Sergio Perez and Lance Stroll; Alfa Romeo Ferrari – Kimi Raikkonen and Antonio Giovinazzi; Haas Ferrari – Romain Grosjean and Kevin Magnussen; Williams Mercedes – George Russell and Nicolas Latifi.
QUALIFYING 1
The drivers lined up at pit exit as they were anxious to get laps in as soon as possible because more rain was on the way.
Vettel was the head of the line and the first to start a flying lap. He clocked a 1:24.235.
"I can't see a thing!" Verstappen radioed from the spray.
Grosjean slid off the track and returned to the pits.
Leclerc then took a lead with his 1:23.072 followed by a 1:21.857 and a 1:20.871. Then Hamilton posted a 1:20.953.
With six minutes remaining in Q1, Ricciardo was 15th and on the bubble. Latifi was 14th and Russell was 16th.
The lead kept changing from Bottas to Norris to Sainz to Hamilton. Giovinazzi had a big spin at Turn 10 but managed to keep going. But he then parked the car at Turn 4, which brought out the red flags with 11 seconds remaining.
The five drivers who were eliminated at the end of Q1 were: Raikkonen, Perez, Latifi, Giovinazzi and Grosjean.
The fastest 15 drivers who moved on to Q2 were: Hamilton, Verstappen, Norris, Sainz, Ricciardo, Ocon, Stroll, Kvyat, Gasly, Magnussen, Russell, Albon, Vettel, Leclerc and Bottas.
QUALIFYING 2
Bottas took the lead with a 1:19.006. Verstappen was second but a full second slower than Bottas.
Verstappen beat that with his 1:18.155.
With seven minutes left in the session Leclerc was 10th and on the bubble, and Vettel was ninth with Stroll 11th.
Verstappen lowed his time to a 1:17.938. With three minutes remaining he radioed that the rain was getting heavier. But by then Hamilton was on top with a 1:17.825
That was bad news for Leclerc who was 11th.
The fastest 10 drivers who moved on to Q3 were: Hamilton, Verstappen, Norris, Bottas, Gasly Ocon, Sainz, Albon, Ricciardo and Vettel.
The five drivers who were eliminated at the end of Q2 were: Leclerc, Russell, Stroll, Kvyat and Magnussen.
QUALIFYING 3
Verstappen was the first out in the 12 minute Q3. The rain increased in intensity.
"A lot more water down," Hamilton radioed.
Verstappen went into the lead with a 1:21.800. Hamilton grabbed second ahead of Bottas, Ocon and Albon.
Verstappen got down to a 1:21.570, but Hamilton beat that with a 1:7.272. Gasly was now third, but Norris grabbed the spot away from him.
Bottas took over first with a 1:21.036. Hamilton snatched it was by posting a 1:20.649. Albon was third with three minutes remaining.
Then Verstappen took first with a 1:20.489, but moments later Hamilton crossed the line with his 1:19.702.
Verstappen was on a flier but spun off at Turn 10. Hamilton then ended the session with a 1:19.273.
So Hamilton was on the pole with Verstappen second. Sainz, Bottas, Ocon, Norris, Albon, Gasly, Ricciardo and Vettel rounded out the top 10.