Spanish GP 2022
MAY 21, 2022
Saturday Team Quotes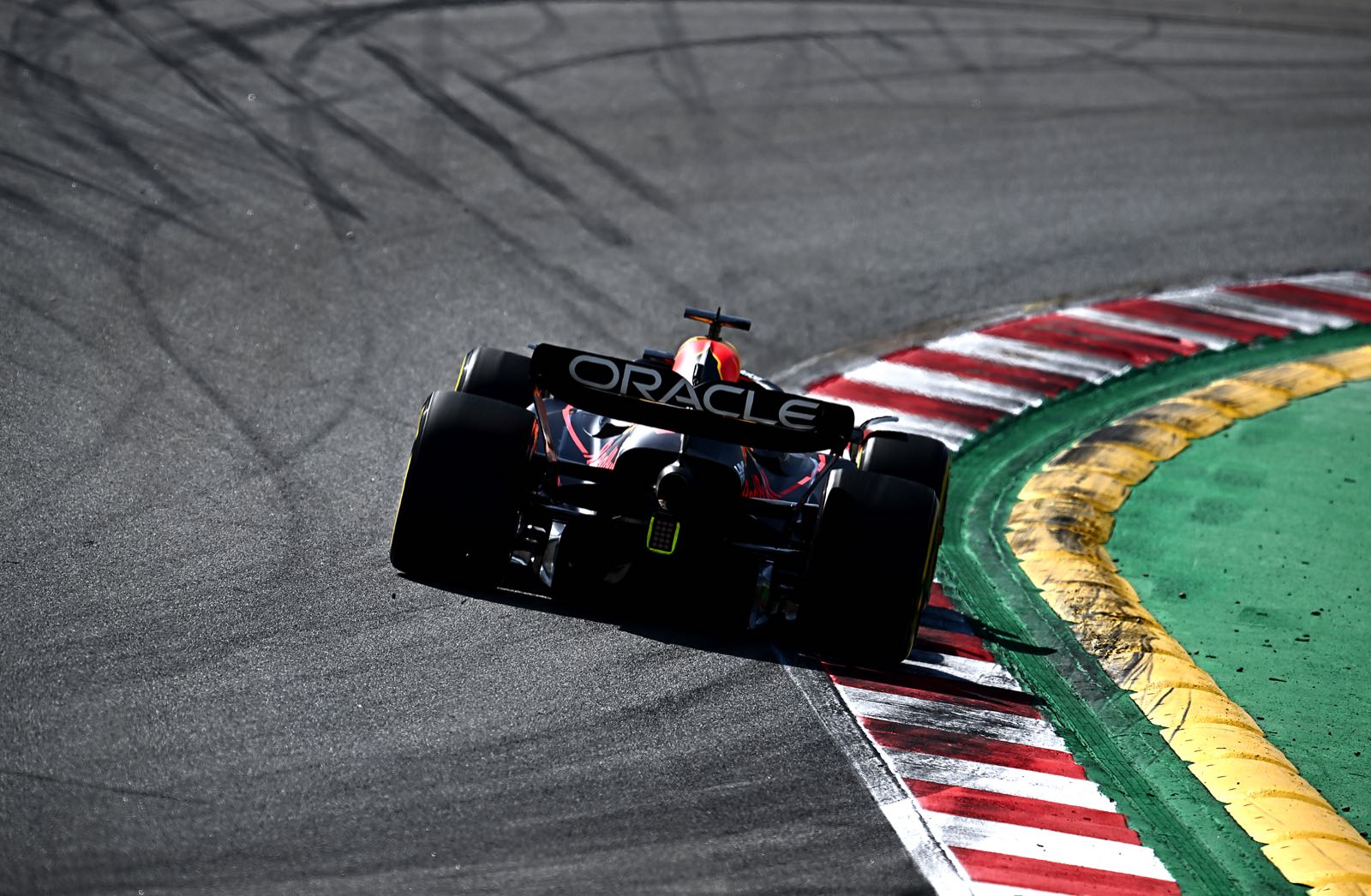 © Red Bull
Mercedes-AMG Petronas F1 Team
George Russell (4th, 1:19.393): "Today was a good step in the right direction. It's our best qualifying position as a team this season, ahead of one Red Bull, and a positive session for us as we've finally got a good baseline. The pace gap to Ferrari on pole is still big, but there was more potential for us, too - the tyres were not in a perfect window and that made it tricky, especially in Q3. There's a long race ahead tomorrow and I think we'll be in a better place then - while some of the cars around us are a bit of an unknown. And on the development, we've finally now got a good baseline, and we need to continue this path and find more performance."
Lewis Hamilton (6th, 1:19.512): "We've made steps forward this weekend and I'm very proud of the team for all the work they have done. The car is on longer bouncing on the straights, but we still have some in the corners, so we need to keep working. Overall, it's a positive step to be in Q3 with both cars, and looking at George's time, we are getting closer to the front. It was a confusing session out there as we had been given a delta time to respect in qualifying for the out laps - and not everybody was doing so. The cars that followed the guidance had a performance disadvantage as the tyres were hotter starting the timed lap, so hopefully that will be examined properly. Looking ahead to the race, we had decent long runs yesterday, and we know the conditions will be very hot - my target will be to go forward from P6."
Toto Wolff, Team Principal: "P4 and P6 are probably the best positions we could have expected to slot into today, given the challenges we have faced in the first five race weekends, and the progress we are now starting to make with the car. I believe we have a race car more than a qualifying car, so we will see how that goes tomorrow; the trend has generally been for Red Bull to be stronger in the race, Ferrari less so, but who knows what will happen tomorrow. Overall, I think we have made a solid step forward this weekend, and we know how to unlock more performance, too. Our rivals have continued development while we have paused to solve the bouncing - so when we pick that up and start to better understand the tyres now the bouncing is gone, then I think we will be closing them down."
Andrew Shovlin: "It's frustrating not to be closer to the front; we've clearly made progress with the car, but we were getting a bit of overheating in the final sector and once it starts, the sliding generates more temperature, and the problem compounds itself. That explains a good proportion of the gap but no doubt we've also got a bit to come on the setup. It's a very different package that we have brought here and we're still learning how to get the most out of it. We're looking forward to tomorrow, our long run looked a more competitive than single lap yesterday so hopefully we can put some pressure on the cars ahead of us and the high degradation should give some interesting options on strategy. Considering the gaps that we were looking at in the last few races, we never expected to close up in a single step so while we can't be satisfied with fourth and sixth, it is at least encouraging that we have a car that is behaving in a more predictable way and that we are making steps in the right direction."
Oracle Red Bull Racing
Max Verstappen (2nd, 1:19.073): "We are starting second tomorrow which we can be happy about but it was a bit of a shame with the last run. The DRS didn't open so I backed out and aborted the lap as I was losing a lot of time, three or four tenths. That meant we didn't get the opportunity to fight for pole, nevertheless, we will give it a good go tomorrow. Ferrari are looking pretty strong so it will be hard to beat them, they did a long run this morning and it looked strong. Tyre management is going to be really important tomorrow with the heat and you also need overall race pace. Hopefully we'll have more pace tomorrow and there's a long run into turn one so a lot can happen."
Sergio Perez (5th, 1:19.420): "Today was tough, there was more to give, especially on my final run in Q3, we tried something different with the set-up and it felt a bit awkward, so I didn't get a great lap. I have felt like I have been struggling throughout the weekend, I haven't been comfortable, we tried some things on the car and the pace was there but I couldn't quite make it work to put that lap together today. It's not an ideal result but I think we will have good race pace and we will push from the start. I still think we can fight from fifth, tomorrow is a long race and anything can happen. I think it is going to be very hot, especially for the tyres, degradation will be high so it will be an interesting one. Ferrari were very strong today so we will see what we are able to do against them come race day, hopefully we are able to get them back. Tomorrow is a different situation and our long runs have looked good in practice so we can be confident."
Christian Horner, Sporting Director: "I'm pleased we will start from the front row tomorrow with Max in P2, as he had a DRS issue on his final lap which meant he didn't get the chance to reply to that final lap from Charles. While I don't think we had enough to beat his time today, I do think we'd have been closer without that issue. It shows that it's such fine margins in this sport and that's the same with Checo, he didn't quite nail Sector One which means he starts from P5, but he'll race ok from there. In these temperatures it's all going to be about tyre degradation and management, so I think it will be a very close and fascinating race tomorrow."
Scuderia Ferrari
Charles Leclerc (1st, 1:18.750): "We really turned things around since yesterday and our team did an amazing job. We struggled a lot in the first two practice sessions this weekend, especially with the tyres. We analysed all the data and made significant changes to the car last night. We saw some improvements this morning when we did a long run and hopefully it will be enough to beat our competitors who have had an advantage in this area for the past two races. As far as qualifying goes, it was a tricky session. I think that my first lap in Q3 was great until I pushed a little too much in turn 14 and lost the rear. I had just one shot to bring it home after that and I'm very happy with my lap and our performance in general."
Carlos Sainz (3rd, 1:19.166): "Overall P3 is a decent result for tomorrow and we feel positive for the race, as the upgrades seem to be working well. We still struggle a bit with the rear being very light in this car, so I'm not driving it exactly the way I would like to. However, we still managed to grab P3, which is a good position to attack tomorrow. We'll give everything from there to fight for the win! A big thank you to the mechanics for their hard work overnight to change the chassis and also to every fan out there in the grandstands for their incredible support. Let's race tomorrow!"
Laurent Mekies, Sporting Director: "There were several positives to take from today, first and foremost Charles' qualifying, which I think was simply amazing. Already on the lap on which he spun, he looked to be on course for pole position and afterwards, he did very well to keep calm and concentrate, putting together a fantastic lap. Carlos also did very well. He has been quick all weekend and this afternoon, he was on the pace, just missing out on the front row by less than a tenth. We expected it to be a very close competition with our main rivals as usual and so it was, with Verstappen qualifying between Charles and Carlos. Another positive aspect was that the risk we took with Charles in Q2 paid off as it gives us greater flexibility tomorrow in terms of his strategy, with an extra set of new Softs. Well done also to the team, who worked late into the night to fix the problems on Carlos' car and to everyone in Maranello for their efforts in fine tuning the updates introduced at this race. They worked, although we believe it will take a few more races to get the most out of them. We can be happy with how today went, but we are not getting carried away when it comes to tomorrow's race. It's possible our rivals could be more competitive tomorrow than they were today and I think that any aspect, from the start to tyre degradation, which will probably be the highest we have seen so far this season, could make the difference."
McLaren F1 Team
Daniel Ricciardo (9th, 1:20.297): "It was a pretty good session. I'm happy with Q3. I think that was our target, for sure, so we had our work cut-out for us. I think it was a pretty tricky weekend so far, just trying to understand the new parts on the car – but I'm relatively happy to get into Q3 and just get on top of it enough to do that. I think we're still fighting a little bit in some areas so I'm just trying to perfect it – but on paper ninth is a solid place to start, and we'll keep chipping away. So hopefully we'll keep finding bits and pieces and get some solid points tomorrow."
Lando Norris (11th, 1:20.471): "It's been a frustrating end to what was otherwise a quite promising day. From what I could see in the cockpit, I thought I was inside the line but unfortunately I wasn't, and so I had the lap deleted. It is frustrating, because we had good pace in the car, and we could have been two or three positions higher. Overtaking is difficult in Barcelona and it's not going to be an easy race – but hopefully we can make up a few positions and have a good Spanish Grand Prix."
James Key: "This has been a busy weekend, we brought a lot of new developments for the car here at the Circuit de Barcelona-Catalunya. Much of yesterday was spent trying to understand and optimise our upgrade, and there was a great deal of work overnight to analyse it. In FP3 this afternoon we made the progress we hoped for and were able to start exploiting the performance gain we were expecting, so far everything has correlated well, but there is still a little work to do to get the most from our new parts. This afternoon was a mixed bag. Daniel did a great job to get through to Q3 and will start P9, Lando was unlucky to lose his Q2 lap, running a fraction beyond the track limits and sadly losing a lap good enough to put him into the top 10 today. He's only dropped to P11, however, and he can achieve plenty from there tomorrow, there's everything to play for. Our set-up is race-biased rather than qualifying-biased, so we're hopeful of making good progress."
BWT Alpine F1 Team
Esteban Ocon (12th, 1:20.638): "It's not been an ideal day for us today and definitely frustrating as we know there was more performance to unlock from the car. Our tyres were overheating a little bit throughout qualifying as we maintained the minimum out-lap speed, but it was going to be a tough challenge to reach Q3. A range of strategies are possible for us tomorrow so that makes things interesting for the race. We can pretty much play with all tyre combinations and we know strategy will be very important for our day to go well. I'll start the race in a better position than I did in Miami so we're going to go out there and see what we can do to come out with points."
Fernando Alonso (17th, 1:21.043): "It was a difficult qualifying session for me today and we had a bit of a misunderstanding on my final lap of Q1. I thought we had a one or two second margin to get across the line, but we actually had a twenty second margin in the end. It's a high price to pay here because as we know it's very difficult to overtake on this track. Let's see tomorrow because in the last few races people who have started towards the back of the grid have had a well-timed Safety Car and then are inside the top ten. We need to hope for one of those tomorrow and maybe we get some luck and take some points. Today the car was not as fast as yesterday and we need to understand why that was the case."
Otmar Szafnauer, Chief Operating Officer: "We feel frustrated by today's Qualifying outcome as that was not where we hoped to be, and it does not reflect the true potential of our car after a promising Friday Practice yesterday. Unfortunately, we have neither car inside the top ten for contrasting reasons. On Fernando's side, quite simply, there was a problem with timings, which meant he was misplaced in traffic on his out lap and that ultimately compromised his qualifying effort. Esteban was able to progress through Q1 and ran strongly in Q2, adhering to the minimum out-lap speed on his runs where a significant number of his direct competitors did not. In the end, he fell just short of reaching the top ten and we will look into some of the factors that contributed to this deficit, as we feel we had the pace to be in Q3. Tomorrow is a new day. We were left feeling disappointed in Miami after Qualifying last time out and we enjoyed a strong race on Sunday, so all is not over yet. We'll do our best on strategy and I'm sure both Fernando and Esteban will be determined to bounce back in tomorrow's race."
Scuderia AlphaTauri
Yuki Tsunoda (13th, 1:20.639): "I think we extracted the maximum from the car today, so I have to be happy with that. I've been on the back foot from FP1, as we've really struggled with pace here in Barcelona, especially compared to Miami, so we thought from the beginning that getting through to Q3 would be difficult. It's not been the best weekend so far for the team, but hopefully we can put it altogether for the race tomorrow."
Pierre Gasly (14th, 1:20.861): "We've been struggling all weekend and then we had the issue in FP3 on the out-lap which meant we couldn't run at all that session. I want to say a big thank you to all the mechanics that put the car back together in time for Quali today, as there was a lot of work involved. We've lacked pace on this track, so we wanted to try some things this morning but unfortunately that wasn't possible. So, we thought we would try something different for Quali, aiming to get some extra speed from the car, but it just didn't work and it was a difficult session. It didn't pay off, but tomorrow is another day and ultimately where we score points. It's going to be a pretty long race, particularly with the degradation as we think there will be a lot of stops, so I think there will be opportunities to move forward and head towards the points."
Jody Egginton, Technical Director: "Today has been difficult, we are not where we wanted to be with the car here in Barcelona. Both the drivers have worked hard to get the most from the car in Qualifying, but with the balance not quite where it needs to be it's not been possible to progress beyond Q2 on this occasion and this is something we are focused on addressing. The engineers will continue to look for improvements we can make for the race so this, together with the pre-race strategy work, will be the focus tonight. Unfortunately, we are starting outside of the top 10, although overtaking is historically not that easy here, we will be looking for any opportunity to get our cars moving forward tomorrow. The target is to get into points scoring positions with both cars, in what is likely to be a tight race in the midfield."
Aston Martin Aramco Cognizant F1 Team
Sebastian Vettel (16th, 1:20.954): "We were looking stronger in free practice and I honestly thought we would do better in qualifying. This afternoon, however, I struggled with the balance: I had a lot more oversteer and could not really carry speed into the corners without losing the rear. Still, the team has done an incredible job to bring two all-new cars to this race – that was a huge effort. The reward of all that effort is not showing quite yet, but I am sure it will come. Tomorrow is a new day and we will be pushing hard. It does not help when you start farther back, but I think we should be able to make up some ground in the race."
Lance Stroll (18th, 1:21.418): "It is a disappointing result today. I have struggled with the balance of the car all weekend and, when you do not feel comfortable, you cannot set fast laps. We know it is early days with this package, though, so we need to make sure that we understand the reasons for today and see how we can improve the set-up moving forward. Now, it is about focusing on tomorrow. The conditions are likely to be very hot and the tyres need to be managed, so maybe we can make up ground with a good strategy. We will see."
Mike Krack, Chief Operating Officer: "It is a disappointing result today. I have struggled with the balance of the car all weekend and, when you do not feel comfortable, you cannot set fast laps. We know it is early days with this package, though, so we need to make sure that we understand the reasons for today and see how we can improve the set-up moving forward. Now, it is about focusing on tomorrow. The conditions are likely to be very hot and the tyres need to be managed, so maybe we can make up ground with a good strategy. We will see."
Williams Racing
Alexander Albon (19th, 1:21.645): "We really struggled with traffic at the end of that session; it's always an issue when there are a lot of cars out on track. I'd had a couple of decent runs and I felt like the car was in a good place after the work we'd done to resolve some issues. There was more pace in the car today, but when I came out for my final run there was a traffic jam which made things messy and meant I couldn't improve on my final time. It's frustrating as the car and the tyres were performing, so I'm disappointed that we didn't get a more representative result."
Nicholas Latifi (20th, 1:21.915): "I think tomorrow will be a very long race for everyone. It's going to be the hottest day tomorrow and high tyre degradation will be an issue up and down the pitlane, irrespective of pace, so if anyone gets that wrong it can create a lot of opportunities, so there is still reason to remain optimistic. It was very tricky today - we were really struggling yesterday and overnight we made changes to try to go in the right direction and the car was more normal to how it tends to be in qualifying today - but we are still lacking pace and missing a lot in the high-speed corners."
Dave Robson, Senior Race Engineer: "Having struggled yesterday, we made some changes to the cars overnight, which improved the balance for both drivers. In FP3 we focused on tyre preparation in the hot conditions and found a good window that both drivers were comfortable with. Although the car was performing better today, we knew that to make progress in Qualifying we would need to get absolutely everything out of the car and tyres, and so we opted to run Alex at the very end of the session. Unfortunately, an unnecessary traffic jam in the pit exit held him up and compromised his track position, which prevented him from improving his lap time. Nicholas tried the opposite strategy and ran early for the final run, which enabled him to have a clean lap and set a good time. Unfortunately, we are just not quick enough this weekend and we will have to be opportunistic tomorrow if we are to get something from the race."
Alfa Romeo F1 Team ORLEN
Valtteri Bottas (7th, 1:19.608): "I am happy about today's result, we had a strong qualifying and we are in a really good place for tomorrow. In theory, we didn't expect this track to suit us too well, but I think the upgrades gave us a good step forward in terms of performance. We had a solid FP3, which allowed us to make up some of the ground we lost yesterday, and we were quite consistent in each run throughout the day. I am glad we qualified well as I don't think it will be easy to overtake on this track: I think P7 was the best result we could get today so I am happy we have achieved it – actually, the gap to the cars in front is not that big! Our car is usually better in the race, so we could be in for a good Sunday."
Guanyu Zhou (15th, 1:21.094): "I'm optimistic about tomorrow's race, as we definitely have the pace to fight for the top ten, but I'm convinced we could have battled for P10 or P11 today. We wanted to avoid the situation we had in Miami, where we got stuck in traffic at the end of Q1, so we chose to go for three runs on soft tyres in the first part of qualifying. It was the safe choice although, in hindsight, my second lap would have been enough to get into Q2. The second segment was always going to be tricky, with no fresh tyres, but that is what we had and we got the most out of it. We'll aim to make up some ground tomorrow and end in the top ten at the end of the day."
Frédéric Vasseur, Team Principal: "The team bounced back really strongly from a challenging Friday, and this clearly shows we are not letting any adversity get in the way of our work. On this day, P7 on the grid was the best possible result and Valtteri delivered an impressive lap to bring home this result. He will be in an excellent position to fight for a points finish – and so will be Zhou, who showed really good pace so far this weekend. We know our car tends to be stronger in race trim, so both drivers will be in a condition to battle the cars around them and hopefully bring home some more points."
Haas F1 Team
Kevin Magnussen (8th, 1:19.682): "I'm very happy with that. Two cars in Q3 for the first time this year just shows that the car is very good. It's been interesting because a lot of teams brought upgrades this weekend and it doesn't seem like they've found a huge amount and we seemed to have also found a little bit, even without upgrades and just in the set-up. We had a DRS issue, which cost me some lap time, how much I don't know, but it was close to the top-five and there was more in it. We start P8 tomorrow, let's go for points!"
Mick Schumacher (10th, 1:20.368): "We're obviously happy about getting into Q3. Even though it didn't really look like we were on the pace, we still managed to do well. Not having driven FP3 definitely put a spanner in the works but we managed to overcome it, so I'm very happy about today and very thankful for the team. It felt great knowing that we haven't brought any updates and a bunch of teams have, knowing that we're still in that ballpark is definitely a good feeling."
Guenther Steiner, Team Principal: "A very good result today and a pretty nerve-racking day in total. In FP3 Mick had the issue with his rear brakes and the hard work the guys had to do to get the car ready for qualifying – they did a terrific job to get it there just in time and you can't ask for more of the team. In qualifying, two Haas cars in Q3 for the first time since 2019! For the whole team, I think it shows that we've made progress in the last races and it's fantastic. Kevin had a few issues with DRS and that maybe hindered a little bit of what could've been a better result, but we are happy with this result today."