Spanish GP 2022
MAY 20, 2022
Friday Team Quotes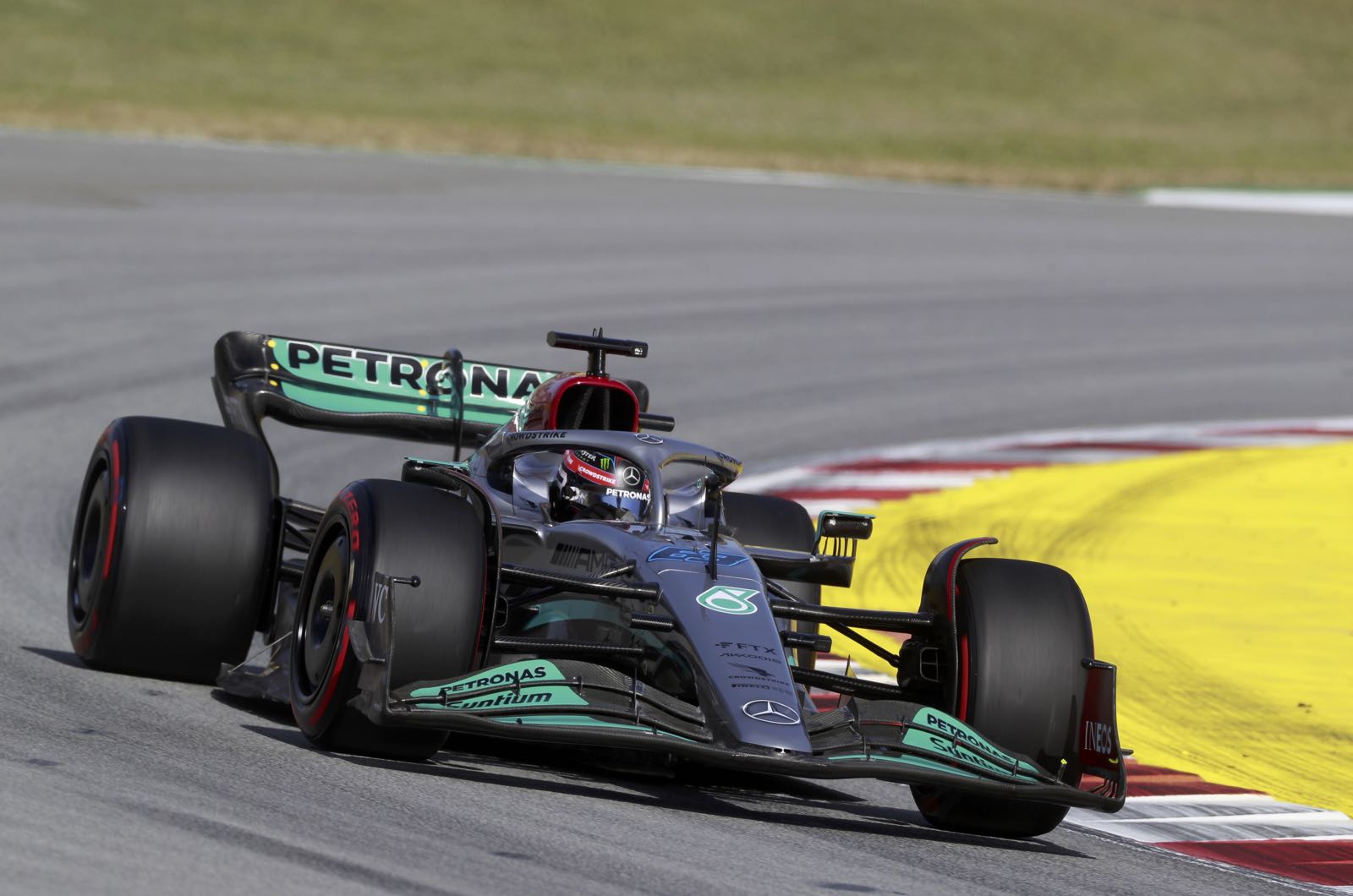 © Mercedes-Benz Grand Prix Ltd.
Mercedes-AMG Petronas F1 Team
George Russell (2nd, 1:19.787): "In Miami we were quickest on Friday, here we're second but the car is definitely reacting differently.. We don't have the porpoising on the straights which is great but we're still experiencing it here and there through the corners which ultimately we need to dial out. Red Bull still look very strong and the team to be reckoned with at the moment. I see no reason why we can't be as close, if not a little closer, to the front throughout the weekend. With the differences in power modes it is difficult to tell where we are on true pace, Ferrari and Red Bull looked to be in their lowest power modes. Degradation was massive for everyone and that's going to be make-or-break in the race on Sunday so that'll be our focus tonight."
Lewis Hamilton (3rd, 1:19.874): "I'm super happy with the progress and a massive thank you to the team back at the factory for all the hard work, refusing to give up and continuing to push. We're not the quickest yet but I think we're on our way. It's the first time we've driven down the straight without bouncing; we still have some, but it's way better. We're starting to eke into the potential of the car. It remains tough out there but much nicer to drive than it has been before. We've brought a few upgrades and we now need to fine tune them. We have a lot of data to go through to position the car, I think we can get it into an even better place for tomorrow to hopefully tap on the heels of the guys in front. Degradation is going to be key here, with these tyres you can't attack, attack, attack - they require a lot of management in these temperatures."
Andrew Shovlin: "It's been a solid start to the weekend, the car is behaving more normally here in Barcelona. We've made progress on reducing the bouncing with this aero update and the pace looks to be a step forward; not quite at the level of Red Bull and Ferrari but we've hopefully pulled ourselves out of the midfield group. We've also had a smooth introduction for the second power unit with both drivers. The hot conditions here are giving the tyres a tough time, it's very easy to overheat them and the degradation rates are high which should make the strategy quite interesting. We'll be running in the simulator in Brackley tonight, trying to find a bit more time in the car but at least we have a good platform to base this on and hopefully we can find a little bit more to carry into tomorrow."
Oracle Red Bull Racing
Max Verstappen (5th, 1:20.006): "Overall it's been a good day, the long runs look positive so we can be happy with that. It has been a bit tricky to find the right balance with the heat and we still have a lot of work to do over one lap. It's tough on the tyres around here, we are not on top of that just yet but at least we know the weather will be consistent tomorrow. I'm looking forward to pushing hard as a Team come qualifying tomorrow. It was also good to have Juri with us in FP1, I hope he enjoyed his first session in the RB18."
Sergio Perez (7th, 1:20.632): "Everything comes fast when you miss a session, I was getting up to speed this afternoon and experiencing the tyre degradation - it means you basically have two laps because it is not a track that helps you with the tyres. You have one lap to read the balance and then after that you are just getting up to speed but you don't have great grip. I was able to get a read on the long runs and hopefully overnight I can find the time I need to be in contention for the fight for pole. I will do some extra work on low fuel in the morning during FP3 to see which direction to take but we are confident we know. It was nice to be able to lend my car to Juri for the morning, I think he had a good time out there and did some important work for the Team."
Juri Vips: "My experience today was amazing. Just to drive on the Grand Prix weekend is an incredible moment. When it first got announced I just kept thinking about when I first started karting and it was just a hobby and now I am going to get in the car. It was a busy session, we did lots of aero mapping so we never planned to do any push laps. I can see why F1 is so hard because these sessions are very hectic! You learn a lot driving, as a junior driver travelling to races with the Team you get to hear the drivers' feedback but to feel first hand how the car feels is useful for me but also useful for the work I do on the simulator."
Scuderia Ferrari
Charles Leclerc (1st, 1:19.670): "Our qualifying runs don't look bad, but we have some work to do, in particular on our race pace and on tyre management. The stints we did on the Soft compound felt better than those on the Mediums. Tonight, we will analyse our latest data to find where we can improve on this track, as the conditions are very different to the last time we were here during winter testing."
Carlos Sainz (4th, 1:19.990): "A bit of a tricky FP2 compared to a positive FP1, as we struggled a bit with tyres and balance after the changes we made. We need to look at it and find the correct adjustments for tomorrow, but we've got plenty of data and I'm sure we'll find a more comfortable set-up. It seems like there is a lot of degradation with the heat, which could be crucial for the race, so we'll also keep an eye on that. I'm very impressed with the number of fans in the grandstands today. It's fantastic to see all these people supporting us and their good vibes are a huge motivation!"
McLaren F1 Team
Daniel Ricciardo (15th, 1:21.385): "There's quite a lot to digest today. We tried quite a few different settings for both sessions. We clearly aren't where we want to be on the timesheets but there's a lot to dive into tonight. I think we'll find some things and, let's say, find the optimal set-up for tomorrow and hopefully that puts us inside the top 10. Right now, there's still a lot to take in so I'm not too sure how much to look into the times today. It was interesting to see the other cars and teams and what they're doing. But we'll focus on ourselves as for sure everyone today was exploring a few new things on their cars."
Lando Norris (20th, 1:23.388): "It was a tricky day for me. I think there are positives with the new bits on the car, some things were working well, and I think the team are happy with some of the improvements. I made a mistake in FP2, which unfortunately cost me the rest of the session as there was a bit of damage to the floor. So, not perfect but nonetheless, I'm still hopeful for tomorrow because the car seems in a decent place."
Andrea Stella, Racing Director: "It's been a very busy Friday with a lot of test items to go through here in Spain. We introduced our new aerodynamic package and needed to assess that, but also had work to do understanding the tyres in these hot conditions, which are very different to those we experienced here during winter testing. Daniel's sessions were quite clean and we have gathered a lot of information from those. We had a few more issues on Lando's car. We needed to stop his programme early, after we picked up some damage running over a kerb – but we can repair that overnight. There's a lot of analysis to do this evening – but hopefully we're in good shape for qualifying and the race."
BWT Alpine F1 Team
Fernando Alonso (6th, 1:20.203): "It was a reasonable day for us today. After winter testing in February, we had some tests to do because the car has changed so much between then and now. We tried to evaluate a few things and carry out our normal job assessing the tyres. We have collected some useful data, but it's clear we need to further improve the car for tomorrow. The balance isn't perfect, so there is more of a job to do tonight to make sure that we are best prepared for qualifying tomorrow. I enjoyed seeing the grandstands full and hopefully we can put on a good show tomorrow."
Esteban Ocon (9th, 1:20.745): "It's great to be back driving in Barcelona. It's nice to feel how different the car is since we first drove here for winter testing. It's definitely evolved in the right direction, and I can feel a significant difference. Today we seem to be contenders for the top ten, which is always positive on a Friday. There is more work to do, though, that's for sure. After both practice sessions today, we know where we need to focus our efforts to be in a good position for tomorrow. All in all, it's been a solid day of data gathering and now it's heads down tonight to make sure we can be at our best tomorrow for qualifying."
Pat Fry: "It was a relatively standard and trouble-free Friday Practice today where we've completed a normal programme mixed between short runs and long runs. We're looking reasonably competitive on single lap pace, as we have been recently, but we have been concentrating on experiments to improve our long run pace and have plenty of data to work through this evening. It's been a key area of focus for us at the moment and we're trying different things to further improve our pace on that front. The upgrades we've brought to this race are relatively small steps but, they all count, they are functioning well, and we're happy with those so far this weekend."
Scuderia AlphaTauri
Pierre Gasly (11th, 1:20.917): "It feels good to be back in Barcelona. Today hasn't been our best Friday though, it's been extremely difficult. We can't seem to get the car where we want it, the conditions aren't helping and it's hard to cope with, but that's the same for everyone. It's not going to be an easy race for anyone, the car has never liked these super-hot temperatures, so we'll need to analyse everything tonight and work out what's best for us to get the most from it. There's a lot of things we need to improve tonight and then after FP3 tomorrow we can look to see what's achievable for us in Qualifying. We're not too far from the top 10 so we just need to go away, focus on ourselves and hopefully we'll be in Q3 tomorrow."
Yuki Tsunoda (14th, 1:21.285): "I'm not that happy with the car at the moment. We've got a lot of work to do for tomorrow if we're aiming for Q3 in Qualifying, but I think it's possible, we've still got another practice session to make changes to the car and extract the most from this package. Currently, the weekend has been going smoothly, so I hope this can continue and we can look for points on Sunday."
Jonathan Eddolls, Chief Race Engineer: "Although Barcelona is a track both the team and drivers know well, the conditions were significantly different to those in winter testing, with track temperatures close to 50°C. This has had a significant impact on tyre performance, both grip and balance, with the handling characteristics being exaggerated. We had an extensive test plan in FP1 across the cars on the aero and mechanical side, which allowed us to confirm some pre-event theories and we then took this learning into FP2. The focus of FP2 was on the short-run performance on the Softs and then the long-run performance, to evaluate the best tyres for the race. The soft tyres have the most grip, but also have higher degradation compared to the Mediums and Hards, so we need to review the best choice for Sunday, which is expected to be the hottest day of the weekend. Although we made changes to the car for FP2, neither driver was totally happy with the balance, so we have a lot of work to do tonight to analyse the data and set the car up in the best possible way for tomorrow."
Aston Martin Aramco Cognizant F1 Team
Sebastian Vettel (8th, 1:20.703): "It feels like we are moving in the right direction, but we must remember that this is the first day of our running this car. You cannot make many comparisons to pre-season testing because the weather and track conditions are so different, so there is still a lot to learn and understand. Still, it is positive to end today inside the top 10, but let's see how we go across the weekend. We do not expect immediate results, but we want to continue to make progress."
Lance Stroll (13th, 1:21.249): "It has been a positive first day. We are making progress but we took it a little carefully today because we are understandably a little short on spares. Today feels like a step in the right direction, but we are still pushing for more. Over one lap, the car felt good, but I think there is more to come with the car balance. We will go away tonight and investigate the data and see where we can make improvements before qualifying tomorrow."
Williams Racing
Alexander Albon (18th, 1:22.319): "I think I got back up to speed pretty quickly after missing FP1 due to Nyck driving; every driver does enough laps around here that we know the circuit like the back of our hands, so it was a good session to miss in that respect. On track, we're not as quick as we'd like to be, so our focus tonight is to look over the data to see what we can improve going into Saturday. We can see already that tyre degradation will be a challenge this weekend. It's not something that's been a huge issue so far this season, but I'm expecting that there will be a lot of emphasis on tyre management due to the nature of the track, so that could make things interesting in both Qualifying and the race."
Nicholas Latifi (19th, 1:23.197): "Our focus today was on trying a lot of different things and parts on the car. We didn't come here with upgrades, but instead different parts to understand and try to optimise the package and, without sugar-coating it, we were very far off. It's been a bit of head-scratching as it's not just one problem we are facing, but there are a lot of different issues we need to address. I think in FP1 especially it was extremely out of the window and it felt like I was driving a completely different car, but for the long-term learning for the team it's important, especially at a track like this where we know how the car should feel. So it's been good in that sense to understand the set-up options we have, but I think we have a lot of work to do tonight to go into the details and fine-tune everything ahead of tomorrow."
Nyck de Vries: "I will admit I was very nervous ahead of FP1! I'm racing and fighting for championships away from F1, but making your Formula One debut is very unique and special, so I am very grateful for the opportunity. But when you get into the car and start the engine you forget everything around you and you're alone with the car; all those nerves go away and you focus on your job. It wasn't easy to jump in not knowing the car or the tyres and everything was new, but I gave myself the time to adapt and I'm pretty satisfied with my performance. I'm always critical of myself so I think there was more on the table, but I'm happy and positive about my first experience with Williams."
Dave Robson, Senior Race Engineer: "We tried some new components on the car today and collected some useful data, which will allow us to decide how to build the cars for tomorrow. Nyck did an excellent job in FP1 to understand the car and complete the programme as planned; these cars are not easy to drive, especially when the track is so hot, and he did a good job of coming to terms with that and learning how the tyres behave. Nicholas ran most of the test items today with Nyck and Alex acting as the baseline and whilst this gave Nicholas few more balance issues than he would've liked, he was able to provide some good feedback, which will help us get the most from the new parts. Alex had a short day and whilst he knows Barcelona very well, there is no substitute for time in the car. However, he was up to speed quickly in FP2 and was able to understand the requirements of the Soft tyre during that session. We have some improvement to make in terms of how we get the most out of the tyres for a single lap, but even if we do this overnight, it will still be a challenging weekend and we will be looking to Sunday to provide some opportunities as tyre management is likely to dominate the Grand Prix."
Alfa Romeo F1 Team ORLEN
Valtteri Bottas (16th, 1:21.828): "Having tricky Fridays seems like it's a bit of a trend for us at the moment, we don't get much running but we managed to bounce back every time before and we can aim to do the same this time around. The positive from the day is that the one lap I had on medium tyres was really good, the car felt well-balanced so we have a good starting point to work on. Compared to February, when we had a lot of issues here, we have made a big step forward: we took a cautious approach with our upgrades but we pushed more and more towards the optimal set-up. For sure, we will be able to find out even more about the car tomorrow."
Guanyu Zhou (17th, 1:21.866): "It was a lot more fun today than during winter testing in February, that's for sure! Only one session for me today, so there's a big margin of improvement for tomorrow: I think I am still finding the limit of the car, as well as of myself, and I think that tonight we will be able to analyse all the data we collected today and come up with an even better set-up for tomorrow. I am confident for qualifying but, as always, it will be a matter of delivering a good, flawless day, if we want to get the most out of the weekend."
Robert Kubica: "All in all, it was a good session for me. I was pleased to see I could get on the pace quickly and that the feeling I had with the car was back to what I had in 2020. Of course, the session wasn't the easiest compared to when I drove the car in Imola: the conditions here are different and the track is green as opposed to fully rubbered in. Still, the car I drove in Imola was probably the best car I drove in my career in terms of feeling and simplicity of driving. I am looking forward to driving it again."
Haas F1 Team
Mick Schumacher (10th, 1:20.757): "It was positive. As I said this morning, I think there's still a lot of potential in our car right now, so the upgrades from other teams have to work in the first place to be able to better and that's not always the case. I feel it's pretty positive, I feel good in the car, I still have some ideas so I'm ready to go racing. We're in a good place for tomorrow."
Kevin Magnussen (12th, 1:21.013): "It was nothing too out of the ordinary, I think the pace seemed to be ok in both low-fuel and high-fuel. We'll go and see if we can find a bit more lap time as there's always stuff you can do and certainly, we'll try hard to find a little bit more to get into Q3 tomorrow. It's going to be hard, but we'll try."
Guenther Steiner, Team Principal: "Except for a little glitch at the beginning of FP1 on Kevin's car, it was a good session. We used FP1 to do some aero tests on Mick's car and some set-up tests on both, and then we were ready for FP2 and it went pretty well. Hopefully we'll make another small step tomorrow and we'll look forward to qualifying."