Spanish GP 2021
MAY 10, 2021
Race Analysis - Three to one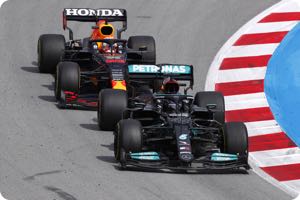 By Dan Knutson
Lewis Hamilton won his third race of the season after yet another duel with Max Verstappen who has one victory this year. This is how Hamilton pulled off win number three.
100
Hamilton put his Mercedes on pole. It was his 100th F1 pole.
SECOND
Verstappen qualified his Red Bull second.
100
This was Verstappen's 100th start in a Red Bull.
GRID
Valtteri Bottas (Mercedes), Charles Leclerc (Ferrari), Esteban Ocon (Alpine), Carlos Sainz (Ferrari), Daniel Ricciardo (McLaren) and Fernando Alonso (Alpine) rounded out the top eight on the grid.
MEDIUMS
All of the 20 drivers started the race on Pirelli's soft compound tires with the exception of Kimi Raikkonen who had the mediums on his Alfa.
LAUNCH
Verstappen snatched the lead on the first of 66 laps.
"The launch was good," he said. "I ran a little bit less wing compared to Mercedes and, of course, that helped a bit, to get alongside Lewis and then I went for it in Turn 1."
SPACE
"As we went into Turn 1 I just made sure I gave as much space as I could to Max," Hamilton said. "In my mind, it's always a marathon, not a sprint, so I'm just always thinking the long game and sure, you could be a little bit more aggressive. Do I need to? Well, I'm in the position that I'm in because I don't get too aggressive when I don't need to be."
BEHIND
Behind the lead duo Leclerc passed Bottas to take third place.
RESTART
Yuki Tsunoda brought out the safety car on lap 8 when his AlphaTauri coasted to a stop on the track. Verstappen kept the lead on the restart at the end of lap 10.
SHAKE
Verstappen was unable to shake off Hamilton who was about a second behind.
"I went hunting and was so close to Max for so long during the opening stages of the race," Hamilton said, "and I was worried I wouldn't be able to make the tires last in the dirty air."
UNDERCUT
Bottas pitted at the end of lap 23 to get the undercut on Leclerc. It worked because Bottas would regain third place.
PITS
Verstappen pitted at the end of lap 24 for a set of the medium compound Pirellis.
OUT
Hamilton, now leading, stayed out for four laps before coming in for the mediums.
HOVERED
Verstappen was back in the lead, and once again Hamilton hovered about a second behind.
SECOND
Mercedes called Hamilton in for a second stop for a second set of the mediums at the end of lap 42.
RESPOND
Red Bull did not respond because it did not want to lose the lead. And because it only had soft compound tires available, and the softs would not have lasted until lap 66.
23
Hamilton was now 23 seconds behind Verstappen but on much fresher tires.
BOLD
"It was a bold move," Mercedes team boss Toto Wolff said of the decision to have Hamilton pit again. "When you see the gap open up to more than 20 seconds, you think there's no way you'll catch up. We saw Max's tires suffered more than ours, and we were able to stay close. The planner actually showed we'd catch Max with one lap to go but we got there with four!"
SIX
Actually, Hamilton took the lead with six laps to go as he passed Verstappen at the start of lap 60.
COME BACK
"I pretty much knew that when he pitted for the second time that he would come back at me on the new tyres a bit like Hungary 2019," Verstappen said. "Although I did everything I could I was a bit of a sitting duck. The pace difference on the tires made it an easy pass for Lewis."
TO THE POINT
Well clear of Bottas, Verstappen was able to pit for the soft Pirelli slicks. He then got the bonus point for clocking the fastest race lap.
SITUATIONS
What does Red Bull have to do so that this situation won't come up again, and to win one of these situations?
"Just need a faster car," Verstappen said. "It's very simple. Then you don't need to get into a situation like that. That's what we have to focus on."
THREE FOR THREE
Bottas finished third for the third time this season.
A-GAME
Hamilton has earned 94 points in four races, his best ever start to a Formula 1 season.
"Every year I come back and I'm always trying to improve," he said. "Most often it tends to be, or it seems impossible, but it's a necessity. The Red Bulls have started off incredibly strong. They do both have a championship-winning car and opportunity. As do we. It's going to take everything from us, not only me bringing my A-game but the team bringing their A-game, weekend-in, weekend-out. Otherwise these guys will be winning."
59
This was the 59th F1 race that Hamilton has won from pole position.
98
This was Hamilton's 98th career F1 win.