Spanish GP 2021
MAY 8, 2021
Qualifying Report - 100!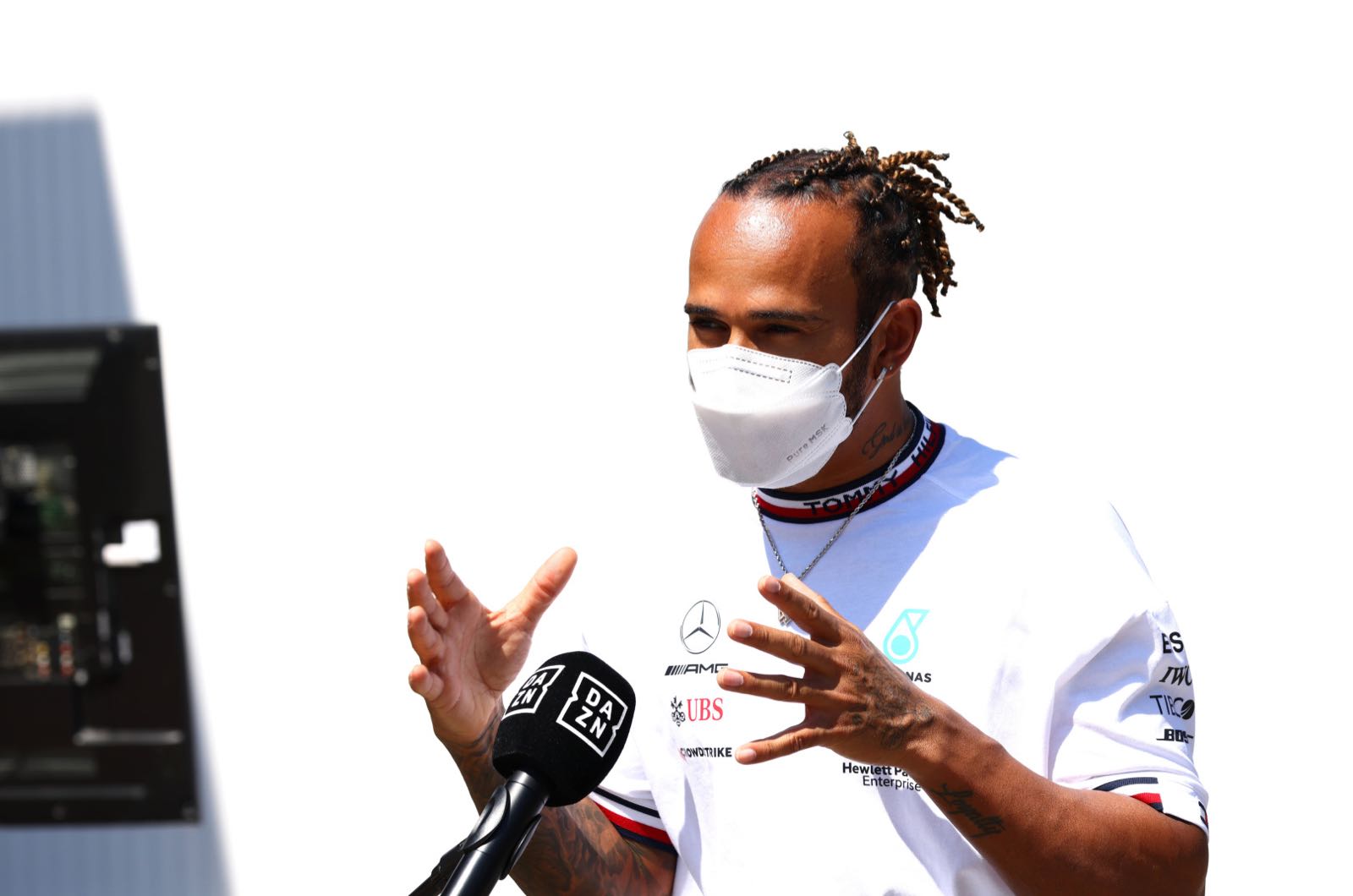 © Mercedes-Benz Grand Prix Ltd.
By Dan Knutson
Lewis Hamilton became the first Formula 1 driver to earn 100 pole positions when he topped qualifying for the Spanish Grand Prix.
"I can't believe that we are up to 100," said Hamilton who credited all the crew.
The line-up for the weekend was: Mercedes – Hamilton and Valtteri Bottas; Red Bull Honda – Max Verstappen and Sergio Perez; McLaren Mercedes – Lando Norris and Daniel Ricciardo; Aston Martin Mercedes – Lance Stroll and Sebastian Vettel; Alpine Renault – Fernando Alonso and Esteban Ocon; Ferrari – Charles Leclerc and Carlos Sainz; AlphaTauri Honda – Yuki Tsunoda and Pierre Gasly; Alfa Romeo Ferrari – Kimi Raikkonen and Antonio Giovinazzi; Haas Ferrari – Nakita Mazepin and Mick Schumacher; Williams Mercedes – George Russell and Nicolas Latifi.
Fastest in FP3 was Verstappen with a time of 1:17.835.
QUALIFYING 1
The ambient temperature at the start of the session was 77 degrees Fahrenheit (25 degrees Centigrade) and the track temperature was 11 degrees Fahrenheit (45 degrees Centigrade).
But Q1 was delayed by 10 minutes because repairs were required on the barriers at Turn 9.
Russell was first out in Q1 that lasted 18 minutes.
Bottas set the early pace at 1:18.005, compared to the 1:18.090 clocked by Verstappen.
When there were five minutes remaining in Q1, Giovinazzi was 15th and on the cutoff line. Vettel was 14th and Raikkonen was 16th.
The five drivers who were eliminated at the end of Q1 were: Tsunoda, Raikkonen, Schumacher, Latifi and Mazepin.
The fastest 15 drivers who moved on to Q2 were: Norris, Bottas, Leclerc, Verstappen, Gasly, Perez, Sanz, Stroll, Hamilton, Ricciardo, Ocon, Alonso, Vettel, Russell and Giovinazzi.
QUALIFYING 2
Nobody rushed out at the start of the 15 minute session.
The top 10 qualifiers would start the race using the same compound tires they used to clock their fastest lap time in Q2. So some of the quicker drivers could take a safe chance of running the medium compound Pirelli slicks in this session.
But with about a second covering about the top 15 cars, it was a risk to try the mediums. So the drivers opted for the softs.
Indeed, Hamilton used the softs to clock a 1:17.632, and Bottas beat that at 1:16.400, and Verstappen obliterated that at 1:16.922. All three on the softs.
Tenth and on the bubble with five minutes to go was Ricciardo, and Gasly was ninth while Ocon was 11th.
The five drivers who were eliminated at the end of Q2 were: Stroll, Gasly, Vettel, Giovinazzi and Russell.
The fastest 10 drivers who moved on to Q3 were: Verstappen, Bottas, Hamilton, Sainz, Perez, Norris, Leclerc, Ricciardo, Ocon and Alonso.
QUALIFYING 3
Q3 lasted 12 minutes, and Norris was the first out. He turned a 1:18.010. But he did not stay on top for long.
Perez had a spin and that brought out the yellow flags. But Hamilton still clocked a 1:16.741 to grab first ahead of Verstappen, Bottas, Ocon, Sainz, Ricciardo, Leclerc, Norris, Alonso and Perez.
And so it all came down to the final runs in qualifying. And when it was all over, the top 10 qualifiers were: Hamilton, Verstappen, Bottas, Leclerc, Ocon, Sainz, Ricciardo, Perez, Norris and Alonso.
And so Hamilton racked up 100!