Spanish GP 2021
MAY 7, 2021
Friday Report - Topped Two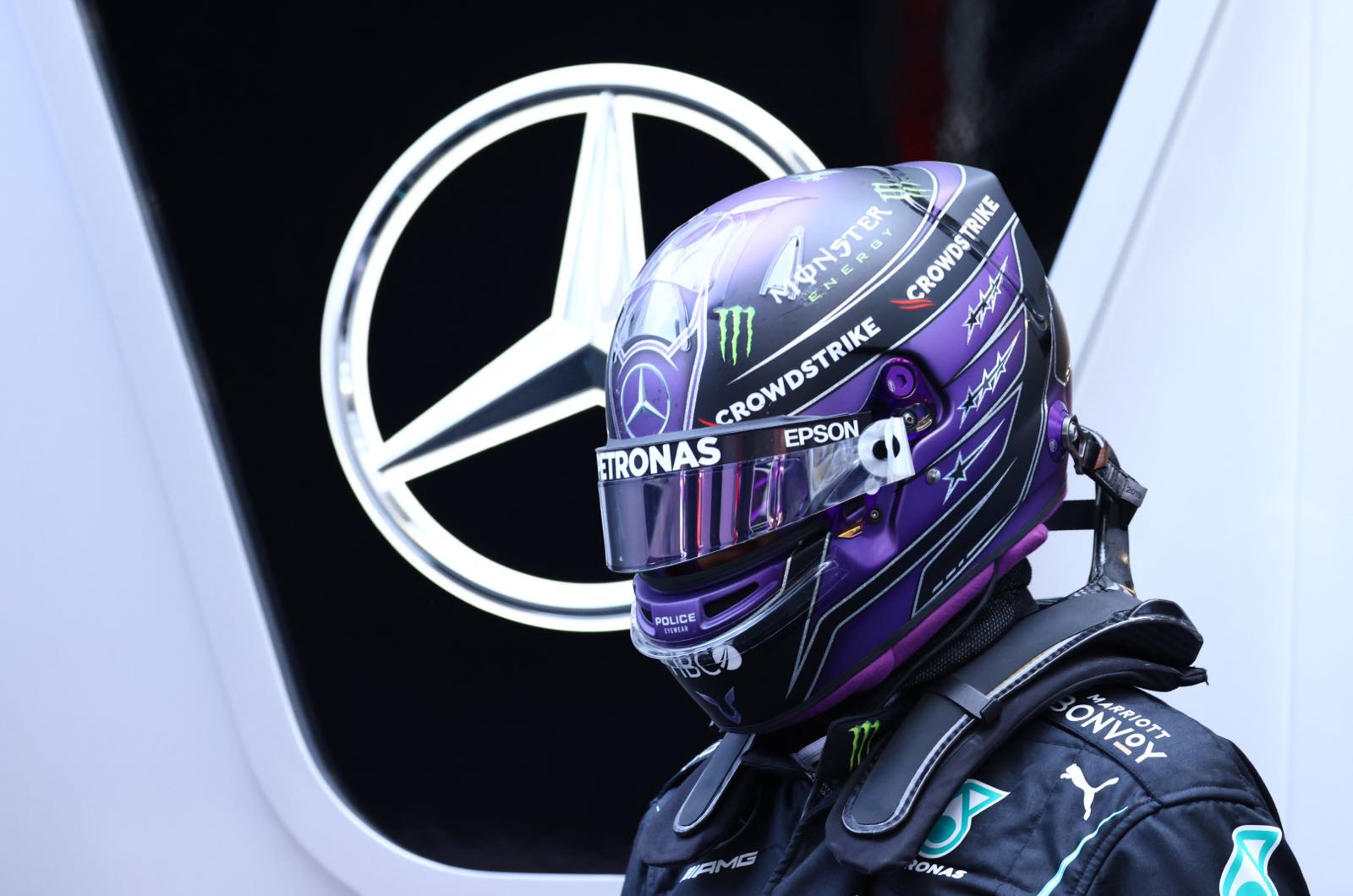 © Mercedes-Benz Grand Prix Ltd.
By Dan Knutson
Mercedes topped the two Friday Free Practice sessions for the Spanish Grand Prix, with Bottas fastest in FP1 and Hamilton best in FP2.
The line-up for the weekend was: Mercedes – Hamilton and Bottas; Red Bull Honda – Max Verstappen and Sergio Perez; McLaren Mercedes – Lando Norris and Daniel Ricciardo; Aston Martin Mercedes – Lance Stroll and Sebastian Vettel; Alpine Renault – Fernando Alonso and Esteban Ocon; Ferrari – Charles Leclerc and Carlos Sainz; AlphaTauri Honda – Yuki Tsunoda and Pierre Gasly; Alfa Romeo Ferrari – Kimi Raikkonen and Antonio Giovinazzi; Haas Ferrari – Nakita Mazepin and Mick Schumacher; Williams Mercedes – George Russell and Nicolas Latifi.
Two test/reserve drivers participated in FP1: Robert Kubica drove Raikkonen's Alfa and Roy Nissany took over Russell's Williams.
Bottas clocked the fastest time in FP1 – a 1:18.504 – while Verstappen was second ahead of Hamilton.
The session had to be red flagged for 10 minutes after Kubica spun into the gravel at Turn 10.
That Turn 10, the lefthander at the end of the back straight, has been reprofiled. It now has a wider apex and exit. It remains a third gear corner, but the speed increased from 53 mph (85 km/h) to around 68 mph (110 km/h) with the new layout. It will make it harder to overtake because it has a shorter braking zone.
Giovinazzi. Ocon and Vettel were the first drivers out on the 2.905-mike (4.675-km) 16-turn Circuit de Barcelona-Catalunya as FP2 began.
The ambient temperature at the start of the 60-minute FP2 session was 70 degrees Fahrenheit (21 degrees Centigrade) and the track temperature was 106 degrees Fahrenheit (41 degrees Centigrade).
This was Verstappen's 100th start with Red Bull – in his debut race with the team, which was the 2016 Spanish Grand Prix – he won.
Bottas, on the medium Pirelli slicks, set the early pace in FP2 with a time of 1:19.087. Verstappen beat that at 1:19.041. Bottas responded with a 1:19.419 while Hamilton slotted into second by clocking a 1:18.461.
Fifteen minutes into FP2 the order was: Bottas, Hamilton, Verstappen, Alonso, Gasly and Ocon. All had set their times on the medium compound tires. And now most of the drivers were in the pits preparing for their second runs.
Bottas, now on the soft slicks, headed back out, as did Hamilton. Bottas turned a 1:18.309, and Hamilton beat that at 1:18.170. Other drivers were now doing their soft runs, including Leclerc, Ocon, Sainz and Gasly who rounded out the top six with 35 minutes to go.
Now Verstappen was out on the softs, but he exceeded track limits and backed off on what should have been his quick lap. So just past the midpoint the top six were: Hamilton, Bottas, Leclerc, Ocon, Alonso and Gasly.
As usual, the teams devoted the final segment of FP2 to doing long runs with heavy fuel loads. So the order of the top six remained unchanged, and Tsunoda, Sainz, Verstappen and Perez rounded out the top 10. Just over a second covered the top 16 drivers.