Spanish GP 2019
MAY 10, 2019
Practice 2 Report - On top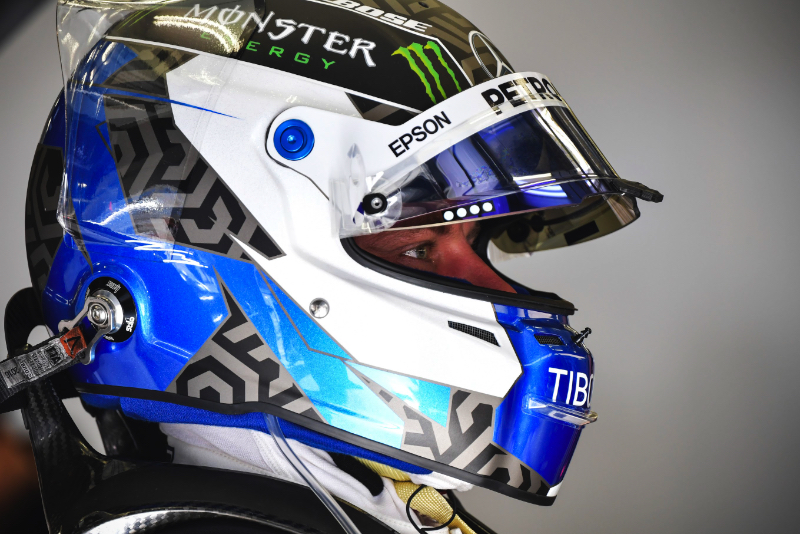 © RV Press
By Dan Knutson in Barcelona
Valtteri Bottas who stood on the top step of the podium after the Azerbaijan Grand Prix was on top of the times in Free Practice 2 for the Spanish Grand Prix just as he had been in FP1. His Mercedes teammate Lewis Hamilton was next in the order, just 0.049 of a second slower.
The line-up for the weekend was: Mercedes – Hamilton and Bottas; Ferrari – Sebastian Vettel and Charles Leclerc; Red Bull TAG Heuer –Max Verstappen and Pierre Gasly; Renault – Daniel Ricciardo and Nico Hulkenberg; Haas Ferrari – Romain Grosjean and Kevin Magnussen; McLaren Renault – Carlos Sainz and Lando Norris; Racing Point Mercedes – Sergio Perez and Lance Stroll; Alfa Romeo Ferrari – Kimi Raikkonen and Antonio Giovinazzi; Toro Rosso Honda – Daniil Kvyat and Alexander Albon; Williams Mercedes – George Russell and Robert Kubica.
Bottas' 1:17.951 was the best lap time in FP1.
Magnussen followed by Grosjean headed out first in FP2.
The ambient temperature at the start of the 90-minute session was 73 degrees Fahrenheit (23 degrees Centigrade) and the track temperature was 109 degrees Fahrenheit (43 degrees Centigrade).
Vettel, who just missed out on first place in FP1, soon got to the top of FP2 with a time of 1:18.989. Magnussen edged ahead with a 1:18.873. Vettel replied with his 1:18.766 and then a 1:18.546. Both were on Pirelli's medium compound tires.
Kubica had a spin in Turn 15 and radioed in that it was because of cold tires.
Fifteen minutes into the session the order was an eclectic: Vettel, Magnussen, Leclerc, Kvyat, Ricciardo, Raikkonen, Grosjean, Albon and Hulkenberg. But both the Mercedes drivers were still in the pits and did not venture out until a couple minutes later.
Stroll was also in the garage as the mechanics were repairing the car he had crashed at the end of FP1.
Finally on track, Bottas immediately got down to a 1:18.259 and then a 1:17.835 using the medium compound slicks. Hamilton was on the hard compound and lapping much slower until, just before the half-hour mark, he clocked a 1:18.647 which moved him from 19th to fourth.
But now Vettel and Leclerc were out on the red sidewall soft slicks. Vettel recorded a 1:17.673. Leclerc was 0.027 of a second slower, losing time to Vettel in Turns 2, 3 and 13.
Vettel's time was just 0.162 of a second of Bottas' time on the mediums.
Fifty-five minutes remained when Vettel had another run on the softs but could not improve. Leclerc could, however, and went ahead at 1:17.585.
Now the lineup was Leclerc, Vettel, Bottas, Grosjean, Magnussen, Verstappen, Hamilton and Hulkenberg. So the Haas cars were looking strong, and apparently not having their usual problems with getting the tires into the right operating temperature window.
As the midpoint of FP2 approached, other drivers were doing their qualifying simulations. One was Hamilton who leapt out front by posting a 1:17.410 only to be beaten by Bottas' 1:17.284. That was three-tenths of a second faster than Leclerc.
So now the order was: Bottas, Hamilton, Leclerc, Vettel, Verstappen, Grosjean, Gasly, Magnussen, Sainz, Kvyat and Raikkonen (who had bounced off the track at Turn 8) with 38 minutes remaining.
"I lost power suddenly," Vettel radioed. "It's going now, but I was accelerating, well, with the pedal and it was not accelerating." His engineer told him to keep going and not pit.
In the last half hour the drivers, including Stroll in the repaired Racing Point, were running race simulations, so the top ten remained in that order with Bottas on top.