Spanish GP 2016
MAY 14, 2016
Practice 3 Report - Problems at Mercedes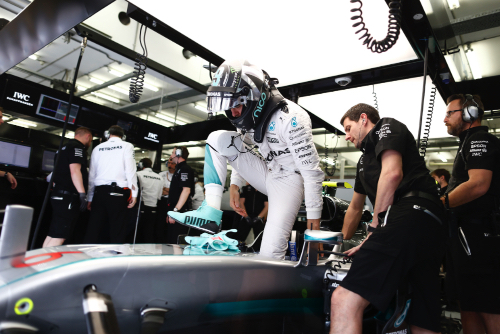 © Active Pictures
By Dan Knutson in Barcelona
Nico Rosberg once again ended up on top of the times - this despite a sensor problem on his Mercedes that prevented him from making his final qualifying simulation lap. His Mercedes teammate Lewis Hamilton probably would have ended up first - he had gone quickest in the first two sectors of his lap - but then he had a slow third sector and wound up second on timing screens.
So problems for both Mercedes drivers but they still topped the charts in FP3.
The ambient temperature at the start of the 60-minute session was 18 degrees Fahrenheit (64 degrees Centigrade) and the track temperature was 82 degrees Fahrenheit (28 degrees Centigrade.)
The line-up for the weekend was: Mercedes - Lewis Hamilton and Nico Rosberg. Ferrari - Sebastian Vettel and Kimi Raikkonen. Williams Mercedes - Felipe Massa and Valtteri Bottas. Red Bull TAG Heuer - Daniel Ricciardo and Max Verstappen . Force India Mercedes - Nico Hulkenberg and Sergio Perez. Renault - Kevin Magnussen and Jolyon Palmer. Toro Rosso Ferrari - Daniil Kvyat and Carlos Sainz. Sauber Ferrari - Marcus Ericsson and Felipe Nasr. McLaren Honda - Fernando Alonso and Jenson Button. Manor Mercedes - Pascal Wehrlein and Rio Haryanto. Haas Ferrari - Romain Grosjean and Esteban Gutierrez.
Rosberg had been the quickest driver on Friday.
"Times were looking good on the longer and also on the shorter stints," he said after FP2. "I feel very comfortable with the car with some new parts added and they seemed to have worked well. Ferrari also look very strong around this circuit, so I'm looking forward to Saturday's third practice session as well as qualifying and to seeing how we can perform out there."
Haryanto, Grosjean and Nasr were the first on track as FP3 kicked off under sunny skies. Nasr posted the first time - 1:27.137. As more drivers set lap times Perez moved ahead with a 1:25.832, but many of the big guns had yet to run 15 minutes into the session.
The first of the big team drivers to so a flying lap was Raikkonen who clocked a 1:24.916 on the medium compound Pirelli tires.
Twenty minutes into the session Vettel used the medium slicks to do a time of 1:24.187. Moments later Rosberg put in a 1:23.078 on the soft compound Pirellis. Then Hamilton did his run on the softs but ended up 0.407 of a second slower than his teammate.
At the halfway point of FP3 the top six were: Rosberg, Hamilton, Vettel, Alonso, Bottas and Raikkonen. But soon thereafter Verstappen moved up into fifth. Verstappen's teammate Ricciardo did a soft run but ended up two-tenths of a second slower.
With 20 minutes remaining all of the drivers except Haryanto were in the pits preparing for their qualifying simulations on the soft tires. The top dozen were: Rosberg, Hamilton, Vettel, Alonso, Verstappen, Bottas, Ricciardo, Raikkonen, Massa, Grosjean, Button and Magnussen.
Rosberg would be the first to make a qualifying run. Hamilton soon followed him out onto the track. But Rosberg radioed he had a problem and was told to pit. After being quickest in the first two sectors, Hamilton had a problem in the last sector and he turned a 1:23.204.
Bottas' run yielded a fourth place, and then Raikkonen jumped up to third. Then Ricciardo grabbed third only to be displaced by Verstappen. And then Vettel took third away from Verstappen.
So the top 10 ended up being: Rosberg, Hamilton, Vettel, Verstappen, Ricciardo, Bottas, Perez, Kvyat and Alonso.