Spanish GP 2016
MAY 13, 2016
Practice 1 Report - Ferrari goes soft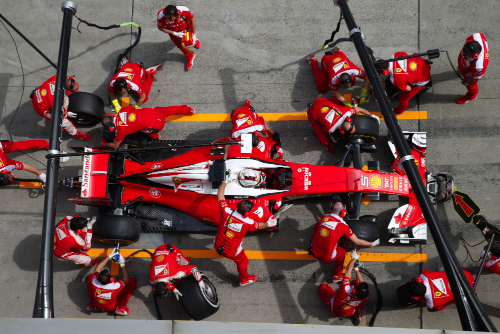 © Active Pictures
By Dan Knutson in Barcelona
Ferrari drivers Sebastian Vettel and Kimi Raikkonen used Pirelli's soft compound tires to top the lap times in Free Practice 1 for the Spanish Grand Prix. Ferrari was the only team to run the soft slicks in the session as the rest of the drivers were on the medium and hard compound tires.
The ambient temperature at the start of the 90-minute session was 61 degrees Fahrenheit (16 degrees Centigrade) and the track temperature was 73 degrees Fahrenheit (23 degrees Centigrade.)
The line-up for the weekend was: Mercedes - Lewis Hamilton and Nico Rosberg. Ferrari - Sebastian Vettel and Kimi Raikkonen. Williams Mercedes - Felipe Massa and Valtteri Bottas. Red Bull TAG Heuer - Daniel Ricciardo and Max Verstappen . Force India Mercedes - Nico Hulkenberg and Sergio Perez. Renault - Kevin Magnussen and Jolyon Palmer. Toro Rosso Ferrari - Daniil Kvyat and Carlos Sainz. Sauber Ferrari - Marcus Ericsson and Felipe Nasr. McLaren Honda - Fernando Alonso and Jenson Button. Manor Mercedes - Pascal Wehrlein and Rio Haryanto. Haas Ferrari - Romain Grosjean and Esteban Gutierrez.
In FP1, however, Esteban Ocon replaced Palmer in the Renault.
There was, of course, a huge amount of media attention on the young Verstappen who was making his debut in the Red Bull. How did he evaluate both the opportunity and the risks involved in this move so early in his career?
"I'm very happy with the chance they have given me," he said. "I'm racing for a top team now, so that was always the plan what I wanted to do. And yeah, with the risk, to be honest I think it was a bigger risk to be so young in Formula One but I've handled it pretty well.
"From now on it's just getting used to a new car, which is not easy in the season, but already with the things I've done in the factory, already they've given me a lot of confidence. Of course, a lot of procedures to learn again but it will come race-by-race and I'm definitely going to enjoy it."
As the session got underway the Mercedes duo were out lapping early, and Hamilton posted a 1:25.931 while Rosberg turned a 1:25.456. Meanwhile the other 20 drivers remained in the garages. Rosberg lowered his time to a 1:25.374 and Hamilton was just 0.002 of a second slower.
It was not until more than 15 minutes of the session had passed that other drivers ventured out for flying laps.
Just before the one-third mark of FP1 Vettel went to the top of the timing screens with a time of 1:25.193. His teammate Raikkonen was fourth with a 1:25.616.
Verstappen radioed in that he could not accelerate, but he did not come into the pits.
Rosberg's accelerator was working just fine as he improved to a 1:24.880 while Vettel lowered his time to a 1:25.060.
At the 40 minute mark - when the teams are required to give back to Pirelli the set of tires each driver had used so far, the top 10 were: Rosberg, Vettel, Hamilton, Raikkonen, Ricciardo, Bottas, Verstappen, Sainz, Massa and Alonso.
Up until then the drivers has been using Pirelli's medium compound tires. But now Raikkonen went out on the soft compound slicks and put in a lap at 1:24.089.
Pirelli tweeted: "To give you an idea of how much the speed has increased since last year; fastest time in FP1 2015 was 1m26.828s (Rosberg)."
Rosberg and Hamilton, on the medium tires, improved to 1:24.454 and 1:24.611 respectively. Verstappen, also on the mediums, moved into fifth with a lap of 1:25.585.
With 26 minutes remaining, Vettel used the soft tires to go ahead with a time of 1:23.951. Then Ricciardo moved into fifth with a 1:25.416 on the mediums. Ferrari was at this time the only team to run the soft compound.
At the other end of the scale was Ocon who had done just six laps and would do no more because there was a problem on his Renault.
Most of the drivers used the final 20 minutes to make long runs on their now well-used tires.
The top 10 at the end of FP1 were: Vettel, Raikkonen, Rosberg, Hamilton, Ricciardo, Verstappen, Bottas, Sainz, Massa and Alonso.