Singapore GP 2023
SEPTEMBER 17, 2023
Race Notes - Sainz wins for Ferrari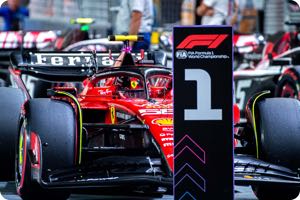 By Mark Karp
Carlos Sainz won the Singapore GP in his Ferrari, managing the lead and tyres for the whole race.
Lando Norris in the McLaren-Mercedes finished second, 0.812 seconds behind.
Lewis Hamilton in the Mercedes GP was third, 1.269 seconds behind the winner, his 196th podium finish.
The win in Sainz's second career win. The Ferrari win has has finally stopped Red Bull-Honda's string of victories, after Verstappen run of ten-straight wins.
Charles Leclerc (21.177s) in the second Ferrari was fourth, followed by Verstappen (21.441s) in the Red Bull was fifth, Pierre Gasly (38.441s) in the Alpine-Renault was sixth, Oscar Piastri (41.479s) in the McLaren-Mercedes was seventh, Sergio Perez (54.534s) in the Red Bull was eighth, Liam Lawson (1m05.918s) in the AlphaTauri-Honda was ninth, taking his first career points finish, and Kevin Magnussen (1m12.116s) in the Haas-Ferrari took the final point in tenth place.
Into the night before the start, with the weather warm and dry, with Sainz and Russell on the front row, Leclerc and Norris on row 2, Hamilton ad Magnussen on row 3, Alonso and Ocon on row 4, and Hulkenberg and rookie Lawson rounding out the top ten.
The fastest tyre strategy is to make one-stop, but as always it is uncertain about incidents and safety cars, anything can happen.
The top ten starting on medium tyres, except Leclerc on softs. Verstappen starting in 11th and Perez in 13th starting on hard tyres.
At the appointed time, the field came around and the lights went off and the race began with Sainz taking the lead with Leclerc second followed by Hamilton, Russell, Norris, Alonso, Ocon, Magnussen Hulkenberg and Verstappen following.
At the end of lap 1 Tsunoda pulls off on the side of the track and retires.
Hamilton lets through Russell for cutting the second corner and gaining an advantage.
Norris radios that Hamilton needs to give the position back to him as well.
On lap 3 Verstappen is challenging Magnussen for eighth place.
Leclerc sets fast lap at 1m40.752s.
Hamilton lets Norris through for fourth place.
On lap 6 Verstappen passes Magnussen for eighth. Piasteri passes Albon for 14th.
Zhou pits for hard tyres.
The two Ferraris at the front are pacing themselves and are trying to make their tyres last as long as possible.
On lap 9 Sainz1m39.626s.
At lap 10 Sainz leads Leclerc by 1.3s, followed by Russell (2.9s), Norris (4.3s), Hamilton (5.6s), Alonso (8.5s), Ocon (9.3s), Verstappen (10.6s), Magnussen (13.1s), and Hulkenberg (13.9s) in tenth place.
All drivers are running 1m40s laps, and are pacing themselves to extend their tyres on the first stint.
Ferrari continues to tell Leclerc to drop to 3 seconds behind his teammate Sainz.
On lap 15 Leclerc sets fast lap at 1m39.613s and trails Sainz by 2.2 seconds.
The next lap Sainz sets fast lap at 1m39.398s.
Ferrari tells Leclerc that they need a 5-second gap to Sainz in the next 5 laps.
Russell asks the team what he needs to do to win the race, and they tell him to keep the pressure on the Ferraris.
On lap 18 Sainz sets fast lap at 1m38.992s.
McLaren reports that there might be a small rain shower in 5 minutes,
On lap 19 Sargeant spins and hits the wall and the continues.
The full safety car is out.
Sainz pits from the lead. All drivers pits except for Verstappen and Perez.
Sainz gets out in the lead, with Verstappen behind, followed by Russell, Perez, Norris, Leclerc, Hamilton, Alonso, Ocon, and Bottas in tenth, all on hard tyres.
At the end of lap 22 the safety car comes in and the race resumes with Sainz leading Verstappen, Russell, Perez, Norris, Hamilton and Leclerc.
Alonso receives a 5-second penalty for crossing the white line entering the pits.
On lap 23 Russell passes Verstappen for second place.
Hamilton passes Perez for fifth.
On lap 24 Norris passes Verstappen for third.
Russell is pressuring Sainz in the lead, half a second behind.
On lap 27 Hamilton passes Verstappen for fourth place.
On lap 28 Leclerc passes Verstappen for fifth.
A train of cars follows Perez in seventh.
Russell reports that Sainz is very slow.
At lap 30 Sainz leads Russell by 1.1 seconds, followed by Norris (1.9s), Hamilton (2.5s), Leclerc (4.4s), Verstappen (7.7s), Perez (11.3s), Alonso (12.5s), Ocon (13.3s), and Magnussen (14.1s) in tenth.
Mercedes tells Russell to take care of his tyres, Russell responds that these tyres will easily last until the end.
The first four runners are covered by 2.3 seconds, Sainz controlling the pace.
On lap 33, Russell tells the team, "I wanna go for this win".
On lap 36, Magnussen and Gasly are battling for tenth.
Gasly gets by Magnussen for tenth. Magnussen goes wide and falls back to 16th.
On lap 37 Alonso dives down the inside of Perez, but Perez comes back and gets the position back and Ocon passes Alonso for eighth.
Mercedes reports to Russell that Sainz is reporting that he has a second of pace in hand.
On lap 39 Ocon passes Perez for seventh, then Alonso passs him as well. Perez pits and takes on medium tyres, and rejoins 18th.
On lap 41 Verstappen pits for medium tyres and rejoins 15th.
At lap 41 Sainz leads Russell by 0.8 seconds, followed by Norris (1.8s), Hamilton (2.8s), Leclerc (4.0s), Ocon (24.8s), Alonso (27.2s), Gasly (28.0s), Piastri (29.2s), and Lawson (31.7s) in tenth.
On lap 41 Perez sets fast lap any 1m38.551s.
Mercedes tells Russell that it is time to push Sainz.
Verstappen sets fast lap at 1m37.713s.
On lap 43 Ocon pulls off the track with his car smoking, the virtual safety car is out.
Albon and Magnussen pit for tyres.
On lap 44 Russell and Hamilton pit for medium tyres and rejoin in fourth and fifth. Alonso pits as well with a slow stop.
The virtual safety car is over, and the race resumes.
Sainz leads Norris, Leclerc, Russell, Hamilton, Gasly, Piastri, Lawson, Hulkenberg and Zhou in tenth. Verstappen in 11th and Perez 13th.
On lap 46 Russell sets fast lap at 1m36.273s.
Fernando Alonso goes down an escape road, but is able to continue.
On lap 47 Hamilton sets fast lap at 1m35.867s.
On lap 49 Verstappen passes Hulkenberg for ninth place.
Verstappen passes Lawson for eighth.
At lap 50 Sainz leads Norris by 1.3 seconds, followed by Leclerc (5.5s), Russell (9.8s), Hamilton (12.7s), Gasly (30.5s), Piastri (34.5s), Verstappen (40.5s), Lawson (41.9s) and Hulkenberg (47.6s) in tenth.
Russell is closing on Leclerc in third.
Bottas has pulled off the road to retire.
On lap 53 Russell passes Leclerc for third. Later in the lap Hamilton passes Leclerc for fourth as well.
On lap 55 Verstappen passes Piastri for seventh.
Sainz leads Norris by 1.0 seconds, Russell (4.5s), and Hamilton (5.6s).
The Mercedes continue to run 1.5 seconds faster than the leaders.
On lap 58 Verstappen poses Gasly for sixth.
Sainz, Norris, Russell and Hamilton are covered by 1.4 seconds.
On lap 59 Russell and Norris go side-by-side, Norris keeps the position.
Russell is defending from Hamilton behind.
Hamilton tells the team, "George needs to pick up pace."
Into the last lap Sainz continues to keep the lead.
On lap 62 Russell brushes the wall entering the turn and goes off the track and crashes into the wall on the outside of the corner.
Sainz wins over Norris and Hamilton.