Singapore GP 2023
SEPTEMBER 15, 2023
Friday Team Quotes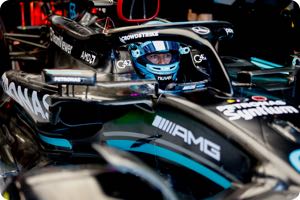 Oracle Red Bull Racing
Sergio Perez (7th, 1:32.812): "There are plenty of things to look at and hopefully we can come up with the best possible set-up before quali. I think there are some interesting bits going on that we need to figure out overnight. We seem to be struggling quite a bit with the rear end of the car, especially in FP2. There are plenty of things to look at and hopefully we can come up with the best possible set-up before quali. We did expect the Ferrari to be good around here, but we are just too far away. All being well, we should be able to close the gap a bit more tomorrow, it will be quite a big challenge. The main thing is to improve the balance because right now we are too far off."
Max Verstappen (8th, 1:32.852): "We never really got the car together today, I struggled with the balance especially, so there are quite a few things to work on with the Team tonight. Our performance today was unexpected. We tried quite a few different things in FP2 and some worked, and some didn't. We never really got the car together today, I struggled with the balance especially, so there are quite a few things to work on with the Team tonight. I will of course try to improve tomorrow but there's quite a gap, the Ferrari's are looking fast. Let's see what improvements we can make overnight."
Scuderia Ferrari
Carlos Sainz (1st, 1:32.120): "A positive Friday. The car seemed to be in the right window from the very first lap in FP1 so we kept focused on fine tuning the set-up during the second session. I expect the track to improve for tomorrow, so we should have higher grip and then we'll see how much our competitors and ourselves can improve for qualifying."
Charles Leclerc (2nd, 1:32.138): "It was quite a good day. The car looks a bit more competitive than we had expected on a track like this, but we shouldn't get carried away because I think that our competitors are not showing their true pace yet. We will work on optimising the balance on my side overnight and I'm sure we will see some further improvements for tomorrow."
Mercedes-AMG Petronas F1 Team
George Russell (3rd, 1:32.355): "It was a very positive Friday for us overall. The car is feeling really good around the circuit. It definitely improved in the cooler temperatures of FP2 but equally, it still felt decent in the slightly unrepresentative conditions of FP1. The times were very tight between several cars. Ferrari looked quick, particularly on the single lap. The long run performance across a number of competitors was also strong but we can be optimistic heading into the weekend. We will do our usual work overnight and hopefully find some improvements heading into Saturday. I am really enjoying the new track layout. It makes the final sector, and the lap as a whole, much more flowing. It definitely improves the experience behind-the-wheel and should help create better racing on Sunday. The new track surface in turns one to five is also an improvement."
Lewis Hamilton (5th, 1:32.585): "It's been a great day here in Singapore. They have done an amazing job with the track changes; I love driving this circuit now more than ever. The new track surface is great, and it made the track even more enjoyable to drive. Then the removal of the four corners near the end of the lap has absolutely perfected the circuit. It's incredible to drive. In terms of our day overall, FP1 was solid. We were still a little bit of where we wanted to be, but it wasn't too bad. FP2 was for sure the best FP2 session I've had this year. It was nice to finish a Friday feeling so positive. I think we've got a good platform to build off for the rest of the weekend. It's the best I've felt from a Friday this year, so I hope we can do some good work overnight, as we always tend to do, and continue to improve."
Toto Wolff, Team Principal:
Andrew Shovlin: "We've had solid sessions today and both drivers have finished the day happy with the balance. There's a bit of work we need to do to understand how to approach the single lap on the Soft tyre; it didn't feel like we were getting the most out of the compound and George was able to improve later in the run. The long run was quite strong. It's always tough keeping the heat out of the rear tyres here but we look to be more or less on the pace. The performance order is interesting today. Ferrari looked fast, as do McLaren and Aston Martin and unusually Red Bull didn't look like the ones to beat. We'll assume that they'll sort that out for tomorrow, which is going to mean that a lot of drivers are fighting for the top grid spots. It's clearly very close so we'll be pushing to find every little bit of pace overnight. We're looking forward to an exciting qualifying session tomorrow."
BWT Alpine F1 Team
Esteban Ocon (13th, 1:33.361): "It's nice to be back driving on the streets of Singapore, a really cool and exhilarating track for us drivers. It was a decent, and very hot, Friday for us with plenty to go through on track during our run programme. First, it was good to drive here and experience the slightly different track layout and test some of the updates on our car. At this stage, I would say we have a lot of work to get through ahead of Free Practice 3 and Qualifying tomorrow in order to find some improvements. There's more for us to extract, more to come from me, and hopefully we can put ourselves in a good position for Qualifying."
Pierre Gasly (18th, 1:33.824): "It's always good to be in Singapore and driving at this great venue at Marina Bay. The heat and humidity is very intense for us in the cockpit and that is all part of the challenge of racing here. On track, it's been a busy day with lots of different items to get through. We have a couple of small updates on the car, so it was important to spend some time validating those from an aerodynamic point of view. In terms of our performance, I would say we have some work to do. We have a lot of things to look at on set-up and some things we can definitely improve ahead of tomorrow. The new track layout is good and it will be interesting to see how the racing is with the changes and see if it brings any overtaking opportunities."
McLaren F1 Team
Lando Norris (6th, 1:32.711): "I think it was a reasonable Friday, it was good to get the new bits on the car and everything's looking positive from that side at the minute. It's a nice improvement from what we had. I think it's done everything that it should have done, so a good job by the team to get the upgrade here and for it all to work as it should. I think the pace is reasonable, we might not be as good as Ferrari, but we're in a good fight for a good position otherwise."
Oscar Piastri (15th, 1:33.461): "First day in Singapore done. A lot of learning. It's a tricky circuit and I think we've got some work to do on the car and some work to do on the driving as well, but I definitely learned a lot. I think we're in better shape with more experience for myself, but still a lot to go over ahead of tomorrow."
Andrea Stella, Team Principal: "Lizards aside, it's been a smooth first day in Singapore for both sides of the garage. We were able to complete the programme we had planned, which was centred around testing new aerodynamic parts and understanding tyres for the race. We're happy with the data collected. I would like to thank the team back at the factory and here trackside for the efforts that led to testing this upgrade, which has been adopted on Lando's car this weekend. In terms of competitiveness, some cars look pretty quick, but we will try our best to be in the mix for good points. Oscar is doing a good job finding his feet at what is a new track for him, improving run by run. More to come tomorrow."
Alfa Romeo F1 Team Stake
Valtteri Bottas (10th, 1:33.105): "Today has been a positive day overall: we got some positive feedback from the upgrades we have brought here in Singapore, which brought more load and stability to the rear end, and the feeling was good. Our pace seemed to be just about in the top ten, but we'll need to work on it tonight to find that extra bit to be up there tomorrow when it counts. Our target is to score again this weekend: I believe we have a chance to do it, if we get everything right: of course, on a track like this one, where overtaking is still difficult, qualifying in a favourable position will be crucial."
Guanyu Zhou (17th, 1:33.575): "It's been interesting to drive on the new layout: I quite like the changes they have made to the track, it's probably a bit less stressful and a bit more fun to drive. The modifications are giving some more chances to overtake, but it'll still be a challenge. Our day was quite smooth, as we were able to complete our programme: we didn't do any run on soft tyres in the morning, and only one run in the afternoon with a rather messy lap. I think we're closer than the times make it look, and with a good improvement tomorrow we can make up a few places. We need to finalise the details of our set-up, and prepare well for qualifying: finding the right space to prepare for our lap will be crucial, especially as the field will all bunch up in the final sector."
Aston Martin Aramco Cognizant F1 Team
Fernando Alonso (4th, 1:37.478): "Today was fun. I think the new circuit layout is an improvement: it's a bit faster and you get into a little more rhythm around the lap. I like the changes they've made. It was a normal Friday in Singapore – hot and humid – but we got some useful tests done on the car and with the tyres, so let's see how tomorrow goes. It's hard to read too much into the times – today was more about building confidence with the car and the track. I think qualifying is going to be very tight: we could be P5, P6, or we could go out in Q2 if we lose just a couple of tenths over a lap. We are going to have to nail the laps in qualifying tomorrow to ensure a good result in the race."
Lance Stroll (14th, 1:33.390): "I think the new track layout works well and is fun to drive. I don't know yet if it'll encourage overtaking though; there's not much of a braking zone into Turn 16, but we'll see what's possible on Sunday. Today we couldn't really find the pace we needed, so we have some work to do tonight to understand where we can improve. We'll make some adjustments to the set up and come back stronger for qualifying tomorrow."
Haas F1 Team
Kevin Magnussen (9th, 1:33.017): "It was good on one lap on low-fuel, on high-fuel we're still struggling a bit for pace. That's our focus as always, this year. It's the high-fuel performance that is lacking and what we're looking at and focusing on. It's one of the tracks which is harder to overtake at, so if you can start further up, maybe that means a little bit more here than on others. Hopefully we can have a good qualifying and try and hang on to a good position."
Nico Hulkenberg (11th, 1:33.139): "In FP1 and FP2, we were getting all the usual data for the car and the circuit. We've been playing and working with the set-up, and got some runs in, so there's plenty to look at tonight. Over qualifying I think we should be fairly competitive but race-wise still, it's going to be a challenge. I expect it to be tight again, it's a faster lap now which brings the field closer together and the slightest of differences can have a big impact. I want to qualify as high-up as possible given overtaking is difficult."
Guenther Steiner, Team Principal: "It wasn't a bad Friday for us today. We ran all of our program and it seems the car is working a little bit better here but I don't want to jump to any conclusions yet. It's day one of a long weekend so we need to see now how the car goes in the long run as it wasn't possible to do more than eight or nine consecutive laps today. All in all, it was a good day because we did our testing and we found some improvements that the drivers like, but it is only day one."
Scuderia AlphaTauri
Liam Lawson (12th, 1:33.285): "Initially, today was tricky, but that was expected with this unique track. I'm enjoying it and learning a lot. It was also cool to drive at night, under the lights, and with the heat here, it's more comfortable as a driver. We need to make the most of FP3 tomorrow, but so far, it's been ok. We've been gradually building, and it's been going nicely, so there's definitely more to come tomorrow. On this type of circuit, it's hard to notice the differences in the updates. The gains won't be as big as on more traditional circuits, but the car has definitely improved. Obviously, with something this new, we need to figure out how to maximise it, so we'll analyse our data tonight, ready for qualifying tomorrow. I feel there isn't as big of an improvement in grip between the soft and medium compound, but we'll look into it for qualifying and the race."
Yuki Tsunoda (16th, 1:33.477): "Overall, today was okay. Towards the end, there was a drop in grip on the soft compound, and compared to the medium tyres, I didn't feel much of a step up, so we need to investigate what happened there. Because Singapore is a completely different, unique track compared to others, it's hard to know so quickly how well our updates are working. The car has definitely improved, especially the rear support, but we'll know more in qualifying. I'm feeling good and looking forward to getting back out there tomorrow."
Jonathan Eddolls, Chief Race Engineer: "We came to Singapore with several new aero components, and both cars were furnished with these. One of the key objectives of today was to understand the performance associated with this update and together with the data, see how best to set the car up around it. With the cancelled races in previous years, it was only the second time Yuki has driven here and the first time for Liam, so the focus of FP1 was maximising the number of laps and allowing the drivers to build up the pace step by step. It's always difficult to learn much in FP1 here with the high track temperatures and green track, but we saw enough to see the package was working, and both drivers were happy with the car. We did some fine-tuning for FP2, which is the most representative session of the weekend for quali and race prep. Performance on the medium compound tyre demonstrated the changes had gone in the right direction. Moving to the short soft tyre run, Liam found lap time, but Yuki struggled with grip and didn't really improve his time, so this is something we need to work on for tomorrow. Degradation in the long runs was manageable, and there was a mix of compounds used across various competitors, so we have a lot to go through to define the best strategy for Sunday. Our focus now turns to the short-run performance and what we need to do to maximise the potential on the soft compound. In general, it's been a positive start to the weekend."
Williams Racing
Logan Sargeant (19th, 1:34.321): "FP2 was much better than FP1 so that was a good step forward. I was on a semi-decent lap on the Soft tyre but made a mistake in the last corner which cost us the lap time, but still a lot of good learning from today. We have a couple of different bits coming tomorrow that should help me out. As a team, we knew it was going to be a tough weekend feeling those limitations that we haven't really experienced in the last couple of races. We just need to try and find a way around them the best we can."
Alexander Albon (20th, 1:35.558): "We think the issue is battery related; I started my lap and it felt okay but then I just started to lose deployment as I went on the straight. I think we already know the problem so it shouldn't be too long to fix but around here you want the mileage because it's such a confidence building circuit. Aside from the issue, the car hasn't felt too bad and I don't believe we'll suffer from any penalties, but we'll have a proper look tonight. With the temperature of the car here this weekend and the lack of running time, we'll have to do a little bit of guess work tomorrow, but it should be fine going into FP3 tomorrow."
Dave Robson, Head of Vehicle Performance: "A tricky day for us, especially on Alex's side of the garage. We opted to do some testing with Alex in FP1, expecting to complete the race preparation during FP2. Unfortunately, an issue within the ERS system of the PU meant that we had to end his FP2 after just a couple of laps on the Hard tyre. We'll fit a different module to Alex's car overnight and look to make up for lost time during FP3. Logan had a more successful day and completed his plan without any issues. He got some good experience of this tricky circuit under his belt and he was able to get a good sense of how to trade low and high fuel performance at this track. We've got a lot of work to do to improve the car, but we know what we are looking for and we'll certainly be able to make some progress."