Singapore GP 2019
SEPTEMBER 22, 2019
Race Notes - Vettel takes Ferrari one-two in Singapore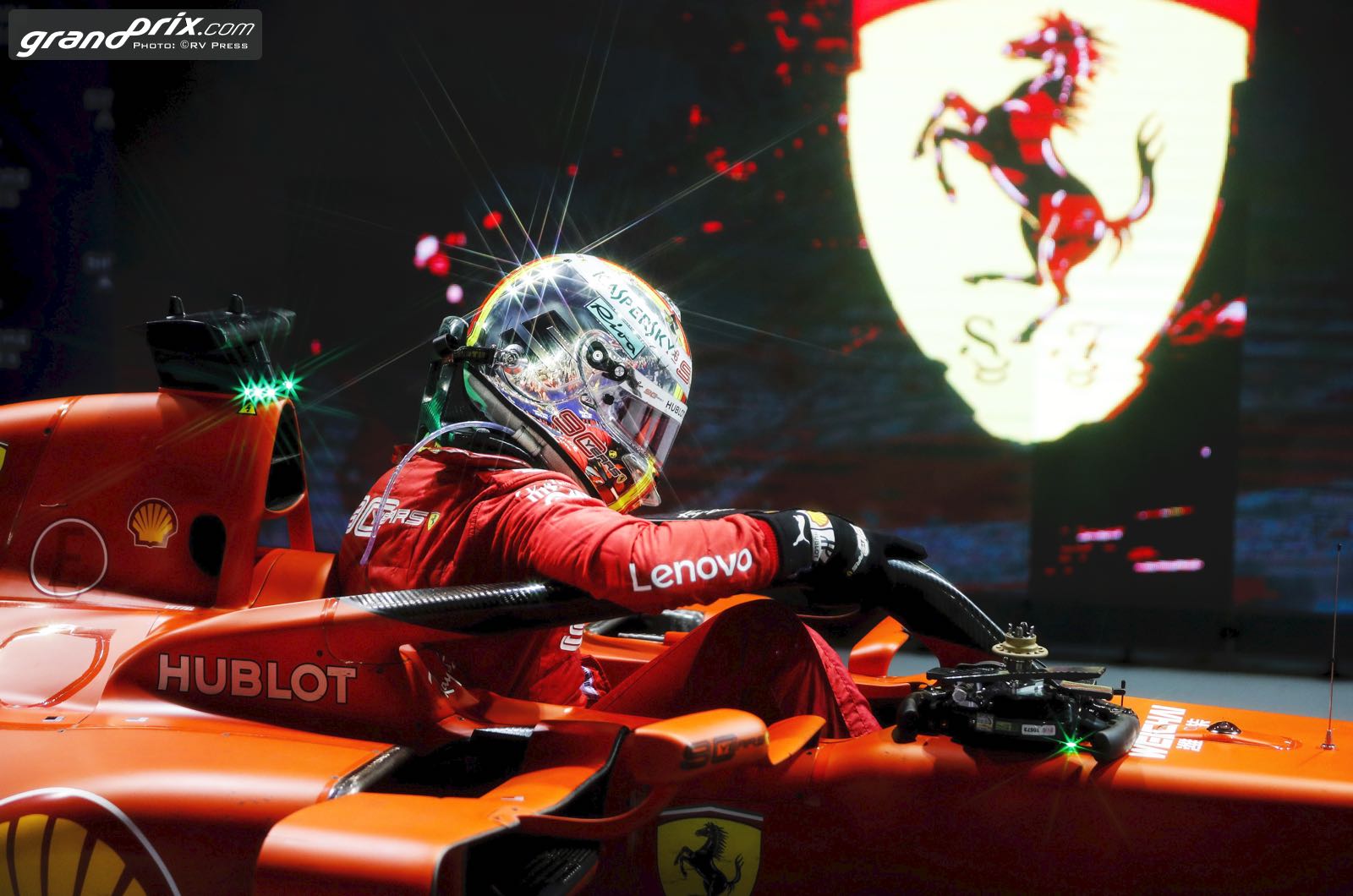 © RV Press
By Mark Karp
Sebastian Vettel won the Singapore Grand Prix in his Ferrari ahead of his team mate Charles Leclerc in second, and Max Verstappen finished in third place in his Red Bull-Honda.
Vettel's last win came over a year ago, and it is Vettel's fifth win at the Singapore circuit, and 53rd career victory.
Ferrari has now won three consecutive F1 races since the August break.
Lewis Hamilton in his Mercedes GP was fourth, with his team mate Valtteri Bottas in fifth, Alex Albon in the second Red Bull was sixth, Lando Norris in the McLaren-Renault was seventh, Pierre Gasly in the Toro Rosso-Honda was eight. Nico Hulkenberg in the Renault was ninth, and Antonio Giovinazzi in the Alfa Romeo-Ferrai was in the final points position in tenth.
Att the start Leclerc led from pole. Vettel pitted earlier than Leclerc and got ahead of his team mate. Hamilton contined to stay out as the rest of the front runners pitted.
On lap 23, with Hamilton yet to pit, he leads Giovinazzi, Gasly, Ricciardo and Stroll.
On lap 26 Hamilton pits, and hands the lead to Gioviannizzi, followed by Gasly. Ricciardo, and Vettel. Hamilton rejoins in eighth behind Verstappen.
Antonio Giovinazzi leads in the Alfa Romeo, which is the first time that a driver not in a Mercedes, Ferrari or Red Bull has lead a race since 2015.
On lap 28 Leclerc passes Stroll for fifth.
On lap 29 Vettel passes Gasly for second place.
On lap 30 Vettel passes Giovinazzi for the lead. Leclerc and Verstappen have made their way past Ricciardo and Gasly, they run third and fourth.
On lap 32 Leclerc passes Giovinazzi for second place.
Hamilton passes Ricciardo for fifth place.
On lap 33 Hamilton and Bottas pass Giovinazzi for fourth and fifth place.
Giovinaczzi and Ricciardo touch, Ricciardo has a punctured tyre.
On lap 35 the Williams of Russell is stranded after he came together with Grosjean. The Safety car is out.
Hulkenberg pits.
Leclerc complains to Ferrari that he doesn't understand his pitstop strategy.
At the end of lap 40 the safety car ended, and the race resumed with Vettel in the lead ahead of Leclerc, Verstappen, Hamilton and Bottas.
Stroll battles with Hulkenberg, the two touching. Stroll had a punctured tyre and limps back to the pits.
On lap 43 Gasly and Hulkenberg battle over tenth place. Perez comes to a halt with mechanical problems. The safety car is out again.
Stroll pits.
Hamilton tells his team that he has the pace to keep up with the leaders, but he is not sure he has the pace to pass them.
At the end of lap 47 the safety car came in and the race restarted with Vettel in the lead. With 12 laps to go.
On lap 48 Ricciardo and Kvyat battle - Ricciardo comes off the worst and loses three positions.
Gasly passes Magnussen for eighth.
On lap 49 Kvyat and Raikkonen make contact and Raikkonen is out with damage. Another safety car period.
On lap 51 the safety car is in, Vettel gets a good jump on the field and continues in the lead.
Hulkenberg calls in to the team that he has a gearbox problem.
Stoll gets past Kvtar for 15th, and then passes Magnuyssen for 14th.
On lap 55 Vettel sets fast lap at 1m44.943s, and then sets another a lap later.
On lap 47 Magnnusen pits for fresh tyres.
On lap 47 Bottas sets fastest lap at l1m43.534s.
With two laps to go Hamilton is closing on Verstappen in third place.
Verstappen asks for more power, but the team tells him to stay with the current settings.
Vettel continues to the finish and wins with Leclerc sercond, Verstappen third.