Singapore GP 2019
SEPTEMBER 21, 2019
Practice 3 Report - The third man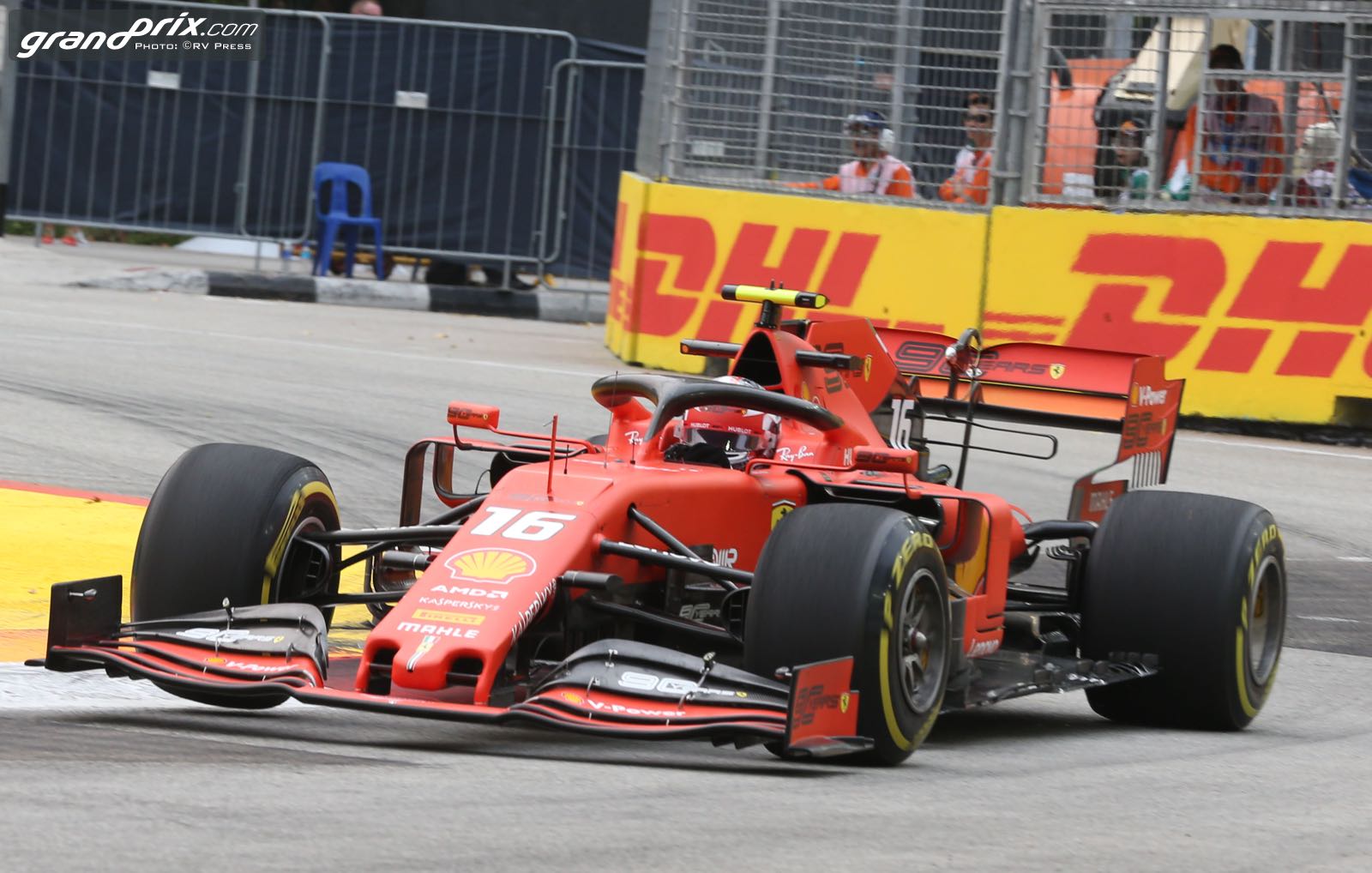 © RV Press
By Dan Knutson in Singapore
Max Verstappen and Lewis Hamilton were the quickest in FP1 and FP2 on Friday, but a third driver – Charles Leclerc – topped FP3 on Saturday evening. His Ferrari had been a winner on the low downforce circuits of Spa and Monza, and now it looked competitive on the high downforce Singapore street track as well.
The line-up for the weekend was: Mercedes – Hamilton and Valtteri Bottas; Ferrari – Sebastian Vettel and Leclerc; Red Bull TAG Heuer – Verstappen and Alexander Albon; Renault – Daniel Ricciardo and Nico Hulkenberg; Haas Ferrari – Romain Grosjean and Kevin Magnussen; McLaren Renault – Carlos Sainz and Lando Norris; Racing Point Mercedes – Sergio Perez and Lance Stroll; Alfa Romeo Ferrari – Kimi Raikkonen and Antonio Giovinazzi; Toro Rosso Honda – Daniil Kvyat and Pierre Gasly; Williams Mercedes – George Russell and Robert Kubica.
Hamilton was best on Friday with a time of 1:38.773. Verstappen was a mere 0.184 of a second slower.
"Nothing's ever perfect and we definitely have some areas that we can still improve on," Hamilton said Friday night. "We've got off to a good start, but the Red Bulls looked very quick and we still have to put it all together tomorrow, which is not going to be easy."
Magnussen and Norris were the first out. Gasly, Kvyat, Hulkenberg, Grosjean, Ricciardo and Sainz also did installation laps. And then Bottas.
The ambient temperature at the start of the 60-minute session was 88 degrees Fahrenheit (31 degrees Centigrade) and the track temperature was 104 degrees Fahrenheit (40 degrees Centigrade).
Nobody was that keen to do any laps as the track conditions were hotter than they'd be in qualifying three hours later and after the sun had set.
Bottas did the first flying lap of the session in 1:40.926 on the medium compound Pirellis. Fifteen minutes into FP3, Hamilton, also on the mediums, beat that at 1:40.320. Then along came Leclerc, on the soft slicks, in 1:39.364.
Vettel did a soft run that put him second, but he was 0.906 of a second slower than his Ferrari teammate. Slow enough for Hamilton to displace him from second place.
Kvyat, meanwhile, headed back to the pits with smoke coming from the back of the Toro Rosso.
Just before the midpoint of the session Perez clipped the wall and headed to the pits with his right rear wobbling. There was now debris at Turn 21, and the VSC was deployed.
Then, with 29 minutes remaining, the session was red flagged so that the marshals could clean up the debris created by Perez and the wall.
The order was now: Leclerc, Hamilton, Vettel, Bottas, Perez, Norris, Albon, Ricciardo, Stroll and Hulkenberg.
As the clock does not stop in practices sessions, 22 minutes remained in FP3 when it was restarted. A number of drivers still bided their time in the garages rather than go straight out for a qualifying sim on the soft Pirellis.
Bottas did go out, and took the lead with a 1:39.166. Then, with 15 minutes to go, Leclerc topped that with a 1:38.192.
Now it was Hamilton's turn to go out, and he promptly had a lazy spin at Turn 3 just as he left pit exit. His fast lap put him second ahead of Bottas and Verstappen.
Then Vettel moved up to claim third ahead of Bottas, Albon, Verstappen and Sainz with three minutes remaining.
The third man stayed in front as the session wound down, and the top 10 at the end of FP3 were: Leclerc, Hamilton, Vettel, Bottas, Albon, Verstappen, Sainz, Norris, Hulkenberg and Ricciardo.