Singapore GP 2019
SEPTEMBER 20, 2019
Practice 2 Report - Gunning for five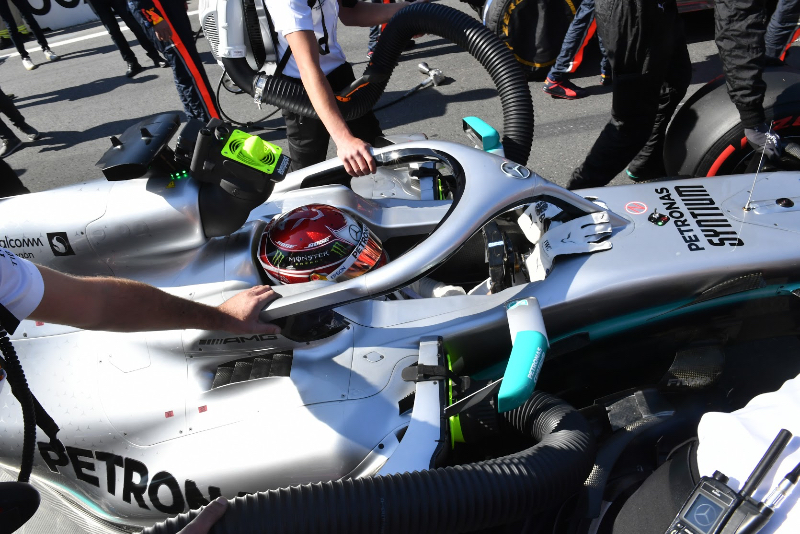 © RV Press
By Dan Knutson in Singapore
Lewis Hamilton is gunning for his fifth victory in the Singapore Grand Prix, and the Mercedes driver added some ammunition to that quest by turning the fastest lap time in Free Practice 2 on Friday night.
"The Red Bulls – they've particularly been quick over the years (in Singapore) and we anticipate that they they're going to be strong this weekend," Hamilton said before practice began. "I have no idea whether Ferrari will be quick, as they have been in the last races, or not. We'll just focus on ourselves and try to make sure we extract the most we can. We've not really performed that well over (in Singapore) the last couple of years, but we've come out with not such bad results due to other circumstances. So I hope that we fare well."
The line-up for the weekend was: Mercedes – Hamilton and Valtteri Bottas; Ferrari – Sebastian Vettel and Charles Leclerc; Red Bull TAG Heuer –Max Verstappen and Alexander Albon; Renault – Daniel Ricciardo and Nico Hulkenberg; Haas Ferrari – Romain Grosjean and Kevin Magnussen; McLaren Renault – Carlos Sainz and Lando Norris; Racing Point Mercedes – Sergio Perez and Lance Stroll; Alfa Romeo Ferrari – Kimi Raikkonen and Antonio Giovinazzi; Toro Rosso Honda – Daniil Kvyat and Pierre Gasly; Williams Mercedes – George Russell and Robert Kubica.
Verstappen was best in FP1 with a time of 1:40.259. Bottas, meanwhile, crashed in the session. And Leclerc coasted into the pits when his engine cut out.
When the green lights went on to signal the start of FP2, the TVs showed Verstappen out of his car and chatting with Red Bull bossed Christian Horner and Dr. Helmut Marko. No rush there, then.
In fact, the only early takers were Alfa teammates Raikkonen and Giovinazzi.
The ambient temperature at the start of the 90-minute session was 84 degrees Fahrenheit (29 degrees Centigrade) and the track temperature was 93 degrees Fahrenheit (34 degrees Centigrade).
When things ramped up, it was Russell who got some limelight by topping the charts with a time of 1:43.229.
Bottas and his repaired car were in action 10 minutes into FP2, at which point all drivers were on track except for Leclerc.
And soon thereafter Perez went ahead with a lap of 1:41.406 using Pirelli's soft compound tires. But Hamilton, on the mediums, beat that with his own 1:40.685 and then a 1:40.405.
Leclerc now joined, and all 20 drivers were on track 15 minutes into the session. Shortly thereafter Albon locked up and went straight into the barriers at Turn 10, which ripped off his front wing. He got going again and pitted.
Shortly thereafter Albon's teammate Verstappen got into second with a 1:40.694 on the medium compound slicks. Leclerc was now third and Bottas fourth, so their cars had been repaired the right way.
With their initial runs completed, all the drivers were in the pits, and at the half-hour mark the order was: Hamilton, Verstappen, Leclerc, Bottas, Perez, Gasly, Vettel, Sainz, Stroll and Kvyat. It was time to prepare for qualifying lap simulations on the soft tires.
Russell and Kubica were the first to make an attempt. They had the track to themselves as Russell moved up to seventh and Kubica to 14th.
Hamilton, Verstappen, Leclerc, Vettel and a number of others headed out with about 52 minutes remaining in the session. That included Albon who grabbed first at 1:39.943, which Verstappen beat with a 1:38:957, and which Hamilton beat with a 138.773.
Just past the midpoint, and with most drivers having completed run one, the order now stood as: Hamilton, Verstappen, Bottas, Albon, Leclerc, Vettel, Sainz, Hulkenberg, Norris and Gasly.
Next, Perez and Magnussen went for the same bit of track at Turn 21, which resulted in both their cars getting dinged. Meanwhile, Vettel's second run netted him third.
With half an hour to go, the drivers and teams started working on their race simulations. The top 10 had changed a bit and was now: Hamilton, Verstappen, Vettel, Bottas, Albon, Leclerc, Sainz, Hulkenberg, Norris and Gasly.
It was busy out there, with all drivers circulating with 15 minutes remaining. And 15 minutes later the session ended with the top 10 unchanged.