Singapore GP 2018
SEPTEMBER 16, 2018
Race Notes - Hamilton cruises to Singapore GP win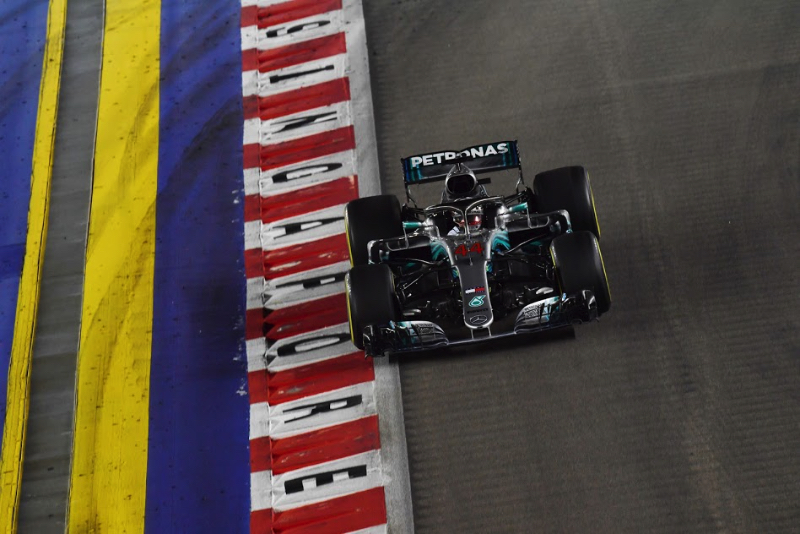 © RV Press
By Mark Karp
Lewis Hamilton had a strong performance to win the Singapore GP tonight in his Mercedes GP, over Max Verstappen in second in his Red Bull-Renault, 8.9 seconds behind, and Sebastian Vettel in third in his Ferrari, 39.9 seconds behind the winner.
The win is Hamilton's seventh victory of the season and 69th victory of his career. It is Hamilton's fourth win in Singapore. Hamilton now leads Vettel by 40 points over Vettel in the drivers standing.
Valtteri Bottas (51.9s) in the second Mercedes GP finished in fourth place, followed by Kimi Raikkonen (53.0s), in the second Ferrari was fifth, Daniel Ricciardo (53.9s) in the second Red Bull was sixth, Fernando Alonso (1m43.0s) in the McLaren-Renault was seventh, Carlos Sainz (1 lap) in the Renault was eighth, Charles Leclerc in the Sauber-Ferrari was ninth, and Nico Hulkenberg in the second Renault finished in the final points position in tenth.
At the appointed time, the cars came around the circuit, the lights went out and the race began with Hamilton taking the lead, Versappen in second ahead of Vettel and Bottas. At turn three Perez runs inside with Ocon outside, and Perez hits Ocon and he hits the wall. Coming into the next turn Vettel passes Verstappen and takes second place - the safety car is out.
The marshals are out clearing away the Force India, while behind the safety car Hamilton leads Vettel, Verstappen, Bottas, Raikkonen, Ricciardo, Perez, Grosjean, Alonso and Sainz in tenth place.
On lap 3 Sirotkin pits and changes from ultrasoft to soft tyres, as well as a damaged front wing.
At the end of lap three the safety car comes in and the race resumes with Hamilton continuing to lead Vettel and Verstappen in a clear restart.
On lap 5 Hamilton sets fast lap at 1m48.052s, with a 0.9 lead over Vettel as the field starts to spread out.
On lap 7 Vettel sets fast lap at 1m47.397s.
On lap 8 Hamilton sets fast lap at 1m46.746s.
Hulkenberg in 11th is starting to have a number of drivers pn his tail.
Verstappen reports that his car, "is really good."
At lap 10 Hamilton leads Vettel by 1.1 seconds, followed by Vestappen (2.2s), Bottas (3.7s), Raikkonen (5.2s), Ricciardo (7.6s), Perez (9.9s), Grosjean (16.5s), Alonso (17.9s) and Sainz (20.6s) in tenth place.
On lap 12 Hamilton sets fast lap at 1m45.502s and then again the next lap at 1m44.929s and leads Vettel by 2.5 seconds,
On lap 14 Vettel is the first to make a move and pits from second place switching to ultrasoft tyres and rejoins seventh place behind Perez.
The next lap Hamilton pits from the lead swithing to soft tyres, rejoining in fifth place behind Ricciardo - Verstappen takes the lead over Bottas and Raikkonen.
On lap 16 Bottas pits and switches to soft tyres as well and rejoins in seventh.
On lap 17 Verstappen pits from the lead and switches to soft tyres and rejoins just taking the fourth position ahead of Vettel.
Raikkonen takes over the lead from Ricciardo and Hamilton.
Vettel tells Ferrari, "these tyres will not make it to the end". With Vettel on ultrasoft tyres, will he need to pit again?
At lap 20 Raikkonen leads Ricciardo by 2.2 seconds, followed by Hamilton (12.1s), Verstappen (16.2s), Vettel (18.8s), Bottas (20.2s), Alonso (33.6), Sainz (37.2s), Gasly (45.6s) and Leclerc (46.8s) in tenth place.
On lap 22 Raikkonen pits from the lead switching to soft tyres and rejoining in sixth behind Bottas.
Ricciardo takes over the lead the last on hypersoft tyres.
Leclerc is closing on Gasly in ninth place.
Perez is closing on Sirotkin in 15th place.
There is some slight rain drops, as the teams look to the sky with drizzle falling on some cameras around the track.
On lap 27 Leclerc passes Gasly for ninth. Gasly decides his tyres are finished and pits for ultrasoft tyres.
Ricciardo pits from the lead and switches to ultrasoft tyres and rejoins in sixth place behind Raikkonen.
Perez is getting frustrated, as he is stuck behind the Williams of Sirotkin in 13th place.
Perez tells Force India, "this is a joke", the Williams running 3 seconds a lap slower than the leaders.
At lap 30 Hamilton leads Verstappen by 4.4 seconds, followed by Vettel (7.7s), Bottas (10.9s), Raikkonen (13.9s), Ricciardo (27.1s), Alonso (36.7s), Sainz (41.0s), Leclerc (58.1s) and Ericsson (63.1s) in tenth place.
Ricciardo, running 12 seconds behind Bottas is lapping a second quicker than the Finn.
On lap 34 Perez goes side-by-side with Sirotkin, the two touching. Perez pits for new tyres. Hulkenberg jumps past Sirotkin on the outside to take 13th place.
On lap 35 Ricciardo sets fast lap at 1m43.853s.
Magnussen and Hartley battle side-by-side, Hartley keeping 17th place.
Hamilton reports to Mercedes that his tyre tempetures are a bit cool.
Grosjean passes Sirotkin, while Hamilton and Verstappen back up behind Sirotkin as they lap the Williams driver.
O lap 38 Leclerc and Alonso both pit, Leclerc switching to hypersoft tyres, and Alonso to soft tyres.
Perez is handed a drive-through-penalty for causing the collision with Sirotkin.
At lap 40 Hamilton leads Verstappen by 3.3 seconds, followed by Vettel (7.2s), Bottas (12.2s), Raikkonen (13.5s), Ricciardo (18.8s), Alonso (72.3s), Ericsson (77.6s), Sainz (78.3s) and Vandoorne (88.1s) in tenth place.
Perez pits for his drive-through penalty.
On lap 41 Stroll pits for ultrasoft tyres and rejoins 18th.
Ericsson and Vandoorne on ultrasoft tyres have still yet to pit.
On lap 43 Magnussen passes Hartley for 17th place.
On lap 43 Ricciardo sets fast lap at 1m43.652s.
Grosjean is given a 5-second penalty for ignoring the blue flags.
On lap 44 Vandoorne pits for another set of ultrasoft tyres.
Sainz battles with Ericsson and passes for eighth place.
On lap 45 Alonso sets fast lap at 1m43.518s.
Ericsson is the last man to pit for another set of ultrasoft tyres.
Sirotkin pits and serves a 5-second penalty for pushing Hartley wide.
On lap 49 Ricciardo sets another fast lap at 1m43.335s.
At lap 50, Hamilton still leads Verstappen by 4.0 seconds, followed by Vettel (13.3s), Bottas (21.8s), Raikkonen (22.4s), Ricciardo (24.2s), Alonso (81.5s), Sainz (98.1s), Leclerc (1 lap) and Hulkenberg in tenth place.
Bottas complains that he is losing one second a lap trying to lap Leclerc.
On lap 52 Magnussen on fresh tyres sets fast lap at 1m41.905, as the front-runners all trying to pace themselves and make their tyres last to the finish.
Raikkonen runs one-second behind Bottas in fourth, while in sixth Ricciardo runs one-second behind Raikkonen.
Bottas is having trouble getting close enough to Hulkenberg to have the blue flags shown to him.
At lap 60 Hamilton leads Verstappen by 6.9 seconds, followed by Vettel (33.9s), Bottas (46.3s), Raikkonen (47.5s), Ricciardo (49.1s), Alonso (97.5s), Sainz (1 lap), Leclerc and Hulkenberg in tenth place.
The order remains the same to the finish, Hamilton taking the win ahead of Verstappen and Vettel.