Singapore GP 2017
SEPTEMBER 18, 2017
Race Analysis - Rain wipeout: How Hamilton won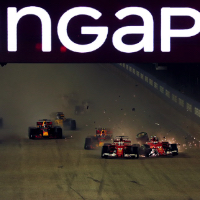 By Dan Knutson in Singapore
Starting fifth, Lewis Hamilton had almost no hopes of winning the Singapore Grand Prix on a track that suited rivals Ferrari and Red Bull better than Mercedes. But then three of those competitors were wiped out of the race moments after the start, and Hamilton found himself in first place on a wet track. Here is how his win unfolded.
SHOE IN
Only once in the previous eight editions of the Singapore Grand Prix has the pole sitter not gone on to win. So once Sebastian Vettel planted his Ferrari on pole, it looked like he would be a shoe in to win the race for a fifth time.
RAINING ON THE PARADE
But it rained on Vettel's parade just before the start of the race.
"I needed it to rain," Hamilton said. "As soon as it rained I knew where I was going to finish. I knew I had the pace when it rains. Unfortunately we just didn't have the car in the dry. But today, with it raining, those are my conditions."
3 IN 1
Three into one doesn't work when it is three F1 cars on the same piece of track just after the start. Max Verstappen's Red Bull got squeezed between the Ferraris of Vettel and Kimi Raikkonen.
SMASH CRASH BASH
In the ensuing smash up, Raikkonen and Verstappen crashed in the first turn, and Fernando Alonso got tangled up as well.
RACING INCIDENTS
Later the stewards would rule it was a series of racing incidents and took no action against the drivers.
NOSE-LESS
Vettel, whose car was damaged from the 3 in 1 collision, didn't last much longer. He was in the lead but spun into the barriers at Turn 3. He was rolling backwards down the track in a nose-less car and out of the race.
FIFTH TO FIRST
In moments, Hamilton had gone from fifth to first.
A LONG WAY TO GO
But nearly two hours of racing in the slippery, wall-lined streets remained. "It's all about getting the car home in one piece," Hamilton's engineer told him.
INTERS
The rain was easing off and after four laps behind the safety car the race resumed. Hamilton and Daniel Ricciardo (Red Bull) were on Pirelli's intermediate rain tire. Others were on the full wet tire.
"Inters the right tire," Ricciardo radioed.
INTER STRATEGY
The safety car came out for the second time when Daniil Kvyat stuffed his Toro Rosso into the tire barriers. Just about everybody pitted for fresh inters, but Hamilton and Bottas stayed out. At the time, Hamilton questioned the strategy.
THE RIGHT CALL
But it turned out to the right call as Hamilton was able to nurse his tires and keep his lead over Ricciardo even though the latter was on fresh rubber.
"In the first few laps I felt we were okay in the wet," Ricciardo said, "but then I felt we were a bit harsh on the tyres. Even when we pitted and had fresher tires, we couldn't really make an impact on Lewis."
VERY SLOW
"The track is drying very slow," Hamilton reported on lap 19. So when would it be dry enough for the drivers to switch to slicks?
GUINEA PIGS
Kevin Magnussen (Haas) and Felipe Massa (Williams) came in on lap 25 to make the switch to dry tires. They became the guinea pigs as the other teams observed their split lap times.
GREASY
Hamilton said the track was still very greasy, but he was also setting fastest laps on his worn inters. He finally pitted after 29 laps, one lap later than Ricciardo.
THIRD TIME NOT THE CHARM
The safety car came out for the third time after Marcus Ericsson spun and parked his Sauber where it needed a crane to be retrieved. Once again Hamilton got the jump on Ricciardo on the restart, ending his hopes of snatching the lead.
UNCOMFORTABLE
Mercedes told Hamilton to slow down. They didn't want him to open up to big a gap on Ricciardo because had the safety car come out again, Ricciardo might have had enough time to duck into the pits for a new set of tires. Hamilton said he was not comfortable with the strategy, and the team cut him loose.
SHORT SHIFTING
Ricciardo's car just didn't have the pace it did when he was fastest in practice on Friday. Furthermore, there were technical problems looming, and the team told him to "short shift" to save the engine. That compromised his ultimate speed and chance to challenge Hamilton.
"I'm actually not too sure what the issue was," Ricciardo said, "but I was just advised to do some short shifts from fairly early in the race and I was then reminded to continue to do that up to the end."
UNCATCHABLE
Hamilton was uncatchable as he reeled off the laps on his way to his seventh win of the season.
"Obviously, if it was dry it would have been a much, much harder race," he said. "For some reason the Ferraris and also the Red Bulls are much stronger in those conditions, when it's warmer and grippier but, it was a nice reset with the rain that came in today, which dropped the grip level.
"Then obviously being intermediates to start with, still even in that scenario, I thought they would be a lot closer pace-wise. These conditions I love, and it's very much an opportunity to really make a difference with your driving in those conditions, and today I was really able to."
WELL DONE
They had nothing to do with Hamilton's victory, but get honorable mention. Carlos Sainz (Toro Rosso) finished a career-best fourth, and Jolyon Palmer finished sixth to earn his first F1 points.
IMPORTANT NUMBERS
Hamilton now has 60 career F1 wins. His points lead over Vettel sprawled from 3 to 28. And there are six races left.