Singapore GP 2017
SEPTEMBER 15, 2017
Practice 1 Report - Red Ahead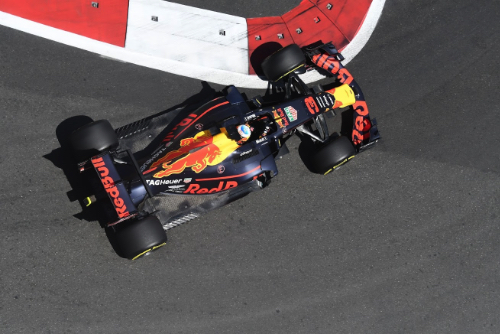 © RV Press
By Dan Knutson in Singapore
Daniel Ricciardo's Red Bull and Sebastian Vettel's red Ferrari were the quickest cars in the opening round of practice for the Singapore Grand Prix.
The lineup for the weekend was: Mercedes Lewis Hamilton and Valtteri Bottas; Red Bull TAG Heuer Daniel Ricciardo and Max Verstappen; Ferrari Sebastian Vettel and Kimi Raikkonen; Force India Mercedes Sergio Perez and Esteban Ocon; Williams Mercedes Felipe Massa and Lance Stroll; McLaren Honda Fernando Alonso and Stoffel Vandoorne; Renault Nico Hulkenberg and Jolyon Palmer; Toro Rosso Renault Daniil Kvyat and Carlos Sainz; Haas Ferrari Romain Grosjean and Kevin Magnussen; Sauber Ferrari Marcus Ericsson and Pascal Wehrlein.
Substitute drivers for FP1 were: Sean Gelael in Sainz' Toro Rosso, and Antonio Giovinazzi in Magnussen's Haas.
The drivers had been doing extra training to prepare for the heat and humidity and the two-hour race around the 23-turn 3.147-mile (5.065 km) street track.
"I did a lot of training, a lot of cardio, more than usual," Ocon said. "I think it's quite important. I did cardio in the heat as well so that was nice to do. It is just a matter of getting used to the heat and getting you to sweat quite a bit. You arrive here well-hydrated and have the right food.
"I just had a bike in the sauna, did some stuff like this which is not very nice but you have to do. I'm ready, definitely ready; there's no problem with that. It's very important to keep the focus until the end of the race, it's a very long race."
The ambient temperature at the start of the 90-minute session was 84 degrees Fahrenheit (29 degrees Centigrade) and the track temperature was 91 degrees Fahrenheit (33 degrees Centigrade). The humidity was 70 percent.
Four-time Singapore Grand Prix winner in 2011, 2012, 2013 and 2015 Vettel was the first out on the track.
The Pirelli tire choices were, naturally, the three softest compounds available: soft, super soft and ultra soft.
It had rained earlier in the day, but now the sun was out and the track was dry except for some damp patches. So it was slippery in spots.
"It's relatively tricky conditions," Hamilton radioed.
Indeed, Bottas and Hulkenberg were among those to have slides close to the walls.
Verstappen had been the quickest in FP1 last year with a time of 1:45.823 in his Red Bull.
This year it didn't take long for Bottas to get down to a 1:45.307. He used the super softs for the run.
Then, just before the one-third mark of the session, Hamilton posted a 1:44.236 on the super softs.
Next, Verstappen got down to a 1:44.058 on the ultra softs. Ricciardo, on the same compound, beat that with a 1:43.664. Verstappen responded with a 1:43.278.
Fifty minutes remained when Bottas has his first go on the ultra soft tires. He moved into second with a 1:43.434.
The order was now: Verstappen, Bottas, Ricciardo, Vettel, Hamilton, Perez, Hulkenberg, Kvyat, Ocon and Raikkonen.
But now Hamilton was trying the ultras, and he took over the number one spot with a time of 1:42.904.
Meanwhile, it was the same old story for McLaren Honda. "I have no power," Alonso radioed. Yet he managed to jump up to sixth.
With just over 30 minutes remaining in the session, Verstappen was back in front by a mere 0.099 of a second with a lap of 1:42.805. Ricciardo improved to a 1:43.206, which put him third.
The Red Bull boys were on a roll. Ricciardo got in a 1:42.489 for first while Verstappen improved to a 1:42.610.
Nico Rosberg earned the pole in his Mercedes in 2016 with a time of 1:42.584.
With 22 minutes to go Vettel had a quick lap of 1:42.598 to edge Verstappen out of second place.
Perez was looking strong as he popped up to fifth. But the top four remained unchanged with the red cars ahead as the session wound down.
The top 10 were: Ricciardo, Vettel, Verstappen, Hamilton, Perez, Bottas, Raikkonen, Alonso, Hulkenberg and Kvyat.