Emilio Romagna GP 2021
MARCH 19, 2023
Sunday Team Quotes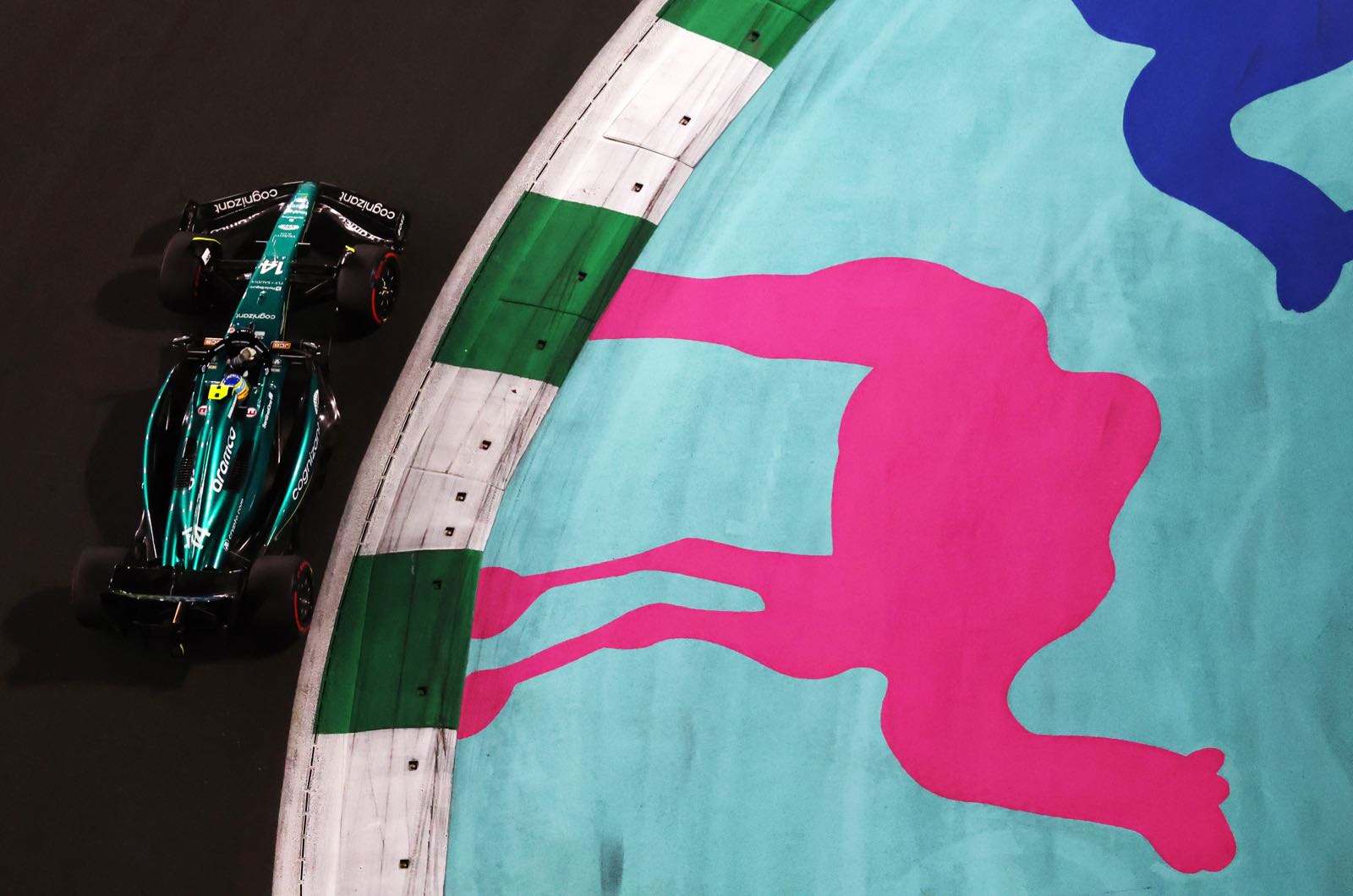 © Aston Martin Racing
Oracle Red Bull Racing
Sergio Perez (1st): "I love being a part of this Team because of the way we push and the way we deliver, I'm so proud of us. I had a wicked race - which is a new word I learnt this week! I didn't have a great start but after I got back around Fernando, I was able to create a good gap between the rest of the field and me... until the safety car came out and I was reminded of Jeddah 2022… It was a new race after the safety car though and I'm happy I was able to build a gap again and then keep it, even when Max was pushing at the end. Everyone back in Milton Keynes and here at the track have built such a fantastic car for us this season. I love being a part of this Team because of the way we push and the way we deliver, I'm so proud of us. The Team is working at such a high level so it's really great to be a part of. In the end, we must remember it's a long season but tonight was a massive team result."
Max Verstappen (2nd): "P2 was always the target today. Today was about recovering what was possible. The beginning of the race was a bit tricky, it was hard to follow in the train of cars because there was very low grip. At one point it all settled down a bit, I could move forward and the safety car helped a little bit. It was about being calm and overtaking the cars one by one. In general P2 was always the target today. Today was about recovering what was possible, if I had qualified P1 then today would have looked very different. I was catching Checo towards the end of the race but we calculated it wouldn't be enough to make up the gap to him by the end of the race. I started to feel a vibration in the laps where I was catching and trying to push, I started to feel some instability in the car. Sometimes it's better to just tell yourself it's better to bring that P2 home. As a Team we have to work on making sure both cars are reliable because we have a very fast car but I still think we can do a better job. I would like a clean weekend in Melbourne to maximise everything we can. I am happy with the way it is turning it out at the moment but it is still a long season."
Christian Horner, Sporting Director: "It was an exemplary performance from both drivers, the Team here at the track and everyone back at the factory. What a race! All credit to the Team today. They've built an incredible car. That coupled with some truly fantastic driving has made for the best start to a season in our history, consecutive 1-2 finishes. Max had a mountain to climb, overcoming a significant deficit, but with over half the race to go, was already in P4. Similarly, Checo turned in an equally outstanding performance, perhaps the best drive I have ever seen from him. They were both going flat out, hard at it. Both drivers were free to race and they went for it. Max secured the fastest lap and Checo came away with the victory. It was an exemplary performance from both drivers, the Team here at the track and everyone back at the factory. There is a tremendous amount of work that goes into a race such as this and it is the epitome of a team performing at the top of their game. We wont rest on it though, Australia is just around the corner. It is a track that has not been kind to us in the past so we want to ensure we are prepared, just as we were here, to give us the best chance of success and another first class performance."
Scuderia Ferrari
Carlos Sainz (6th): "It was a tough Sunday. Going into the race and looking at the sessions over the weekend, we were expecting a better race pace. We have work to do and we know the car is not where we want it to be at the moment. However, we will keep pushing and I am fully confident we can improve the situation."
Charles Leclerc (7th): "There wasn't much more we could have extracted today. Our first stint on the Softs was pretty strong and I could push, making up some positions. Just after we switched to Hards, the Safety Car came out so unfortunately we didn't gain an advantage there. Our pace was not as good as we expected on the Hards and the rest of the race was spent in a train with Carlos. We have work to do on our race pace and will push to come back stronger in Australia."
Frédéric Vasseur, Team Principal: "Overall, we can't be satisfied with today's result. We did not have the pace we were expecting from our car, especially on the Hard tyre. There was also a big gap in our performance level between qualifying and the race. However, there were some positives today, starting with Charles' pace on the Soft tyres which was good and allowed him to make up six positions on his first stint. Carlos also ran well on the Mediums. Our strategy was on point and our pit crew executed two good stops. There is still a long way to go this season and we will continue to fight. We are fully committed to maximising our package and further developing the SF-23 for the coming rounds."
Mercedes-AMG Petronas F1 Team
George Russell (4th): "When you put the hard work in and it pays dividends, you come away feeling satisfied. We finished ahead of both Ferraris on merit today and we know we've got a lot of performance to come soon. The gap to the Red Bulls is still considerable, but we'll take the positives from the weekend, keep fighting as hard as we can and focusing on ourselves. It was an interesting race. After the Safety Car I was on the hard tyre and Lewis was behind on the medium. He had a bit more pace at the beginning, but I knew my pace would come at the end. Fernando deserved to be on the podium today and I was pleased with P4. I'm not complaining too much about taking home a trophy though, and we will take the extra points!"
Lewis Hamilton (5th): "We got some great points as a Team today. George getting third is amazing and I was able to move forward from seventh to fifth, which is the main thing. If I had qualified better then maybe I could have got a better result, but we still got some points. My set-up this weekend has been the biggest issue I've faced. I got it wrong for Qualifying and it wasn't good in the race either, so I struggled today. We were trying to go long on the hard tyre, but the Safety Car came out, so I had to pit. We just about managed to make the medium work, but it was a long second stint. We didn't have the same tyre degradation as we did in Bahrain, though. We were a lot closer to some of those ahead and it's great to be in the top five, ahead of the Ferraris. There is lots to work on but there are positives to take away from this weekend."
Toto Wolff, Team Principal: "Today was positive and we'd rather take a small trophy home than none. I think we saw some performance gains to Bahrain which is encouraging. It shows us that the development trajectory is going in the right direction. I think both of our drivers under our guidance probably over-managed their tyres a bit, and we had a little more pace. Bahrain is still in our heads, and we could have maybe pushed more. It was a strong driver from George and a great recovery from Lewis to get solid points. Red Bull are still far away in terms of performance and that won't be easy to catch. Nevertheless, today we've seen that our development is heading in the way we want to head."
Andrew Shovlin: "A good effort by the team and both drivers today to collect some very useful points and clearly a pleasing end to the weekend for George picking up third place. The car is hard work to get into the right window and it's not as easy for the drivers as it needs to be, but we've certainly found a better balance than in Bahrain and it has been a lot kinder on its tyres. We're under no illusion that we have a lot of work to do. We've been busy at the factory searching for performance and the initial findings are encouraging which gives us the motivation to keep working hard to improve. Today, we did exactly what we needed to do, which is to maximise the potential in what we have. We're looking forward to the next race in Melbourne; it's closer in characteristics to Saudi than Bahrain, so hopefully we'll have a car that we can fight for a podium. If there is any more performance that we can bring we'll make sure we get it to the track."
BWT Alpine F1 Team
Esteban Ocon (8th): "Overall, I would say it's been a reasonable race for the team. The final result reflects our performance in the race and eighth place is the maximum we could have achieved today. Having both cars in the points is definitely positive, especially after Bahrain, but we must not be completely satisfied with where we are at the moment. Our car has potential and we will continue learning and building to catch up to our competitors. We want to challenge for positions higher up the grid, and we will keep working hard to do that. We will debrief on this weekend and our attention will quickly turn to Australia where we'll aim for more."
Pierre Gasly (9th): "It's definitely satisfying to make it two points finishes from my first two races with the team. I think finishing in eighth and ninth was the best we could achieve today, though. We're making positive steps; we're learning things each time we get in the car and we must continue to apply that knowledge to keep improving the overall package. On my side, there's more to come, especially in extracting the maximum in Qualifying, which will allow us better track position for the Race. I'm looking forward to debriefing with the team, continuing my learning and going again in Australia where we want to show further improvements."
Otmar Szafnauer, Chief Operating Officer: "Today's race highlighted many things: areas where we know there are positives and other areas where we need to improve. Finishing with Esteban in eighth and Pierre in ninth was probably the best we could achieve today and we're making steps in the right direction towards our targets. We're not where we want to be right now, that is clear, and we have a lot of hard work ahead of us if we're to take the fight further up the grid. We've reeled in some of the teams who were in front of us in the championship last year and we must continue to chip away at that gap and close it. As a team we'll debrief on this weekend as there are many positives as well as some finer details for us to improve on. We have a good batch of upgrades coming up as per our development plan and we look forward to Australia in two weeks' time where we aim to apply our learnings and again come away with a good team result."
McLaren F1 Team
Oscar Piastri (15th): "Obviously it's not the day we were looking for, there was contact at the beginning where I lost part of my front wing. I'm not sure if there was anything I could have done really, I was squeezed a little bit. There was some good racing at the end, which was nice and obviously I did a long stint on the Hards, so it's good to get a bit of learning for the tyres but overall, it's not what we were looking for tonight."
Lando Norris (17th): "Tough race, we were very unlucky today. I had a really good start but then got hit with debris which damaged my front wing. We did our best to try to come out with something, but no luck was on our side. We did the best job we could, working as a team, but it was difficult to achieve anything more than what we did. So, it's tough, but now our focus is on Australia where we hope to do a better job."
Andrea Stella, Team Principal: "After beginning the race with high hopes of scoring points, we had both cars at the back of the pack after the first lap and we come away from Jeddah empty-handed. Oscar had contact at the first corner, which required him to pit with a broken front wing, while Lando hit the debris coming off Oscar's car and also suffered a broken front wing. We're racers, we take these things on the chin, and we will be even more determined to succeed when we get to Australia. Before we go to Melbourne, we know we have work to do to improve our car, and that will be our immediate focus."
Alfa Romeo F1 Team Stake
Guanyu Zhou (13th): "We looked strong in the first stint, our pace was good and it seemed the top ten was within reach. Of course, track position always makes the difference on street circuits like this one, and, unfortunately, I got stuck in a DRS train once the Safety Car came out. My race was compromised from that moment onwards, and there wasn't much more we could do. Today just hasn't been our day, but I think we can achieve much more as a team going forward. We get a new chance in a few weeks in Melbourne, where we will be bringing some upgrades to our car: hopefully they'll allow us to make the step forward we need to continue fighting for points. We're have shown we can do it and that we can fight towards the front, and I am confident we can achieve that again in Australia."
Valtteri Bottas (18th): "Our qualifying performance yesterday was similar to the one we had in Bahrain, so we had good hopes for tonight, but unfortunately the race was a very different affair. The car didn't feel right, we couldn't get any grip from the beginning of the race and we need to figure out exactly what happened. I ran over a large piece of debris on lap one, so perhaps I was carrying some damage to the floor: we'll look at the car and at the data and understand more to prepare for Melbourne. I believe our car is much better than what we've shown tonight: Zhou had a much better pace, so I don't think this weekend was very representative, and I am confident we can be back fighting for points in Australia."
Alessandro Alunni Bravi, Team Representative: "Starting where we were on the grid, we were expecting to fight for the points, but, unfortunately, we weren't able to finish in the top ten this time around. The team had a difficult weekend, and we weren't able to be at the level for which we aimed: we'll need to go back to base, analyse the data from this performance and understand where we've fallen short, and what steps we need to make to return to the level we were in Bahrain. We are confident we can make it there in Melbourne, where we will also bring some updates to further improve the performance of our C43. We need to keep working hard, of course: the season is long and the battle will be intense in each race."
Aston Martin Aramco Cognizant F1 Team
Fernando Alonso (3rd): "I am happy in the end with the result tonight and our second podium. We showed that we can be the second fastest team and we had good pace throughout the race. It was my mistake at the start with the position on the grid, but we pushed to make up that time. Coming into this weekend we were not sure exactly where we would be, so this is good news for us going into the next few races. I am looking forward to Australia next."
Lance Stroll (DNF, Engine): "It was disappointing to retire from the Grand Prix after such a promising weekend. I had a great start and really enjoyed overtaking Carlos [Sainz] around the outside of Turn 13. We were in a good position on track and I was having fun pushing, but then I started experiencing reduced power and got the call to stop the car. It is not the result we wanted, but we leave Saudi Arabia knowing that we have a very competitive car and we will pick up the fight next time out in Australia."
Mike Krack, Chief Operating Officer: "It is very satisfying to score our second podium of the year with Fernando here in Jeddah. It is Fernando's 100th career podium, which is a very impressive milestone. The car has been competitive throughout the weekend and we showed strong race pace once again tonight. Full credit to everyone in the team for their hard work this week. It is a real shame that Lance was forced to retire early with an energy recovery issue, the cause of which is still being investigated, because he had strong pace and would surely have scored big points tonight as well."
Haas F1 Team
Kevin Magnussen (10th): "A point means a lot. We didn't start the weekend on the right foot but it seemed like we really turned things around and found a groove for qualifying. Unfortunately, we had this issue with the gearbox that we didn't have today, which was really nice. We were able to have a good race, get a good start, manage the tires well – especially on the hard compound when I was on older tires than Tsunoda and actually had less degradation. I was then able to get past him at the end, and we managed to get a point."
Nico Hulkenberg (12th): "It was eventful. It's always a massive challenge here on this track and it was tight. On one hand I'm disappointed I missed out on a point, but on the other hand I'm very pleased that I completed the race and we've learned a lot. The underlying positive news is that we're competitive. It was difficult to judge in Bahrain with damage, but here today we're definitely competitive in the midfield and that makes me happy."
Guenther Steiner, Team Principal: "First point this season. We had the speed but didn't luck into it as some people were in a better position after the safety car, but the drivers fought hard, and we got a point. The whole team performed flawlessly all weekend, they kept their heads up and everyone just kept on pushing. That's what we're going to be doing all season long and I'm really looking forward to going to Australia now. As I said after Bahrain, I didn't really know where we were with the car, but we now know where we think we are. We're in the mix, we're actually pretty good I think – it's all coming together. We didn't panic after Bahrain – now we're cautiously optimistic."
Scuderia AlphaTauri
Yuki Tsunoda (11th): "I ended the race in P11, it's frustrating to lose the position with only four laps to go. The team did a really great job, everything went perfectly. The pace on the medium tyre was very strong and it improved compared to qualifying. I'm happy with what the team and I achieved together, but at the same time, I'm disappointed we didn't reach the points in the end. We'll come back stronger with updates in Melbourne, so we are already fully focussed on the next race, where we will do our best to maximise our performance. We'll continue to work hard to be able to fight at the top of the midfield and start scoring points consistently."
Nyck de Vries (14th): "I didn't do a good enough job today. I lost most of my momentum at the start and restart, so I got stuck in traffic. It's difficult to regain that rhythm and make up the positions, especially when you're caught in a DRS train. I didn't attack enough and struggled to find the balance between managing the tyres well and pushing, so I was unable to get them to the right temperature. In the end, when I was in clean air chasing Zhou, my pace was very strong and consistent. Generally, it was a step up from Bahrain, so that's a positive. We definitely need to keep going and continue to push."
Jody Egginton, Technical Director: "Both drivers delivered a solid race putting in consistent lap times tonight. The strategy was good, and the double stack pitstop under the Safety Car worked well as we gained track position. We achieved this as both drivers managed the medium tyre very well, meaning we could extend the first stint and not lose time to our midfield competitors, who stopped for the hard compound earlier. This strategy, together with the Safety Car, put Yuki into the fight for the final points positions tonight. Although Yuki put up a good fight for eighth, the Alpines were quicker and he couldn't keep them behind for long. However, he was able to fight with Magnussen for P10 for most of the final stint, defending from consistent pressure and only losing out in the last laps for the final point, finishing P11. We weren't able to move Nyck into the points with the strategy, but he made some progress from his starting position, had some good battles, and was putting in solid lap times on both compounds tonight. It's frustrating to miss out on a point, but there were positives to take from the drivers and team's performance tonight. We're now looking forward to the planned aero developments and we trust they will improve our performance in the upcoming events."
Williams Racing
Logan Sargeant (16th): "Today I struggled a bit more than yesterday. The first 30 laps or so were pretty good and then I just struggled there at the end to keep a hold of the tyres, we were losing a lot of grip. Nevertheless, we made it through another one and learned a lot. I definitely feel more confident ahead of the next race. I showed this weekend that on a difficult track I can be really quick, so I can take that going into Melbourne and hopefully replicate and keep improving. Over the past two races I've learned an enormous amount; I feel like everything is becoming more natural and I'm trying to get things to become second nature and keep implementing them. It's not going to happen all at once, it's more a case of constantly building and understanding better."
Alexander Albon (DNF. Brakes): "It was a frustrating day, as this weekend we felt really strong as a team and I've been really impressed with where the car is compared to where we were last year. It's been such a pleasure getting to drive the car and unfortunately when it mattered in qualifying, we couldn't quite execute, followed by the issue in the race, so it's frustrating as we could have scored points this weekend. I'd much rather be disappointed, knowing the car has got pace than just finishing at the back, so it's a different kind of disappointment with lots of positives and the opportunity to turn it around and come back fighting."
Dave Robson, Head of Vehicle Performance: "The pace was good today and Alex had a good chance of finishing in the top 10. Unfortunately, he was forced to retire with an issue in the mechanical brake system, which we will investigate and fix before the next race. This is a shame as a lot of good work was done here and in Grove on Friday evening to prepare the cars for the race. Logan's race was compromised by the Safety Car, which left him with a lengthy stint on the Medium tyre and a defensive race against a close group of cars. He eventually lost a few places to faster cars but gave a good performance in his 2nd Formula 1 race. We can take a lot of positives away from this weekend but at the same time we missed a good opportunity to score some more points and we must make some improvements to succeed in a very tight midfield."