Saudi Arabian GP 2023
MARCH 17, 2023
Practice 1 Report - Red Bulls on top in first practice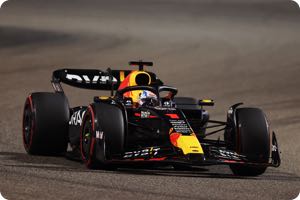 By Peter Habicht
Max Verstappen continued to dominate during the first session of practice in Jeddah, the Dutchman beating his Red Bull-Honda team mate Sergio Perez by nearly half a second, despite recovering from a stomach bug that afflicted him earlier in the week.
Verstappen took the fastest time in the opening session of at 1m29.662s, with his teammate 0.489s behind.
Aston Martin's Fernando Alonso was quickest of the rest and finished in third place at 1m31.315s followed by his team mate Lance Stroll at 1m30.577s. Stroll was seen still icing his injured left wrist, and had two big moments, first to avoid a slow De Vries in Turn 4, and then going off by himself in Turn 22.
Mercedes GP team mates George Russell and Lewis Hamilton were next up, and over 1.1s slower than Verstappen and unable to match the lap times of costumer team Aston Martin.
Ferrari's Carlos Sainz, Alpine's Pierre Gasly, Williams' Alex Albon and the Alpha Tauri of Yuki Tsunoda rounded out the top 10 places. Ferrari's Charles Leclerc was best of the rest, but both Ferraris were over 1.3s behind Verstappen.
Leclerc will have a 10 place grid penalty to serve on Sunday following electronics control unit changes in Bahrain, and the two SF-23 were running with the most conservative of power modes in this session.
The Jeddah Corniche Circuit is now in its third year hosting Formula 1 and, as the fastest street circuit, features the most corners of any circuit with 27.
Several track changes have been made for this year and include safety improvements with new rumble strips, curbing and a repositioned track wall for improved sight lines.
A much less abrasive circuit than the opening race in Bahrain, the 6.175km course relies heavily on lateral grip and puts the middle range of soft compound Pirelli tires to the test, particularly in Turn 22, where drivers were struggling in the late afternoon sun with understeer.
A cooler session later tonight will be more representative of the race start conditions as the circuit evolves.