Saudi Arabian GP 2023
MARCH 17, 2023
Friday Team Quotes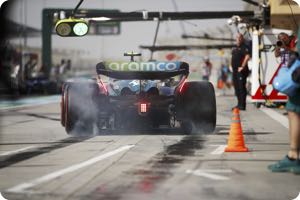 Oracle Red Bull Racing
Max Verstappen (1st, 1:29.603): "I am feeling a lot better after a few rough days of illness, it wasn't nice but I am feeling good now. Today out on track was about finetuning things, we had a positive day but there are still quite a few things we can do better. On the long runs we all seemed fairly close to each other but it's more because of managing the tyres because they don't really let you push around here at the moment. With a very low deg circuit then the lap times will always be very close, so it is definitely not going to be like Bahrain."
Sergio Perez (3rd, 1:29.902): "It was all about learning the conditions today. From FP1 to FP2 the track changes a lot, so it was good to test the car in varying temperatures. We had a bit of a mechanical issue, which meant there was slight inconsistency and we couldn't get a proper read, but we're confident we can sort it out before tomorrow. Once we fix that, it will hopefully bring us even more pace, but generally the performance is there as expected. I'm sure our rival teams will work hard overnight to close the gap and we look forward to a competitive showing tomorrow."
Scuderia Ferrari
Charles Leclerc (9th, 1:30.341): "We tested some new parts today and everything works as expected. It's difficult to get a sense of our competitiveness as everyone is on a different programme so far. The feeling in the car is pretty good. We will try to maximize our qualifying tomorrow, but given that we will have a 10 place grid penalty on Sunday, our main focus will be on making up those positions during the race."
Carlos Sainz (10th, 1:30.592): "It was an intense day here in Jeddah. This is a very unusual circuit with very peculiar characteristics which requires specific work to achieve a good balance. There is still some performance to find, but in general the car feels in the right window. Race pace was decent and tomorrow we will focus on maximising the result during qualifying."
Mercedes-AMG Petronas F1 Team
George Russell (5th, 1:30.070): "We gathered plenty of data to go through tonight. We will be aiming to maximise the package we have got and get the set-up in the sweet spot. As much as we would love to, given all the hard work everyone is putting in, we know we won't find one second overnight. Red Bull are clearly out in front, but we are learning lots about our car. These learnings will help us in both the short and medium-term. As is always the case in practice sessions too, we're not sure what power modes everyone was running so we will know more tomorrow."
Lewis Hamilton (11th, 1:30.599): "I struggled in both sessions today, but we completed the run programme we had and tried to learn as much as possible. We will continue to go into the details overnight and focus on improving the balance of the car to make it easier to drive. It's a tough car to drive but I know everyone is working so hard at the factory. It won't be solved overnight and will take some time, so we just have to be patient and give it everything we can here at the track."
Andrew Shovlin: "After Bahrain, we came here with realistic expectations. While the team back in the UK is working hard on developing us to a better place, our focus has been to maximise the potential of what we currently have. There were a couple of scheduled upgrades that look to be working OK but while taking us in the right direction, they are not a huge step. The sessions themselves went smoothly; we were struggling with the front end in the first session and may have over-corrected for the second session. Nevertheless, we've got plenty of information to pick through to work out the setup for tomorrow. The pace when we get the lap together didn't look too bad, but the car hasn't been easy enough to drive so that's something we'll look to improve tomorrow ahead of qualifying."
BWT Alpine F1 Team
Esteban Ocon (4th, 1:30.039): "It's nice to come back to a track like Jeddah as it's a really fast and thrilling street circuit, which forces everyone to be on their toes at all times. Our Friday was productive where we tried different things, which will help us in both Qualifying and Race conditions. So far, the car feels strong, and I think there is more we can extract ahead of tomorrow evening's Qualifying. The team did a great job today to get through the programme and we will be working hard tonight to be in a good place for tomorrow. All in all, it's been a good day at the office."
Pierre Gasly (6th, 1:30.100): "It's great to be back here in Jeddah at this very fast and exciting race track. It's been a busy day for us as we continue to learn about our 2023 package and, I must say, I've been pleased with today's work. After two weeks in Bahrain, it's nice to be taking on a new track and a new challenge. It's very high-speed here and there's a lot you have to get right to be quick. The car feels good, we have a good idea on the set-up direction we want to take and there's more to come from us this weekend. My focus is on working hard with the engineers to make sure we're well prepared for Qualifying and returning with a better performance than we showed last time out."
Pat Fry: "It's been a reasonable Friday Practice for the team today here in Jeddah for the Saudi Arabian Grand Prix. For us, it's been interesting to see the car on a completely different circuit to what we've seen so far this year, as the characteristics here steer towards lower downforce with lots of high-speed corners. We're pleased with our work today with both drivers offering similar feedback on the directions to take on set-up, which leaves us in decent shape for the rest of the weekend. We have plenty of data to work through to prepare ourselves for tomorrow's Qualifying where we aim for a much-improved performance from Bahrain to set ourselves up for a better Race on Sunday. A solid start with more to come."
McLaren F1 Team
Lando Norris (12th, 1:30.721): "It was a reasonable Friday. We worked through our test programme in both sessions which was positive. There are still more improvements to make, so we will work on finding those overnight and look to put in a positive performance for FP3 and qualifying tomorrow."
Oscar Piastri (19th, 1:30.964): "Friday done and it's nice to be back in Jeddah. It's a very quick circuit, which is a lot of fun and I think we're getting there. The long run pace seemed to be okay, but I think we need to have a look at the one-lap pace. We'll work hard overnight and see what we can bring to tomorrow's sessions."
Andrea Stella, Team Principal: "A smooth and productive first day of running here in Jeddah. We worked through our plan, which was based around understanding which tyres are most suitable for the race, while also answering questions regarding our approach to qualifying. We had no significant problems during the sessions, though there's obviously a bit of work to do, extracting performance from the MCL60. This will be our focus overnight. We've generated plenty of data to study, and we hope to be in good shape to race for points on Sunday."
Alfa Romeo F1 Team Stake
Guanyu Zhou (16th, 1:30.837): "It was a busy day in the car: we are not too far off from our rivals when it comes to pace, although I can say we expected a little bit more from today. We tried different settings, switching things and making changes, and I effectively drove a significantly different car between the first and the second session: it took some adapting, but the team now has all the data we need to make the best decisions when it comes to setup. Of course, every weekend we aim for Q3, and it's a matter of how much we can get out from myself and from the car – especially when the margins are so small. There is still some work to do overnight, but I am confident we can get in the mix and fight for good positions in qualifying tomorrow."
Valtteri Bottas (20th, 1:31.052): "The first feeling with the car is quite ok: we didn't have any issues with the balance, and we have a solid basis to build on. We did a lot of work today, trying different wing levels and setup options, and now we need to sit down, look at the data and make some decisions on which are the right calls. Of course, we are not yet where we want to be and at the levels we showed in Bahrain, when we were the fifth fastest team: we need to find a bit more pace still, make a step forward ahead of qualifying. But it's only Friday and I'm confident we can do it when it really matters. The field is very close, as expected, and with a small gain there is no reason we cannot make up places in qualifying. We'll work hard tonight – I don't think Q3 is out of reach, and we'll give our best shot at it tomorrow."
Aston Martin Aramco Cognizant F1 Team
Fernando Alonso (2nd, 1:29.811): "It has been a strong day for us as we continue to learn about this car. We knew that Jeddah would present different challenges to Bahrain and it is almost like a second test here for everyone this weekend. Overall, the day went smoothly for us as we are trying to optimise the setup and adjust to the high-speed nature of this circuit. We have a lot of data to analyse as usual for a Friday and we will continue to look at everything tonight and into tomorrow. Our main goal will be to reach Q3 again."
Lance Stroll (7th, 1:30.110): "It is always fun driving around this track. It is high-speed and high adrenaline; I think we all enjoy the challenge. The team had a good day of running, trying lots of different things, and it has given us plenty of data to analyse. We will use this evening to learn as much as possible and do our best find more performance ahead of Qualifying. I think it will be a pretty tight session; all the teams around us look competitive and closely matched. Our aim tomorrow has to be Q3."
Haas F1 Team
Nico Hulkenberg (8th, 1:30.191): "We had a smooth Friday – no major incidents, situations, or problems. Like always, you learn about the car, the tires and where the balance is. Certainly, again over one lap I think we seem to be competitive and long runs could be a bit more challenging for us, so that's where our focus is now. It's all about pace, tire degradation and being quick in the right places – we need to analyze and consider it all to come up with the best strategy."
Kevin Magnussen (15th, 1:30.820): "It was good, we got through FP1 and FP2 fine but there's lot of work to do on Friday night as always. The field is tight again just like in Bahrain and there's a lot to fight for tomorrow. It's a very different track, different speeds, and it's hard to compare but there's new challenges. We'll aim to do as good as we can of course and get into Q3, but the main focus is on Sunday."
Guenther Steiner, Team Principal: "It was a very solid FP1 and FP2 today. There were no issues at all, we went through the whole program, and completed 95 laps. We need to find a bit more performance but all in all everyone is quite happy. We need to find a little bit on Kevin's car because he's a little bit not so happy with his car, but I think we know what we have to look for."
Scuderia AlphaTauri
Yuki Tsunoda (13th, 1:30.776): "The circuit is safer in terms of visibility, though the characteristics haven't changed much. What we've seen from practice today is that we are slightly behind those consistently fighting for P10, but we still have one more day to put it all together. There were no major issues during FP1 and FP2, but we know that we have to find more performance in the car. Even if Q3 is the target, Q2 is more possible tomorrow than it was in Bahrain last week. In the end, we'll analyse all our data tonight to see how we can improve our performance. Tyre degradation doesn't seem as bad as expected, so we can push flat out."
Nyck de Vries (17th, 1:30.921): "It was my first time driving the track here in Jeddah, it's fun to learn and quick to drive. It is a challenge, but I like driving the track. Our day was productive. The midfield is just super close, as there are only a couple of tenths between P11 and P20, so we'll have to see what happens tomorrow. It can easily go in a good or bad way, therefore, we will make sure to be on top of our game to extract the maximum for qualifying tomorrow."
Jonathan Eddolls, Chief Race Engineer: "A lot of analysis had been completed by the engineers between Bahrain and this event, which led to some interesting directions to try with the set-up at this track. Saudi Arabia's characteristics are quite different, in particular, with the requirement for a more efficient car and good performance in high-speed. In some ways, we expected this to suit our car better. The focus in FP1 for Nyck was to complete as many laps as possible, given that it's his first time driving here. For Yuki, we had a number of aero tests to complete, so we had to sacrifice some time in the garage to complete these; but they are important to help with development. Similar to Bahrain, the first session of the day was considerably hotter than the second, so we needed to take what we learned and apply that to the lower temperatures in FP2. The wind dropped considerably between sessions, which made the car more consistent. FP2 was all about understanding how to maximise the short-run performance on the Soft tyre. We weren't able to get it on the first timed lap, but we will work overnight to try to improve this. Then the focus shifted to the graining on the softer compounds, which was a massive issue from 2022. We appear to have made a step, so we now need to take all of the data gathered today and figure out the optimum strategy and tyre choice for Sunday. Overall, we were satisfied with the day, the midfield is very compact, but we think we have a car that is able to compete in that group here."
Williams Racing
Alexander Albon (14th, 1:30.510): "I think it's been a very positive day and we've definitely got pace in the car, so I'm feeling optimistic. We're missing a little bit of set-up during FP2 for our qualifying simulation but everything else feels pretty good. I don't want to speak too soon but I'm feeling good with the car so let's see how it goes."
Logan Sargeant (18th, 1:30.959): "I think for the first day in Jeddah, it went pretty smoothly, with everything going according to plan. The pace doesn't look too bad as a team and hopefully we can continue to build on that. It's definitely a tricky and challenging circuit but I'm enjoying it, so hopefully I can continue to keep pushing and find a little bit more time tomorrow."
Dave Robson, Head of Vehicle Performance: "Like in Bahrain, the conditions change quite a lot between FP1 and FP2; following a good FP1, we didn't quite get the changes right for the cooler evening session. However, we were doing some experiments, which gave interesting results. It is clear what we need to do, and we already have enough experience of the FW45 that we are confident we can get it all together for qualifying tomorrow. We appear to be in a tight group of teams, and we will need to maximise everything tomorrow. It won't be easy but there is no reason we can't do it so that both drivers get an excellent chance of a strong qualifying session. Whatever happens in qualifying, we had decent long run pace today, overtaking is easier than in Bahrain and we will be looking to increase our points tally on Sunday."