Saudi Arabian GP 2022
MARCH 27, 2022
Race Notes - Verstappen wins in Saudi Arabia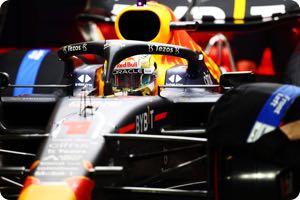 By Mark Karp
In a late race battle Max Verstappen in his Red Bull won the Saudi Arabian Grand Prix, finishing 0.549 seconds ahead of Charles Leclerc in his Ferrari.
Carlos Sainz (8.097s) in the second Ferrari finished on the podium in third.
Leclerc keeps the lead in the Drivers Championship, and Ferrari still leads the Constructors' Championship.
Sergio Perez (10.800s) in the second Red Bull finished fourth, followed by George Russell (32.732s), in the Mercedes GP was fifth, Esteban Ocon (56.017s) in the Alpine-Renault was sixth, Lando Norris (56.126s) in the McLaren-Mercedes was seventh, Pierre Gasly (1m02.946s) in the AlphaTauri-Red Bull was eighth, Kevin Magnussen (1m04.308s) in the Haas-Ferrari was ninth, and Lewis Hamilton (1m13.948s) in the second Mercedes took the final point in tenth place.
As the sun went down, Perez prepared to take part in his 215th F1 race - starting from pole in his Red Bull for the first time in his F1 career - for the Saudi Arabian GP, with the Ferrari of Leclerc alongside on the front row. Sainz in the second Ferrari and Verstappen in the second Red Bull are on row two, Ocon and Russell on row three, Fernando Alonso and Valtteri Bottas on row four, and Gasly and Magnussen rounding out the top ten starters. The top nine on medium tyres, Magnussen, Norris, Hamilton and Nico Hulkenberg on hard tyres.
Hamilton starts 15th, after following out in Q1 yesterday.
Mick Schumacher, after his crash in qualifying would not start, as well as Yuki Tsunoda who pulled off the track with a mechanical problem coming around to the grid. Ferrari has to change a wiring loom before the start.
At the appointed time the grid came around on the formation lap, lined up on the grid, the lights went out and the race began with Perez get off into the lead with Leclerc in second, Verstappen, Sainz, Ocon, Russell, Alonso, Bottas, Magnussen and Gasly in tenth. Hamilton in 14th.
On lap 2 Norris passes Gasly for tenth.
On lap 4 Russell passes Ocon for fifth.
On lap 5 Gasly passes Norris back for tenth place. Perez leads Leclerc by 2.3 seconds.
Alonso is pressuring Ocon for sixth.
On lap 7 Alonso passes his team mate Ocon.
On lap 8 Ocon tries to come back and pass Alonso, brakes late and cuts the next corner. Ocon gives the place back, and Bottas almost passes him.
At lap 10 Perez leads Leclerc by 2.5 seconds, followed by Verstappen (4.6s), Sainz (7.3s), Russell (17.9s), Alonso (26.1s), Ocon (27.0s), Bottas (28.4s), Magnussen (30.4s) and Gasly (33.0s) in tenth.
Magnussen goes side-by-side with Bottas, but can't take the position.
On lap 12 Hamilton passes Norris for 11th.
Ocon continues to challenge Alonso.
Alpine tells Ocon to hold position.
On lap 14 Bottas passes Ocon for seventh.
Stroll and Albon pit.
Hamilton passes Gasly for tenth.
On lap 16 Perez pits from the lead, switching to hard tyres and rejoins in fifth.
Latifi come to a stop in the wall at the final corner. The safety car is out.
Leclerc, Verstappen, Sainz, Russell, Alonso, Bottas, Ocon, Norris and Zhou all pit.
Behind the Safety car Leclerc leads, followed by Verstappen, Perez, Sainz, Russell, Magnussen, Hamilton, Alonso, Alonso, Hulkenberg and Bottas in tenth place.
Sainz is complaining that he was ahead of Perez as he rejoined the track, and that Perez shouldn't get the position. The stewards have it under investigation.
At the end of lap 20 the Safety car comes in and the race resumes with Leclerc just ahead of Verstappen, Sainz takes third over Perez who gives up the position.
On lap 22 Leclerc sets fast lap at 1m34.075s and again the next lap with a 1m33.459s.
Hamilton passes Magnussen, but Magnussen comes back and retakes the place.
Bottas passes Hulkenberg for ninth.
On lap 25 Hamilton passes Magnussen for sixth.
On lap 25 Verstappen sets fast lap at 1m33.301s.
On lap 26 Sainz sets fast lap at 1m33.181s.
Zhou is handed a stop-go penalty.
On lap 27 Verstappen sets fast lap at 1m33.059s.
Norris passes Hulkenberg for 12th.
On lap 28 Leclerc sets fast lap at 1m32.711s.
Gasly passes Hulkenberg for 13th.
Hamilton and Magnussen, still on the hard tyres they started on will still need to pit.
At 30 lap Leclerc leads Verstappen by 1.4 seconds, followed by Sainz (5.2s), Perez (7.5s), Russell (13.7s), Hamilton (20.0s), Magnussen (23.5s), Alonso (25.3s), Bottas (25.9s) and Ocon (29.5s) in tenth place.
On lap 32 Leclerc sets fast lap at 1m32.683s.
On lap 34 Leclerc sets fast lap at 1m32.680s.
Alonso passes Magnussen for seventh.
On lap 35 Verstappen sets fast lap at 1m32.474s. Perez goes wide at turn 1, but continues.
Magnussen passes Alonso back, but Alonso is slowing on the track with a power issue.
On lap 37 Ricciardo slows and stops on the finish straight with no drive.
Bottas slows and retires.
Magnussen pits. There is a Virtual Safety car and the pit is closed. Hamilton is still yet to pit, having missed the pit when Ricciardo slowed.
Alonso stops on the side of the track.
At lap 40 under the VSC, Leclerc leads Verstappen (3.7s), Sainz (12.5s), Perez (14.8s), Russell (28.6s), Hamilton (45.5s), Ocon (49.4s), Norris, Gasly and Stroll.
The Virtual Safety car ends, Hamilton pits for medium tyres and rejoins 12th.
On lap 42 Verstappen is under a second behind Leclerc.
Verstappen passes Leclerc, but Ledclerc picks up the next DRS to turn 4 and retakes the lead.
Hamilton passes Albon for 11th.
The next lap Verstappen comes down the inside of Leclerc, but Verstappen locks up his brakes and Leclerc needs the position.
Hamilton is battling Stroll for tenth.
On lap 44 Perez sets fast lap at 1m32 044s.
On lap 45 Leclerc leads Verstappen by 0.390 seconds.
On lap 46 Verstappen under DRS passes Leclerc for the lead.
Perez 46 sets fast lap at 1m32.042s.
On lap 47 Verstappen sets fast lap at 1m31.279s.
On lap 48 Leclerc still chases Verstappen, and sets fast lap at 1m31.634s.
Albon and Stroll touch and both pull off the track.
Across the finish line Verstappen wins just ahead of Leclerc, and Sainz.