Saudi Arabian GP 2022
MARCH 25, 2022
Friday Team Quotes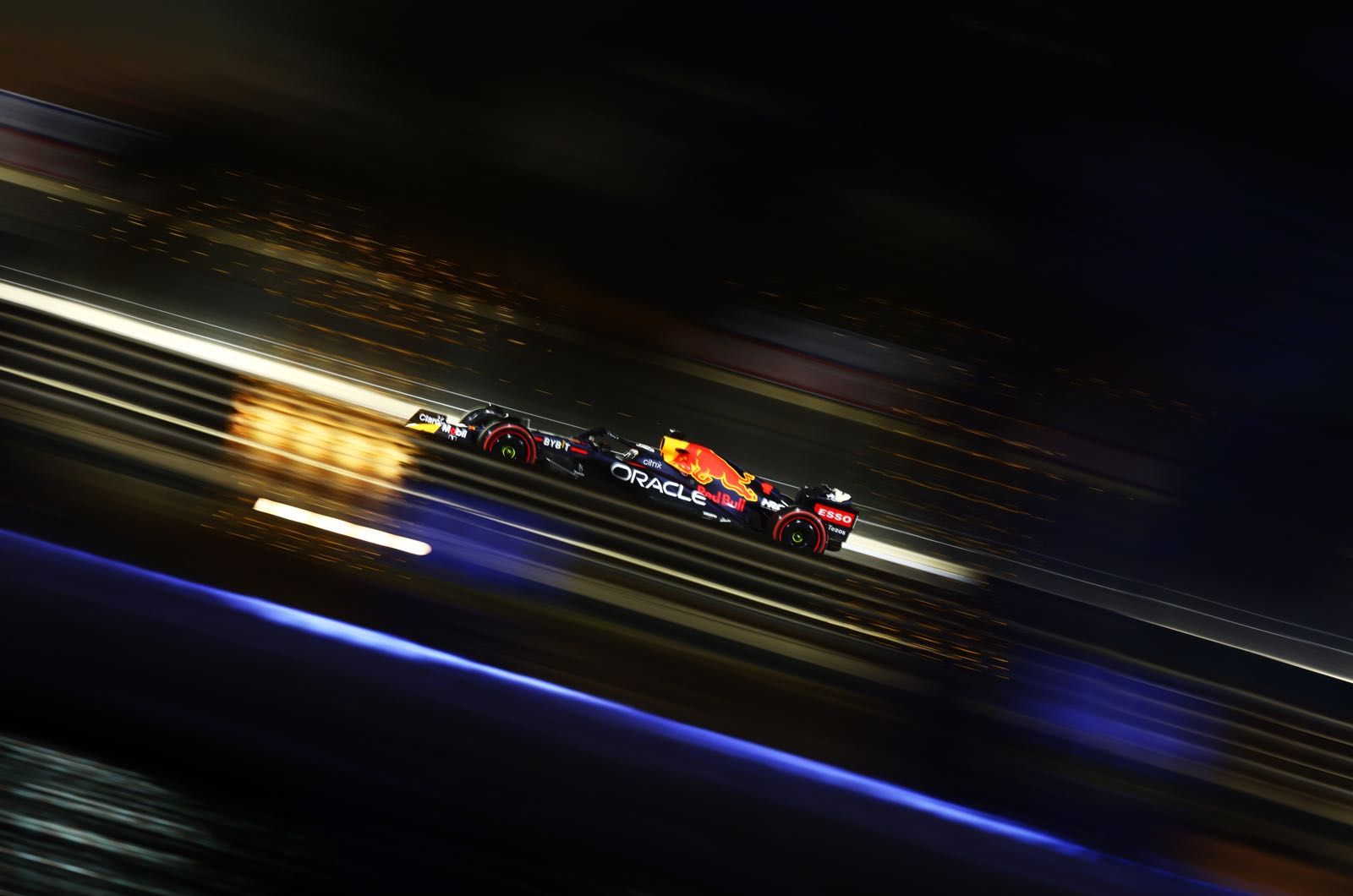 © Red Bull
Mercedes-AMG Petronas F1 Team
Lewis Hamilton (5th, 1:30.513): "It's been an OK day, we still have many of the same problems we had in the last race but we're working through them. It's definitely a little bit harder here with the high-speed corners but the grip is really good on the track and we just need to find some speed on the straights. We'll be heads down tonight, understanding the data from today and putting ourselves in the best position for qualifying tomorrow."
George Russell (6th, 1:30.664): "It's great to be back on the Jeddah circuit, extremely high-speed and exhilarating for the drivers, but we are still experiencing the same issues we faced last weekend in Bahrain. We know we still have a lot of work to do to close the gap on Red Bull and Ferrari. We'll be fighting to maximise our opportunities for points this weekend and giving it our all tomorrow in qualifying. Anything can happen around here so it's important we're in touching distance to capture as many points as possible."
Toto Wolff, Team Principal:
Mike Elliott, Technical Director:
Andrew Shovlin: "We tried a few more experiments to understand the bouncing issue here, some which made it worse, some which helped, but we don't yet have a solution to make the problem go away. We can reduce this slightly for tomorrow as it's affecting the drivers in a few of the corners and costing time. Compared to Bahrain, the car balance is in a better place and in terms of degradation we're quite happy with what we have seen today. Our single lap still needs a bit of work but we've got the session tomorrow to do that. Overall though, a reasonable day but clearly we still have a bit of work to do before we'll be troubling Red Bull or Ferrari."
Oracle Red Bull Racing
Max Verstappen (2nd, 1:30.214): "The sessions ran quite smoothly today, we completed our programme and tried out lots of different tyre sets. It seems like Ferrari were quite competitive again, we still have a little bit of work to do to catch up with them and there's plenty of room for improvement. The track feels pretty much the same as last year, the barriers have moved slightly and in terms of visibility, it hasn't made a noticeable impact. Looking ahead to qualifying, we still need to look at some data, we'll see how it all goes tomorrow."
Sergio Perez (4th, 1:30.360): "We ran both cars on different programmes and I think we got the data we needed, so now we have some work to do tonight. It was difficult to get the lap in I needed to see exactly how we will perform over one lap here because I had a lot of traffic out there. I think it could be another straight shootout with Ferrari on Saturday but at the moment we are focusing on ourselves and hopefully tomorrow we are able to make the steps we'd like with the car. It will be important in qualifying to make sure we get the space for a clean lap because traffic can be a bit difficult around here so we need to make sure we are on it."
Christian Horner, Sporting Director:
Scuderia Ferrari
Charles Leclerc (1st, 1:30.074): "It was an unfortunate end to an otherwise good day. In FP2 it was a small mistake, but not one that makes me lose confidence. I expected the front to slide around more and I clipped the inside wall at turn 4. Focusing on tomorrow, I think the pace is there. It's a bit of a shame we couldn't get the high fuel laps done, but we should be in the mix for tomorrow."
Carlos Sainz (3rd, 1:30.320): "As expected these cars are behaving differently here in Jeddah compared to Bahrain and we keep learning more about how to set up the car for different conditions and corners. Porpoising was a bit of an issue at a certain point but I'm not concerned. As last year, understanding which is the best tyre for the race is important for the strategy. Unfortunately, we didn't do the long run at the end of FP2 after I brushed the wall and we had to stay in the garage. We'll see what tomorrow brings."
McLaren F1 Team
Lando Norris (7th, 1:30.735): "A reasonable day. A few things feeling a little bit better because of the type of track – much quicker and a lot smoother, so there are definitely some differences. I think that's allowing us to extract a little bit more potential out of the car. We're feeling a little bit more confident, but it's all very close and we're still lacking in many areas, so we'll continue to work on some of the progress we've made, and see if we can get even more performance out of the car tomorrow."
Daniel Ricciardo (15th, 1:31.527): "Today was a fairly productive day. I think we hit the ground running and we haven't needed to adjust the car too much, we're just learning a bit more about it. For our relative competitiveness, I think it was a productive day. It's a good circuit to drive on, you get a good feeling around here, which is enjoyable. We've got some small changes to work on overnight, but all in all it's been a good day and I think we're in a little better shape than Bahrain."
Andrea Stella, Racing Director: "We've had two productive sessions here in Jeddah and were able to work through the programme that we planned. There were no real issues with the car, and in this sense it's a more normal weekend than the one we had in Bahrain. The car seems to be performing better here, which is encouraging. Now, we have to do our due diligence overnight, in order to extract the maximum from the package, qualify well and be in contention for some points on Sunday – which we are very much looking forward to."
BWT Alpine F1 Team
Esteban Ocon (8th, 1:30.760): "We completed our planned Friday programme and did not encounter any issues. The more we spend time on track the more we understand the balance, the different compounds and we were able to see how the car behaves in the evening, as the track is much quicker in those conditions. It was a good day of learning in that respect and the key will be to get the car in that sweet spot for the night race. Overall, I'm happy and aiming to continue the momentum."
Fernando Alonso (11th, 1:30.944): "We have mainly focused on the race preparation so far this weekend and it has gone relatively smoothly for us on track. There is also more performance in the car than we showed today, so that's encouraging for tomorrow. It's a challenging circuit to qualify on with such high speeds and high adrenaline. The new cars felt good on this track and not too dissimilar to last year. I think the overall lap times looked quite competitive too. From just today's running it looks as though this generation of Formula 1 car is perhaps better suited to this track than what we found in Bahrain."
Alan Permane, Sporting Director: "Today, we ran through a normal Friday programme. Jeddah is a very challenging circuit. Not only is it tough for the drivers, who have to be absolutely focused for the entire lap as there's no room for any lapse in concentration at the wheel, but it's also a good challenge for the engineers in setting the car up, managing things like traffic and communicating quickly to the drivers. A lot of our focus today has been on the tyres and assessing how they are operating. There was some front tyre degradation, so that's something for us to take a look at in preparation for Sunday's race. The car has run well today, and it feels a little more together than this time last weekend. It's tight out there again on the leaderboard, and we aim to extract everything tomorrow to be at the right end of a very close pack."
Scuderia AlphaTauri
Yuki Tsunoda (10th, 1:30.886): "Until the last few moments in FP2, the car had felt okay today. There are still lots of things to work on at the moment, but we've been able to gather a lot of crucial data across both cars, which is still hugely important so that we can learn more about them and find a clearer direction to go with this car. Hopefully we can understand the issue we've had tonight and get it fixed for tomorrow's FP3, so we can then put it altogether when it comes to Quali."
Pierre Gasly (12th, 1:30.963): "It's been a good two practice sessions today. We sustained some damage in FP2 on the floor, so we haven't shown our true pace yet, but we believe that we're in the mix of the top 10 and I expect a very intense battle tomorrow amongst all the midfield teams. We know we've got some work to do but we'll focus on improving the car for tomorrow and I think it could be quite an exciting race based on what we've seen today."
Jonathan Eddolls, Chief Race Engineer: "Up until the end of the FP2 we were having a good Friday practice. We spent the day carrying out test items, following the post event analysis from the Bahrain weekend. We started both cars with a slightly different aero configuration and went in different directions to obtain the balance they required. Bouncing was not an issue, even though we felt there could have been some signs of it here. In any case, we had a stable platform to complete a number of test items, including trying to optimise the performance of the 18" tyres - this being the first time we have used the C4 tyre at a race weekend. With the operating conditions under the 2022 regulations, the tyres were given quite a hard time, so we need to review how to give them some breathing space on Sunday. Then unfortunately at the end of the session we had an issue with the driveline on Yuki's car, so had to stop on track. We will review the vitals when it's back in the garage and understand what is needed to turn it around for tomorrow."
Aston Martin Aramco Cognizant F1 Team
Lance Stroll (14th, 1:31.372): "We completed plenty of laps today, tried some new things, and continue to learn how to optimise this car. FP1 is not very representative here [being run in the daytime], but it is all useful data for the coming races. Every lap is helpful at this time of year. We continued to work on the balance of the car in FP2 and did all the usual evaluation of the tyre compounds. We will crunch the info tonight to see where we can find more performance ahead of qualy."
Nico Hulkenberg (16th, 1:31.615): "I think it was a productive first day back in the car. It is a new circuit for me to learn, which always provides its own challenges, but it was an exciting experience out there. It is a very high-speed circuit and an intense lap, more so than it can appear on TV. The team completed its programme, we made good use of the laps, and I feel I learned as much as I could out on track."
Williams Racing
Nicholas Latifi (18th, 1:31.814): "On the first day here in Jeddah we learned quite a bit about the car, which is good for the long-term objectives for the season. I think we're still struggling for pace, but nonetheless it's been a very enjoyable day of driving as it's a fun track, a very high-speed street circuit and it's nice to be getting that feeling of adrenaline going again. We have some work tomorrow to find some more speed and we'll see what we can do tonight."
Alexander Albon (19th, 1:31.866): "I think we've got a fairly decent handling car. We've got a bit of work to do on the short runs, but on the long runs the pace looks promising and looks positive for the weekend. There's a bit of tidying up to do. It was my first day at this track so on my side I've got a bit of lap time on the table, so hopefully that will put us in a good place tomorrow."
Dave Robson, Senior Race Engineer: "The car has been working reasonably well today and both drivers are fairly happy with the balance. We have a few decisions to make over downforce level and we have a bit of work to do to understand how best to minimise the porpoising, but otherwise we'll be looking at routine setup choices. Today was Alex's first running at the Jeddah circuit but he was quickly up to speed and dialling his car in. There is more to come from the car and drivers tonight, and we'll be looking to maximise performance across the rest of the weekend."
Alfa Romeo F1 Team ORLEN
Valtteri Bottas (9th, 1:30.832):
Guanyu Zhou (17th, 1:31.615):
Frédéric Vasseur, Team Principal:
Jan Monchaux, Technical Director:
Haas F1 Team
Mick Schumacher (13th, 1:31.169): "Good things were learned. Obviously, it was unfortunate that not both cars were able to run, so hopefully that will get better in the future. I think that overall, we know what we have as a package and it's up to us now to put it all together."
Kevin Magnussen (20th, 1:32.344): "It wasn't ideal to get the limited running but on the laps I did have, the car didn't feel too bad. I'm just hoping for a consistent FP3 tomorrow – get some more laps in, then qualifying and then we can use some of Mick's experience on the long runs to get ready for the race. It's a great track, super high-speed and there's a lot of action so I'm looking forward to more running tomorrow."
Guenther Steiner, Team Principal: "Not the perfect day today but I think we can recoup tomorrow if we have a good day, it's just that it could've gone better. Kevin had too many technical issues with the car but we're working on it and will sort them out. Mick did a good, solid job."