Sakhir GP 2020
DECEMBER 7, 2020
Race Analysis - To the Point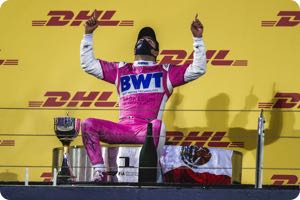 By Dan Knutson
Racing Point's Sergio Perez won the Sakhir Grand Prix while a deflating tire robbed George Russell the shot at victory. Here's how that unfolded.
FIRST MISSED
After testing positive for COVID-19, Lewis Hamilton missed the first F1 race of his career.
BORROWED
Mercedes borrowed George Russell from Williams to take over Hamilton's car.
DEBUTS
Jack Aitkin made his F1 debut, replacing Russell in the Williams. Pietro Fittipaldi also made his F1 debut, replacing the injured Romain Grosjean in the Haas.
LOCKOUT
Valtteri Bottas won the pole. Russell qualified second, giving Mercedes its 12th front row lockout this season.
ROUNDED
Max Verstappen (Red Bull), Charles Leclerc (Ferrari), Perez and Daniil Kvyat (AlphaTauri) rounded out the top six on the grid.
LEAD
Russell passed Bottas to take the lead on the first tour of the 87 lap race.
ELIMINATED
Two contenders - Leclerc and Verstappen - were eliminated on lap 1.
TANGLED
It started with Perez and Leclerc tangling.
"I had seen Sergio in front of me," Leclerc said, "but expected him to stay round the outside of Valtteri, which didn't happen because he braked a bit earlier than Valtteri and came back towards the inside of the corner. As soon as I saw him coming back, I braked but it was too late as I locked up my front wheel and collided with him. I am not putting the blame on anyone else, if anyone is to blame, it's me."
EVASIVE
Verstappen tried to take evasive action.
"I tried to go around the outside to avoid any damage to my car," he said, "but ended up in the gravel and then the barrier. It's frustrating to retire so soon in a race where we had a racy car and a good chance of doing well."
PITS
Perez had to pit for tires, so he was last at the end of lap 1.
"We were lucky not to pick up any more damage too," he said. "We didn't give up and we pitted to go onto the medium tire. I then had a lock-up under the safety car and flat-spotted one of my tires. The vibration became so bad it was hurting my hands to grip the steering wheel and I thought we might have to pit again - but the team told me to stay out. The feeling in the car got much better and the medium tire stint ended up being crucial to our win. When we stopped for a second time and got onto the hard tire, it felt like a limousine to drive!"
SC
The safety car stayed out until the end of lap 6. Russell kept the lead on the restart.
PULLED AWAY
Russell and Bottas pulled away from the pack.
SPIN
Atkin had a spin, hit a barrier, and his front wing out onto the track.
SC2
That brought out the safety car for the second time.
WRONG
Mercedes told both of its drivers to pit, and that's when things went wrong.
RIGHT
"I think it was absolutely the right call," Mercedes team boss Toto Wolff said, "but it was a late one and we had a radio problem, which meant we didn't have the right tires in the box. Which is why George exited with the wrong tires (meant for Bottas) and Valtteri left the pits on the same tires he'd arrived with. Then we had to pit George again to correct the mistake."
CHARGED
Russell charged from sixth to second behind Perez.
FUNNY
"I think we still could have won," Russell said. "And then the car was starting to feel a bit funny; I didn't want to believe it was a puncture, I just wanted to power through, but that obviously was not an option."
PITS
Russell had to pit again and dropped out of the top 10. He eventually finished ninth.
MERIT
"Obviously, the Mercedes had some problems," Perez said, "but I think we had enough pace in hand to hold George off - our simulation showed that you needed to be significantly faster to get by. Luck or not, we had a tremendous race today and we won on merit."
ROUNDED
Esteban Ocon (Renault) and Lance Stroll (Racing Point) rounded out the top three. It was Ocon's first F1 podium.