Russian GP 2021
SEPTEMBER 25, 2021
Qualifying Report - The first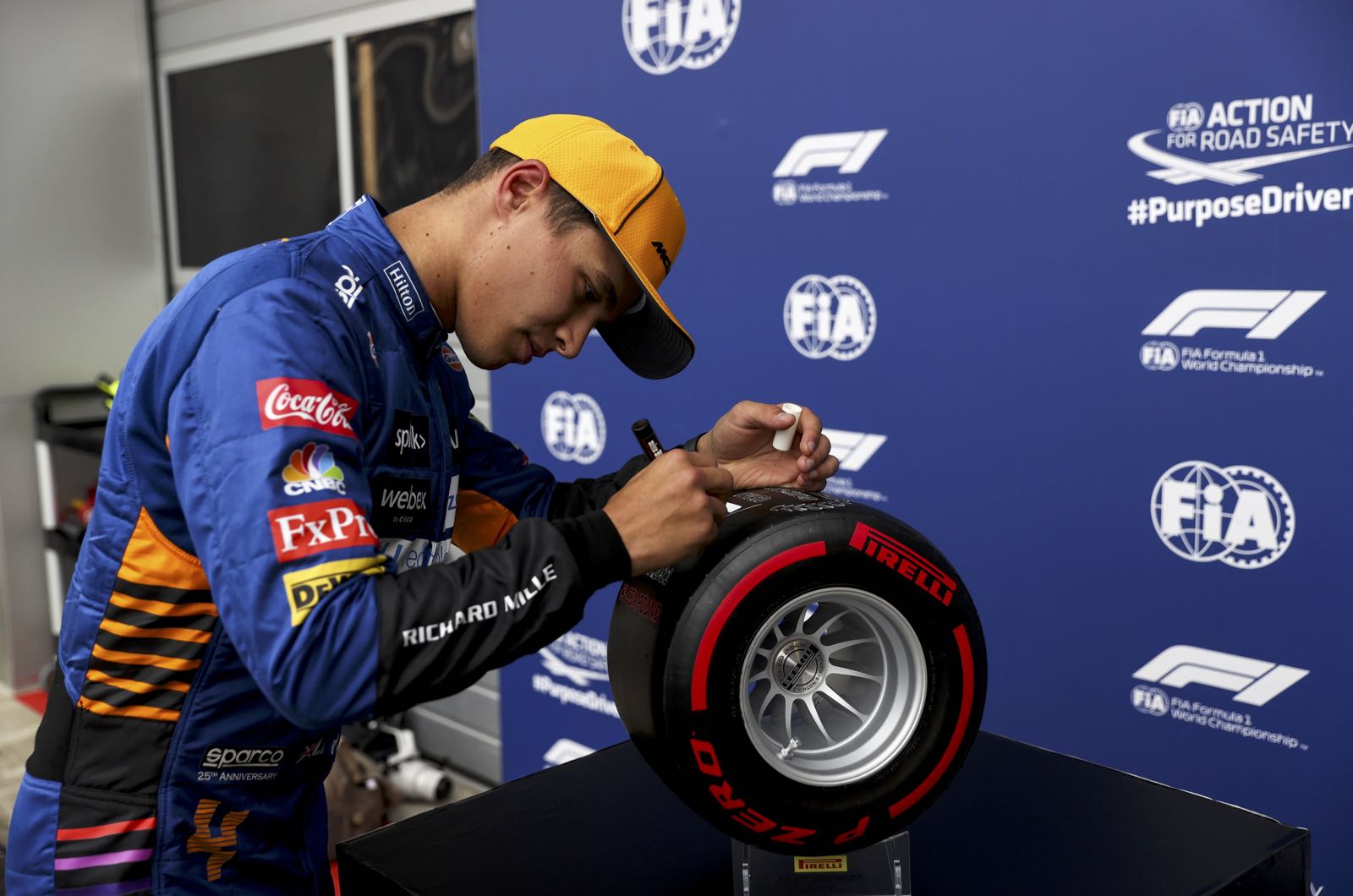 © McLaren
By Dan Knutson
Lando Norris earned his first pole position of his Formula 1 career, giving McLaren its first pole since 2012.
It feels amazing," Norris said. "It was quite a manic session. I risked quite a bit but it paid off." McLaren its first pole since
Carlos Sainz qualified second – his first ever front row start in F1.
Heavy rain forced race official to cancel Free Practice 3, but a break in the weather meant that qualifying would go ahead on a drying track.
The line-up for the weekend was: Mercedes – Lewis Hamilton and Valtteri Bottas; Red Bull Honda – Max Verstappen and Sergio Perez; McLaren Mercedes – Lando Norris and Daniel Ricciardo; Aston Martin Mercedes – Lance Stroll and Sebastian Vettel; Alpine Renault – Fernando Alonso and Esteban Ocon; Ferrari – Charles Leclerc and Carlos Sainz; AlphaTauri Honda – Yuki Tsunoda and Pierre Gasly; Alfa Romeo Ferrari – Kimi Raikkonen and Antonio Giovinazzi; Haas Ferrari – Nakita Mazepin and Mick Schumacher; Williams Mercedes – George Russell and Nicolas Latifi.
No matter where they qualified, Leclerc, Latifi and Verstappen would start at the back of the grid because they had new power units in their cars.
QUALIFYING 1
The drivers, except Alonso, headed out on Pirelli's intermediate wet rain tires in what was no doubt going to be a tricky 18 minute session. This was the first time ever that F1 cars had been on the Sochi track in wet conditions.
Verstappen did not bother to take the risks of doing a lap.
It was on of those sessions where the drivers stayed on track and the times got faster as that track dried out.
Hamilton posted a 1:46.937 to take the lead ahead of Bottas, Gasly and Leclerc. Giovinazzi had a quick spin.
The order constantly changed. Some drivers pitted for a heated set of intermediate tires. Perez turned a 1:46.455. Bottas a 1:46.396.
When the final frantic laps were completed, the 15 drivers who advanced to Q2 were: Hamilton, Bottas, Perez, Vettel, Norris, Gasly, Alonso, Sainz, Ocon, Latifi, Russell, Stroll, Ricciardo, Leclerc and Tsunoda.
The five drivers who were eliminated at the end of Q1 were: Raikkonen, Schumacher, Giovinazzi, Mazepin and Verstappen.
QUALIFYING 2
The track continued to dry but conditions were still tricky.
And, again, the order changed constantly. Hamilton was out front ahead of Norris and Gasly. Then Bottas took the lead.
Tenth and on the bubble with six minutes to go was Ricciardo, and Sainz was ninth while Alonso was 11th.
Then Hamilton went faster than Bottas. The key for some drivers was to pit for a new set of inters in the final minutes.
The five drivers who were eliminated at the end of Q2 were: Vettel, Gasly, Tsunoda, Latifi and Leclerc.
The fastest 10 drivers who moved on to Q3 were: Hamilton, Bottas, Alonso, Norris, Perez, Ocon, Stroll, Ricciardo, Russell and Sainz.
QUALIFYING 3
Q3 lasted 12 minutes and the racing line continued to dry out. But would it dry enough for the drivers to switch to slicks?
All the drivers were on inters at the start of the session as Hamilton took the lead ahead of Norris and Bottas.
Russell was the first to go on slicks. Norris, Sainz and Ricciardo did the same. And then the rest.
When Hamilton pitted he hit the wall and damaged the front wing.
The order changed again and again. Hamilton spun.
And when it was over, Norris was on pole for the first time in his F1 career. Sainz qualified second. Russell, Hamilton, Ricciardo, Alonso, Bottas, Stroll, Perez and Ocon rounded out the top 10.