Russian GP 2021
SEPTEMBER 24, 2021
Friday Report - Merc one, two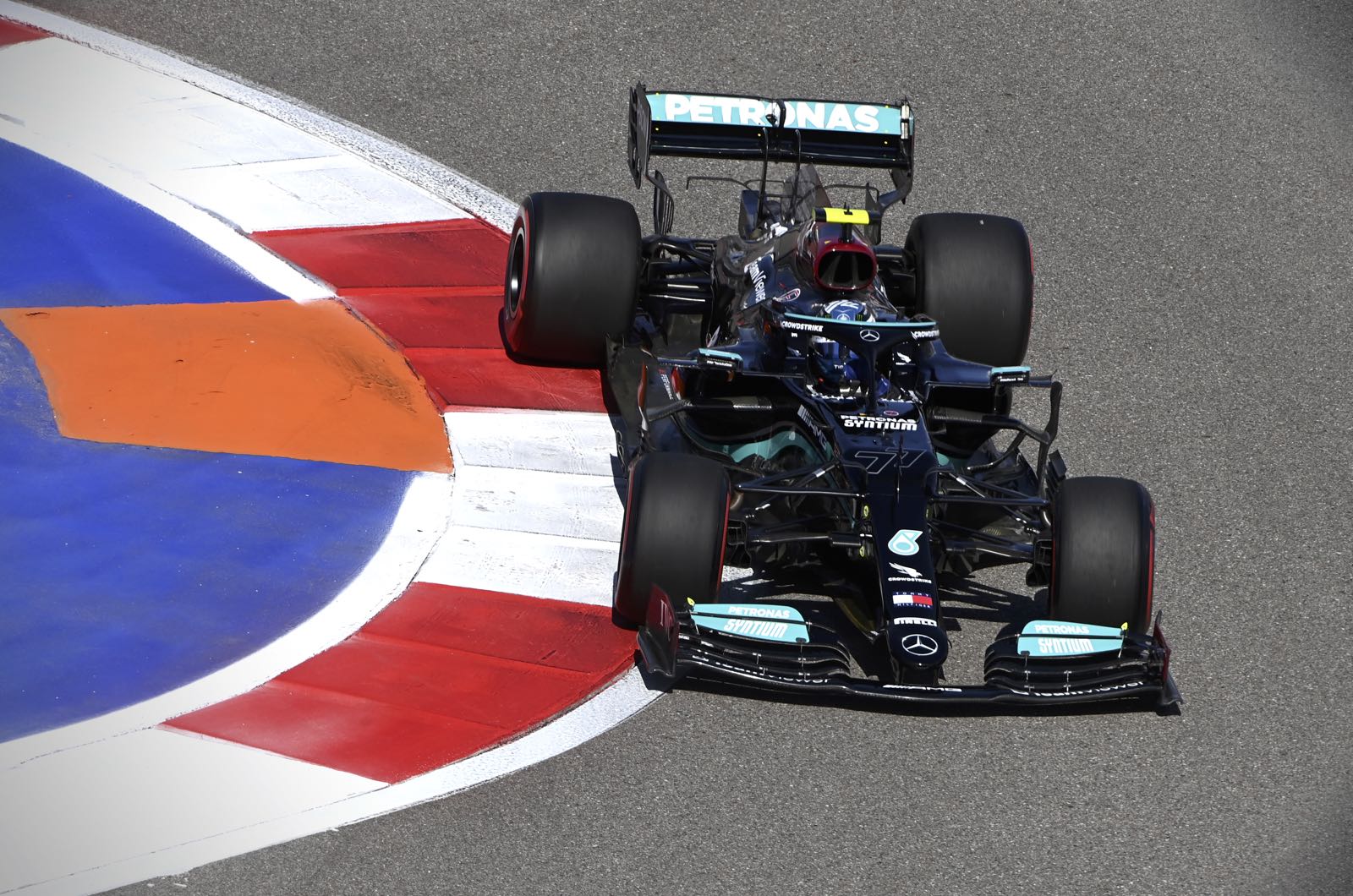 © Mercedes-Benz Grand Prix Ltd.
By Dan Knutson
Mercedes teammates Valtteri Bottas and Lewis Hamilton finished one, two in Free Practice 1 and 2 for the Russian Grand Prix.
The line-up for the weekend was: Mercedes – Lewis Hamilton and Valtteri Bottas; Red Bull Honda – Max Verstappen and Sergio Perez; McLaren Mercedes – Lando Norris and Daniel Ricciardo; Aston Martin Mercedes – Lance Stroll and Sebastian Vettel; Alpine Renault – Fernando Alonso and Esteban Ocon; Ferrari – Charles Leclerc and Carlos Sainz; AlphaTauri Honda – Yuki Tsunoda and Pierre Gasly; Alfa Romeo Ferrari – Kimi Raikkonen and Antonio Giovinazzi; Haas Ferrari – Nakita Mazepin and Mick Schumacher; Williams Mercedes – George Russell and Nicolas Latifi.
After missing two races due to Covid-19, Raikkonen was back in the Alfa.
In FP1, Bottas set a 1:34.427, which was 0.211 of a second faster than Hamilton and 0.227 of a second faster than the third-placed Verstappen.
With rain forecast for Saturday, the teams were anxious to get in as much dry running as possible on Friday.
First out in FP2 were veterans Vettel and Raikkonen. Leclerc, with a fresh power unit in his Ferrari, set the pace at 1:35.508. Bottas and Hamilton slotted into second and third ahead of Perez and Verstappen.
Leclerc, on the soft compound Pirellis, improved to a 1:34.925. Most of the other front runners were on the medium or hard tires.
Both Leclerc and Verstappen would start at the back of the grid because their cars had new power units.
Monza winner Ricciardo was stuck in the garage with power unit problems in his McLaren.
Fifteen minutes into FP2 Alonso jumped out front with a lap of 1:34.762. And Hamilton ran over his front jack man in the pits.
Meanwhile, Bottas retook the lead by posting a 1:33.593. Hamilton, on the softs, turned a 1:33.637.
Other drivers were making their soft runs. The order was Bottas, Hamilton, Norris, Verstappen, Sainz, Alonso, Gasly, Vettel, Leclerc and Perez at the halfway mark.
Leclerc had a spin at Turn 8 but avoided the walls. Giovinazzi hit the wall in Turn 9, and the session was red flagged with 24 minutes remaining so that the debris could be cleaned up.
The session was restarted with 16 minutes remaining. And the track got busy as the drivers wanted to get in as many laps as possible in their race simulations.
The top 10 at the end of FP2 were: Bottas, Hamilton, Gasly, Norris, Ocon, Verstappen, Sainz, Alonso, Vettel and Leclerc.