Russian GP 2020
SEPTEMBER 27, 2020
Race Notes - Bottas wins in Russia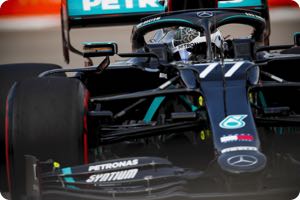 By Mark Karp
Valtteri Bottas won the Russian GP in Sochi in his Mercedes GP, 7.729 seconds ahead of second placed Max Verstappen in his Red Bull-Honda, and 22.729 seconds ahead of third placed Lewis Hamilton in the second Mercedes, after leading early on but receiving a 10-second penalty in the first pit stop.
The win is Bottas ninth of his career, and second in Russia, and second of the 2020 season. Mercedes has won eight of the ten races contested so far.
Sergio Perez (30.558s) in the Racing Point-Mercedes was fourth, Daniel Ricciardo (52.065s) in the Renault was fifth, Charles Leclerc (1m02.186s) in the Ferrari was sixth, Estebon Ocon (1m08.006s) in the second Renault was seventh, Daniil Kvyat (1m08.740s) in the AlphaTauri-Honda, in his home race was eighth, his team mate Pierre Gasly (1m29.766s) was ninth and Alex Albon in the second Red Bull was tenth.
Before the start, Hamilton is on pole, with Verstappen alongside on the front row, Bottas and Perez make up the second row, Ricciardo and Sainz on row three, Ocon and Norris on row four and Gasy and Leclerc rounding out the top 10.
With Hamilton on soft tyres and Verstappen and Bottas on medium tyres, the question is whether he can keep them behind, and will he compromised for his stategy.
Also, in 4 out of the previous 7 races, there has been a safety car in the first part of these races.
The stewards are investigating in Hamilton made a practice start outside of the designated area.
At the apponted time the grid came round, the lights went out and Hamilton gets away first Bottas slots into second and gets slightly ahead on Hamilton on the outside of the first corner but can't take the position, Verstappen goes wide at the first corner but continues and rejoins third, Ocon up to fourth, ahead of Ricciardo and Perez. Sainz spins and crashes. Later in the lap Stroll is spun from behind by Leclerc and crashes. The safety car is out.
Under the safety car Hamilton leads Bottas, Verstappen, Ocon, Ricciardo, Perez, Gasly, Leclerc, Magnussen and Grosjean in 10th.
At the start of lap 6 the race resumed with Hamiton contining in the lead.
On lap 7 Hamilton has a 1 second lead over Bottas.
Hamilton is handed a 5-second time penalty for making a pratice start outside the desigated start area during the pre-race period. How will the effect Hamilton's chances?
On lap 9 Raikkonen passes Latifi for 14th.
At lap 10 Hamilton leads Bottas by 1.8 seconds, followed b Verstappen (2.9s), Ocon (5.1s), Ricciardo (5.5s), Perez (6.2s), Gasly (9.0s), Leclerc (11.7s), Magnussen (15.1s) and Kvyat (16.4s) in tenth place.
Norris, Russell and Albon are all battling for 16th place. Russell locks up and Albon passes him for 16th, Norris passes Russell as well.
Mercedes tells both Hamilton and Bottas to up the pace.
On lap 14 Hamilton sets fast lap at 1m39.773s, and again the next lap at 1,39.693s
Perez passes Ricciardo for fifth place.
On lap 16 Ricciardo pits from sixth, takes medium tyres and rejoins in 14th.
On lap 17 Hamilton pits from the lead, takes his 10-second penalty and changes to hard tyres and rejoins in 11th place.
On lap 17 Bottas set fast lap at 1m39.439s.
Bottas leads Verstappen by 4.5 seconds.
On lap 19 Ocon and Gasly pit.
Hamilton passes Vettel for seventh place.
Magnussen pits for medium tyres.
Bottas sets fast lap at 1m39.221s and again the next lap at 1m39.081s.
Perez pits for hard tyres and rejoins in sixth.
At lap 20 Bottas leads Verstappen by 6.5 seconds followed by Leclerc (26.0s), Kvyat (29.4s), Hamilton (39.0s), Perez (42.7s), Vettel (45.3s), Ocon (46.5s), Ricciardo (45.8s) and Raikkonen (52.1s) in tenth.
Hamilton sounds frustated that he doesn't think his tyres will last to the end of the race.
On lap 25 Ricciardo passes Ocon for eighth place.
Verstappen pits from second for hard tyres and rejoins in fourth behind Kvyat, yet to pit.
On lap 26 Bottas pits from the lead for hard tyres and remains in front - Leclerc yet to pit is in second.
Verstappen passes Kvyat for third.
Ricciardo passes Vettel for seventh place.
Daniel Ricciardo is handed a 5-second penalty for going wide at the kerbs
Ocon passes Vettel for eighth.
On lap 28 Bottas sets fast lap at 1m37.861s.
Leclerc pits from second for hard tyres and rejoins in seventh ahead of Ocon.
At lap 30 Bottas leads Verstappen by 12.7 seconds, followed by Kvyat (20.4s), Hamilton (21.0s), Perez (26.0s), Ricciardo (37.3s), Leclerc (39.9s), Ocon (43.3s),Raikkonen (49.7s) and Gasly (50.5s) in tenth.
Kvyat pits for medium tyres and rejoins in eighth.
Gasly is challenging Raikkonen for ninth and passes him in the DRS zone.
On lap 35 Bottas sets fast lap at 1m37.807s.
On lap 37 Raikkonen pits for medium tyres and rejoins in 16th.
Grosjean, Giovinazzi and Albon battle for 12th place. Albon passes Giovinazzi for 13th.
At lap 40 Botas leads Verstappen by 11.2 seconds, followed by Hamilton (21.2s), Perez (30.9s), Ricciardo (41.6s), Leclerc (48.4s), Ocon (55.5s), Kvyat (56.9s), Gasly (1m02.4s) and Norris (1m15.6s) in tenth place.
Giovinazzi passes Grosjean for 13th.
On lap 42 Vettel passes Grosjean for 14th place - the two touch but continue.
On lap 43 Gasly pits again for medium tyres and rejoins in 11th.
Norris, Albon and Gasly battle for ninth place. Gasly passes Albon for 10th.
On lap 48 Gasly passes Norris for ninth.
On lap 48 Verstappen sets fast lap at 1m37.715.
At lap 50 Bottas leads Verstappen by 5.5 seconds followed by Hamilton (17.2s), Perez (28.2s), Ricciardo (44.9s). Leclerc (56.3s), Ocon (1m02.8s), Kvyat (1m03.4s), Gasly (1m27.3s) and Albon (1m31.4s) in tenth place.
On lap 51 Bottas takes fast lap at 1m37.030s.
At the flag Bottas wins ahead of Verstapppen and Hamillton.