Russian GP 2020
SEPTEMBER 28, 2020
Race Analysis - Winning penalty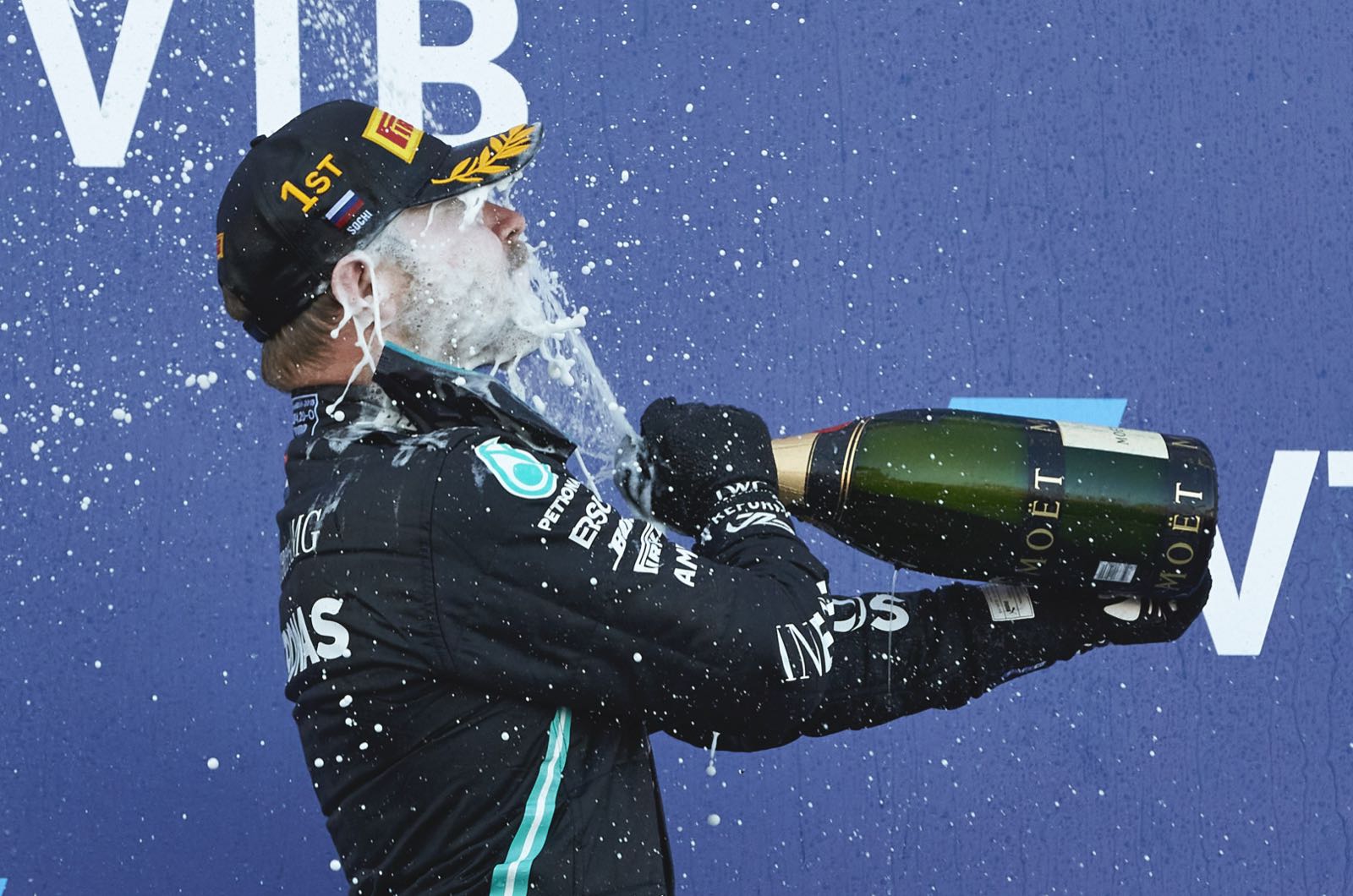 © Mercedes-Benz Grand Prix Ltd.
By Dan Knutson
Victory in the Russian Grand Prix went to Mercedes driver Valtteri Bottas. Lewis Hamilton and Mercedes, meanwhile, took themselves out of contention with penalties and mistakes. Here's what happened.
FIRST MISTAKE
Hamilton slid off the track during the Qualifying 2 session, so his fast lap time was deleted for exceeding track limits.
RED FLAGS
Sebastian Vettel crashed his Ferrari late in that Q2 session, and that brought out the red flags to stop the session.
CONSEQUENCES
The consequences for Hamilton was that he had to use a set of the soft Pirelli slicks to ensure that he clocked a quick enough lap time to advance to Q3. So he had to start the race on those tires.
MEDIUMS
Max Verstappen (Red Bull) and Bottas set their quickest Q2 times on the medium Pirelli compound tires, so they were able to start the race on the more durable tires.
96
Once he got into Q3, Hamilton snagged his 96th pole. Verstappen qualified second and Bottas third.
TOP SIX
Sergio Perez (Racing Point), Daniel Ricciardo (Renault), and Carlos Sainz (McLaren) rounded out the top six on the grid.
MISTAKES TWO
Hamilton made not one but two practice restarts outside of the designated area. That was the team's fault, as Hamilton was told by Mercedes that he was allowed to do that.
LEAD
Hamilton jumped into the lead, and Bottas drafted past Verstappen to take second place.
SMASH
Sainz and Lance Stroll (Racing Point) were both knocked out of the race in separate accidents in the first turns.
SAFETY CAR
The safety car controlled the field for the first five laps.
RESTART
On the restart, the order was: Hamilton, Bottas, Verstappen, Esteban Ocon (Renault), Ricciardo, Perez, Pierre Gasly (AlphaTauri) and Charles Leclerc (Ferrari).
PENATLIES TWO
Meanwhile, the race stewards gave Hamilton two five-second penalties for those two misplaced practice starts.
SERVED
Hamilton pitted at the end of lap 16, served his 10 seconds, got a set of the hard compound Pirelli tires, and rejoined the race in 11th place.
LEADER
New leader Bottas, on the mediums, didn't have to pit for the hard slicks until the end of lap 26. Verstappen had been in a lap earlier.
EVEN IF
Even if Hamilton had not had the penalties, he still would have had tires that were 10 laps older than Bottas and Verstappen. That would have left Hamilton vulnerable in the closing laps – a legacy of his mistake in Q2.
BE THERE
"I was just trying to be there (in second) because I knew that with the medium tire I knew would have the advantage once Lewis had to stop," Bottas said. "When I was in clean air it really felt pretty good and the pace was strong. Same with the hard tire. I could really feel that I could control the race. I was actually pretty happy there were no red flags or safety cars this time around towards the end of the race."
NUMBER NINE
So Bottas went on to win his ninth F1 race.
GOOD TO BE BACK
"We can be very happy with second place today, especially on a track where we know that we aren't normally so competitive," Verstappen said. "It is a good amount of points for the team and what we needed after the last few races. There was very low grip on the inside of the grid at the start, which cost us a bit and the first few corners were pretty interesting, but we stayed calm and I quickly moved past Daniel (Ricciardo) again. I struggled to follow the Mercedes cars on the medium tire as I had a lot of oversteer but once I pitted on to the hard we were more competitive and I focused on my own race which we managed well. It's good to be back on the podium and we can definitely be pleased to finish within eight seconds of Bottas on this track."
IT IS WHAT IT IS
"It wasn't a great day for me, but it is what it is," Hamilton said after working his way up to third. "We need to go through everything and understand exactly what went on to get those two penalties. That obviously dropped me back and the first stint on the soft was also challenging, as I was trying to go as far as I could on that tire. I think I did pretty well on the Soft and from then, it was about trying to recover as much as possible. It was just one of those days, but I'm grateful that I still managed to get a podium, bag some points and didn't lose as much as I could have done. Congratulations to Valtteri on the win, and I'll take the points and move forward."
MOMENTUM
"It's nice to get a win again," Bottas. "It's been a while. Definitely good. I need to try and keep the momentum. Again I managed to squeeze a few good points against Lewis. There are still quite a few races to go. You just never know. I'll keep pushing and won't give up and we'll see how it ends up."