Russian GP 2020
SEPTEMBER 25, 2020
Friday Press Conference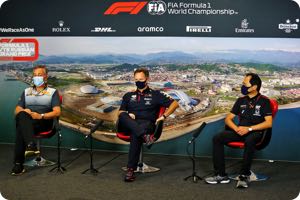 TEAM REPRESENTATIVES – Andreas SEIDL (McLaren), Cyril ABITEBOUL (Renault), Simon ROBERTS (Williams)
PRESS CONFERENCE
Q: Let's start with just a quick resumé of FP1 if we could. Andreas, why don't we start with you please. How was it down at McLaren?
Andreas SEIDL: I would say it was not the most straightforward session for us today. As you have seen, we have lost one car early with Carlos going into the barrier, which was upsetting our programme a bit and we couldn't go out any more because we had to change the rear crash structure for Free Practice Two. On Lando's side, with the red flags and the Virtual Safety Cars it was also not a straightforward session because we couldn't have the clean programme that we were wishing for with trying some new components again. But it's still early days and it's simply important now to reset again and then see how we can progress in Free Practice Two.
Cyril ABITEBOUL: Fairly straightforward session for us, for a Friday morning. Lots of… a bit of test going on in the background to try to understand a bit better what everyone is seeing from the outside, which is also to a certain degree puzzling us from the inside, which is the discrepancies we seem to have in certain conditions. So we've conducted some aero tests to try to get on the bottom of these questions. The pace seems to be OK but the drivers are both complaining that a balance is difficult to find. Even though it's looking a bit good on the timesheets we know that there was lots of yellow flags and red flag, so we are treating those positions very carefully.
Simon ROBERTS: Yes, so unfortunately a disrupted session for us as well. On George's side we went through the programme. Everything was to plan, we were basically just trying to get the right set-up, starting the set-up work for tomorrow. No major dramas. As the guys have said there was a few red flags, yellow flags. George missed one turn but nothing major, so yeah, that all went as expected. Unfortunately for Nicholas, went off on Turn 10, one of those classic 'punishment doesn't fit the crime', he had a little bit of understeer going in, just lost the back end and collected the wall. Car's back in the garage, there's quite a bit of damage, we're assessing that now. Obviously we lost the rear wing and the bodywork down the side but we're already into that. So, hopefully the guys will turn it around and see where we get to in FP2.
Q: Andreas, coming back to you, you've said already it was a disrupted session for McLaren but how do you rate your team's chances here? Both cars were in the points last year – is this an opportunity to put pressure on Red Bull and bag some big points?
Seidl: Well, I don't think that Red Bull is the team we are targeting this year. As I said, we had a good race here last year, we were quite competitive but I'm very careful at the moment predicting how the weekends go because we also thought in Mugello it's a track that suits us. It's particularly important to focus on ourselves again. It's important to simply get through the testing programme on Friday, making sure that the upgrades we are bringing are working and hopefully we can carry them forward into the race weekend. We know that competition is strong; everyone is bringing upgrades and still improving their cars. Renault made big steps forward in the last couple of races. Racing Point brought an upgrade to Mugello that looked really, really strong, also Ferrari is a team we never underestimate. So, we have two good drivers, a good team and it's going to be important to maximise the opportunities going forward – and that's what we will try again, also this weekend.
Q: Cyril, can we talk about Fernando Alonso. He was in the factory recently. How did you find him? What feedback did he give you on the simulator?
Abiteboul: Not sure I want to comment on the simulator specifically because it's not necessarily the main strength of the team and we are working hard to improve in that area. That's typically an area where there has been a lack of investment in the last few years – but on a broader perspective first we saw a Fernando that's happy to be back not yet in action but back in the team environment, in particular a team that he knows and where he obviously has good souvenirs – but souvenirs are not a reflection of what's going to happen so we need also to be forward looking. I think, being on the Viry side – because I can't travel in the UK myself – I was not in the UK but I can tell you that he was really impressed by all the changes in Viry, all the new people, the energy, the drive, the determination in Viry that there is in developing a new PU for what is now 2022. It was supposed to be '21 but it's shifting back a year. Obviously I'm biased when I say that but it's something that is extremely important to us, so see Fernando and to see his pride and the excitement in his eyes. He's also been a witness to all the changes in Enstone – but a nice building is not again a statement of what's coming. So, we just need to work very hard to make sure he has a car that he wants and also that he deserves.
Q: When are we going to see him testing a car?
Abiteboul: One thing that I can say is that he's definitely keen on getting back behind the steering wheel, so we'll see that. We are building the programme. There is a couple of opportunities within, obviously, the restriction of the sporting regulation. Things like filming days that we've not done so far, there is a post-season test that I have already commented on – we'll see where we get there. We also have a two-years old car programme that we can run pretty much anywhere and he will probably do a bit of that also. So, you'll see him in action. I can't say here where and when exactly yet.
Q: Simon, you've been in the job as acting team principal for a few weeks now. How are you finding things?
Roberts: It's pretty busy, pretty hectic obviously. It's a big step up, I'm very proud and honoured to be asked to do it but there's a lot to do in the factory. We're trying to make sure we keep the management team stable with the new owners, so that's really important for them and the rest of the team. So, me stepping up makes us able to do that. We're now working with the new owners pretty much every day, looking at what we need to do to improve. What the long-term programme is and how do we find some performance for the whole team over a long period of time. There's no quick fix here. We're in it for the long haul and so are Dorilton.
Q: What are their immediate goals? What have they said to you?
Roberts: They're just trying to right now understand everything they can about the business. They're super-smart and really nice and easy people to work with, so it's great having them around. They just come and get involved in everything they can. They obviously were in Mugello, which was great for them and we're just in that budget setting, looking at investment plans, trying to figure out effectively what's the first thing to do. We don't want to make mistakes but everything we do is focussed on improving our performance in the long term.
VIDEO CONFERENCE
Q: (Dieter Rencken) Cyril, in August, Pat Fry wrote an email to the FIA requesting clarity on the status of listed components, the definitions on intellectual property etcetera. Have you have replies and are these satisfactory?
Abiteboul: As you know Dieter, up until a certain point these communications with the FIA are confidential matters but we expect that at some point they will become public material because we believe that they are very important for any team to make sure they comply with the stance of the FIA on these things after obviously the precedent of this year and the controversy of this year. We have had a response from Nikolas. He is in the process of turning that into something more formal that can then become public.
Q: (Christian Nimmervoll) Cyril, you recently announced the rebranding of the team and the restructuring of the programme. As I understand, you also took over responsibility for promoting the Alpine brand in the process. The question is: are you going to remain team principal – or is your role going to change in any way with people in Enstone like Marcin Budkowski taking over more responsibility?
Abiteboul: The exact situation is that I have been asked by the CEO Luca de Meo to take as an extra mission the structuring of Alpine as a car company, as a brand but not just a brand inside of things but what's the product strategy, what's the business model within the context of Renault Group changing massively of organisation, and also strategy, given the overall situation. It's a mission which I started, which I will have in hand in a couple of weeks and part of the deliverable of that mission will see obviously some proposals in terms of structure that I absolutely do not want to comment on here and now. What I can tell you is that I remain in the context of that mission until the end this year fully committed in my role as team principal.
Q: (Edd Straw – The Race) Question for Simon. Obviously you referred to finding long-term performance and particularly with the limitations on next year anyway, it's logical that 2022 is the next big step – so how much do you feel the team is capable of taking a step forward in 2022 and how much thought and decision making has there been on perhaps some of the bigger investments – facilities etcetera – that are needed in the long term beyond that to get the team to the level you want it to be at?
Roberts: We're looking at all of it Edd. What we don't want to do is give up on 2021. I think it's really important to keep the team alive and active and competing – so we're trying to create a short-term plan and, if we could, repeat the step that the team made this year, going from 2019 into 2020. If we can do something like that, then it puts us in a good position for next year. What we don't want to do obviously is sacrifice efforts towards 2022 because there's new rules, the new financial regulations will start to bite, so we don't' want to lose that opportunity. So, I don't want to go into any specifics but we're basically looking at all of it and prioritising across a long time frame.
Q: (Christian Menath) Simon, from the feedback you get from the new owners at Williams. I think your current title is acting team principal. Do you think you have a future with the team as team principal as well?
Roberts: It's something we haven't really focussed on, to be honest. The whole sale process happened much faster than any of us expected and then Claire made her decision, which was a shock to all of us. So, the most important thing was to retain continuity. So I'm really, really pleased to be asked to step-up, I really enjoy it and hopefully I can continue to do it for longer – but we haven't even discussed it. It's not the top of my list, and it's not the top of theirs. There's plenty of work to be done and we're all focussed on that and focussed on moving the team forwards.
Q: (Adam Cooper) Question for Cyril. Stefano Domenicali looks set to be the CEO of F1 next year. What are your thoughts on that appointment and are you pleased so see someone with so much experience in so many different areas coming into that role?
Abiteboul: It's difficult to comment on something that it only a speculation for the time being. If it were to happen, Stefano obviously has plenty to offer in such a position. He's got – I'm stating the obvious – a very good knowledge of the sport itself. He's got a good knowledge of how the sport can support a manufacturer. Lamborghini obviously not being in Formula 1 but he also knows probably why they are not in Formula 1. So, I guess he has a different, interesting perspective to offer in relation to that. What we need, I guess, is a very strong management as always. Without being too pessimistic about the direction that things are taking, there is a number of topics on the agenda of anyone coming into this position – whether it's Chase continuing in this position or someone new – because there are lots of topics, so we need someone very strong and someone committed, who knows the sport but also with a strong group of people around him and I hope that Chase stays also around because I think he has plenty to offer also in addition to a possible Stefano Domenicali – but again, it's only speculation.
Q: Andreas, can we get your thoughts please on this?
Seidl: As I have said today in the morning already to some of you guys, I think, first of all it's important was Cyril says. Chase has been and is still the CEO of Formula 1 and I think it's important to mention he has done a great job and is still doing a great job in order to plan the future, together with us, of Formula 1, which is looking great from our point of view with all the changes that are coming but if Chase would decide to step down, or decides he's had enough of all of us, I think Stefano would be a great choice. For various reasons. First of all, purely down to all the different experiences he has made already in his working life. I think he has everything you need to have to run Formula 1. And then my personal experience also with Stefano, during my time at Porsche is simply that he's a great personality, a great character and I benefitted a lot also, working on special projects with him, from his experiences so we would definitely welcome Stefano taking over this position.
Q: Simon, your thoughts?
Roberts: I haven't really got anything to add from what the guys said. It is speculation. I remember him from the RRA times and he's a great guy, great character – but until something's announced then we'll work with the current management.
Q: (Luke Smith – Autosport) Andreas, I know you spoke about this, this morning, so this question is for Cyril and Simon, about reverse grids and the possibility of it being used as a sprint race format in lieu of qualifying next year. We know that sort of some teams are starting to change position and think a little bit more about it as F1 is revisiting the plan, I just wanted to know from Cyril and Simon from what your view is on it and where your teams currently stand?
Abiteboul: I still believe that reverse grid is a great opportunity for mixing things up and offering a show but I still believe it's an artefact and we should have the ambition of offering exciting races without that artefact. We've had, again, fantastic races this year, we've had fantastic races also last year with lots of things happening without reverse grid. We just need the field to be more competitive. I think that should be the focal point. If you have 20 cars within half a second, or a second, that will offer you a great show in my opinion – providing you have the opportunity to overtake. We don't' want to turn Formula 1 into DTM. So, I think that we are near enough 2022 not to have to use that artefact at this point in time.
Q: Simon, if there were to be reverse grids?
Roberts: We've only just started looking at again. We had a look just over a year ago. Didn't do much work on it from that. We're just starting to model it now. It introduces some jeopardy but there are two side to that. As Cyril said, the pace of the cars currently, we're not really sure how much difference it really makes on the feature races. It's early days. Things have already shifted, as Cyril said. The pace of the cars is different. We don't have the normal three at the top. We kind of reserve judgement and still want to study it in detail before we make any decisions on that.
Q: (Edd Straw – The Race) Simon, will Williams run at the maximum allowed under the cost cap in 2021?
Roberts: It's a good question, Edd. We probably won't. We are so far into…. Sorry, in 2021? Yeah, our budget is based on getting towards the cost cap. This year it's too late. We've only four months to go and we're pretty much set on where we are headed but for next year we are looking at what we can do and we now have the finances behind us to do that. But it's not a given. We will only spend money and invest where it makes sense.
Q: (Andrew Benson – BBC) This is for all three. As you alluded to just now, there are new regulations coming in for 2022, which are intended to close up the field, and yet they are still pursuing this idea of trialling reverse grids. Is there a lack of confidence within the sport that the 2022 regulations are going to do what they're intended to do?
Seidl: Well, I can only speak for ourselves, for McLaren. I don't see that there is any lack of confidence. We strongly believe that everything that comes into place from '22 onwards, the financial regulations with the budget cap, the technical regulations and the sporting regulations, will definitely improve the competition and in the end improve also the sport – the spectacle for the fans, which is great. Of course, we also need to be realistic as well, it will also take time until all this stuff is coming into place and until the budget cap is also, let's say, washing out and having its full effect. But in the end then it's simply down to us to make sure that we work hard and close this gap to the cars in front of us, but I'm very optimistic about the future.
Abiteboul: It's really difficult, because, as you know, we have no real ability to develop the car at this point in time and we were probably a little bit late also. But anyway, we know the effect on the aerodynamic of our car, but again, we have no ability really to run in a tunnel or into CFD the effect of following another car, which is really the crucial point of the technical regulation, the aerodynamic regulations, which is probably the biggest change that Formula 1 has ever experienced. And when you have a change like this one there is always the possibility that someone finds a magic bullet, or someone finds a huge loophole or a small loophole with a big effect which could again stretch the field, at least for an initial period of time. I don't think anyone has the ability to really give you a correct answer at this point in time.
Roberts: I agree. I think it's too early to tell. We're just focused on what we can do. It's a huge step from where we are and as Cyril said we can't work on the cars at all, for 2022, yet. We're locked out of the tunnel and CFD and basically the intent is good, but how the intent plays out only time will tell. We can't see any reason why it shouldn't be as expected, subject to any loopholes or quirks. I think there has been a lot of work done and the guys that have created the regulations have been exploring that possibility of loopholes, so our expectation is that it should be a leveller playing field than we are used to today.
Q: (Dieter Rencken) Another question for Cyril. Cyril, first of all, could you clarify that the 200 million anti-dilution fund will impact on your plans to possibly find a second team, possibly almost with a Haas-like relationship. Secondly, the other question is: will your team need be in a position where it needs to trigger that soft landing, US$6-million concession in the budget cap next year?
Abiteboul: So, on the first question, on the anti-dilution payment, yes, on the broader sense that's something that I believe is important for the sport. You are making reference to a mechanism that's been introduced in Concorde that is basically putting a minimum value on any entry, I guess it's a collateral effect and clearly it's going to make access to Formula 1 a bit more difficult fort any team above 10, which I think is right. It's like the Premier League of motor sport, it's like the NBA. There needs to be this type of franchise system and with budget cap and that mechanism we are getting there. I have been involved in actually three financial transactions involving Formula 1 teams and every single time, it's no secret, that the value of the team was the value of the debt, and it's not normal when you are talking abut a sport that is amongst the top three sports properties in the world. So clearly that is an important ingredient but I accept that it is probably going to limit our ability to find a partner team, but frankly we are not actively searching. We think it's a good add now that we have a long-term plan and a long-term commitment into the sport, we are open to opportunity but it's not like we are actively searching for opportunities simply because we have been involved in many customer arrangements and it's still not that clear cut that it's bringing you something that you really need in order to meet your sporting targets. On the second question on the six million, it's even more technical. What I can easily say is that we are not going to have any need of this six million on the simple basis that we operate below the budget cap. We have no people in excess. We will not have, therefore, any redundancy to plan to hit the 2021 limit.
Q: (Christian Nimmervoll) Simon, what's the reason why the new owners of the team have kept such a low profile in the public and haven't shown up in public yet?
Roberts: So, Matthew Savage was in Mugello, he joined the team. He brought one of his other board members and one of his senior chief of staff. So, they were there. They weren't doing interviews but that was their first foray into Formula 1 and I expect we will see them in the future. They are not hiding, so who knows.
PART 2
TEAM REPRESENTATIVES – Mario ISOLA (Pirelli), Christian HORNER (Red Bull Racing), Toyoharu TANABE (Honda)
PRESS CONFERENCE/p>
Q: Tanabe-san, it was a frustrating couple of races for you in Italy. Can you tell us what was the cause of the issues on Max Verstappen's car and are you confident you have cured the problem?
Toyoharu TANABE: I don't go into very [great] detail but it was very complicated issues and many parameters involved in that issue. After the race we analysed the data and tried to understand what happened, especially just after the race. We identified the root cause of the issues and this race we have applied the countermeasures to fix the problems. It should not happen again.
Q: Have the AlphaTauri guys experienced the same problems?
Tanabe: Not it was a very rare situation. It was the first time since we started Formula 1.
Q: Good. Let's look at the positives, in that Honda has won with both of its teams now this year, becoming the only power unit manufacturer to win with more than one time in the hybrid era. How much satisfaction does that give you?
Tanabe: Actually we are very happy with Gasly's Monza win and so we mean, I believe, Honda and the Red Bull family. AlphaTauri based in Italy and then Gasly has been working with us since Super Formula in Japan and he started with us in the Toro Rosso era. And he showed the people a very strong race, so he led the race for half distance. It emphasised very much our passion. Japanese fans were very happy to see his win and his podium. We keep pushing for both teams, working very hard with both teams to improve our performance.
Q: Thank you. Christian, let's throw it forward to this weekend. Your team has never finished on the podium here in Sochi. Is this is a trend you are confident of reversing?
Horner: Thanks for reminding me of that Tom. It's been a bit of a bogey track for us over the last five years or so. I think Mercedes have won every single event here, so they are obviously very much the favourites for this race, yet anything can happen. We've had a frustrating last couple of races and obviously we come here… we know it's going to be more of a challenge, but hopefully we'll survive the weekend and then there are some tracks coming up that hopefully play a little more to our strengths.
Q: What were your guys, the drivers, saying during FP1 this morning?
Horner: They said the traffic is awful and that people don't look into their mirrors. It's a unique track here. It's very short corners, 90 degree corners, and you know, it's quite a challenge. But generally they were reasonably settled. Obviously the circuit is still very green and there is not a lot of rubber down. I think the times were a little bit… about half a second of the times they were doing last year, but it's hotter as well, and that's also having an affect.
Q: Let's talk about Alex Albon. He said, after getting his podium in Mugello, 'thanks for sticking with me'. He was obviously feeling vulnerable going into that race, for him to say that. Will that result free him of any concerns that his future is in doubt?
Horner: He only feels vulnerable because you guys keep telling him every week that we should put someone else in the car. I think it was really good for him to get that result. He came close in Brazil last year, he could have won the opening race in Austria, and obviously got turned out of that race, so to get that first podium… and he had to do it the hard way. Daniel is one of the hardest racers on the track and to pass him around the outside of Turn 1 as he did, it was a great performance from him. You can already see him walking a little bit taller. That confidence that it will give him, hopefully he'll build on that. He has got the full support of all the team. I think the team is doing a good job with him. His race engineer is extracting more from him and that confidence is growing.
Q: What was your reaction when Eddie Jordan said recently that Lewis Hamilton would be a good fit alongside Max next year?
Horner: I wondered what Eddie had been drinking. Look, from a fan's perspective he's absolutely right, but I've not heard from Lewis recently, so I can only imagine he's staying where he is. I think everyone wants to see Verstappen and Hamilton go head-to-head and hopefully we can give Max the tools to do that, certainly in the remaining races of this year but very much so next year and the year after.
Q: Mario, you've gone a step softer with the compounds here in Sochi compared to last year. Can you just explain why you've made that decision?
Mario ISOLA: Yeah, mostly because if you look back at the race last year, most of the teams, or all the teams, were focusing on the medium and the soft, so the hard was not used, but we also have an example two years again when we decided to be more aggressive in compound selection and the teams had to manage the compounds quite heavily, for the reasons Christian just mentioned – the traffic here is an issue, it's difficult to overtake, and also the pit lane is very slow so an additional pit stop can cost a lot to each one. But we know that we also have a new specification from 2019 compared to 2018 and this a bit more consistent, so I believe that even if we have a softer selection of compounds this year they can push a bit more compared to last year and all the three compounds are suitable for the race. This morning more or less all the teams used the three compounds on different cars, that means they are trying to understand the performance of the different compounds. The track was not in a fantastic condition. I can imagine a lot of track evolution for this afternoon. The weather is slightly different. There are a lot of elements that are playing a part in building a strategy for the race, so hopefully with this selection we have a mix of one and two stops for the race. We will see tomorrow. The qualifying will be a good indication. If the top teams are going to qualify with the medium, to start the race with the medium is an indication or not, let's see what happens tomorrow in qualifying.
VIDEO CONFERENCE
Q: (Christian Nimmervoll) Tanabe-san, Honda is contracted to Red Bull until the end of 2021. When do you expect a decision from the board if Honda is going to remain in Formula 1 and if the answer will be a yes, is it set in stone that it's going to be a continuation of the exclusive partnership with the two Red Bull teams?
Tanabe: Actually I'm not involved in that discussion at all. I'm taking care of the technical side so I have no answer to tell now.
Q: (Christian Menath) Another question for Tanabe-san: if I remember correctly, Max Verstappen was reporting some problems after his qualifying lap at Spa, that he ran out of electric energy and I think Pierre Gasly had a pretty similar problem in Mugello two weeks ago. Do you see a pattern; was it the same problem and why did this problem occur? Did you underestimate the performance on a qualifying lap, or what's the problem?
Tanabe: It happened because of the slightly different application so we maximised the energy usage for the lap. So if you remained energy after the finish line, it means you lose the performance so we maximise how to use the energy and the lap was slightly different conditions, that's why it happened for both cars.
Q: (Scott Mitchell – The Race) Christian, just going back to Alex's performances; obviously there have been some quite clear examples of progress but just not quite piecing together a full weekend, so from the outside, perhaps, other people have missed that progress but I guess that speculation will only remain until he's 100 percent confirmed in Red Bull for next year. So do you have a timescale in mind for that?
Horner: It will certainly be before Christmas. Obviously all the drivers are under contract to Red Bull on multiple years, so there are trigger points at different times in their contacts but it will certainly be later into the autumn. Our intention is to retain Alex, he's doing a good job, he just needs to build on the kind of performances he put in in Mugello and obviously continue that development.
Q: (Louis Dekker) Verstappen's contract clause; is it realistic to think Max can leave Red Bull after this season because the team's targets have not been met or are you one hundred percent sure he'll stay for 2021?
Horner: Well obviously the contact between the driver and the team is always going to be confidential, there will always be speculation regarding it but I'm a hundred percent certain Max Verstappen will be in a Red Bull racing car next year.
Q: (Alan Baldwin – Reuters) Christian, Stefano Domenicali's pending appointment as Chase's replacement seems to have been broadly welcomed by other team bosses. I'm just wondering if on your part there is any concern at the extent to which former Ferrari management are now running the sport, or will be running the sport?
Horner: Look, I think… obviously the news about Stefano seems to be a fairly open secret. If he takes that role, I think it's great for the sport. He's one of the good guys. Having competed against him, when he was the team principal of Ferrari, he has a lot of integrity, he was a racer, a competitor, he understands the business. Obviously he's spent life in a commercial world outside of Formula 1 for the last few years. He's done a great job at Lamborghini and I think that he would be a real asset to Formula 1. Obviously you would look at the make-up at the top end of the sport with Jean Todt, Ross Brawn and Stefano and it looks like a mid-1990s or early -2000s Formula 1 set-up, but I don't think that there's any particular bias or love towards Ferrari from any of those individuals, so I'm sure Stefano will be – if he takes the role – would be scrutinous in his impartiality.
Q: (Dieter Rencken) Christian, has the recent Concorde signing, the change in the regulations coming up, the victory by Pierre Gasly in Monza – has that changed the sort of dynamic between Red Bull Racing and AlphaTauri? I noticed the other day you referred to them as the sister team whereas previously the implication had always been that they were a junior team, so has this changed any way recently?
Horner: I think – as I mention previously – AlphaTauri, they've grown up in many respects, they – as I said – they've gone from being a junior team to a sister team but that was the case from the beginning of this year and will be the case moving forward. Of course, both teams have identical ownership and shareholding. We are converging on some of our tools, within the rules, where both teams will share the same wind tunnel for the first time going into next year. The sort of dynamic has changed slightly and the aspirations of that team have changed as it's been rebranded as AlphaTauri but from a driver perspective, all the drivers remain as being Red Bull Racing contracted drivers that are placed accordingly in the two teams.
Q (Peter Thomas – Car Magazine) Mario, we've got Nurburgring, Portimao, Imola and Turkey coming up. How do you select the tyres for those races? What data do you rely on?
Isola: The system is always the same, because every year we have new tracks, this year a lot more than usual but we rely on team simulation so we make a calculation of the energy that is going through the tyres in a lap or in multiple laps. We consider the tarmac roughness; in some cases it was possible to measure the roughness; in some cases we have to rely on historical information that we have. With that in mind, we select the three compounds for each event. We have an additional option, this year, that was also to slightly modify the breakdown of the compounds. You know that this year it was decided to give to each team two sets of hard, three of medium and eight of soft in order to speed up the production and shipment and be more flexible, considering the calendar was quite fluid. For Portimao and Istanbul we have decided to increase the number of hard tyres from two to three and obviously to reduce the number of soft tyres from eight to seven because this circuit is quite severity circuit, the asphalt is abrasive and therefore we decided to make this reduction, together with the FIA. So this is the way in which we select the compounds.
Q: (Andrew Benson – BBC) Christian, I believe you were keen on the idea of reverse grids when it first came up. Is that still the case? And as a follow-up, why is there such enthusiasm for this idea from Formula 1 is they're confident that the 2022 regulations are going to do what they are intended to do?
Horner: I suppose it's conflicting in many ways; the racer in your and the purist says it's absolutely the wrong thing to do and then of course you see a race a little bit like in Monza and that brings the point to the fore again of mixing things up and obviously the best way of mixing things up is something like a reverse grid. That is artificial but inevitably, when you have the fastest car starting at the front of the race, you don't have to be a rocket scientist to work out that in many cases they will stay in grid order. So I think that Formula 1 shouldn't be scared of perhaps trying something different. If there was an occasion or a type of venue or an invitation race or maybe even a non-championship race, that something like that could be tried, it would be very interesting to see what the outcome of it would be because if you don't try something you never know and I think it's very easy that we get stuck into a rut of saying 'that's ridiculous, it wouldn't work'. The purist in me says the same but sometimes in life you've got to try things and see what the outcome is and if that could be done in a manner that didn't affect the championship because I can't see how you can have a different rule for one race to the other events but maybe a non-championship race, an invitation race… We've got all these great new circuits that are pushing for races this year, that we won't be able to accommodate in future years but if one event was selected to try a different format, to try something totally different, what would we have to lose?
Q: (Christian Nimmervoll) Christian, you said earlier that you are 100% sure that Max Verstappen is going to remain at Red Bull for next year. Are you equally sure about Adrian Newey and are you aware of any attempts from other teams – particularly Mr Stroll and Aston Martin – to lure him away?
Horner: Yeah, the situation with Adrian – he's been with us for 14 years, he's very happy within the team, he enjoys working within the environment, he's obviously taken more of a step back in more recent years but he's still motivated and yeah, he will absolutely be with the team next year, without any doubt.
Q: (Dieter Rencken) Christian, you referred earlier on to the open secret of Stefano Domenicali's appointment as CEO of Formula 1. You've variously been linked with the role over the years. Are you disappointed that possibly the decision has fallen there or are you saying 'well, he's 55, maybe in ten years' time I have another chance' or where do you see yourself in this overall consolation in the future?
Horner: Well Dieter, I enjoy every much what I do. I enjoy competing, I enjoy the role that I do. I am now, believe it or not, the longest serving team principal in Formula 1 and it's gone by in a flash. My motivation is to get the team into a winning position again. I love racing, I love competing, I love working with the people who are part of our team. I feel a responsibility to them, to Red Bull and so for me it's not even something I would consider at this stage in my career. I think Stefano would be a great candidate. I think he's a great guy. We raced head-to-head against him for the 2010 and '12 championships. He always had an awful lot of integrity, he was a gentleman and I think he will be an asset for the sport, he will be an asset for Liberty. He's got that understanding and I think that as the sport evolves, he will bring a lot to it so yeah, I've got no complaints from our side but as far as my own focus is, I just want to get this team back into a winning position. Mercedes have had it their own way for far too many years.
Q: (Scott Mitchell – The Race) Just wanted to clarify quickly something that Christian said earlier, just to avoid any potential misinterpretation. You mentioned that the drivers are on multi-year contracts. Does that mean that Alex is under contract for 2021 and it means that you just need to decide where to place him? And as a second part of that: is Pierre the obvious plan B if Alex can't build on what he's done so far or would the likes of out-of-contract drivers Perez and Hulkenberg appeal?
Horner: Well, the first of your question is yes, all the drivers are on multi-year contracts and it's up to the team to take up its option on those drivers. As far as Pierre is concerned, he's doing a great job at AlphaTauri, he's a good fit for them, they enjoy having him within the team and their aspirations of a team, as I say, have changed so they need an experienced, competitive driver. Our intention is absolutely to retain our current drivers. Alex is our preferred choice. Inevitably, you have to be aware of what the other options are out there but our absolute preference and likelihood is to retain the existing driver line-up that we currently have.
Q: (Christian Menath) Another follow-up for Christian: you have mentioned the invitation race or non-championship race, to try things like the reverse grid. It sounds pretty nice, the idea, but can you see the chance to really do this, because with a calendar of 22 races – or a normal calendar – it's already pretty tight to bring all the races in there and who should finance this non-championship race or invitation race? And do you see a real chance or is it just an idea?
Horner: I mean at present it's just an idea because it's very difficult to have different rules for one race than others. We missed that opportunity unfortunately this year because racing twice at two venues in Austria and at Silverstone, it would have allowed that opportunity but why not have two races in Austria for example? You could have them within a week. And of course there are so many permutations and questions surrounding it; at the moment it's just an idea that I'm putting out in front of you after the question that I've been asked. It's not something that's been discussed with other teams or with Liberty or the FIA. It's just a reaction to the question asked.
Q: (Dieter Rencken) Christian, when I was watching Le Mans last weekend, I couldn't help but notice how many ex-Red Bull racing drivers were in front running positions. If you have a look back, are there any drivers whose contracts you didn't take up that you now regret not having taken up?
Horner: That's an interesting question. I think the great thing about that is that Red Bull have given this opportunity to so many guys out there, whether it was Jean-Eric Vergne, da Costa, Sébastien Buemi, fantastic to see him win the race and indeed he's still supported by Red Bull, so all drivers that wouldn't have had that opportunity if it weren't for Red Bull's support and patronage in their earlier career days. But I don't think there's any real regrets. The cream always rises to the top. I think that maybe it would have been interesting to see what da Costa could have done in a Formula 1 car, but that opportunity never really presented itself.