Russian GP 2018
SEPTEMBER 30, 2018
Race Analysis - A win made to order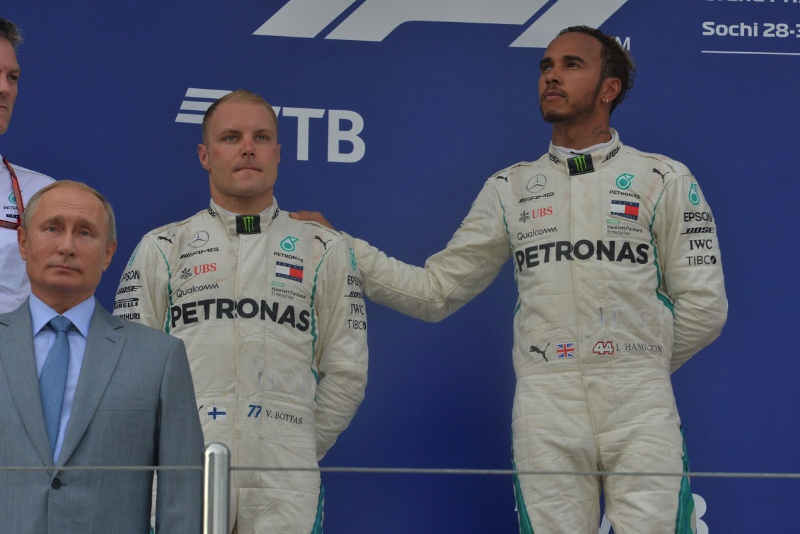 © RV Press
By Dan Knutson
Lewis Hamilton's win in the Russian Grand Prix was the result of an order made by Mercedes team asking Valtteri Bottas to hand the position to Hamilton in the interest of increasing Hamilton's points lead in the world championship. Here is how the race and that order came to be.
THE GRID ORDER
The whole team order scenario may never have been necessary if Hamilton had earned the pole position in qualifying on Saturday. But Bottas beat him to the prime spot. Thus the front row of the grid consisted of Bottas and Hamilton as Mercedes locked out the top spots for the fifth time this season.
ONE STEP BACK
Ferrari did not have the speed to match Mercedes in qualifying. So Hamilton's championship rival Sebastian Vettel started third and Kimi Raikkonen fourth.
OUT OF THE MIX
Sochi is not considered a good track for Red Bull because its Renault engines can't match Mercedes and Ferrari on this horsepower circuit. But it looked like Daniel Ricciardo and Max Verstappen would really be out of the race mix at the front when they started 18th and 19th after getting engine penalties.
SIDE BY SIDE
When the red lights went out to start the 53-lap race, Vettel got alongside Hamilton. Then Hamilton surged ahead to get alongside Bottas. But no passes were made, so the order at the end of lap 1 was Bottas, Hamilton, Vettel and Raikkonen.
THREE OUT OF FOUR
In three of the first four editions of the Russian Grand Prix there has been a Safety Car on the first lap. But the fifth edition would be Safety Car free.
IN THE MIX
Verstappen was flying, and by lap 8 he had carved his way all the way up to fifth place. Turns out he would be in the mix after all.
FIRST STOPS
The Ferrari and Mercedes drivers started the race on Pirelli's ultra soft tires, so they would have to pit fairly early to switch to the soft compound slicks. Bottas came in first, at the end of lap 12.
300
So Hamilton took over first place, and led his 300th lap this season.
UNDERCUT TO SECOND
Vettel pitted at the end of lap 13 and Hamilton one lap later. Vettel squeezed by the take over second.
"I held on to my tires a little bit longer than Valtteri," Hamilton said. "He said he had a bit of graining, so that next lap was good and then they kept me out for another lap, which I think was ultimately probably not the right decision to make in the end as the tires dropped off. Sebastian came in the lap before, undercut massively."
MISTAKE
Mercedes indeed made a mistake bringing Hamilton one lap too late. It put him behind Vettel and set up the team order scenario at Mercedes.
BACK TO FRONT
When Raikkonen made his pit stop at the end of lap 19 it put Verstappen - who had gone from the back of the pack to the front - in the lead. Having started on the soft tires, Verstappen and Ricciardo could go a long way before needing to pit. This too would play a role in the team orders.
BLISTERED
Hamilton blistered his rear tire as he pushed hard to regain second place from Vettel.
IN THE WALL
"I slipstreamed down to Turn 1 and I pulled out," Hamilton said of his fight with Vettel. "From my view, Sebastian moved and then moved again and at the time, if I didn't brake, I would have been in the wall and we would have crashed. It felt, from my cockpit view, that it was a double move which we often talk about that we shouldn't do but anyway, luckily I got away with it and I was quite forceful in the next corner."
THE TRACK ORDER
So now as the race headed to its midpoint, the order was Verstappen, Bottas, Hamilton and Vettel. Bottas was taking care of his tires so did not push the car too hard in an effort to pass Verstappen.
THE TEAM ORDER
On lap 25 Mercedes asked Bottas to move over and let Hamilton go ahead.
THE EXPLANATION
"We are all racers at heart and what we want to see is out and out racing and may the quickest man win," said Mercedes team boss Toto Wolff. "But then we are a bunch of rational guys - we discuss things in the morning and then everything is different in the race. This is what happened today. We should be over the moon with a 1-2 and fundamentally we are. But we also feel that it went against Valtteri - it would have been a race win for him and we changed it.
Valtteri is such a tremendous team player, but it's deflating for a driver and deflating for a team. We discussed who to pit first and then we did it with Valtteri because that would protect his win. It was one lap too late with Lewis and he lost the position to Sebastian. This triggered this mess because Lewis came out behind Sebastian and then needed to attack. That caused the blister and we needed to protect when Sebastian was all over Lewis on damaged tires. Lewis was far back, but when we told Valtteri to switch position at Turn 13, he did it immediately."
HAMILTON'S VIEW
"They told me on the radio: 'Valtteri is going to let you go,' which is not what I wanted. I said: 'just tell him to speed up,' because I had Sebastian on my tail, getting quite close. So, yeah, naturally passing him did not feel good in that instant in Turn 13."
INTO FIRST
Verstappen finally made his pit stop with 10 laps remaining. That put Hamilton into first ahead of Bottas, Vettel and Raikkonen. Verstappen and Ricciardo rounded out the top six.
NOT IDEAL
"It's been a tough day," Bottas said. We got a good result for us as a team with maximum points, but for me personally it was a difficult race. Although I already understand the situation. If you put yourself in the team leader's shoes, for them it doesn't matter if it is me or Lewis winning, as long as we are 1-2 we get the maximum points. For the end of the year, it's only Lewis fighting for the Championship, I am not. So, for the team, it is always better that Lewis wins - that's how it goes. It is not ideal for me as an athlete and a person, but that is a fact."
50 and 70
So, because of the team order, Hamilton won the 70th F1 race of his career and is now 50 points clear of Vettel with five races to go.