Russian GP 2018
SEPTEMBER 28, 2018
Practice 1 Report - One step Seb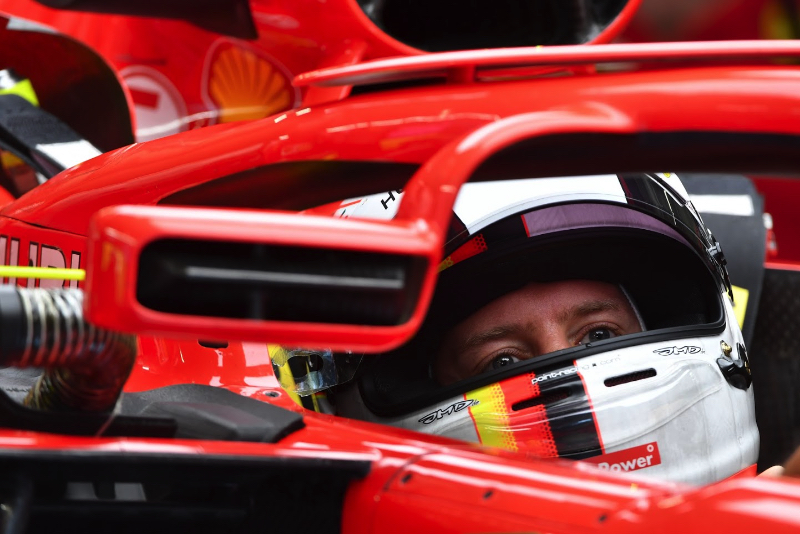 © RV Press
By Dan Knutson
Sebastian "Seb" Vettel is 40 points behind Lewis Hamilton in the world championship points standings, so the former has his work cut out to close in on the latter. Seb took one step forward in that process by clocking the fastest lap time in Free Practice 1 for the Russian Grand Prix.
The line-up for the weekend was: Mercedes – Hamilton and Valtteri Bottas; Ferrari – Vettel and Kimi Raikkonen; Red Bull TAG Heuer – Daniel Ricciardo and Max Verstappen; Racing Point Force India Mercedes – Sergio Perez and Esteban Ocon; Williams Mercedes –Lance Stroll and Sergey Sirotkin; Renault – Nico Hulkenberg and Carlos Sainz; Toro Rosso Honda – Brendon Hartley and Pierre Gasly; Haas Ferrari – Romain Grosjean and Kevin Magnussen; McLaren Renault – Fernando Alonso and Stoffel Vandoorne; Sauber Ferrari – Marcus Ericsson and Charles Leclerc.
The ambient temperature at the start of the 90-minute session was 70 degrees Fahrenheit (21 degrees Centigrade) and the track temperature was 77 degrees Fahrenheit (25 degrees Centigrade).
Four of the drivers sat out FP1 so that their team's reserve drivers could get some track time on a race weekend. Lando Norris drove Alonso's McLaren in FP1. Nicholas Latifi was in Perez's in the Force India. Artem Markelov replaced Sainz in the Renault. Antonio Giovinazzi had Ericsson's Sauber.
Sirotkin was looking forward to his home grand prix weekend.
"I raced here in GP2 but it's all quite different from being here as a racing F1 driver," he said. "I get a lot of attention, a lot of support, which is very nice to feel as a driver."
"As with anything in life, there are ups and downs," the Russian driver added. "It's obviously a big pleasure to race in front of my home crowd. I get a lot of support from all over the country, but at the same time it will be a very busy weekend for me.
"There will be a lot of work to do, much more than compared with other weekends, so it's going to be very intense. It won't be easy to manage my time and energy, whilst still being able to perform at my best. That said, it's still a weekend I'm looking forward to, but I know it's going to be tough!"
This is a power track, so not a Renault-power track, but at the 40-minute break it was Verstappen in the Renault-powered Red Bull who topped the lap times with a 1:35.960. By contrast, his teammate Ricciardo was out of session after an over-heating problem on his car.
All in all, however, it was a quiet mostly incident-free session.
With 30 minutes to go, Verstappen still was fastest in what had been a quiet session. Off track, the news was that Grosjean would remain at Haas in 2019, and that Antonio Giovinazzi will replace Marcus Ericsson at Sauber next year.
Several minutes later Vettel shaved his way past Verstappen by clocking a 1:34.488, and Stroll had a quick spin at Turn 8.
The drivers found the "green" track to be rather dusty and slippery in the first session.
The order at the end of FP1 was Vettel, Verstappen, Hamilton, Bottas, Ricciardo, Ocon, Raikkonen, Magnussen, Hulkenberg and Giovinazzi with 20 minutes remaining in FP1.