Russian GP 2016
APRIL 30, 2016
Saturday Team Quotes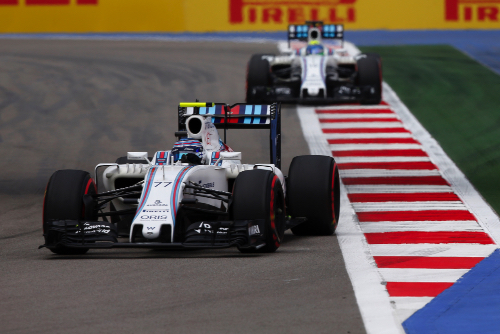 © Active Pictures
Mercedes GP
Nico Rosberg (1st, 1:35.417): "That was a very strong Qualifying session for me behind the wheel today. I found a great rhythm in Q2, then just turned the front wing down a bit for Q3 and the balance was then absolutely perfect. This is a really rare feeling to have out there in the car, so thank you to the guys for making that happen. I was able to really nail the first lap in Q3 and was quite confident that it was quick enough, so I gave it everything and more on the second lap and had a huge lock up, which is why I abandoned that attempt. I'm happy to have another pole - but tomorrow is a long race and a lot can happen. Even if we are looking strong pace-wise, I can never write off my opponents, that's for sure. They've had some bad luck once again this weekend - Sebastian with his gearbox issue and Lewis with his engine again. But we've seen in previous races that they are able recover quickly and get through the field from behind. Let's see what tomorrow brings..."
Lewis Hamilton (10th, No Time): "It's obviously not a great feeling to be on the sidelines again - but that's life. I knew there was a problem and that it was probably the same failure that I had in China pretty much straight away. I went out for a second run in Q2 to get a feeler lap and felt the same power loss as last time. When it happened in Shanghai it was something we hadn't seen before and now unfortunately it's happened again, so we need to understand it. I've never been superstitious about these things, though, and I never will be. There's nothing I can do about it, so I'll move on and look ahead to the race. I don't know where I'm going to start yet - we'll wait to see how that unfolds. But I never give up and I'll give it all I've got to recover whatever I can in the race, like always. It's not an easy track for overtaking. With the levels of tyre degradation and it being so tough to follow here, it's not going to be easy to make my way forward. But there are long straights and we've got good pace, so if I can keep the car in one piece I'll be fighting for decent points I'm sure."
Paddy Lowe: "A great pole lap for Nico and our congratulations to him on a fantastic performance throughout the weekend so far. Unfortunately, however, our day has been tainted by a failure which deprived Lewis of a shot at pole - and deprived the fans of what would surely have been a thrilling climax to an immensely close battle between our two drivers. We've let Lewis down for the second weekend in a row, so our apologies go to him once again. It's a cruel twist of fate that, out of eight Mercedes-Benz Power Units on the grid, the problem should befall the same driver twice. We've been working very hard over the past couple of weeks to understand what happened in China - but unfortunately there is clearly still more work to be done. Our focus for the immediate future, however, is on making sure Lewis' car is in the best possible condition for tomorrow's race to give him the best chance of making the kind of strong recovery we've seen him pull off so many times in the past."
Toto Wolff, Technical Director: "It's a bittersweet feeling after qualifying today. Nico took a dominant pole position and the car is really quick here. The team at the track has done a great job and the upgrades we brought are working well. But we didn't get to see the battle we had all hoped for after Lewis suffered a repeat of the failure he experienced in Shanghai. It's so unfortunate for him after the problems he has already faced this season - and of course we have the concern that the same thing could happen again. But this is also part of motor racing. The Power Unit is a core element of performance and one of our biggest strengths. We are pushing hard to find lap time in every area and it's inevitable that sometimes you reach limits in that process. Lewis has handled everything so far this year with calm and professionalism. He is resilient and showing a great attitude, even though this is a tough time for him. For tomorrow, it's clear we are in a strong position in terms of performance. But like the saying goes, to finish first, first you have to finish..."
Ferrari
Sebastian Vettel (2nd, 1:36.123): "Yesterday we lost some time, but today I think we recovered. Now I'm waiting for the race. I will start seventh which is not where we belong, so we should be quicker than the other cars around and go from there. The car is good, so I am confident for tomorrow. We are not the favorites, but there's always a chance. I hope not to get it wrong this time. For sure we need to start improving as soon as possible, that's why we are pushing very hard. We are doing everything we can, we have a new engine here, and I think we are on the right way, but we still see that other people, especially Mercedes, are doing a good job as well. If you want to be the best you need to be ready to tackle the best. I have high confidence, but let's keep our feet on the ground. It is easy to get overexcited and for sure now we would like to be first, but that's the nature of the game. We are wisely spending our energy looking at ourselves, trying to make improvements. Time will teach us..."
Kimi Raikkonen (4th, 1:36.663): "The whole weekend has been tricky: for whatever reason, I struggled all the time to put one decent lap together. In qualifying it was a bit better, but I was still fighting with the front end in a few places. It could have been good enough for a second or a third place on the grid, but on my last lap I completely missed the last corner and slid away. Obviously I'm a disappointed with what happened, but considering how difficult it has been, this result it's not ideal but it's better than nothing. At least we are in third place at the start, we'll see what happens tomorrow, I think in the race it's going to be better."
Maurizio Arrivabene, Team Principal:
Williams-Mercedes
Valtteri Bottas (3rd, 1:36.536): "I'm very pleased with our qualifying performance; it was the maximum result I think we could have achieved, and my lap in Q3 was very good. It now puts us in a very good position for the race and we need to focus on turning a good qualifying, into a good race performance. This is a track that I really like and normally do well at, and it's a track that suits our car. The new parts we have introduced are helping us, so the team at the factory and track have done a good job in improving the car. We have some fast cars starting behind us which will make the race difficult, but a podium will be the target."
Felipe Massa (5th, 1:37.016): "It was a good qualifying for us as starting P2 and P4 is positive. We were a bit lucky with the penalties for Ferrari and Mercedes but I think it was definitely a good session. We just need to concentrate to have a good race tomorrow. Anything is possible and it's probably the best track for us so far this season, so we'll try and put everything together in the race."
Rob Smedley, Head of Performance Engineering: "It's a great result for the team. We gained a couple of positions because of Vettel and Hamilton, but reliability is as much a part of the game as performance is. I think the car is quick here - we were genuinely in front of Red Bull, and Valtteri was quicker than Raikkonen in the Ferrari. Regardless of what people could have done, the timesheets are usually the greatest arbitrator of everything. We did our homework this morning with the two cars in FP3 and went into qualifying with a game plan which we executed well. We definitely have to aim for the podium tomorrow. I think there's a certain point where you can turn a good season into a great season, and this is an opportunity. If you look at where we were in Australia and Bahrain, compared to how far the team has come in working to develop the car, it is encouraging. We've got new parts and we're trying to optimise the car all the time, and I think that's really key in understanding the tyres, which is so important. If you think how far we've come in three races, then it's really good progress."
Red Bull-Tag Heuer
Daniel Ricciardo (6th, 1:37.125): "We gained one position with Seb's penalty so to start 5th is not bad and we are about a tenth off Felipe so it's close. The track makes it hard to put a lap together, the grip comes and goes so it's not easy to put all the sectors together but generally I'm happy. We are obviously a long way off the Mercedes but we expected that so if we can race the Williams tomorrow that would be good. We don't have much of an advantage here because it's a one stop, everyone is able to push on the tyres and it will be flat out for a majority of the race therefore we are not able to do much with strategy. If we finish in the top five, that would be a very good result for us. There is a lot of fan support here for Dany, which is really nice to see, the atmosphere is good."
Daniil Kvyat (8th, 1:37.459): "Our lap times during the whole session today were consistent which is good. I thought we could find something extra for Q3 but unfortunately we didn't have time to do our warm up lap, so I had to go straight to the push lap with slightly cold tyres. That left us with understeer and costs us a couple of tenths. But I am generally happy with qualifying at this track which is challenging for us. The tyre life here is quite long and this will help Williams as they look strong on this track, we knew that would be the case and I don't expect the situation to change too much in the race. This track is not the strongest for us but we will try and bring some points home."
Christian Horner, Sporting Director: "This track is not the strongest for us so for Daniel to line up in what will be P5 and Dany in P8, both are respectable grid positions. It was all quite tight in the middle area of the top ten and I think both drivers extracted the maximum from the car. Hopefully we can look forward to a good race tomorrow and make progress from those grid positions."
Force India-Mercedes
Sergio Perez (7th, 1:37.212): "I am very pleased with our performance today and my final lap in Q3 was fantastic - just when it mattered. We were strong in Q1 and Q2; I was feeling very comfortable in the car and I was able to deliver great laps in each of the sessions. We are making good progress as a team and our pace over one lap is very strong: it will be interesting to see how we perform tomorrow because we have a fast car behind us and it will be a big challenge to hold our position. This is not a track that helps overtaking so there should be some nice battles. We have enough tyres to choose the best strategy tomorrow and I am optimistic we can come away with a nice result."
Nico Hulkenberg (13th, 1:34.777): "It was a fairly straightforward qualifying session, but not with the outcome I wanted. I've not felt comfortable since I jumped in the car yesterday and it's been a struggle to find the grip and performance we were expecting. We changed a lot of parts overnight and before qualifying, but it didn't take us in the direction we needed. Obviously we can't change the car ahead of the race so I think it's going to be a tough Sunday considering how close things are in the middle of the grid."
Otmar Szafnauer, Chief Operating Officer: "It's great to see us continue our run of top ten qualifying results with Checo putting in a great lap when it mattered in Q3. We expect him to move up a position with Vettel taking a penalty, so he should line up sixth on the grid. It's another example of the inherent speed we have in this car and hopefully we can deliver similar race pace tomorrow. Nico's session was relatively uneventful, but he felt the car was sliding underneath him and that showed in his final qualifying position. There's still a long race ahead of us and anything can happen tomorrow, but we have our eyes firmly set on scoring some good points with both cars."
Renault
Kevin Magnussen (17th, 1:38.914): "It wasn't a brilliant qualifying lap from me and we struggled to get the tyres into their correct operating window, so not a perfect set-up for the car either. FP3 earlier in the day was much better for us as we were able to get a more even balance with the front and rear tyres working well together, however qualifying proved to be more of a challenge. There was more possible from the car if we'd been able to find that sweet spot."
Jolyon Palmer (18th, 1:39.009): "Today the car has been really good. I think we've found the problem that's been hurting me the last couple of Grands Prix. We've changed something and it's working well so it's good to be back on track! I'm pleased because I can now demonstrate what I can do as a driver whereas before it was frustrating. We're not super quick as a team but I'm happy with the car and I think we can look forward to a good race tomorrow. Our race pace tends to be better than in qualifying; we should be able to move forward quite quickly, we'll definitely aim to challenge the guys in front of us and take any opportunity on offer."
Alan Permane, Chief Race Engineer: "We have more to deliver in the race. Our cars are evenly matched albeit we hoped to be further up the grid. We knew this was a circuit where we'd struggle to deliver outright pace so our qualifying positions are not fantastic. As usual, we will be pushing to deliver more in the race. Kevin wasn't able to find the same balance he had earlier today despite the weather conditions being very similar between FP3 and qualifying. Jolyon was much happier with his car. We don't expect many pit stops so when and how well you make your stop becomes all the more crucial as there could be only one opportunity to get it right. We'll be looking at all the strategy permutations overnight as well as watching the weather carefully as today was far cooler than yesterday."
Toro Rosso-Ferrari
Max Verstappen (9th, 1:37.583): "I'm pleased and happy with today's qualifying result. Especially after a difficult day yesterday, where we were struggling a lot, to come back and get through to Q3 is something I honestly didn't expect. In addition to that, I'd say this is one of the most difficult qualifying sessions of the season: the track is very slippery and as soon as you brake a meter earlier or later, you immediately lose a lot of lap time and lock-up the tyres... So you really have to be very focused and that's what I did to end up P9. For sure tomorrow's race will be another challenge because we are all very close, but I'm ready for it and hopefully we can carry on scoring good points."
Carlos Sainz (11th, 1:37.652): "I'm disappointed with not getting into Q3 today, because we've been very fast the whole weekend and we had the pace to end up in the top ten. I was putting a good lap together in my last Q2 effort but in the last sector I found some traffic that slowed me down. I will go back to the hotel a bit angry tonight, but the positive thing is that we know that we have the pace and we can perform well tomorrow, so I'm looking forward to the race."
James Key, Technical Director: "I think this morning we recovered reasonably well with car balance on both cars compared to yesterday, particularly on Max's, where we were able to build in some stability with changes overnight. As a result, this morning's practice was a lot more competitive. We knew that today's qualifying was going to be very tight, with a big bunch of teams very close together behind Mercedes, Ferrari and Williams. We were confident that reaching Q3 was possible with both cars, but we knew it had to be a very well-executed quali to make sure it worked. Sadly for Carlos, he didn't quite get through as Kvyat just got ahead at the end of Q2, which pushed him down to P11. So unfortunately he starts in eleventh position, but at least has the advantage of new tyres. Max did a good job to get through to Q3, even though we underperformed in the final part of the session and we now need to understand what happened. I think tomorrow is going to be very interesting. This is a tricky track. Tyres are performing to a certain extent as expected, but it's going to be tight on strategy and tyre management. We know you can overtake here, even though it's difficult, so it's going to be interesting to see exactly how the race works out. Our race pace will be better than our quali pace, which is typically the case, so now we need to look at the positions we are in and how we can progress: that's our plan for tonight."
Sauber-Ferrari
Felipe Nasr (19th, 1:39.018): "Starting in P19 is surely an unsatisfying result. It is a pity as I was on a good lap at the end of Q1, but then I braked a bit too late into Turn 13. Anyway, I feel more comfortable in the car this weekend and this is what counts. In terms of the car set-up, we made good improvements from session to session, so I will now work on some details for tomorrow. I am positive I can fight for some positions in the race."
Marcus Ericsson (22nd, 1:39.519): "Obviously a disappointing result. I felt that FP3 was a little step forward for me, but then again in qualifying I was struggling with the tyres. I had issues during the whole weekend to bring them into the right working window. I also had some traffic in qualifying, which did not help. Nevertheless, we were just not fast enough today. Tomorrow we will try to fight back."
McLaren-Honda
Jenson Button (12th, 1:37.701): "We were so close to getting into Q3 today - we had a good shot at it but ended up a tenth off. In fact, it was so close that we were just two tenths off eighth position in Q2 - and despite the balance not being quite there. I think both Fernando and I struggled with the handling - the car was understeering, which is difficult to resolve. There's a tipping point at which, when you dial in more front-wing, the balance suddenly shifts from under- to oversteer - so we were being cautious in qualifying. Tomorrow won't be the easiest race for us - the lap is 71 per cent full-throttle - but Turn Two is always tricky here, so my aim will be to stay out of trouble, pick up some places and then see what happens. I still think a one-stop strategy will prove tricky for most people tomorrow, so that should also make things interesting."
Fernando Alonso (14th, 1:37.807): "The lap-times at the end of Q2 were very tight - the difference between 14th position and a place in Q3 was just two tenths. And, sadly, we're at the back of that group. But that's the way it is - I still feel that we're missing the couple of tenths that would massively help us to overtake some of the other cars in this very competitive midfield group. While we weren't in luck today, I definitely think we've shown ourselves to more competitive this weekend, and I hope we can recover tomorrow and fight for some points."
Eric Boullier, Racing Director: "On paper, it feels frustrating to be lining up 12th and 14th for tomorrow's race; we've definitely made some useful progress since the last race in China - as evidenced by the narrow gap of just 0.095s that separated Jenson from a spot in Q3. That's the closest we've been all season. However, we're pragmatic about where we stand right now: we don't quite have the pace to be consistent top 10 runners, and we also know that tomorrow's race is likely to be a tough one for us, because the track layout doesn't quite play to our strengths. But the fact that we're making steady ongoing progress relative to our principal competitors is a primary motivating factor for the race. And, as such, we'll be pushing hard to get into the points tomorrow."
Yusuke Hasegawa, Honda: "The difference between Q2 and Q3 for us today was just 0.1 seconds, but that tiny gap is still very disappointing. It is representative of where we are now, but we will push even harder to move ahead of the "middle of the pack". As we saw yesterday, we had decent pace in our longer stints, and you never know what will happen within the full length of a race, so hopefully we can fight for points tomorrow."
Manor GP-Mercedes
Pascal Wehrlein (20th, 1:39.399): "Qualifying was a bit frustrating today. This morning the track temperature was much hotter and the sun was out, so it was easier to bring the tyres to temperature. This afternoon it was harder to get them into the working window. We were hoping for more to be honest, because in FP3 we looked good. I think the race will be a different story; you can see from today that my lap times have improved so I think after 5 to 10 laps we'll be okay. In qualifying you only have one or two laps and when you are just sliding; it's hard. So, I'm focusing on tomorrow and hopeful that we can have a good battle with Sauber and Renault."
Rio Haryanto (21st, 1:39.463): "It was an interesting session for us; it feels like we've made a step up and we're closer to those around us versus previous races. My last lap could have been better. I suffered a bit with traffic and lost about two tenths in the last sector, so it was frustrating not to get a clean lap. As for tomorrow, I can't wait. The aim is to get a good clean start, especially with such a long run down to the first corner, then get the maximum from the car. Our long runs on Friday looked positive so with good tyre management I'm looking forward to a strong race tomorrow!"
Dave Ryan, Racing Director: "After final practice this morning it seemed that the hard work last night had paid off for us but we struggled slightly more in qualifying when the cooler ambient temperature made it more difficult to get the tyres into the right operating window. The tyres were improving with every lap so that bodes well for the race tomorrow and hopefully we can enjoy a good battle with the cars around us."
Haas-Ferrari
Romain Grosjean (15th, 1:38.055): "It's been a complicated weekend so far for us. We've been struggling with the grip and the car. It's difficult to get the tire to work on such a smooth asphalt. We're progressing, we're learning and doing the most we can do. I still don't have the feeling I used to have earlier in the season with the car. We really need to analyze that. Then tomorrow's going to be a long race with a lot of fuel saving. The tires are hard to keep in the window, so it's going to be challenging for everyone. Maybe we can try to be a bit more clever. Let's do our best, let's analyse and let's keep having some interesting data. We'll see where we are after the race."
Esteban Gutierrez (16th, 1:38.115): "Qualifying was pretty hard. It was difficult to get the tires to work here so it's been a bit of a challenge. I was doing my best, with all the options we have available, to maximize everything but I'm not really satisfied with the result. However, we still have a race to do tomorrow. Hopefully a few surprises may come our way that will give us a chance to be up in the points. It's probably not going to be very straightforward, as the pace is not as good as we want it to be, but we will definitely push hard and do our best to get there."
Guenther Steiner, Team Principal: "We are very happy with where we qualified. We had a difficult weekend leading up to today, but we recovered, and ended up 15th and 16th which is very close to the two McLarens. To be in Q2 with both cars is great for us. We are usually stronger in the race than we are in qualifying. We'll definitely be pushing with both cars to maximize our position and get into the points, so I'm looking forward to seeing what happens tomorrow."