Russian GP 2016
MAY 2, 2016
Race Report - 007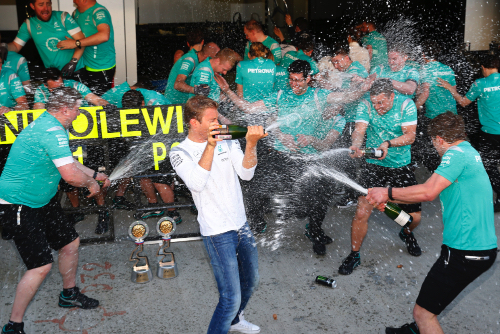 © Active Pictures
BY DAN KNUTSON
James Bond - 007 - has had various adventures and dramas in Russia in the books and films. Nico Rosberg had no dramas in Russia as he led every lap on his way to his seventh consecutive Formula 1 victory and extended his points lead to 43 over Mercedes teammate Lewis Hamilton who started tenth and finished second.
"It's been an awesome weekend," Rosberg said after win 7. "The car has been fantastic all weekend, really even in qualifying and in the race today. It felt very special out there. So, very, very happy."
Qualifying had seen a happy Rosberg easily win the pole, the 24th of his career, after setting a lap record in his Mercedes. Sebastian Vettel qualified second in the Ferrari but was penalized five grid places for having a gearbox change. That elevated Williams driver Valtteri Bottas to second on the grid. It was the first time a Williams had been on the front row since the 2014 German Grand Prix.
Kimi Raikkonen lined up third in his Ferrari, and Felipe Massa started fourth in his Williams.
Daniel Ricciardo (Red Bull), Sergio Perez (Force India), Vettel, Daniil Kvyat (Red Bull), Max Verstappen (Toro Rosso) and Lewis Hamilton (Mercedes) rounded out the top 10 on the grid.
Hamilton had had an engine failure in the third qualifying session, but the team had repaired it for the race.
"Our entire approach has been guided by ensuring we do not break the parc ferme regs so Lewis can start P10 today rather than from pit lane, to give him the best chance of a strong finish," Mercedes said in a statement on race day. "The complication was in ensuring that we replaced with parts of the same specification, as we introduced an upgrade here for all eight power units, but did not have spare components on site.
"So we had to fly out a fuel system on a chartered jet yesterday evening, arriving here in the early hours, and the spare engine was then kitted with these parts during the night (the spare engine is not covered by parc ferme rules). When the car came out of parc ferme this morning, the spare PU was fitted and has now fired up successfully in the garage."
The top 10 drivers all started on Pirelli's super soft compound tires. The track had been slippery in practice and the drivers had struggled to find grip, so most opted for the super softs to start the race.
When the red lights went out to start the 53-lap race Rosberg jumped into the lead. Raikkonen grabbed second. Vettel was hit by Kvyat at Turn 2, and that knocked Vettel into Ricciardo. Vettel then backed off and Kvyat hit him again at Turn 3 and Vettel rammed the wall. Kvyat would get a 10 second penalty for causing a collision.
"Oh for f--- sake, man! Who the f---!! Oh, I'm out. Crash. Somebody hit me in the f---ing rear in Turn 2, then someone hit me in the f---ing rear again in Turn 3. Honestly. What the f--k are we doing here?" Vettel shouted over the radio.
Later, after he had calmed down, Vettel said of Kvyat: "Look, I don't dislike him, but I think he did a mistake two weeks ago. I think he did a mistake today - it is fairly obvious - but it doesn't help me now because I am not in the car."
Vettel had backed out of the throttle after the first impact.
"I didn't brake too late, just locked my rears and ran into his back," Kvyat said. "It almost felt as if someone was pushing me from behind. The car was bit out of control. I think the main problem came in Turn 3, not in Turn 2, when I think Sebastian felt he had a problem with the car, so he had to stop very, very suddenly.
"And I was just two meters behind him, and at that speed unfortunately today there was not much I could do to avoid him. I apologize for ruining his race, but I am human and his sudden de-acceleration was too much for me at that point in Turn 3."
Ricciardo certainly was not pleased with teammate Kvyat.
"I expect an apology, put it that way," he said of Kvyat. "The first lap incident that shaped the race for us, and from there we tried putting the medium on and that just didn't work. But we had a lot of damage. I just saw the right-hand side of the car, and there is a lot (of damage) going on. Just the first lap - people getting a bit impatient I guess."
Kvyat said: "I think probably the whole paddock will want an apology from me. But we will speak inside the team about these things after analyzing everything. It is easy to talk now, very easy to attack me. Go on, attack me, no problem."
Out came the safety car. Perez and his teammate Nico Hulkenberg also had accident damage as did a number of other drivers including Rio Haryanto at the back of the pack.
Both Red Bull drivers pitted for the medium compound Pirelli slicks, a huge tactical error, as it dropped them too far back to score points. And many others pitted as well.
The order behind the safety car was: Rosberg, Raikkonen, Bottas, Massa, Hamilton, Verstappen, Fernando Alonso (McLaren).
The safety car came in at the end of lap 4, and Bottas snatched second from Raikkonen. Rosberg blasted away in front and quickly pulled away from Bottas.
On lap 7 Hamilton passed Raikkonen to take over third place and then went on to attack Bottas who was six seconds behind Rosberg.
Raikkonen closed in on Hamilton who continued to chase Bottas but couldn't get very close to the Williams. Rosberg, setting fastest laps, continued to pull away, and on lap 15 he had a 12.4 second cushion over Bottas.
Bottas pitted at the end of lap 17 for the soft compound Pirelli slicks. Hamilton stopped a lap later for the mediums. He came out side by side with Bottas, but Bottas just managed to get ahead.
Hamilton attacked and passed Bottas on lap 20. Raikkonen pitted a lap later. Then Rosberg made his stop at the end of lap 22.
With the pit stops over, Rosberg had a 12 second lead over Hamilton. Raikkonen was six seconds behind Hamilton. Bottas, Massa and Verstappen rounded out the top six.
By lap 35, however, Rosberg, who was having to work his way through traffic, was now only 7.6 seconds ahead of Hamilton. Verstappen had retired and Alonso was now sixth.
But a couple of laps later Hamilton's engineer told him that the car had a water pressure problem, and after that Hamilton eased off a bit. Then the water pressure stabilized.
"There wasn't a doubt in my mind that I could win it," Hamilton said. "I had the pace but then I problem with the engine again, so I had to back off."
Rosberg, though, felt he was in control.
"I knew the gap to Lewis and it was just through the traffic," he said. "If I get the traffic first I lose a couple of seconds, then he gets it and it opens up again. No, I was feeling really comfortable today, especially at the end of the race, in the last 15 I opened the gas and pushed a little bit more because I knew it was safe to push and definitely get to the end of the race with that set of tires. It was working really well."
So Rosberg went on to win over Hamilton. Raikkonen finished third.
"Overall it hasn't been a very easy weekend," Raikkonen said, "but today we tried to make the best out of it. I had a good start and managed to get second position but then, like last year, after the safety car I could not hold up the Williams behind me on the straight. After that I was trying to fight them back, but I lost one place to Hamilton.
"So we decided to run longer to gain positions and we did quite a pretty good job. The car was handling very well through the whole race, even if we were forced to do some fuel saving and this affected our lap times."
Williams had hoped for a podium finish but had to settle for fourth for Bottas and fifth for Massa.
"The beginning of the race was pretty good and we managed to defend against some of the quicker cars behind" Bottas said. "I think being aggressive with the early pit stop was good but unfortunately the cars with more pace managed to get through, and at the end of the race there wasn't much happening for me."
Massa said it was a very positive weekend and a very positive race.
"We managed to score a lot more points than Red Bull," he said, "and that's the target for us right now."
There were some great battles for the lower points places. For the first time this season Alonso and McLaren teammate Jenson Button finished in the points.
"We were lucky in Turns 2 and 3 on the opening lap due to those accidents," Alonso said, "and we were able to gain some places for free. But, as we saw last year, we can make a good start but then not be able to maintain those strong starting positions. This year, it's different - we have the pace: to finish sixth, and set the fifth-fastest lap, shows that our car is still gaining pace. In fact, the car felt good all race."
Button's view: "To get both cars home in the points - and at a track which we didn't feel would really suit our package - is a fantastic result for the whole team. As the pack dived into Turn 2, I had to back off because it was mayhem. From there, I was disadvantaged, but the pace was in the car. After that, it was just a case of fighting my way back. It's difficult to overtake around here, but I was able to make a few moves and enjoy myself."
There was much joy in the Renault camp as well as Kevin Magnussen finished seventh to bring the team its first points of the year.
"I made a great start," he said, "but then lost a couple of positions at the first corner because of a spin in front of me. After that I was pushing hard for the entire race, made some good overtakes and I had a great pit stop from the crew. We were a bit lucky today; we've been unlucky in the past so I've certainly no complaints!"
Romain Grosjean took eighth to give the Haas team its third points haul in four races.
"It was a good first lap to avoid all the incidents, and then I kept (Sergio) Perez behind," he said. "There are still so many things we can improve on the car. I'm still not a hundred percent happy with the behavior. I think for the next race it's going to be so much better."
And Perez filled out the top ten with his ninth place.
"It's obviously good to come away with my first points of the year," he said, "but without the puncture on lap one the result today could have been so much better. I didn't get the best start, but I found a good line going into turn two and I was ahead of Ricciardo and Vettel coming out of the corner.
"Then I realized I had a puncture, which dropped me to the back of the field. After that it was a recovery drive and I managed to get back up to ninth place just behind Grosjean. I had a quicker car and fresher tires, but he had very good traction and I just couldn't get close enough to make a move."
It was a Grand Slam for Rosberg who got the pole (with a lap record), led every lap, set the fastest race lap (a lap record) and won the race for the first time in his F1 career. But he is not taking anything for granted.
"It's four races from 21," Rosberg said after win 7. "Lewis is going to come back of course, so early days. I'm just taking it race by race, and just win races."