Russian GP 2016
MAY 1, 2016
Race Notes - Rosberg wins Russian GP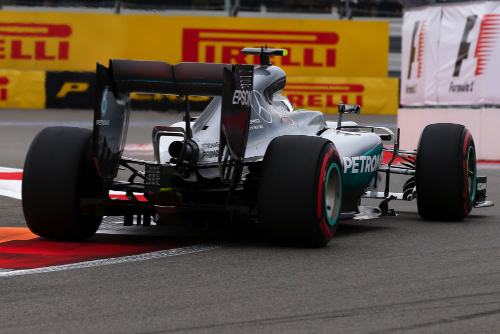 © Active Pictures
Nico Rosberg won the Russian GP in Sochi today in his Mercedes GP, 26.022 seconds ahead of his team mate Lewis Hamilton. Kimi Raikkonen in the Ferrari finished in third place, 31.998 seconds behind Rosberg.
The win is Rosberg™s fourth straight on the season and seventh straight since the end of last season.
Before the start the temperature was higher than in practice earlier in the weekend.
Rosberg starts on pole. Vettel, who qualifying second was given a five-spot grid penalty for a gearbox change since the Chinese GP.
Bottas moves up one position to start from the outside of row one. Raikkonen and Massa take the second row, Ricciardo and Perez start on row three, Vettel and home boy Kvyat start on row four, and Verstappen and Hamilton round out the top ten starters.
The top ten starters all on super soft compound tyres.
The grid clears and the car make their way around to the starting grid. The lights go out and the race begins with Rosber taking the lead from Bottas. In turn 2 Raikkonen passes Bottas for second. Contact in turn 2 Vettel after being punted by Kvyat makes contact and spins off into the barrier and is out. Hulkenberg is also out after Gutierrez collects him. The virtual safety car is deployed. Perez limps back to the pits with a punctured tyre. Kvyat and Ricciardo both pit for medium tyres. Haryanto is out as well.
Vettel is furious on the radio.
While the field comes around in the safety car period, Rosberg leads Raikkonen, Bottas, Massa, Hamilton, Verstappen, Alonso, Grosjean, Magnussen and Palmer in tenth.
On lap 4 the race is restarted with Rosberg still leading. Bottas makes a run and passes Raikkkonen back for second place. Hamilton takes Massa for fourth place. Alonso is chasing Verstappen for sixth place.
On lap 5 Ericsson passes Kvyat for 15th place in turn 2.
On lap 7 Hamilton passes Raikkonen for third place. Raikkonen™s Ferrari seems to be suffering from understeer. Kvyat and Ricciardo continue to fall back through the field running on medium tyres.
Rosberg sets fast lap at 1m41.884s.
On lap 8 Hamilton closes to under a second behind Bottas in second place.
On lap 9 Kcyat pulls into the pits to serve a 10-second stop-go penalty for the first lap collision.
At lap Rosberg leads Bottas by 5.9 seconds followed by Hamilton (6.2s), Raikkonen (7.7s), Massa (10.1s), Verstappen (13.6s), Alonso (17.2s), Grosjean (20.3s), Magnussen (21.8s) and Palmer in 10th place.
Gutierrez pits for a stop and go penalty for contact with Hulkenberg at the start.
On lap 11 Sainz pits, as well as Nasr pitting for a puncture.
Rosberg sets fast lap at 1m41.624s, and then again at 1m41.445s.
Rosberg is running 2 seconds faster than his team mate Hamilton - stuck in third place.
On lap 15 Palmer pits from 10th and switches to soft compound tyres.
On lap 17 Bottas pits from second place taking soft tyres - he rejoins in seventh.
On lap 18 Hamilton pits from second the next lap for soft tyres and rejoins right behind Bottas once again.
On lap 19 Massa stops as well. Hamilton makes the move and takes the position from Bottas.
On lap 20 Hamilton passes Alonso for fourth place, and sets fast lap at 1m41.260s.
Bottas passes Alonso for fifth.
Raikkonen pits from second place with a slow stop, and rejoins behind Hamilton in fourth.
Hamilton sets fast lap with 1m41.170s.
On lap 21 Rosberg pits from the lead. Button pits from nine, and Alonso from sixth, for soft tyres.
On lap 23 Verstappen finally pits after moving up to second place, for soft tyres - he rejoins in seventh.
On lap 24 Hamilton sets fast lap again at 1m40.922s.
At lap 25 Rosberg leads his team mate Hamilton by 12.9 seconds, followed by Raikkonen (17.2s), Bottas (21.2s), Massa (29.9s), Perez (38.8s), Verstappen (41.8s), Alonso (54.5s), Ericsson (55.9s) and Ricciardo (56.9s) in tenth place.
On lap 26 Sainz is handed a 10-second penalty for battling with Palmer.
On lap 28 Wehrlein challenges Nasr for 16th, but the Brazilian stays ahead. Hamilton sets another fast lap at 1m40.648s. Perez makes his stop from seventh place - and rejoins in 13th. Ricciardo pits switching back to soft tyres.
Nasr is given a 5-second time penalty for going wide in turn 2.
On lap 30 Perez passes Sainz for tenth place.
Hamilton has closed the gap on his team mate Rosberg to 8.6 seconds behind.
Magnussen, Grosjean and Perez and Sainz are battling over seventh place.
On lap 34 Verstappen pulls off the track and retires with an engine problem - his first retirement of the season.
At lap 35 Rosberg leads Hamilton by 7.1 seconds, followed by Raikkonen (19.4s), Bottas (27.8s), Massa (34.7s), Alonso (72.3s), Magnussen (80.3s), Grosjean (82.6s), Perez (83.0s) and Sainz (83.7s) in tenth.
Hamilton sets another fast lap at 1m40.266s, while the team comes over the radio and tells Lewis that he has a water-pressure issue.
Rosberg sets fast lap the next lap at 1m39.616 seconds.
Rosberg pushes his lead back up to 11.3 seconds.
On lap 40 Button closes on Sainz for the tenth and final points position.
Mercedes says Hamilton™s water pressure issue is stablised.
At lap 45 Rosberg continues to lead from Hamilton by 13.6 seconds, followed by Raikkonen (24.0s), Bottas (35.9s), Massa (48.6s), Alonso (90.1s), Magnussen (98.1s), Grosjean (99.5s), Perez (100.2s) and Sainz (1 lap) in tenth place.
On lap 47 Massa pits from fifth place, taking his final set of tyres for the race.
On lap 50 Button passes Sainz for tenth place.
Rosberg sets fast lap at 1m39.094 seconds.
On the last lap Rosberg led Hamilton and Raikkonen in third.