Russian GP 2016
APRIL 30, 2016
Qualifying Report - Head starts and set backs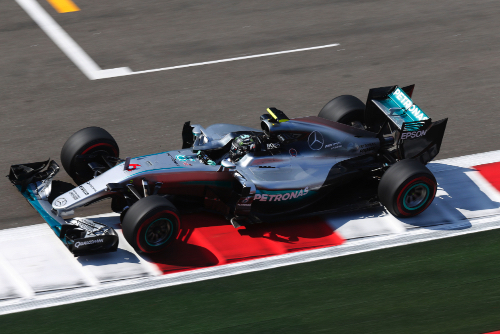 © Active Pictures
Nico Rosberg got a head start on extending his championship lead over Mercedes teammate Lewis Hamilton by taking the pole for the Russian Grand Prix. Hamilton, meanwhile, had yet another setback with an engine failure and did not take part in the third qualifying session. So Hamilton would have to take a penalty for the repairs needed on his power unit. Furthermore, Hamilton was told to report to the stewards after qualifying. He had cut across a runoff area at Turn 2 in Q1.
The line-up for the session was: Mercedes - Lewis Hamilton and Nico Rosberg. Ferrari - Sebastian Vettel and Kimi Raikkonen. Williams Mercedes - Felipe Massa and Valtteri Bottas. Red Bull TAG Heuer - Daniel Ricciardo and Daniil Kvyat. Force India Mercedes - Nico Hulkenberg and Sergio Perez. Renault - Kevin Magnussen and Jolyon Palmer. Toro Rosso Ferrari - Max Verstappen and Carlos Sainz. Sauber Ferrari - Marcus Ericsson and Felipe Nasr. McLaren Honda - Stoffel Vandoorne and Jenson Button. Manor Mercedes - Pascal Wehrlein and Rio Haryanto and Roberto Merhi. Haas Ferrari - Romain Grosjean and Esteban Gutierrez.
QUALIFYING 1
It was breezy, very cool and dry as the 18 minute Q1 session began. Wehrlein was the first out on the Sochi track, which had been slippery and lacking grip all weekend.
Hulkenberg set the early lap time to shoot for: a 1:38.562. Rosberg then easily beat that with a 1:36.684 only to have Hamilton clock a 1:36.518.
Ten minutes into the session Rosberg slammed in a 1:36.119, which was a full second faster than his pole time from 2015.
All the drivers were on Pirelli's super soft compound tires as the soft compound didn't really work for getting any sort of grip. Even the super soft took time to get up to speed. Rosberg did his time on the fifth lap on his super softs.
Hamilton responded with a 1:36.006, a new track record, as Raikkonen and Vettel moved into third and fourth. Williams was looking strong this weekend, and Bottas and Massa claimed fifth and sixth.
However, Hamilton was under investigation by the stewards for cutting across the runoff area in Turn 2, and he was ordered to see them after qualifying.
The six drivers who were eliminated at the end of FP1 were: Magnussen, Palmer Nasr, Wehrlein, Haryanto and Ericsson.
The fastest 16 drivers who moved on to Q2 were: Hamilton, Rosberg, Vettel, Raikkonen, Bottas, Massa, Sainz, Alonso, Perez, Ricciardo, Verstappen, Kvyat, Button, Grosjean, Hulkenberg and Gutierrez.
Pirelli tweeted: "A full house of #supersoft in #Q1. Will some of the top teams switch to #soft for Q2? That tactic worked well for @nicorosberg in China #F1."
QUALIFYING 2
Q2 lasted 15 minutes. Rosberg was first out, but it was Perez who set the early first time with a 1:37.282. when Rosberg did clock a time, it was a 1:35.337 and another new track record.
Hamilton was 0.483 of a second slower and in second place. The Ferrari drivers did not go out until midway through the session. Vettel moved into third albeit 1.2 seconds slower than Hamilton. Raikkonen jumped up to fourth.
And Bottas and Massa took the same fifth and sixth they had done in Q1.
The six drivers who were eliminated at the end of FP2 were: Sainz, Button, Hulkenberg, Alonso, Grosjean and Gutierrez.
The fastest 10 drivers who moved on to Q3 were: Rosberg, Hamilton, Vettel, Raikkonen, Bottas, Massa, Perez, Verstappen, Ricciardo and Kvyat.
Pirelli tweeted: "So no sign of the "China tactic" in #Sochi. Top 10 will all start on supersoft tomorrow, and likely to stop only once for the soft."
QUALIFYING 3
The pattern that had been set in the first two qualifying sessions was not expected to change in Q3. The only question was would it be Rosberg or Hamilton on pole?
The answer came even before the session began as the Mercedes mechanics were tearing apart Hamilton's car in the garage. The team said the car had a power unit failure, just as he had had in China.
What was for sure was that Vettel would drop five grid places because his Ferrari had required a new gearbox on Saturday.
So there were nine drivers out on track in Q3.
Rosberg, naturally, was quickest with a 1:35.417. At the end of the first rounds of runs, the order was: Rosberg, Vettel, Bottas, Raikkonen, Massa, Ricciardo, Kvyat and Perez. Verstappen did not go out.
On his second run Rosberg went straight at Turn 13 and then headed for the pits. His time was still good for the pole however.
The top nine qualifiers were: Rosberg, Vettel, Bottas, Raikkonen, Massa, Ricciardo, Kvyat, Verstappen and Perez.