Russian GP 2016
APRIL 30, 2016
Practice 3 Report - It's them again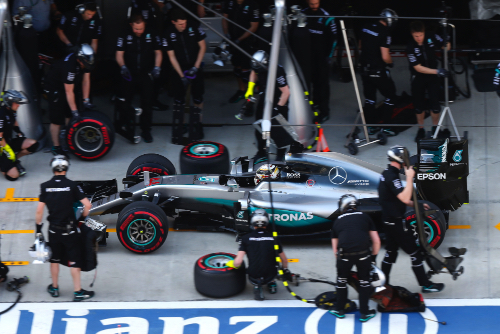 © Active Pictures
The Mercedes drivers were once again the fastest on track during practice for the Russian Grand Prix. This time around, in FP3, it was Lewis Hamilton who beat out Nico Rosberg.
The ambient temperature at the start of the 60-minute session was 61 degrees Fahrenheit (16 degrees Centigrade) and the track temperature was 90 degrees Fahrenheit (32 degrees Centigrade.) There were sharp cross winds into Turn 2.
The line-up for the session was: Mercedes - Lewis Hamilton and Nico Rosberg. Ferrari - Sebastian Vettel and Kimi Raikkonen. Williams Mercedes - Felipe Massa and Valtteri Bottas. Red Bull TAG Heuer - Daniel Ricciardo and Daniil Kvyat. Force India Mercedes - Nico Hulkenberg and Sergio Perez. Renault - Kevin Magnussen and Jolyon Palmer. Toro Rosso Ferrari - Max Verstappen and Carlos Sainz. Sauber Ferrari - Marcus Ericsson and Felipe Nasr. McLaren Honda - Fernando Alonso and Jenson Button. Manor Mercedes - Pascal Wehrlein and Rio Haryanto. Haas Ferrari - Romain Grosjean and Esteban Gutierrez.
The drivers had found the track to be slippery and dusty on Friday, and a number of them had spins or slides.
"It's just these tires, there's no grip in these tires out there, and you're sliding around like crazy," said Hamilton who was quickest in FP2. Its how they are, they've always been like that. It's just here it's not a very abrasive surface.
"It's like driving on ice with these tires, it's amazing. Hopefully it gets warmer and rubber goes down on the track this year, and it gets better. The track has got very low grip and the tires on top have very low grip in general, even the super softs."
Gutierrez, Wehrlein and Vettel were the first drivers out on track. Vettel, whose Ferrari had had electrical problems in FP2, would be getting a five place grid penalty for having a new gearbox installed on the car.
Ricciardo set the pace with a lap of 1:40.279 in his Red Bull. Force India driver Perez beat that with a 1:39.151. Ricciardo responded with a 1:38.895. They were using Pirelli's super soft tires.
The track was still slick, and Palmer and Verstappen proved that by sliding off into the run off areas. Then Perez went off as well.
Rosberg, on the super softs, set off on his first flying lap 17 minutes into the session. But he also went straight off the track - at Turn 13.
Hamilton stayed on the track to clock a 1:38.217 on the super softs 25 minutes into the session. Rosberg beat that with a 1:37.772 but slid off at the final turn to do so. Hamilton responded with a 1:37.325. Rosberg responded with a 1:37.224. Next Hamilton went off. It was that slippery Turn 13 again.
This was a battle solely between the Mercedes teammates for the top of the times. Raikkonen was a distant third, 1.2 seconds slower, with 23 minutes left in the session. Vettel was down in 22nd place at this stage. He had been concentrating on long runs rather than fast laps.
With 18 minutes remaining in the session most drivers were in the pits preparing for their qualifying simulations. All on the super soft compound tires of course.
Rosberg was soon back on track where he clocked a 1:37.754 on a new set of super softs.
Meanwhile, Vettel had to brake sharply as he left the garage to avoid Hamilton in the pit lane.
Out on the track, Vettel turned a 1:38.056. But now Rosberg was down to a 1:36.783. Hamilton's lap was 0.17 of a second slower. Then Rosberg went even quicker with a 1:36.471 while Vettel moved into third place.
Everyone was on track with five minutes remaining. Hamilton had traffic spoil one of his laps. Then he went on top with a 1:36.403 while Rosberg's lap was 0.068 of a second slower. And when it was all over, the top 10 at the end of FP3 were: Hamilton, Rosberg, Vettel, Raikkonen, Massa, Bottas, Button, Verstappen, Sainz and Perez.