Russian GP 2016
APRIL 29, 2016
Practice 2 Report - Stop & Go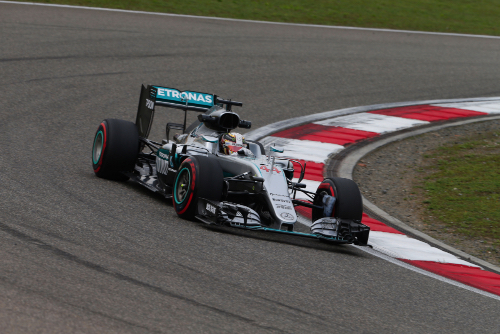 © Active Pictures
Sebastian Vettel was quickest in the early stages of Free Practice 2, but then his Ferrari coasted to a halt with electronic woes. Then it was Lewis Hamilton's turn to go quickest in his Mercedes, and he ended the session on top of the times.
The ambient temperature at the start of the 90-minute session was 61 degrees Fahrenheit (16 degrees Centigrade) and the track temperature was 102 degrees Fahrenheit (39 degrees Centigrade.)
The line-up for the weekend was: Mercedes - Lewis Hamilton and Nico Rosberg. Ferrari - Sebastian Vettel and Kimi Raikkonen. Williams Mercedes - Felipe Massa and Valtteri Bottas. Red Bull TAG Heuer - Daniel Ricciardo and Daniil Kvyat. Force India Mercedes - Nico Hulkenberg and Sergio Perez. Renault - Kevin Magnussen and Jolyon Palmer. Toro Rosso Ferrari - Max Verstappen and Carlos Sainz. Sauber Ferrari - Marcus Ericsson and Felipe Nasr. McLaren Honda - Fernando Alonso and Jenson Button. Manor Mercedes - Pascal Wehrlein and Rio Haryanto. Haas Ferrari - Romain Grosjean and Esteban Gutierrez.
Hamilton headed into the Sochi weekend 36 points behind championship leader Rosberg. And Rosberg, who had won the first three races, also went fastest in FP1 in Russia.
"Of course there is an urgency," Hamilton said of the points gap. "I can't really afford to fall any further back than that. Who knows how the weekend will go? It could be as bad as in the past but I'm hoping it will be positive."
Vettel set the early pace in FP2 with a time of 1:38.921, but Rosberg was second and just 0.005 of a second behind.
Vettel and Raikkonen both had updated engines in Sochi after Ferrari spent three of its tokens to upgrade its power unit. Ferrari also had new front wings. Mercedes spent two tokens to improve its fuel system.
Sixteen minutes into the session Hamilton went to the top of the timing monitors with a time of 1:38.311 on the soft Pirelli tires. Rosberg improved as well but was still 0.139 of a second slower than Hamilton.
Wehrlein, meanwhile, had a quick spin at Turn 17 in his Manor. Not to be outdone, Hamilton spun at Turn 4.
Next Vettel improved to a 1:38.235 using the super soft Pirelli tires.
Thirty minutes into FP2 the top 10 were: Vettel, Hamilton, Rosberg, Raikkonen, Button, Kvyat, Bottas, Alonso, Perez and Massa.
Moments later Vettel stopped on the pit straight. "I lost electronics," he radioed.
The Virtual Safety Car was deployed so that the marshals could push the car through a gate in the pit wall. So it was not long before the Ferrari mechanics were working on the car.
Forty minutes into FP2 Hamilton used the super softs to record a time of 1:37.583. That was 0.652 of a second a frustrated Vettel who watched Hamilton's lap on TV in the Ferrari garage. Rosberg never did get a decent run on a new set of super soft tires.
Next Grosjean spun at Turn 8.
The Haas team tweeted that Grosjean's "grandfather competed in two Winter Olympics as a skier. A fitting fact given our location at Sochi Autodrom."
Midway through the session the top 10 were: Hamilton, Vettel, Rosberg, Raikkonen, Ricciardo, Bottas, Kvyat, Button, Massa and Alonso.
By now most of the drivers were doing long runs to check the wear on the super soft and soft Pirelli tire compounds on high fuel loads. Nobody was bothering using the mediums. The track was very busy now.
The Ferrari mechanics were working hard on Vettel's car to try to get it running before the end of the session. But with 20 minutes left in the session the team realized it could not repair Vettel's car in time, so it focused solely on Raikkonen who was still running.
With 10 minutes to go, everybody was out on track except Vettel. Hamilton's pace on worn tires had to worry his rivals.
The top 10 at the end of FP2, therefore, remained: Hamilton, Vettel, Rosberg, Raikkonen, Ricciardo, Bottas, Kvyat, Button, Massa and Alonso.gp