Russian GP 2016
APRIL 29, 2016
Practice 1 Report - The Aeroscreen Affair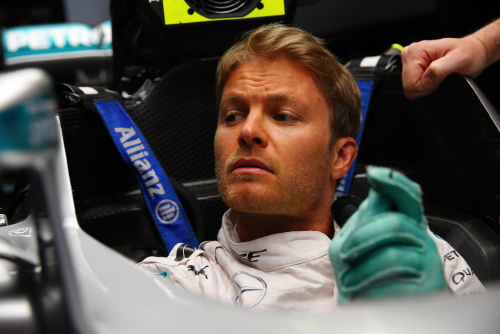 © Active Pictures
While 22 drivers and cars participated in the opening practice session for the Russian Grand Prix, and while Nico Rosberg topped the times in his Mercedes, much of the attention was focused on Red Bull's driver protection "Aeroscreen" canopy that Daniel Ricciardo tried out for a single installation lap.
"First impressions it seems okay," he said after sitting in the car the day before. "Basically the part of the structure is in line with the mirrors, where the mirror structure is, so it does not really block any more vision than what we do have already with the mirrors, and the front is pretty open.
"You obviously have the structure of the top but that is pretty high and out of your eye line anyway. It is one of those things that you definitely put it on track and check, because things change when you move. It is easy to sit in the garage with it, but so far the impression is that it should be okay visibility wise."
The ambient temperature at the start of the 90-minute session was 57 degrees Fahrenheit (14 degrees Centigrade) and the track temperature was 79 degrees Fahrenheit (26 degrees Centigrade.)
The line-up for the weekend was: Mercedes - Lewis Hamilton and Nico Rosberg. Ferrari - Sebastian Vettel and Kimi Raikkonen. Williams Mercedes - Felipe Massa and Valtteri Bottas. Red Bull TAG Heuer - Daniel Ricciardo and Daniil Kvyat. Force India Mercedes - Nico Hulkenberg and Sergio Perez. Renault - Kevin Magnussen and Jolyon Palmer. Toro Rosso Ferrari - Max Verstappen and Carlos Sainz. Sauber Ferrari - Marcus Ericsson and Felipe Nasr. McLaren Honda - Fernando Alonso and Jenson Button. Manor Mercedes - Pascal Wehrlein and Rio Haryanto. Haas Ferrari - Romain Grosjean and Esteban Gutierrez.
For FP1, however, Russian Sergey Sirotkin drove the Renault in place of Magnussen. And Alfonso Celis Jr. replaced Hulkenberg in the Force India.
"It just puts more focus on FP2 and FP3 really, because FP1 is more about setting up the car and doing aero runs and so on," Magnussen said about sitting out FP1. "So it is okay really; it does not make a massive difference. In FP2 I'm going to spend more laps trying to get back into the circuit than if I had had FP1. But we are not on the super soft (tires) in FP1 anyway, and the super soft is what we are going to qualify on, so it is okay."
Gutierrez was the first driver out on the 3.649-mile (5.872 km) 16-turn Sochi track, but he returned to the pits with some sort of problem and was not seen again for some time.
Two minutes into the session Ricciardo cruised down pit lane and out onto the circuit in the Red Bull fitted with the Aeroscreen. He returned to the pits at the end of the lap.
Red Bull's engineers had planned to do just one lap with the Aeroscreen as they had plenty of work to do on improving the car's performance.
"Because it is quite a structure it is going to affect the aero and all that," Ricciardo said, "so it is really just to see if it works and then we will get on with our program. We have a few things to try on the car, so obviously running that will affect that."
On the lap time front, it was Hamilton who set the early pace with a 1:39.337. He also had a quick spin at Turn 2.
Yet it was Rosberg who was quickest as the first 40 minute segment of FP1 ended with a time of 1:3:39.097.
Hamilton, Bottas, Ricciardo, Kvyat, Perez, Sainz, Verstappen, Nasr and Alonso rounded out the top 10 at this stage. Massa had a clutch problem and was stuck in the garage.
Vettel had already had two spins. The dusty track was slippery indeed.
After the usual lull while the teams returned their first set of tires to Pirelli, the action resumed with Sirotkin heading out 47 minutes into the session. Seven minutes later Massa finally made it out of the garage. Gutierrez also finally made it out again.
Rosberg, now using the super soft Pirellis, continued to set the pace, as he improved to a 1:38.642 and then a 1:38.127. Ricciardo moved up to third place, but was a full 1.6 seconds slower than Rosberg.
Pirelli tweeted: "What we're seeing so far is that even softest compounds retain their performance over several laps. Means that we could see long stints."
Now Ferrari was on the move, with Vettel taking third place and Raikkonen fifth. Both were on the soft compound Pirellis. Raikkonen then moved up to third while Vettel had some slippery slides out on the track.
Massa was well up to speed. With seven minutes remaining he took over fourth place.
It got very busy in the final five minutes with every driver out on track except Gutierrez and Nasr.
Pirelli tweeted: "We're seeing a mix of soft and supersoft in FP1: big difference from last year when FP1 was only about the hardest compound F1."
But none of them could top Rosberg, although Vettel jumped up to third right at the end
The top 10 were: Rosberg, Hamilton, Vettel, Raikkonen, Massa, Ricciardo, Bottas, Kvyat, Perez and Sainz.
So that was that for FP1 where Red Bull's Aeroscreen certainly drew a lot of comments.
"If they're going to do this, close the cockpit like a fighter jet," Hamilton said. "Don't half-arse it. Go one way or the other. That screen looks so bad. It looks like a bloody riot shield. You've got this cool, elegant futuristic Formula 1 car, and you've got a riot shield sitting on top of it.
"And the other one (Ferrari's halo), the carbon fibre structure was obviously good but Fernando (Alonso) wouldn't have been able to get out of the car potentially in his crash in Melbourne.
"But on top of that, it is a good thing to see the FIA does take safety seriously. It is a constant thing that always needs to be worked on - as long as it doesn't affect the aesthetics, the style and the coolness of Formula 1."