Qatar GP 2021
NOVEMBER 22, 2021
Race Analysis - Faultless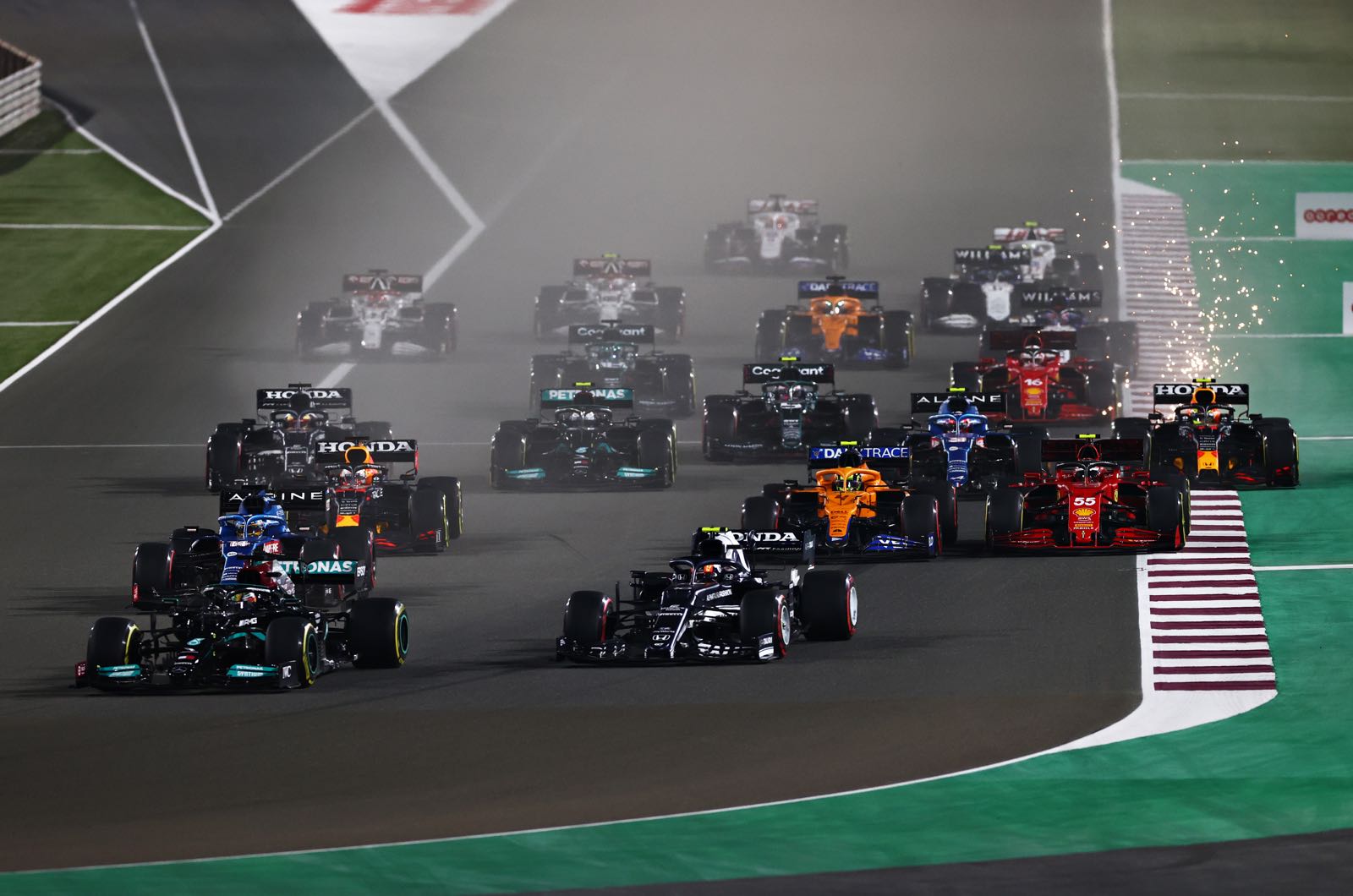 © Red Bull
By Dan Knutson
Lewis Hamilton was faultless as he qualified his Mercedes on pole and led every lap of the inaugural Qatar Grand Prix. Here's what happened.
102
This was Hamilton's 102nd pole in F1.
PENALTY
Title rival Max Verstappen qualified his Red Bull second. But he lined up seventh after getting a five-place grid penalty for not slowing down in the final moments of qualifying when double yellow flags were displayed for Pierre Gasly's stranded AlphaTauri.
THREE
Hamilton's teammate Valtteri Bottas qualified third but started sixth after getting a three-place grid penalty for not slowing down in the final moments of qualifying when a single yellow flag was displayed for Pierre Gasly's stranded AlphaTauri.
THE RESULT
The result of all of this was that the top 10 on the grid were: Hamilton, Gasly, Fernando Alonso (Alpine), Lando Norris (McLaren), Carlos Sainz (Ferrari), Bottas, Verstappen, Yuki Tsunoda (AlphaTauri), Esteban Ocon (Alpine) and Sebastian Vettel (Aston Martin).
THE START
Things got a bit congested in Turn 1 at the start of the 57-lap race, but Hamilton swept into the lead ahead of Alonso, Gasly, Verstappen, Norris, Ocon and Sainz.
ON THE MOVE
Verstappen was on the move forwards, and at the start of lap 5 he took second place from Alonso.
3.7
At the end of lap 6 Verstappen was 3.7 seconds behind leader Hamilton.
SWAPPED
Hamilton and Verstappen constantly swapped fastest lap times.
NEVER
Verstappen never got close enough to challenge Hamilton for the lead.
PITS
Verstappen pitted at the end of lap 17 to switch from the medium compound Pirellis to the hard compound tires.
THE SAME
Hamilton did the same one lap later.
THE GAP
The gap between leader Hamilton and Verstappen was now around eight seconds.
BLOWOUT
Bottas' left front tire had a blowout on lap 31. That made some teams leery of doing the race with just one pitstop.
AGAIN
Verstappen pitted at the end of lap 41 for a set of the medium compound Pirellis. Hamilton again did the same one lap later.
NORRIS
Norris had been running fourth behind Alonso, but his left front tire was deflating and he had to pit for tires at the end lap 50. That dropped him to ninth place.
BLOWOUT
Nicolas Latifi had his left front tire blowout, and that triggered the Virtual Safety Car on lap 54 so that the marshals could safely remove his Williams from the side of the track.
"We tried to make the one-stop work knowing that it would be on the limit with tires," he said, "but we thought we could manage it as a strategy call. The surprising thing was that I had no idea that the tire was about to suffer a puncture, so unfortunately, we weren't able to adjust our strategy in time."
FASTEST
Verstappen already had the fastest race lap and the point that goes with it. But he pitted for a set of the soft Pirellis at the end of lap 55.
VSC
The VSC ended at the start of lap 56, and Verstappen knocked off another fastest lap.
"This weekend has been quite difficult for us as a team," he said after finishing second, "and we are still lacking pace, I tried everything I could after the five-place grid penalty so to finish in second and score the fastest lap is really good. I had an exciting start and I knew that the first few laps were really important, I had a good launch and I was fairly quickly back into second place, from there I tried to keep the gap small and that worked out quite well."
THIRD
Alonso made a one-stopper work, and he finished third.
FIRST
It was Alonso's first F1 podium since the 2014 Hungarian Grand Prix.
"We deserved this result as a team and I've had to wait seven years since my last one," he said. "Hopefully we don't need to wait this long again! We took some risks with the one-stop strategy but it worked out well."
102
This was Hamilton's 102nd F1 win.
CUT
Hamilton cut Verstappen's championship from 14 points to 8 points.
"It was a pretty straight forward race for me, a little bit lonely but of course, we needed those points, so a really solid job by the team," he said. "A big thank you to everyone trackside and back at the factories for all their hard work. I'm really grateful for these points and it's amazing to be able to close the gap so much in the last two weeks."