Qatar GP 2021
NOVEMBER 20, 2021
Qualifying Report - Sweet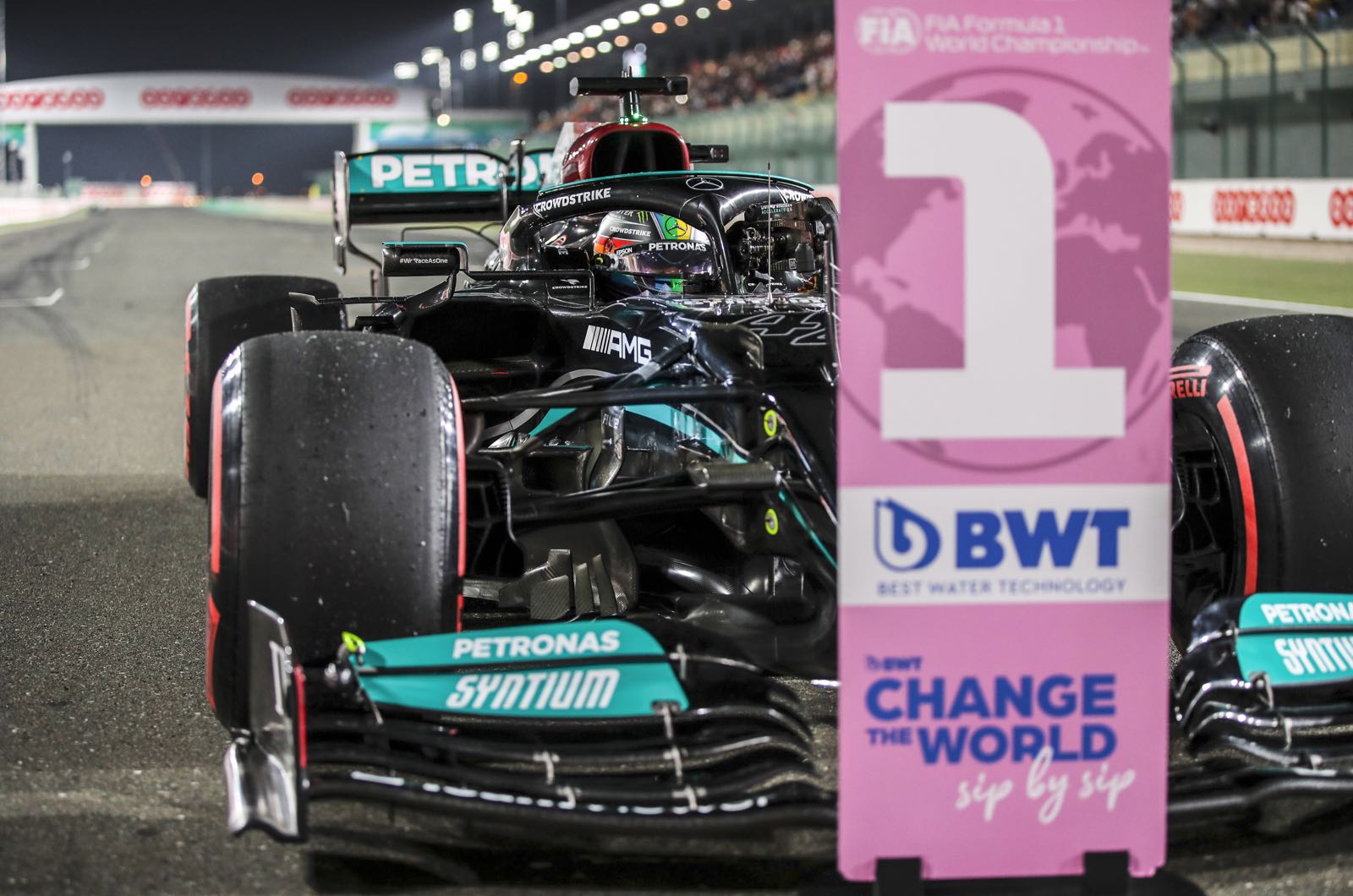 © Mercedes-Benz Grand Prix Ltd.
By Dan Knutson
"That last lap was beautiful, it was sweet," Lewis Hamilton said after winning the pole for the inaugural Qatar Grand Prix.
The line-up for the weekend was: Mercedes – Lewis Hamilton and Valtteri Bottas; Red Bull Honda – Max Verstappen and Sergio Perez; McLaren Mercedes – Lando Norris and Daniel Ricciardo; Aston Martin Mercedes – Lance Stroll and Sebastian Vettel; Alpine Renault – Fernando Alonso and Esteban Ocon; Ferrari – Charles Leclerc and Carlos Sainz; AlphaTauri Honda – Yuki Tsunoda and Pierre Gasly; Alfa Romeo Ferrari – Kimi Raikkonen and Antonio Giovinazzi; Haas Ferrari – Nakita Mazepin and Mick Schumacher; Williams Mercedes – George Russell and Nicolas Latifi.
Fastest in FP3 was Bottas with a lap of 1:22.310.
QUALIFYING 1
The Haas duo were the first on track for the 18 minute session. Raikkonen set the early mark at 1:23.717.
The Sainz clocked a 1:23.323. Hamilton beat that at 1:22.019 as Verstappen slotted in second with a 1:22.234. Gasly grabbed third ahead of Norris and Bottas.
Then Bottas popped up to first with his 1:22.016. Perez found some speed to take fourth.
When there were six minutes remaining in Q1, Russell was 15th and on the cutoff line. Stroll was 14th and Latifi was 16th.
When there were five minutes remaining Verstappen nabbed first at 1:21.996.
A number of drivers had their lap times deleted for exceeding track limits.
In the final two minutes 18 cars on track.
The five drivers who were eliminated at the end of Q1 were: Raikkonen, Latifi, Giovinazzi, Schumacher and Mazepin.
The fastest 15 drivers who moved on to Q2 were: Hamilton, Verstappen, Bottas, Sainz, Perez, Alonso, Tsunoda, Gasly, Vettel, Stroll, Ocon, Ricciardo, Leclerc, Norris and Russell.
QUALIFYING 2
The top 10 qualifiers would start the race using the same compound tires they used to clock their fastest lap time in Q2. So some of the quicker drivers could take a safe chance of running the medium compound Pirelli slicks in this session.
Hamilton set the mark with a 1:21.682. Gasly, on the soft tires, grabbed second ahead of Verstappen, Bottas and Tsunoda. Next were Alonso, Ocon and Sainz.
Tenth and on the bubble with five minutes to go was Stroll, and Vettel was ninth while Norris was 11th.
With four minutes to go Russell was the only driver on track. Then things started to get busy out there with all the drivers except Russell circulating.
The five drivers who were eliminated at the end of Q2 were: Perez, Stroll, Leclerc, Ricciardo and Russell.
The fastest 10 drivers who moved on to Q3 were: Hamilton, Gasly, Alonso, Verstappen, Bottas, Ocon, Tsunoda, Vettel, Norris and Sainz.
QUALIFYING 3
Q3 lasted 12 minutes. First out were the Mercedes duo, with Hamilton ahead of Bottas.
Hamilton turned a 1:21.262 while Bottas crossed the line at 1:21.478. Then Verstappen split them with a 1:21.424.
Gasly popped up to fourth ahead of Alonso, Sainz, Norris, Tsunoda, Ocon and Vettel.
Then the drivers headed to the pits to prepare for their final runs.
Hamilton was the first out. The rest soon joined him. Verstappen was the last out.
Hamilton's lap was a 1:20.827.
Gasly had a flat right front tires on the pit straight.
The top 10 qualifiers were: Hamilton, Verstappen, Bottas, Gasly, Alonso, Norris, Sainz, Tsunoda, Ocon and Vettel.