Portuguese GP 2021
MAY 3, 2021
Race Analysis - Edged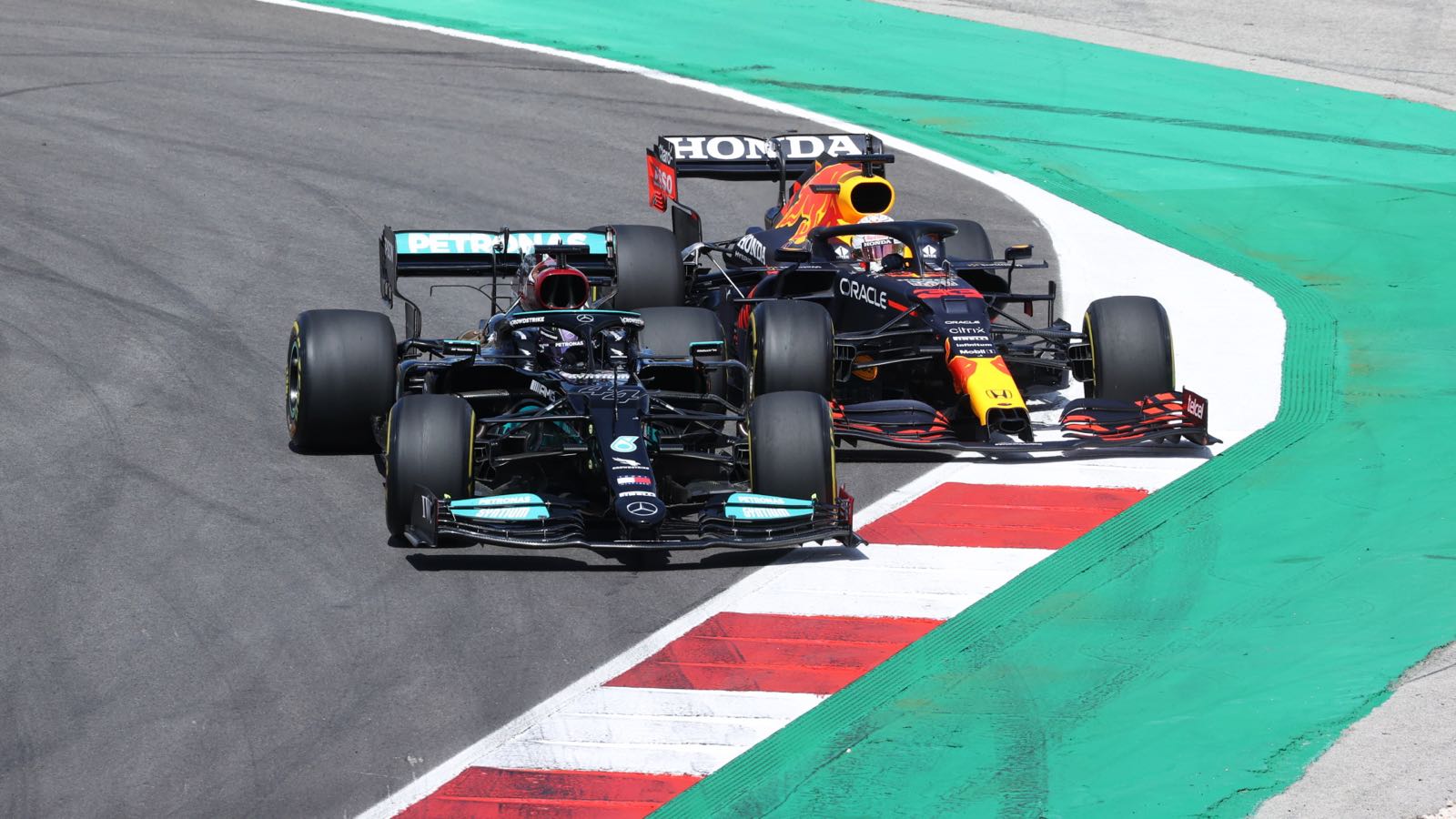 © Mercedes-Benz Grand Prix Ltd.
By Dan Knutson
Lewis Hamilton edged slightly further ahead of Max Verstappen in the drivers' world championship with his victory in Portugal. This is how that win unfolded.
77 44 33 11 55
The car numbers of the top five qualifiers were: 77 – Valtteri Bottas/Mercedes; 44 – Lewis Hamilton/Mercedes; 33 – Max Verstappen/Red Bull; 11 – Sergio Perez/Red Bull; and 55 – Carlos Sainz/Ferrari.
MEDIUMS
The top four drivers started the race on the medium compound Pirelli tires. Sainz was on the softs.
LEAD
Bottas led lap one ahead of Hamilton, Verstappen, Sainz, Perez, Lando Norris (McLaren), Esteban Ocon (Alpine), Charles Leclerc (Ferrari), Pierre Gasly (AlphaTauri) and Sebastian Vettel (Aston Martin).
TRIGGERED
Kimi Raikkonen triggered the safety car at the end of lap 1 when he ran into Alfa Romeo teammate Antonio Giovinazzi.
"You never want to have contact with your teammate," Raikkonen said, "and this time unfortunately it was my mistake. I got caught out by the slipstream and ended up driving into Antonio. I couldn't do much after that, the front wing got stuck under the car and I couldn't steer: all I could do was go straight into the gravel."
RESTART
The race was restarted at the end of lap 6.
SLICED
Verstappen sliced inside Hamilton in Turn 1 to grab second place behind Bottas.
WHAT HAPPENED?
"I lost position, that's what happened!" Hamilton said. "I was focusing on Valtteri naturally, and literally just for a split second I looked in my mirrors to see where Max was and in that split second that's when Valtteri went.
"Then I was Valtteri's tow and you (Max) were about to pull out and I pulled out and gave you Valtteri's tow and I was like, 'you idiot' to myself."
REGAINED
Hamilton regained second place on lap 11.
SWEPT
Hamilton closed in on Bottas, and at the start of lap 20 Bottas blocked the inside on the entry to Turn 1. So Hamilton swept around on the outside to take the lead.
30
At the end of lap 30 Hamilton had a 3.3 second lead over Bottas. The latter was just 0.7 of a second ahead of Verstappen.
PITS
Verstappen pitted at the end of lap 35 to switch from the medium to the hard compound Pirelli tires. Bottas and Hamilton did the same at the end of lap 36 and 37 respectively.
STRUGGLING
"I think ultimately the main issue was the first stint," said Bottas who would eventually finish third. "I was struggling for pace and I still don't understand why."
NEW LEADER
Perez became the new leader of the race.
STAY OUT
Red Bull decided to tell Perez to stay out. If there was a safety car late in the race he would benefit, but that never happened.
CLOSING
Hamilton, second and on much fresher tires, closed in on Perez and took the lead at the start of lap 51. Perez pitted at the end of the lap for the soft slicks.
EXHAUST SENSOR
A faulty exhaust sensor caused problems for Bottas as he cut the gap to Verstappen. The gap stabilized at 1.5 seconds.
"Valtteri had more to come at the end of the race," said Mercedes team principal Toto Wolff. "We couldn't override the faulty sensor so the engine went into protection mode and that cost him five seconds. Valtteri probably would have had a shot on Max at the end if we were not to let him down on the power unit."
FAST LAP POINT
Bottas, sensor issues sorted, pitted for the soft compound tires at the end of lap 63. The plan was to clock the fastest race lap, which pays a bonus point. Which Bottas did.
I'LL DO THAT
Verstappen did the same thing a lap later.
DELETED
But Verstappen had exceeded track limits at Turn 14 and that meant his lap time was deleted.
PACE
"At the end I think we just lacked a little bit of pace overall," Verstappen said after finishing second. "Once we settled in second you could clearly see that around here we were lacking a bit of pace compared to them (Mercedes)."
97
It was Hamilton's 97th F1 win.
150
This was Hamilton's 150th points finish for Mercedes.
"It's down to a lot of great, great people working so hard over all these years," he said, "so I hope they feel this success."
ONE TO EIGHT
Hamilton edged out his championship lead over Verstappen from one to eight points.