Portuguese GP 2021
APRIL 30, 2021
Friday Report - Mercedes leads the way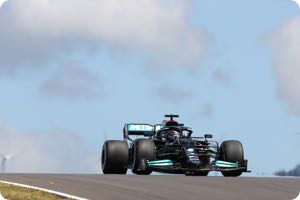 By Dan Knutson
Mercedes teammates Lewis Hamilton and Valtteri Bottas topped the times on the opening day of practice for the Portuguese Grand Prix. Bottas was quickest in the FP1 session with a time of 1:19.648. Hamilton led FP2 with his 1:19.837.
The line-up for the weekend was: Mercedes – Lewis Hamilton and Valtteri Bottas; Red Bull Honda – Max Verstappen and Sergio Perez; McLaren Mercedes – Lando Norris and Daniel Ricciardo; Aston Martin Mercedes – Lance Stroll and Sebastian Vettel; Alpine Renault – Fernando Alonso and Esteban Ocon; Ferrari – Charles Leclerc and Carlos Sainz; AlphaTauri Honda – Yuki Tsunoda and Pierre Gasly; Alfa Romeo Ferrari – Kimi Raikkonen and Antonio Giovinazzi; Haas Ferrari – Nakita Mazepin and Mick Schumacher; Williams Mercedes – George Russell and Nicolas Latifi.
FP2 was delayed by 10 minutes because repairs had to be made to the concrete around a drain cover on a curb on the exit of Turn 11.
When FP2 began, Ocon was the first out on the 15-turn 2.891-mile (4.653 km) Portimao circuit. He clocked the first time – 1:21.687.
The ambient temperature at the start of the 90-minute session was 66 degrees Fahrenheit (19 degrees Centigrade) and the track temperature was 100 degrees Fahrenheit (38 degrees Centigrade).
Five minutes into FP2 Verstappen took the lead with his 1:20.937. It was busy out there and all 20 drivers were circulating. Except for Verstappen who had now pitted with brake woes.
At the 10 minute mark Bottas was out front with a 1:20.423. Sainz was second ahead of Hamilton, Perez, Gasly, Verstappen, Leclerc and Gasly.
"All the drivers out on the mediums (with the exception of Mazepin). This morning, they generally went from hard to soft, saving the medium running for this session: the most representative one. Teams clearly think it will be very important to gather good data on this compound," Pirelli tweeted.
Verstappen had had a sensor problem. He went back out and took over first with a 1:20.322 on the mediums. But Bottas, on the softs, edged ahead at 1:20.181. Hamilton's run on the softs yielded a 1:19.837. The Ferrari drivers runs on softs put Sainz third and Leclerc sixth. Alonso was a fine fourth.
At the half hour mark the order was Hamilton, Bottas, Sainz, Alonso, Ocon, Verstappen, Leclerc and Stroll. Latifi made a trip into the gravel at Turn 8. A few minutes later Verstappen jumped up to second with a 1:19.980.
With 25 minutes remaining most of the drivers were in the pits preparing for their race runs. Then, once again, the track got very busy.
The top 10 at the end of FP2 were: Hamilton, Verstappen, Bottas, Sainz, Alonso, Ocon, Leclerc, Ricciardo, Stroll and Perez.